I know, I know, you're thinking this one seems just toooo simple a recipe to be any good. Well you're wrong! Sometimes the simplest things are the most satisfying, and this creamy sausage and broccoli pasta just one of those things.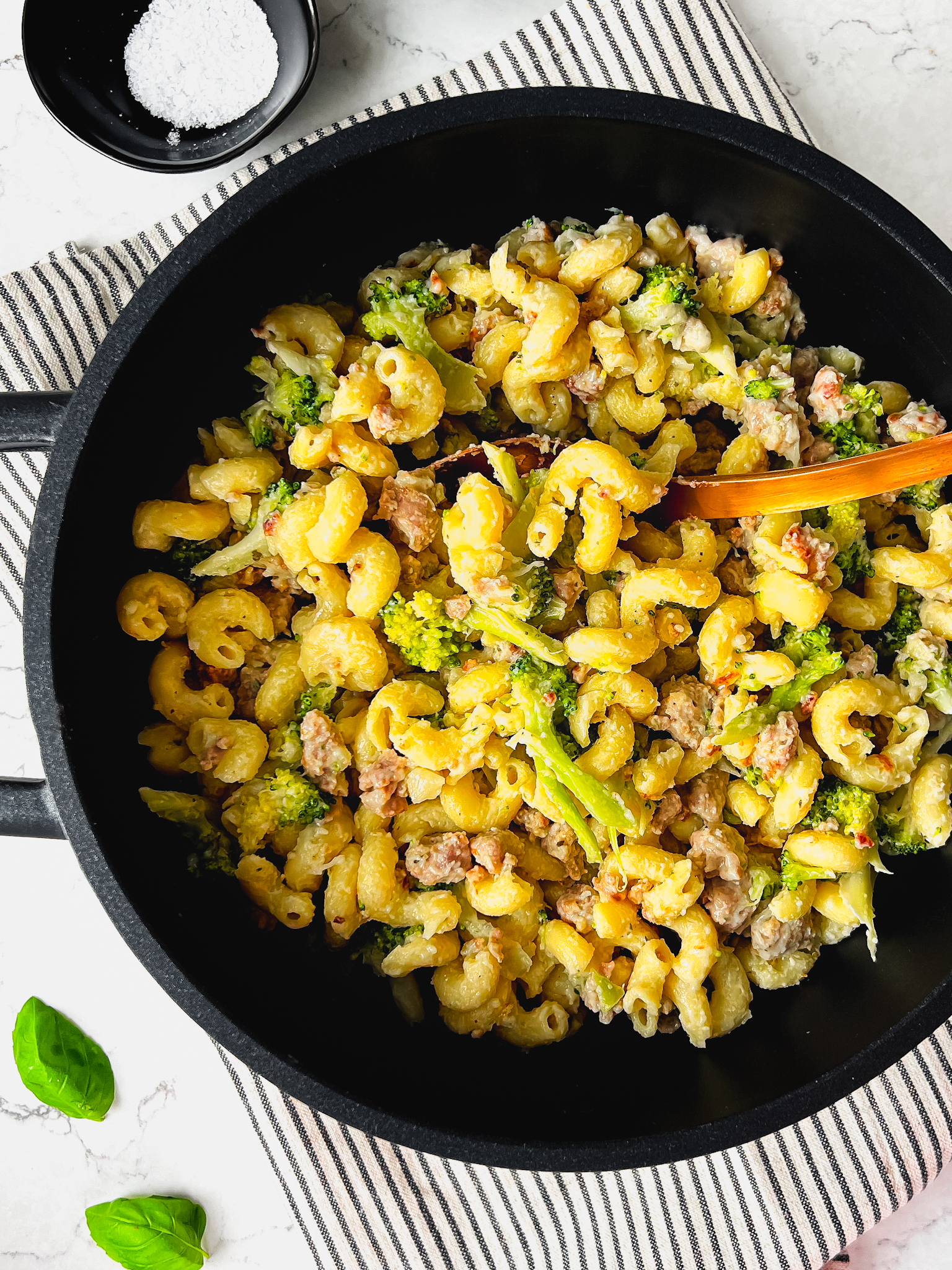 I've actually been making versions of this sausage pasta since my youngest was a baby, and I will probably keep it in my recipe rotation forever. And you should too. Why?
Well, firstly, it's one of THE most comforting pasta dishes you'll ever cook
Who doesn't like sausages?!
You can prep it in FIVE minutes
It takes zero skill and effort to cook
You can cook it in just one-pot
It's all-round family friendly (with slight tweaks for baby)
It can be on the table within 45 minutes
Wondering how to adapt this recipe for your family? See here >
How to Cook My Creamy Broccoli and Sausage Pasta
Watch me make this Creamy Broccoli and Sausage Pasta one-pot before or as you cook.
Prep Ahead 
You can prepare the broccoli and onion ahead of time, just store in the fridge in resealable bags or air-tight containers until ready to use.
Kids Cook Too
Younger children can get involved by breaking up the sausage meat and then stirring in the cream cheese at the end - just remind them the pan is hot. 
Storing My Creamy Sausage & Broccoli Pasta
You can store leftovers in an air-tight container in the fridge for up to 2 days. You can also freeze them, the texture of the cream cheese sauce may change slightly, but it will be safe to eat. Defrost for 24 hours in the fridge before use. Add a little water or milk before microwaving and stir half-way through. 
For more on safe food storage and reheating read here >
Diet Details
My Creamy Sausage and Broccoli Pasta is nut-free and can be made gluten-free by using gluten-free pasta and sausages.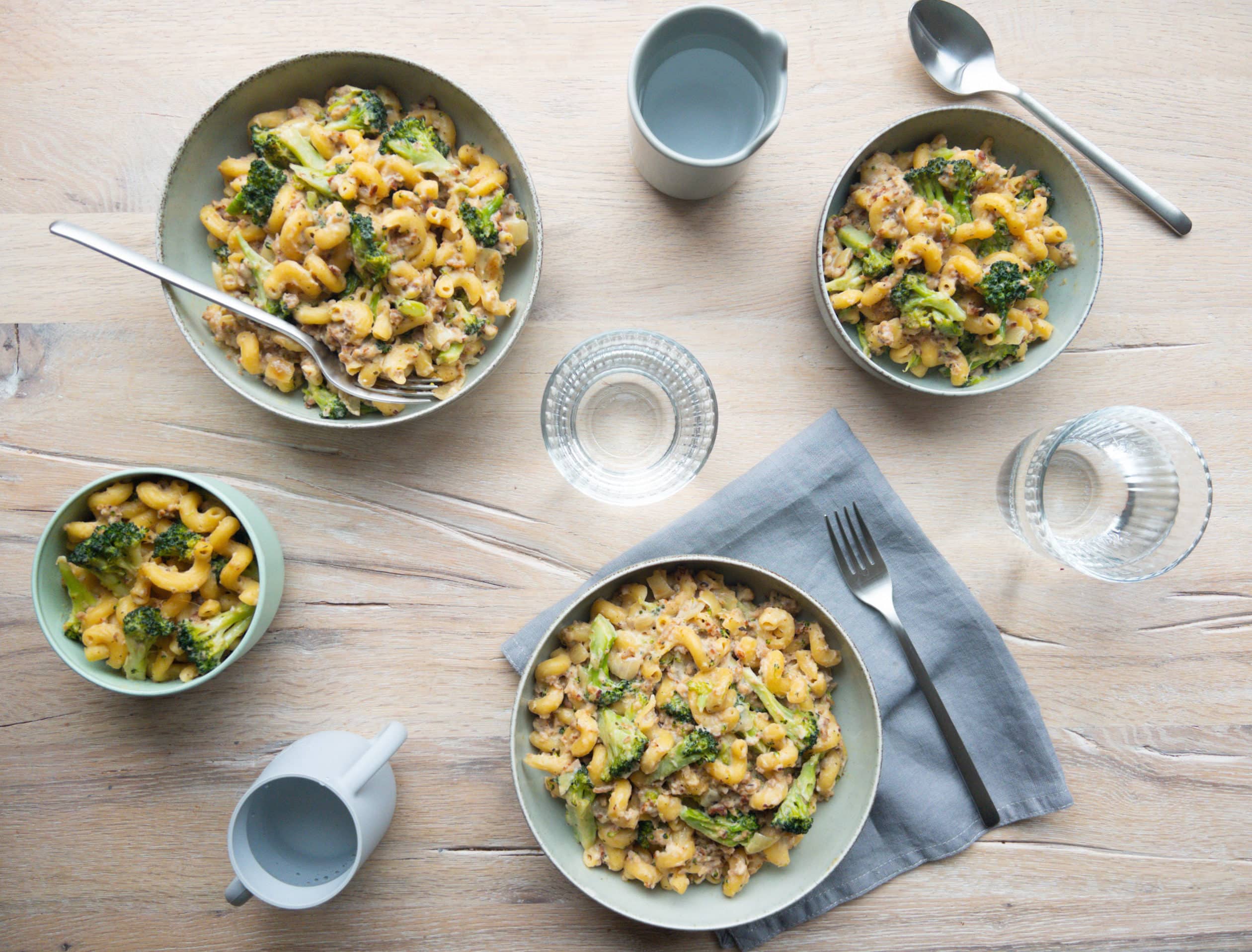 Adapting My Creamy Sausage & Broccoli Pasta for Your Family
Eating together is beneficial for families of all ages and stages, for a multitude of reasons; nutritional, behavioural, psychological and for healthy family functioning. This section will show you how to tweak this Creamy Sausage & Broccoli One-Pot Pasta recipe for sharing with a weaning baby, toddler or a fussy eater, to help make it easier for you to eat together as a family.
Keeping Picky Eaters Happy
If you have an anti-broccoli eater in the family I would chop the florets up even smaller so they breakdown and mix more cohesively into the sauce, making it less obvious and daunting.
If you have a picky eater who loves sausages but not usually creamy sauces, this is a good recipe to try and slip into the rotation.
See more from me on fussy eaters here >
Making it Baby & Toddler Friendly
The first variation of this recipe I made was for my youngest, Georgie when she was a baby. It started simply as probably what many mothers would make for their babies, broccoli and pasta tossed in a little plain cream cheese. Then I upped the anti and added in onion and garlic. She liked it soo much that I wondered how I could evolve it as she got older into a family meal. So I upgraded the plain cream cheese to the herby one and added in some loved all-round sausage. 
Here are my top tips for keeping this meal as baby and child friendly as possible:
For over children over 1 year, go for sausages with the highest pork content and lowest fat content. 
If serving to under 1's, you'll need to remove the sausage from their portion. Because of this, use sausages not sausage meat as sausages will stay together in bigger pieces, whereas sausage meat will breakdown into small pieces. Babies up to 12 months old shouldn't have processed meats, and at their age, they won't miss it! You'll see in the recipe I say to break down the sausage further into small pieces as you cook, but if you are eating with an under 1 year old, don't do that as it will make it very hard to pick out from their serving.
Switch to low-salt stock. I don't add salt into this recipe as standard anyway as the sausages, stock and cream cheese bring all the salt you need.
If spoon feeding to toddlers over 1 year old (under 1 yr I recommend letting them eat this with their fingers), when you come to prep the broccoli, you could chop the sliced florets up even smaller
How to Serve My Creamy Sausage and Broccoli Pasta to Babies & Toddlers
It may be messy, but the best way for under 1's to eat this meal is with their fingers. Be sure to use a long pasta shape like penne, fusilli or rotini so they can palm them easily. Pick them out pieces of broccoli that they can palm.
For 1 year + cut the pasta shapes and larger broccoli pieces in half and serve with a fork.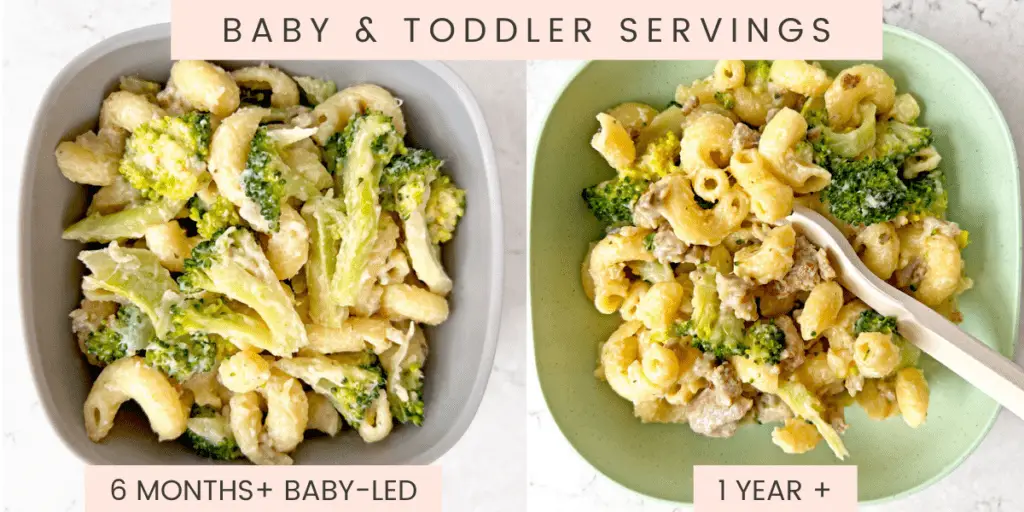 I've also added these notes to the bottom of the recipe so you have them to hand when you come to cook.
For more on how I keep my family meals baby & toddler friendly, read here >
You Might Like…
Together to Eat is reader-supported. I may earn a small commission from anything bought through links found here.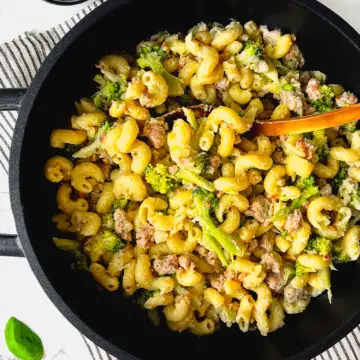 CREAMY SAUSAGE AND BROCCOLI PASTA
No bells or whistles here, this one is as humble as it is good. Loved-all-round sausages, comforting pasta, vibrant broccoli, all tossed in a punchy herb cream cheese, cooked in one-pot and prepped in just 5 minutes.
Ingredients  
500g

good quality sausages (approx 8 sausages)

or sausage meat, high pork content/reduced fat

½

tablespoon

olive oil

1

onion

finely chopped

1.2

litres

hot kettle water

1

chicken stock cube / chicken bouillon cube

2

garlic cloves

minced

Black pepper to taste

300

g

pasta like fusilli or rotini

1

large broccoli head

florets thinly sliced

165

g

garlic & herb cream cheese

(can sub for chive & onion cream cheese)
Instructions 
Heat the oil in a large saucepan over a medium-high heat. Break up the sausages or sausage meat into pieces with your fingers as you add it into the pan. If you are using sausages you can do this into a bowl first if you like, and if the sausages you are using have thick casing, you may have to snip them open first lengthways using clean scissors or a knife.

Add the onions and fry, stirring often for 8-10 minutes or until the meat is mostly golden brown, using your spoon to break up the meat into little chunks once it starts to cook through. Drain any excess fat off.

Pour the hot water into the saucepan, crumble in the stock/bouillon cube and stir until dissolved.

Then add the garlic and black pepper, followed by your pasta. Turn the heat to high and once boiling, turn heat down to medium and cook over a rolling boil, stirring often for 11 minutes or until most of the liquid has been absorbed. Then add in the broccoli and give it a good stir. Continue to cook for another 5-6 minutes, until the everything is tender and all the liquid absorbed.

Remove from the heat and stir in the cream cheese until melted and everything is creamy.
Notes
GO GLUTEN-FREE choose gluten-free pasta and sausages.
Different pasta shapes may take slightly longer to get tender.
BABY & TODDLER SERVINGS
Switch to low-salt chicken stock/less sodium chicken bouillon. If you have a baby under 1, use sausages not sausage meat and don't break down the sausage pieces further with your spoon as you cook. You'll need to remove the sausage from their serving, they shouldn't have processed meat, and if the pieces are too small that will be very hard to do.
The best way for under 1's to eat this meal is with their fingers. Use a pasta shape they can palm like fusilli, rotini or penne.
For 1 year + cut the pasta shapes and larger broccoli pieces in half with a sharp knife and fork.
FREEZING NOTES
When you reheat leftovers, add in a little water or milk and stir halfway through. Add further liquid if it looks like it needs it.
Nutrition
Calories:
464
kcal
Carbohydrates:
72
g
Protein:
17
g
Fat:
13
g
Saturated Fat:
6
g
Polyunsaturated Fat:
1
g
Monounsaturated Fat:
2
g
Cholesterol:
26
mg
Sodium:
486
mg
Potassium:
697
mg
Fiber:
7
g
Sugar:
7
g
Vitamin A:
1340
IU
Vitamin C:
138
mg
Calcium:
148
mg
Iron:
2
mg
Made this recipe?
Leave a rating at the bottom of this page! You could also post a picture on Instagram and tag @togethertoeat to share it with me. Or post to Facebook, Twitter or Pinterest.