When I had the idea of launching a family food blog, I knew I wanted to create family meals suitable for baby weaning. Meals that could be shared by all, babies and toddlers included. I create my recipes for parents who love good food, and I carefully consider how to make them suitable for children of all ages and stages, from babies right up to teenagers and beyond. So if you are looking for family meals for baby to enjoy with you, then you have absolutely come to the right place!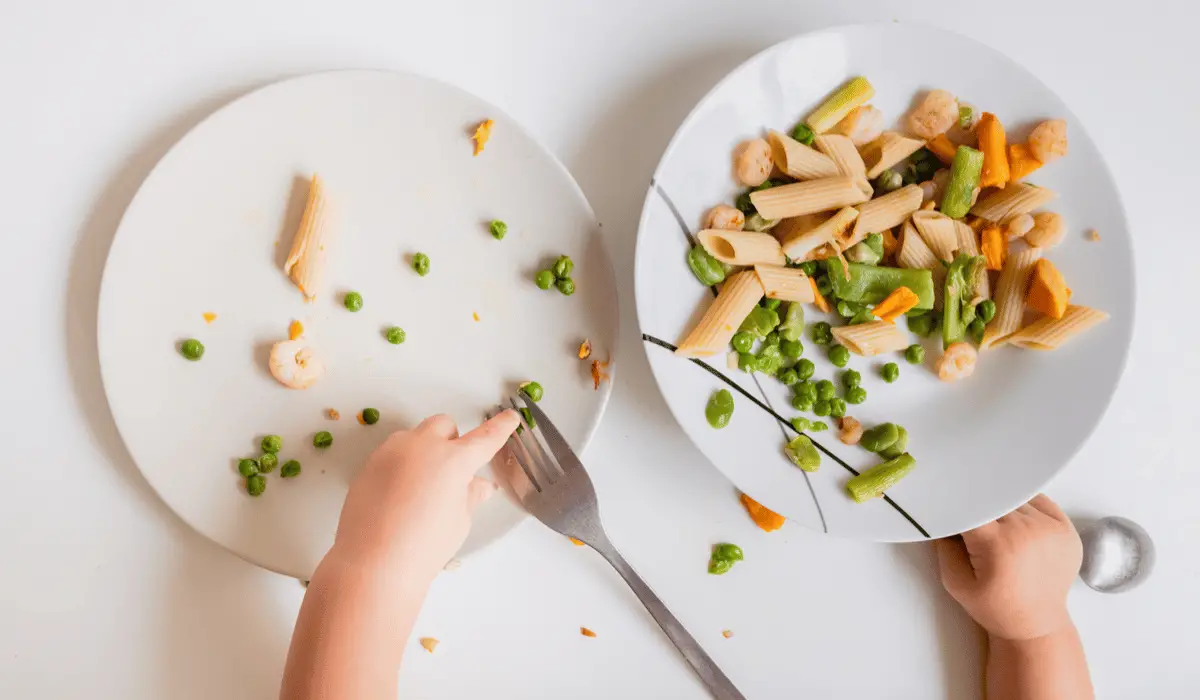 I believe that once you have achieved first stage weaning with your little one, you can move straight on to weaning baby on family meals, and skip all those baby food only cookbooks and batch cooks. You just need to make sure the family meals are suitable for babies, which is exactly what I do! Carry on reading to find out how.
Studies have shown that during weaning, if you introduce a variety of food and flavours from 6 months, your baby will be less likely to be a picky eater and more likely to develop a good relationship with food. Studies have also shown that eating together as a family also curbs fussy eating and promotes healthy eating and a good relationship with food.
Start browsing family meals for baby weaning >
WHAT I WILL COVER HERE
How I keep the ingredients I use in my family meals suitable for baby weaning
My suggestions for preparing

little one's serving

dependent on their age & stage
How my recipes can still work for your family even when baby's routine doesn't allow them to eat with you
Together to Eat is reader-supported. I may earn a small commission from anything bought through links found here.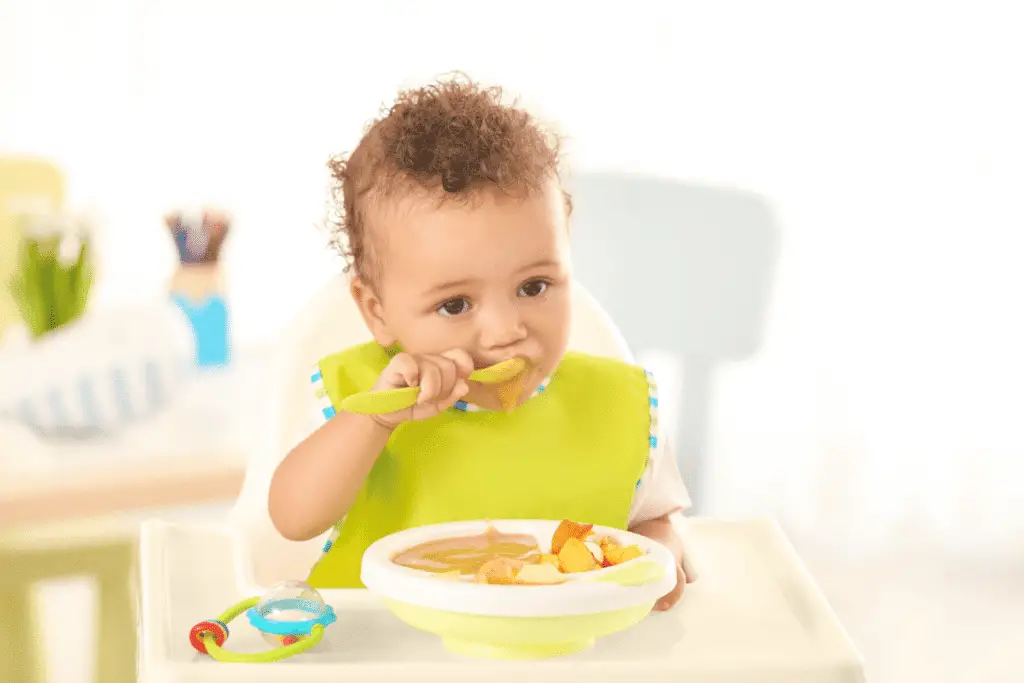 HOW I KEEP MY FAMILY MEALS SUITABLE FOR WEANING
I want my meals to be truly family friendly and not just for this life stage, but for all your family's life stages and so are suitable for weaning baby with. To do this I:
use universally palatable flavours
avoid certain non-baby friendly ingredients
recommend where necessary how to tweak ingredients, prep or cook if sharing with a baby or toddler
sometimes suggest how to introduce more grown-up elements to adult servings
recommend how to prepare your little one's serving for their age & stage
SPICES
It is a good idea to introduce mild spices from second stage weaning. For my recipes that use spice, I keep them gentle and warming, yet still packed full of flavour for everyone to enjoy. For some recipes I give the option of adding more or less spice depending on what your kids can handle, or I recommend how to add a kick of heat in at the end to adult servings only.
SALT
Too much salt can damage little one's kidneys and increase blood pressure so I recommend switching to low-salt stock and soy sauce and to omit salt from the cook. You can add salt in once you have dished up little one's serving, or onto your plate.
ALCOHOL
I just don't use any alcohol in my recipes, that includes mirin and sake. 
HONEY
Babies shouldn't have honey before they are 12 months old, as the bacteria that it contains can produce toxins that can lead to botulism, a very serious illness, when ingested. For my recipes that contain honey, I will also give alternatives like brown sugar or agave nectar. Agave nectar tastes and looks similar to honey. It is a natural plant-based, unrefined sweetener and as with any sugar, it is ok in small doses for babies. Go for the light and mild option as the best substitution for honey.
PROCESSED MEATS
For recipes containing processed meats, I recommend you remove the meat from servings for under 1 year olds. Processed meats are full of saturated fat, salt and sugar and are very low in nutrients and protein.
NUTS & PEANUTS
It is fine to introduce nuts and peanuts from second phase weaning onwards, just be aware that if your baby has a rare, undiscovered nut allergy, this will trigger it. When you introduce nuts, ensure they are smashed up into tiny pieces so they are not a choking hazard. You can put them in a resealable food bag and smash them up with a rolling pin or meat mallet.
SAUCES
With recipes that have richer or sugary sauces, I will recommend you limit the amount of sauce you add to your little one's serving.
SALADS
I recommend serving salads un-dressed and to prepare their vegetables in a safe way to avoid choking.
ADAPTING MY FAMILY MEALS FOR WEANING & TODDLERS
For every meal or side dish, in my blog posts and at the end of my recipe instructions I have included Baby & Toddler Sections. There, I note if you need to substitute any of the ingredients or make any changes to the prep or the cook of the meal in order to make it baby friendly. I also recommend how to prepare their serving for their weaning stage, for baby-led weaning as well as for spoon-feeding.
Once your little one is 6 months old and entering into the second phase of weaning, they can eat start eating my meals with the rest of the family. When you find a recipe you fancy, just head to my Baby & Toddler section.
HOW TO SERVE MY FAMILY MEALS FOR WEANING
If you are spoon-feeding or doing a spoon-feeding/baby-led weaning combo, and your baby is just 6 months, you will need a sharp knife and fork and a trusty stick blender or a food chopper that purées also. If you are spoon-feeding or doing a spoon-feeding/baby-led weaning combo and baby is 7-12 months, you will need a a sharp knife, forks and/or a mini food chopper. Stick blenders and food choppers have many other uses and I'm sure you'll use them for weaning and beyond - I definitely do! If you are solely doing baby-led weaning, all you will need is a sharp knife and a fork - simple.
BABY-LED WEANING
For how to serve all different types of food to a baby-led weaner I recommend you go to Solid Starts. There, you can search the food and they will give you the best way to prepare for your little one's age and stage.
SPOON-FED BABY
All meals can be puréed or chopped, with the exception of pasta based dishes, burgers, breaded chicken or fish and of course bread. Serve these as finger foods.
The months stated below are just guidelines. All babies progress through the weaning stages at different paces. If you have a baby with a strong gag reflex for example, you may end up moving onto lumpier food later. This is because the lumpier the food, the more they will gag.
6 MONTHS
Blend their meal serving into a smooth purée. Add warm boiled water to thin out as needed.
What you will need: a stick blender / food chopper that purées.
7-9 MONTHS
Gradually, using short sharp pulses, finely chop baby's portion in your food chopper.  It should be well textured but no sizeable lumps. You can add warm boiled water, stock or sauce to thin it out as needed. Soft vegetables and fruits can be mashed now with the back of a fork.
What you will need: a food chopper. A fork to mash.
10-12 MONTHS OLD
Add baby's meal (excluding rice if serving) to your food chopper. Use short sharp pulses to chop, you should only need a few. Check the consistency. It should be a lumpier chop, but without big lumps. When the consistency is right, transfer it to a bowl and add a little low-salt stock or sauce to loosen as needed. You can stir through some rice if serving now too.
What you will need: a food chopper.
12 MONTH + TRANSITION PERIOD
Shred meat and poultry into small pieces with forks. Flake fish and mash soft vegetables with the back of a fork. Leave little lumps like peas and sweetcorn whole.
What you will need: two forks
1 YEAR +
Chop food into small bite-size pieces.
What you will need: a sharp knife and a fork.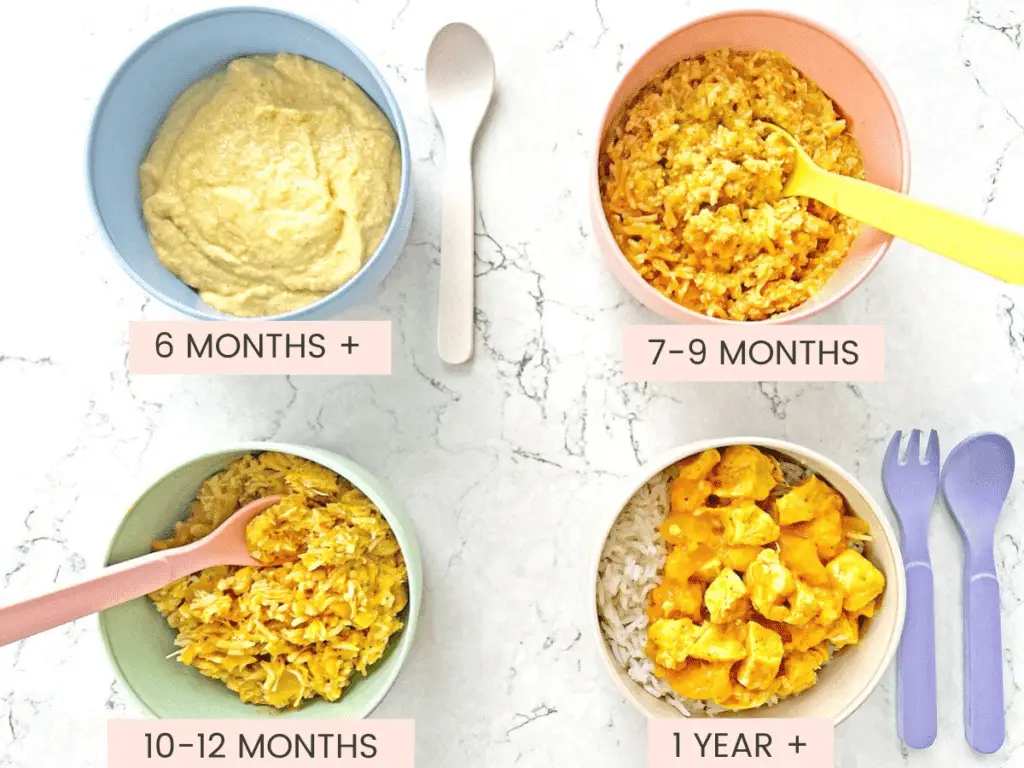 TOP TIP!
When I cook a family meal I always dish up the baby or child's portions first, leaving the rest in the pot/oven to keep hot. These means you don't need to worry about your meal getting cold while you prepare your little one's serving.
Find your next baby friendly family meal >
HOW MY RECIPES WORK FOR YOUR BABY & THEIR ROUTINE
It's always best to have baby eat with you whenever possible. It helps them to learn good eating habits and pick up meal-time social cues. But, I know that's not always realistic. Often baby's meal times are just too early for the rest of the family, especially when it comes to dinner. You end up making baby's dinner, putting them to bed and then cooking a whole different dinner for the rest of the family. Even when that's the case, my recipes can still work for you, and will save you from having to batch cook baby specific meals. Any time you cook one of my baby-friendly family meals, but little one can't eat with you, after you can prepare their portion ready for serving and refrigerate for the next day, or freeze for another time entirely. 
Or if you are a full-time Mama at the moment, you can cook my family meals for yourself and baby during the week, even for lunch, and then have leftovers to freeze for both of you for another time.
You can read all about storing and reheating cooked meals safely here >
A QUICK NOTE ON STARTING WEANING…
Babies should be weaned around 6 months of age, unless advised to start earlier by a paediatrician. Many parents these days opt for baby-led weaning or a combination of baby-led and spoon-fed weaning, but the choice is personal to every family. I think a mix of both is best, which is reflected in my baby friendly family recipes.
Once you have got to grips with baby weaning, and your little one is used to simple veg and fruit purees, baby is ready to move on to eating with you, and eating much more varied flavours. If you'd like more information on weaning, NHS Start 4 Life is a good place to start, or if you are in the US then the CDC is a good resource.
Start browsing my family meals suitable for baby weaning >
LATEST RECIPES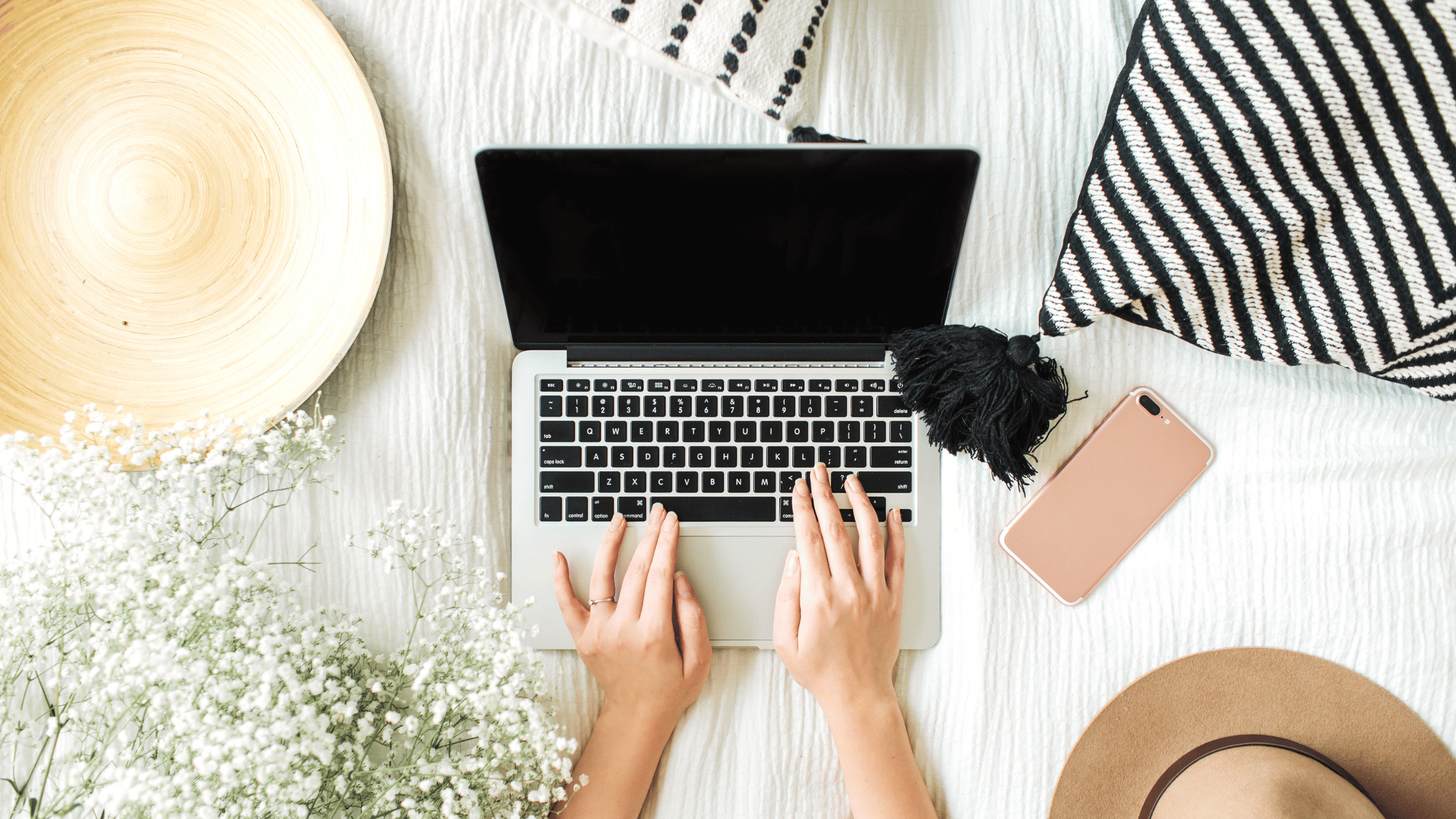 Get FREE Weekly Planners + Roast Schedules
Subscribe here and I'll send you an email each week with my NEW recipes, other carefully curated recipe content and the latest in family articles. Plus get FREE Weekly Meal Planners and Roast Schedules. You'll be able to download and print them all at home.