I don't know about you, but we love a holiday themed treat! So if you are looking for an Easter bake, this easy, chocolate Mini Egg bark studded with popcorn is perfect. It's also a fun easy recipe for the kids to help you with.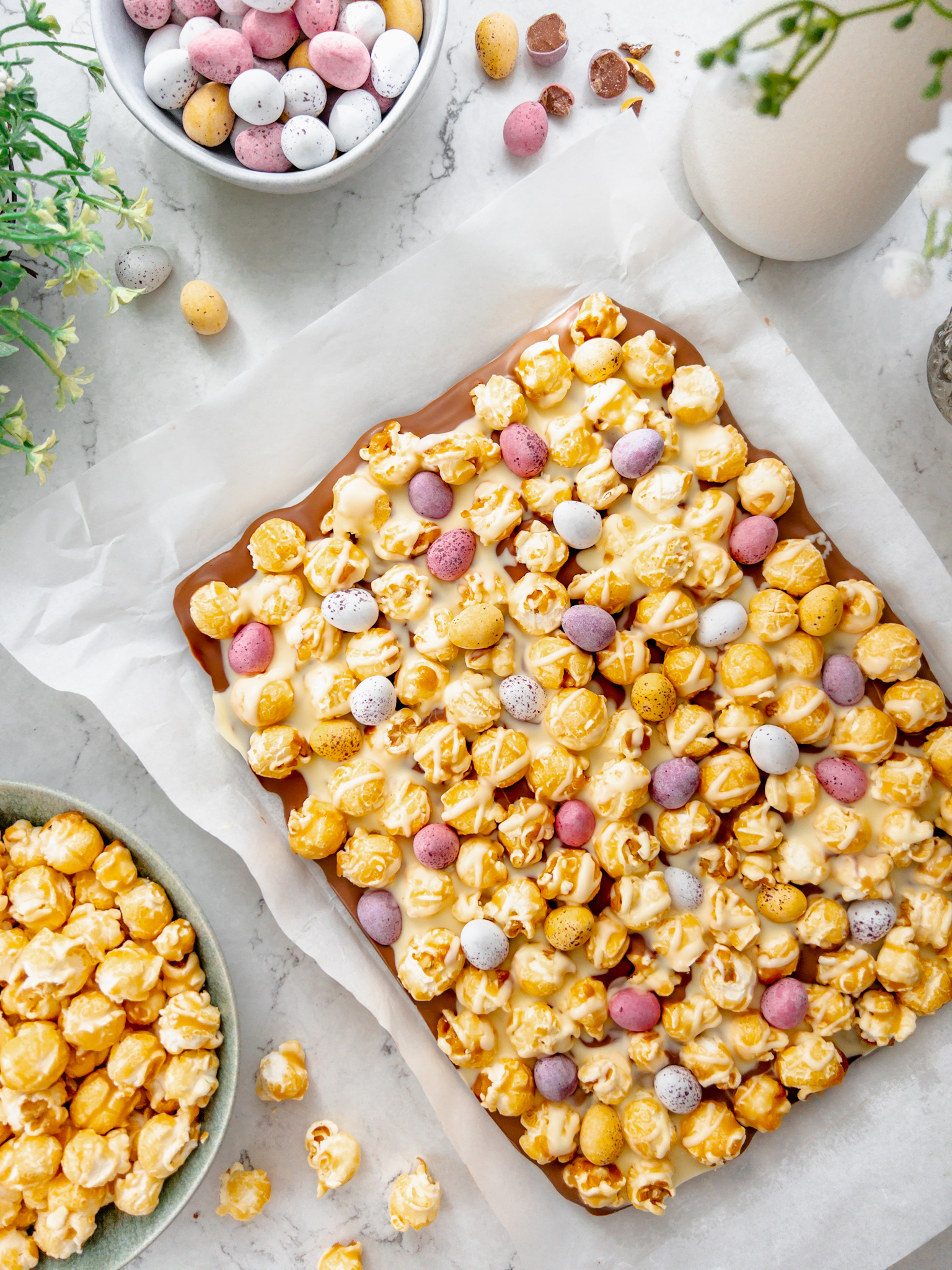 The Stars of my Mini Egg Popcorn Bark
The Chocolate
You don't need to use baking chocolate here, choose your favourite milk chocolate bar! I love to use Galaxy, it works perfectly as bark and with the popcorn. And you'll need a lot of it so go for the biggest bar you can find! Otherwise use 2-3 smaller bars. For the white chocolate, you can use anything from baking chocolate to milky bar buttons.
The Popcorn
Using caramel or toffee coated popcorn is essential here, don't go for a "seasoned" variety as although healthier, they just won't work as well in the chocolate. We aren't trying to be healthy here!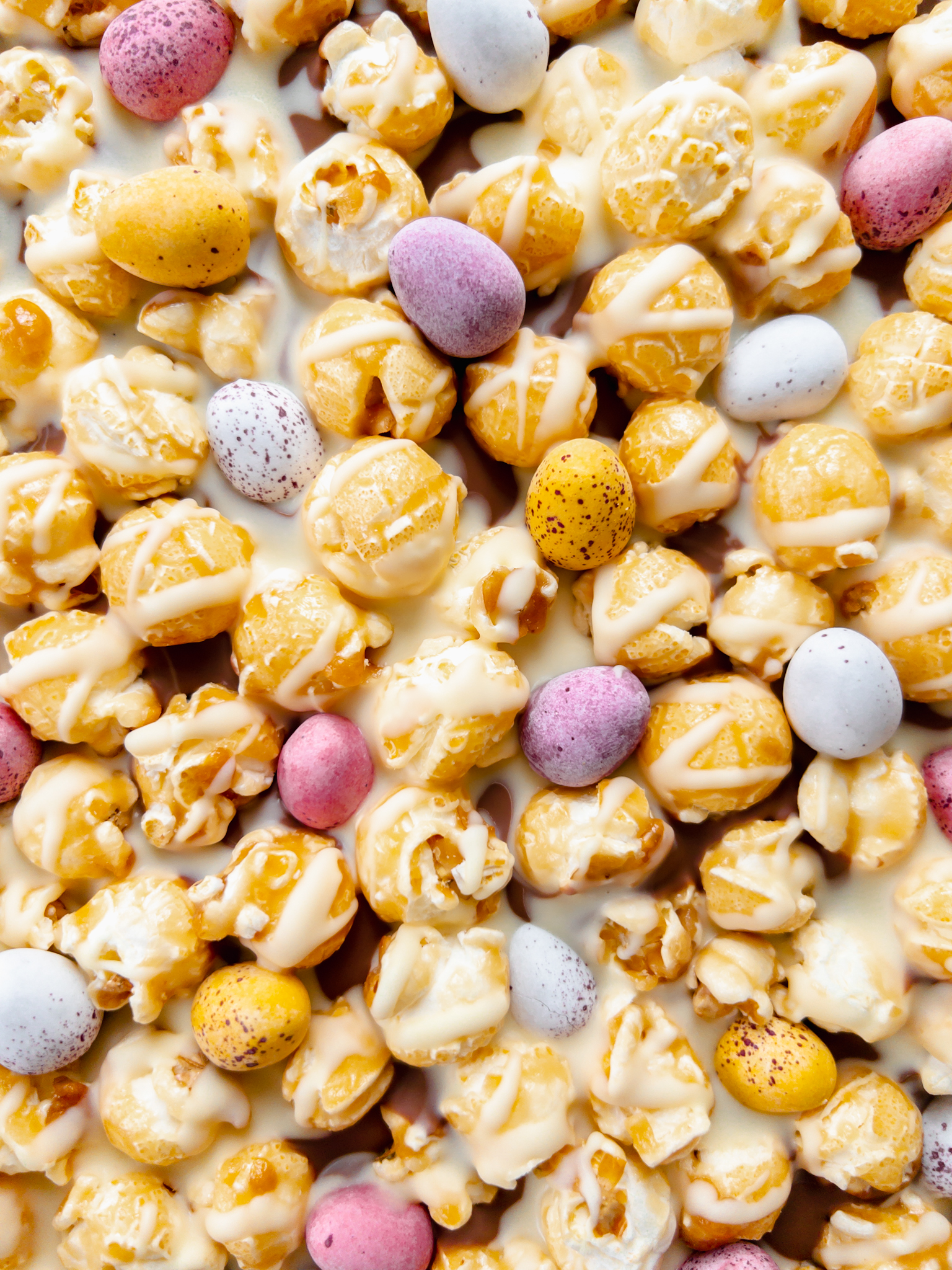 The Chocolate Eggs
As an Easter staple, Mini Eggs are perfect for this bark, but you can use any colourful sugar coated small chocolate eggs.
Making my Mini Egg Popcorn Bark
Watch me make my Mini Egg Popcorn Bark step-by-step here, before or as you bake or jump straight down to the recipe.
Melting the Chocolate
For my Mini Egg Popcorn Bark we are going to melt the milk chocolate on a lined baking tray in the oven. It's pretty effortless doing it that way and as we want the melted chocolate to set as a slab, it's the best way to do it. Just break the chocolate into squares and assemble in a rectangle, with slight gaps in between each piece.
Then melt in a preheated oven at 110ºc / 230ºf for 4-5 minutes or until melted. Some ovens may not go quite that low, and in that case set it as low as it will go and check at 4 minutes. Even when melted, the chocolate squares (or rectangles) will retain their shape, so you need to use a knife tip to check if it's melted all the way through before removing the tray.
When it comes to the white chocolate, we need to treat this a little differently. White chocolate doesn't melt as easily as milk chocolate because of it's ingredients. So we need to melt this in a bain marie or a microwave, slowly. For this recipe I have given instructions for melting the white chocolate in a microwave. We're going to microwave it for 30 seconds initially, give it a stir and then continue to microwave in 20 second bursts, stirring after each one until almost completely melted. Then stir until fully melted. This may only take a couple 20 second bursts.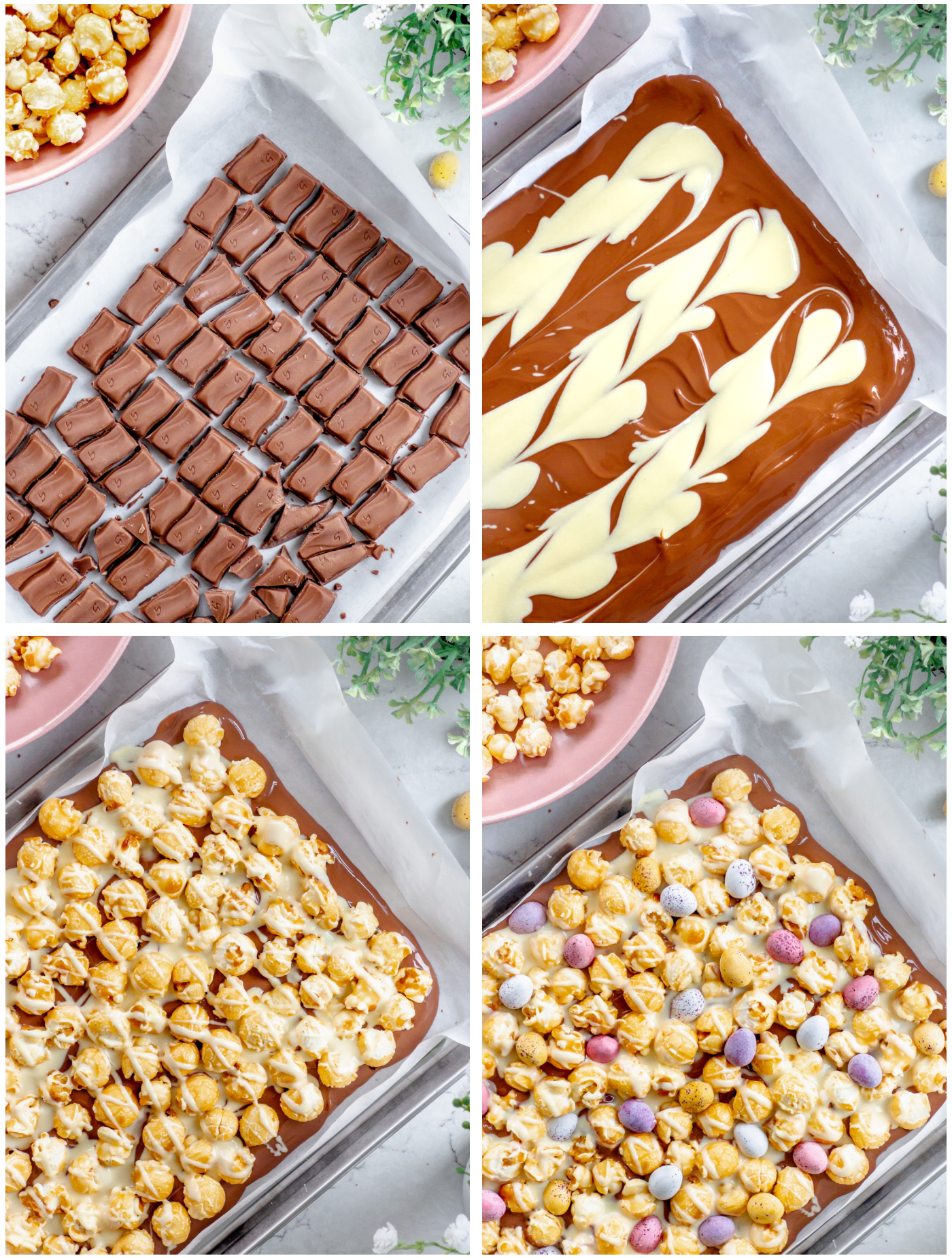 Creating the Chocolate Slab
Once the milk chocolate is melted, use the back of a spoon in sweeping motions to create a layer of silky smooth chocolate. Now, if you'd like a thick layer of chocolate you don't want to spread it much past where the squares currently sit. If you'd like your Mini Egg Popcorn Bark to have a thinner layer of chocolate, then you'll want to spread the chocolate about 1 inch further out all round.
Next, add on small teaspoons (table teaspoons) of the melted white chocolate. I like to do two rows vertically and leave about ½ inch gap in-between each as I work my way down. Also bear in mind that you'll need to leave 1-2 big spoonfuls for drizzling. Then take a table knife, and starting at the top left white chocolate drop, run it down through it to the bottom of the bark and then up and down throughout the chocolate.  You can watch my video above for guidance.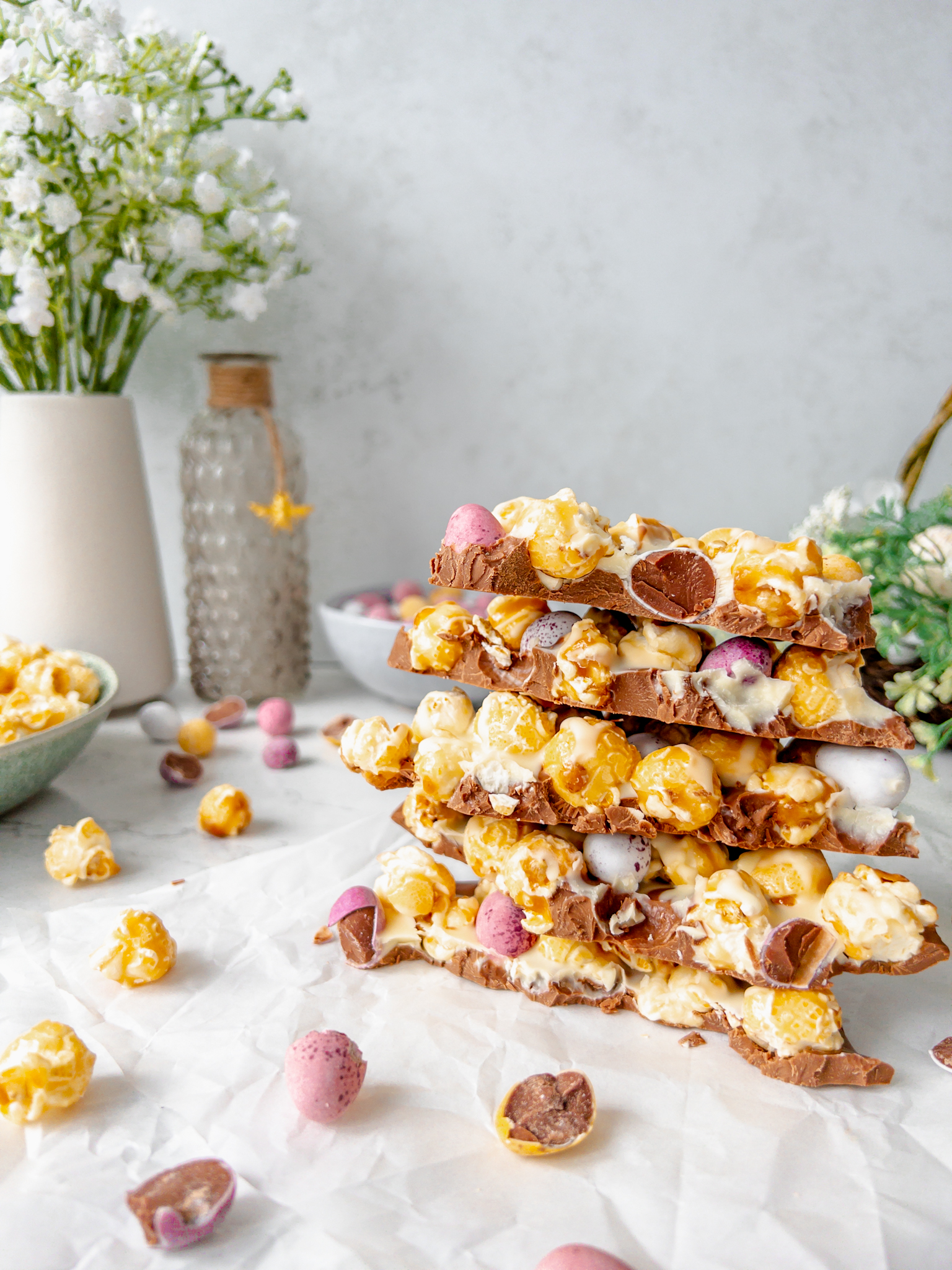 Adding the Popcorn
You'll need a large bag of popcorn, but you can add in as little or as much as you like. We love to pack ours with popcorn so we get some in every bite. Add the popcorn pieces one by one and push them into the melted chocolate a little so they set in.
The Drizzle
I like to drizzle the white chocolate over the popcorn in two different directions, from top left to right all the way down and then from top left to right diagonally. Watch the video to see me do it.
Adding the Mini Eggs
I like to empty the whole packet of mini eggs into a bowl first and pick out a even number of each colour to use. Then just dot them around the bark, tucking them in between pieces of popcorn and pushing them down slightly so they set in the milk chocolate.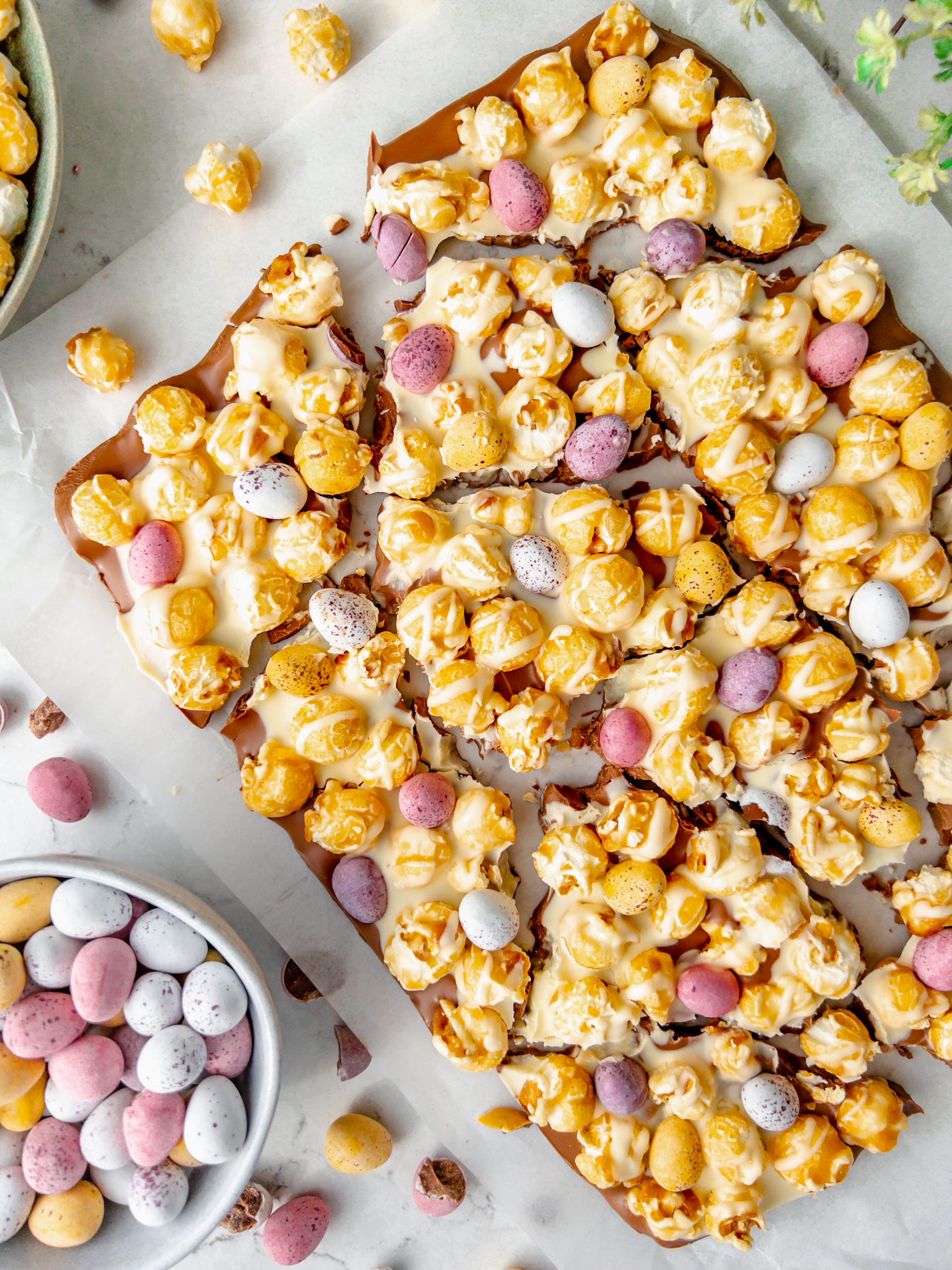 Chilling the Mini Egg Popcorn Bark
To set the chocolate you'll need to transfer the tray to the fridge and chill for at least 1 hour 30 minutes. After which you can remove it from the fridge and break it into pieces ready to eat. If you want to keep it as a large slab for now, just cover the tray tightly with clingfilm / saran wrap or transfer to a large resealable food bag or container. 
Serving the Mini Egg Popcorn Bark
To break the Mini Egg Popcorn Bark up, put it on the counter and simply do it with your hands. For neater pieces, you can put the slab on a chopping board and using a chef's knife, slice into triangles or rectangles. You will need to use your body weight and lean into the knife as it will be quite hard to slice.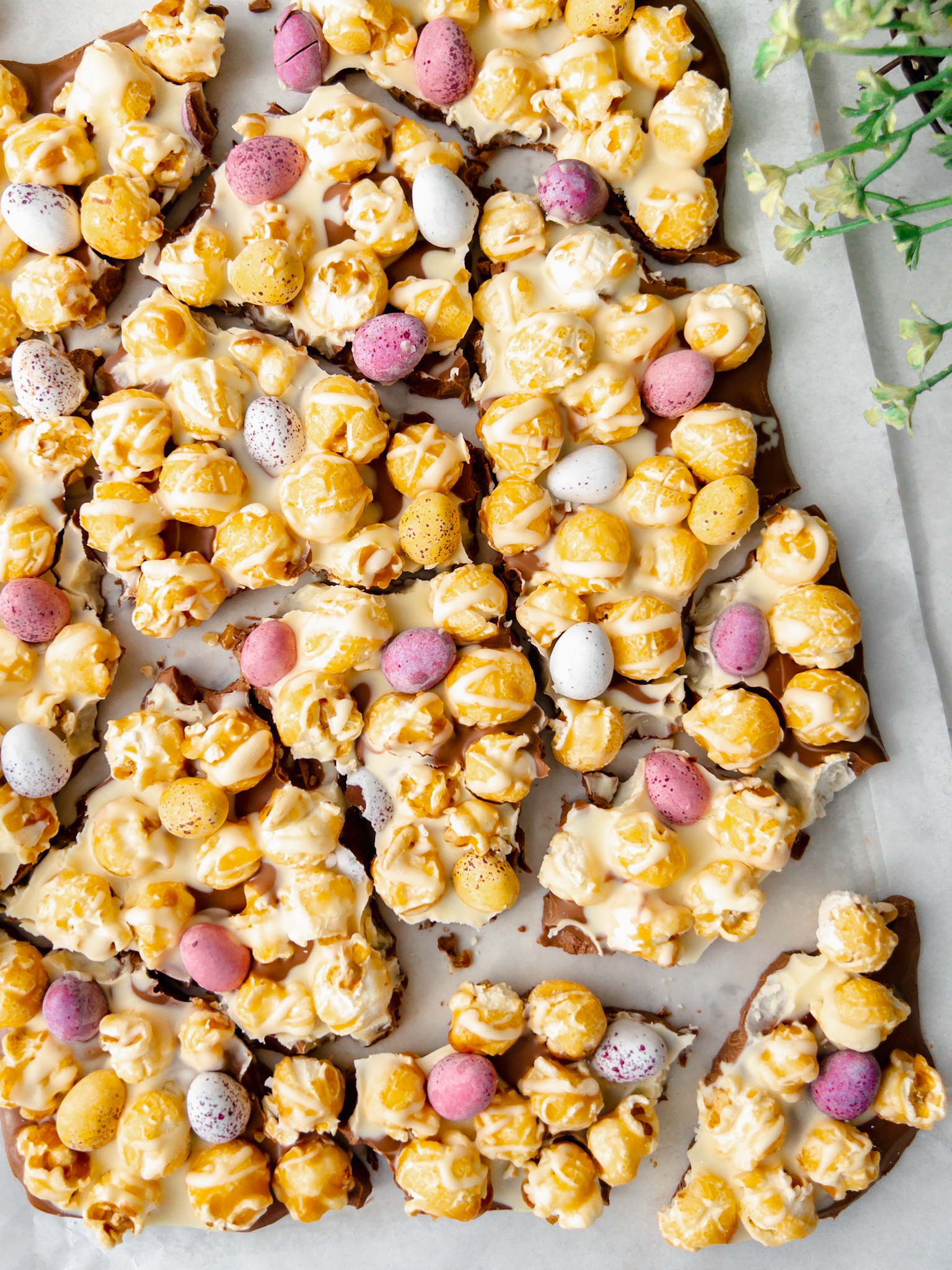 Give my Mini Egg Popcorn Bark as a Gift
This popcorn bark makes a lovely Easter gift, you'll just need some cellphone bags and some ribbon to pop slabs of the bark in. If you want to gift it, it's best to cut the bark with a knife (see Serving section above).
Feed a Crowd
This bark makes 8-12 servings, how far it stretches all just depends on how you break it up and how big you make the pieces. 
Storing My Mini Egg Popcorn Bark
You can store my Mini Egg Popcorn Bark in an air-tight container or resealable food bag in the fridge for 2-3 weeks. If you store the bark in the cupboard, it will likely be soft when you come to eat it, plus it will only last 2-3 days.
For more on safe food storage and reheating read here >
Diet Details
My Mini Egg Popcorn Bark is egg and gluten-free. If you have a tree-nut or peanut allergy, only use safe chocolate.
You Might Like…
Together to Eat is reader-supported. I may earn a small commission from anything bought through links found here.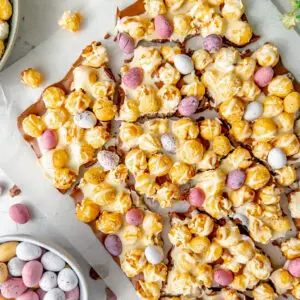 MINI EGG POPCORN BARK
This milk and white chocolate bark studded with toffee popcorn and Mini Eggs makes the perfect Easter treat. It's also a great recipe to get the kids baking. 
Instructions 
Preheat the oven to 110ºc/230ºf. If your oven doesn't go that low, go for the lowest temperature you can set.

Line a medium baking tray/sheet (approx 30cm) with baking paper, leaving around 1 inch going up all the edges of the pan. Then break up your milk chocolate into squares / rectangles and level out throughout the tray, leaving slight gaps in between. Pop into the oven and leave to melt for 4-5 minutes. To test it's fully melted, use a knife tip, then remove from the oven. Using the back of spoon, sweep the melted chocolate all over to flatten out. If you'd like a thick layer of the chocolate (like you see here) then don't spread it out much further beyond where it is. To have a thinner slab of chocolate, spread it out about an inch or so further than where it sits.

While that melts in the oven, melt your white chocolate. Add it to a microwave proof bowl, breaking it into squares as you go. Then microwave for 30 seconds, remove and stir. Then heat in 20 second bursts, stirring after each go. You should only need do this a couple times. Once it's nearly all melted, stir until fully melted.

Once you've smoothed out the milk chocolate, immediately dot small teaspoonfuls of the melted white chocolate throughout, leaving some to drizzle over at the end. Using a knife, starting at the top left corner, run the knife down the chocolate to the bottom edge and then back up about ½ inch apart. Repeat through the whole tray. See the video in the post above for help.

Next, add the popcorn one by one, all over the chocolate, gently pushing the pieces in a little as you go. You can choose to pack it with popcorn using the whole bag or have a lighter layer and use less.

Lastly, drizzle the remaining white chocolate over the top, I like to drizzle it in two directions (see video for help).

Next, add in the mini eggs, dotting them around and in amongst the popcorn pieces, pushing them down a little into the chocolate as you go.

Transfer to the fridge for a minimum of 1 hour 30 mins. After that time, you can lift the bark out of the tray by holding the sides of the baking paper and place on a clean counter. Then using your fingers, snap the bark into shareable pieces. Alternatively, use a chef's knife to carefully slice into triangles or rectangles if you prefer. Store in a resealable food bag or container in the fridge for 2-3 weeks.
STORAGE
Store my Mini Egg Popcorn Bark in an air-tight container or resealable food bag in the fridge for 2-3 weeks.
Nutrition
Calories:
370
kcal
Carbohydrates:
48
g
Protein:
3
g
Fat:
21
g
Saturated Fat:
12
g
Polyunsaturated Fat:
1
g
Monounsaturated Fat:
6
g
Trans Fat:
0.02
g
Cholesterol:
5
mg
Sodium:
56
mg
Potassium:
161
mg
Fiber:
3
g
Sugar:
41
g
Vitamin A:
26
IU
Vitamin C:
0.1
mg
Calcium:
53
mg
Iron:
1
mg
Made this recipe?
Leave a rating at the bottom of this page! You could also post a picture on Instagram and tag @togethertoeat to share it with me. Or post to Facebook, Twitter or Pinterest.