This vegan Kale and White Bean Stew is everything you are looking for this winter, served up in a bowl. It's warming, nutritious, packed full of flavour and when it's scooped up with toasted pitta or naan bread it's the stuff of foodie dreams! This stew is also super budget friendly at only 98p per person*.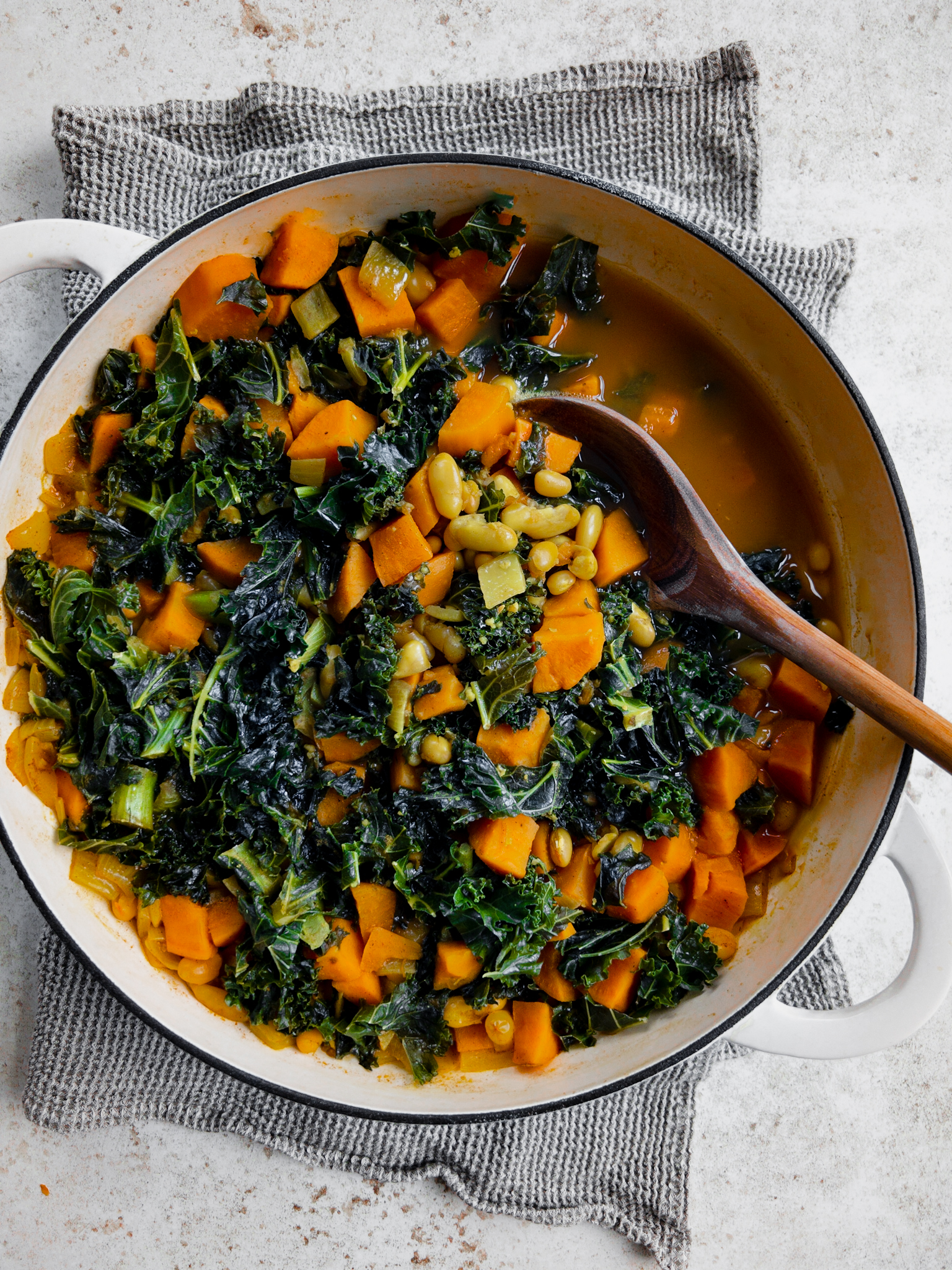 I add two types of white beans into this stew and also sweet potato which compliments the pulses and kale perfectly. The main spice I use here is turmeric, which has a lovely earthy-sweet flavour and gives a golden hue to everything it touches. We'll also add in cumin and cinnamon, as well as a pinch of cayenne if you have it. I've made sure it's spiced on just a warming level so the whole family can enjoy it together. And don't be put off by the kale - I'll tell you how to serve it to young children so they will eat it without a fuss.
Even if you are a family of meat lovers, you can eat more sustainably by cooking plant based meals more often.
See how to adapt this recipe for your family here.
*based on four servings, ingredients bought from Tesco when this recipe was posted. 
Making My Kale and Bean Stew
Watch me make my Kale and Bean Stew step-by-step here, before or as you cook.
The Main Ingredients 
The Kale
Kale is packed full of nutrients that children of all ages and adults can benefit from, including vitamins C, A and K as well as folate which is essential especially during pregnancy. It's also a great source of iron and calcium. Many teenagers and toddlers are deficient in iron so including kale in their diet can help to stop their levels getting too low.  You can read more about nutrition through the childhood years here > 
Parents often think that their young children won't like kale, or their children have tried it and didn't like it. I've never had a problem getting my kids eat kale but I prepare and serve it to them in a way that they can get maximum enjoyment out of it. You can see what I recommend here. And I always remove the stems as everyone will find those very tough to chew. To remove the thick stems just pull the leaves away from them.
The kale for this recipe was gifted to me by Discover Great Veg who champion the great value of kale, it's versatility in family cooking and nutrition. 
The Beans
I use two different types of white bean for this recipe, cannellini and haricot beans (navy beans in the US) but you could switch one of these smaller beans for a larger butterbean. If sharing with a baby, see recommendations below.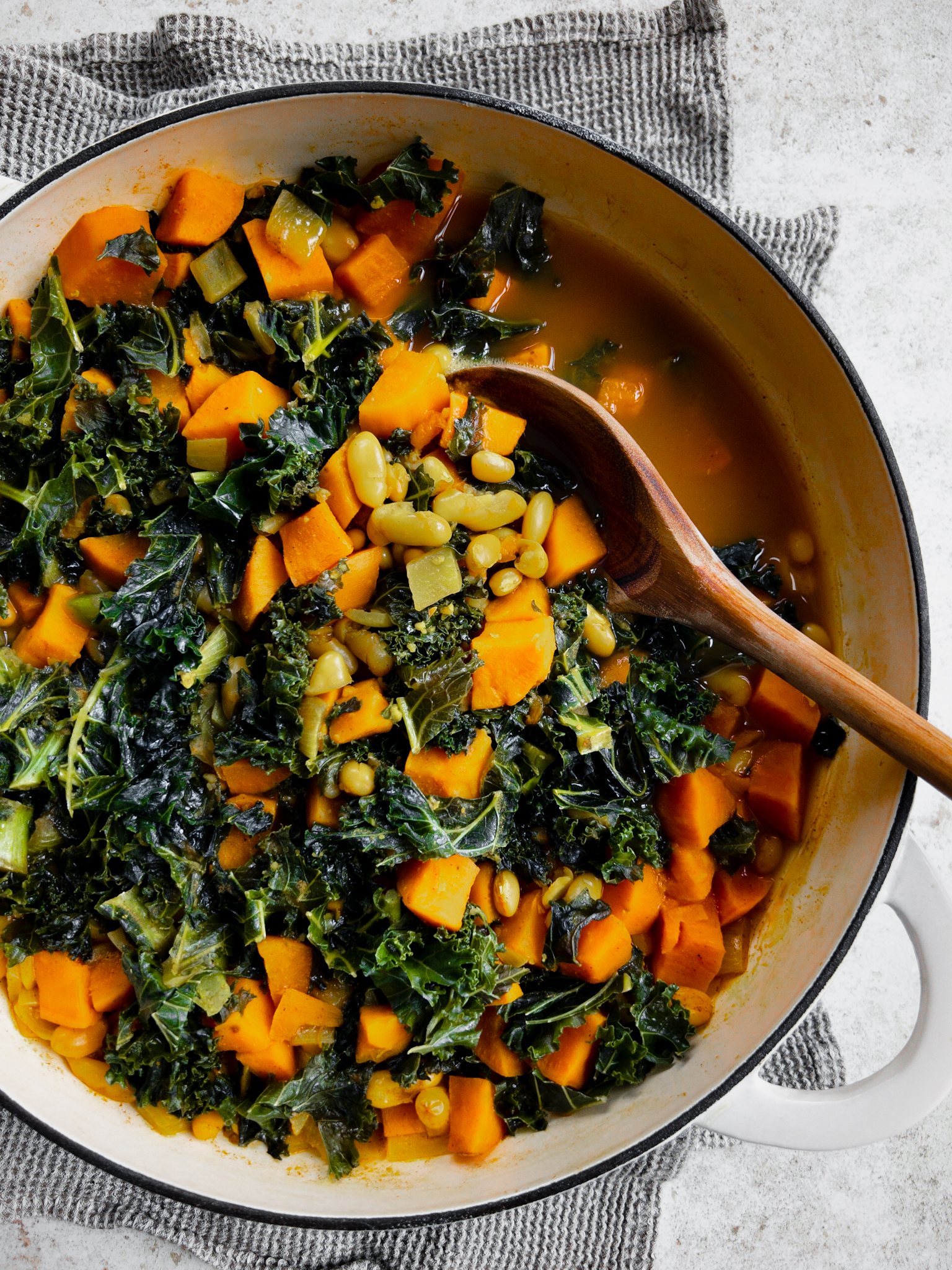 The Spices
As with all my meals, this one is family friendly too so you can rest assured that the spices are lovely and warming and very mild. The main spice here is turmeric which brings a lovely earthy, woody warmth, as well as cumin and cinnamon. I've said to add a pinch of cayenne pepper but its optional so only if you have it, add it.  
The Sweet Potato
The sweet potato works so well against the earthy kale and turmeric and the slightly nutty flavour of the beans. For this meal, peel and cut into 1 inch cubes.
Prep My Kale and Bean Stew Ahead
This is a great meal to prepare in advance, either earlier on that day or the 1-3 days in advance. You can wash the kale, strip the stems and refrigerate, and chop and chill the onion and sweet potato. The spices and seasoning can be measured out, covered and kept at room temperature. 
Kids Cook Too
Get younger children involved in the cook by having them help to remove any stems from the kale and to measure out the spices.
My Kale & Bean Stew Pairs Perfectly With…
Toasted pitta or naan
Rice
Feed a Crowd
You can double this recipe to feed 8 people, but you'll need to use an extra large saucepan or pot though as kale takes up a lot of space before it wilts. You may have to push it down with the pan lid.
Storing My Kale and Bean Stew
You can store leftovers in an air-tight container or resealable food bag in the fridge for up to 3 days (cook day + 2). You can also freeze them, just defrost for 24 hours in the fridge and reheat until steaming hot all the way through, stirring halfway.
For more on safe food storage and reheating read here >
Diet Details
My Kale and Bean Stew is vegan, vegetarian, nut, gluten and egg-free.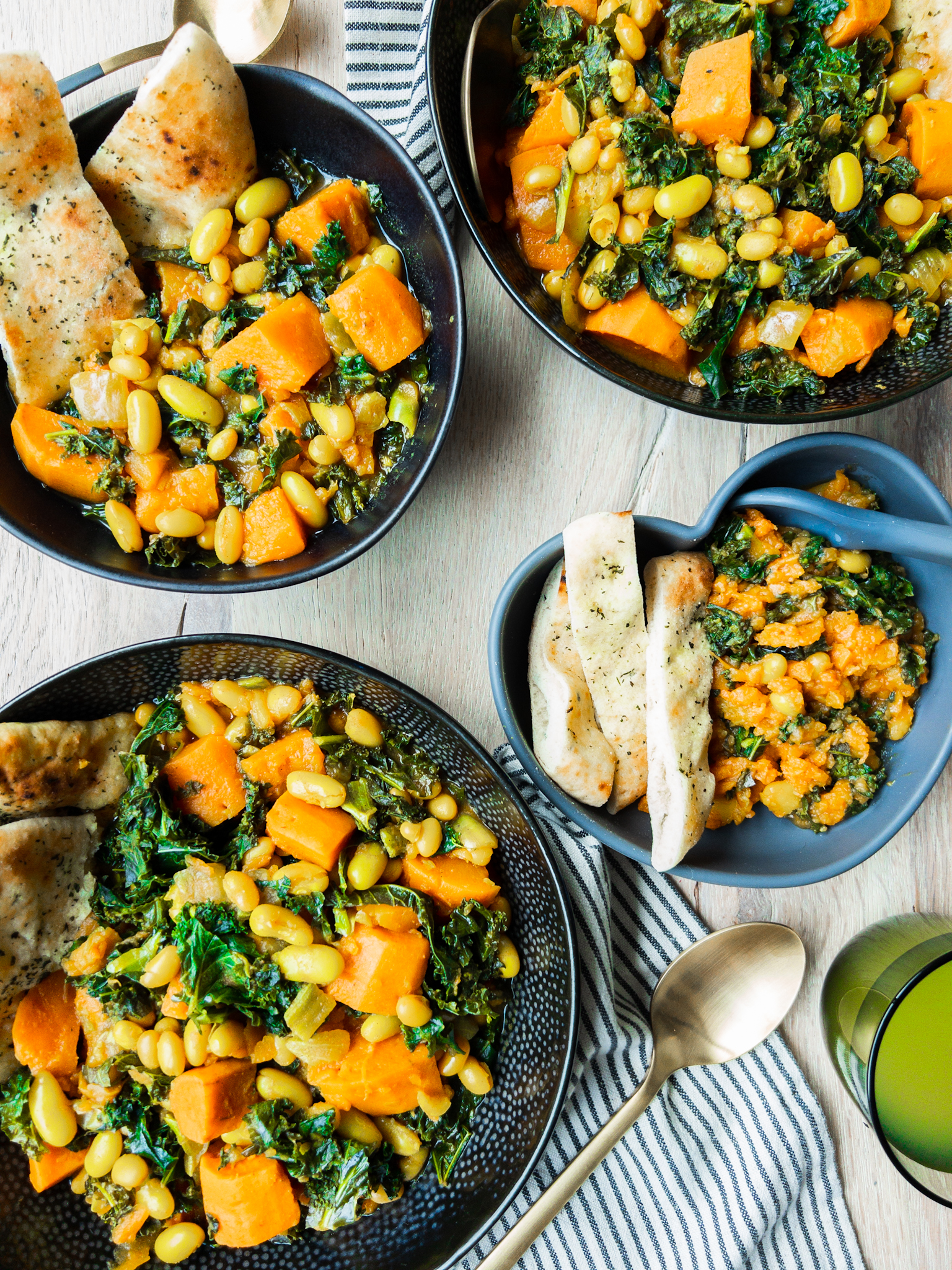 Adapting My Kale and Bean Stew For Your Family
Here, I recommend how to tweak this recipe if you are eating with a baby or toddler and I'll also give a tip for serving it to a fussy eater. 
Keeping Young Kids & Picky Eaters Happy
Kale can be a funny one for kids if it's not prepared and served the best way for them. There are three things you can do to help ensure your child will eat kale without a fuss:
Always remove the main large stem of the kale leaves. You can also remove larger stem branches as well.
Make sure you cook the kale until it is tender
Take the kale from their serving and put it on a chopping board, then using a sharp kitchen knife and a fork, chop through the kale finely. Then add it back onto their plate or bowl and mix it back through their stew.
See more from me on fussy eaters here >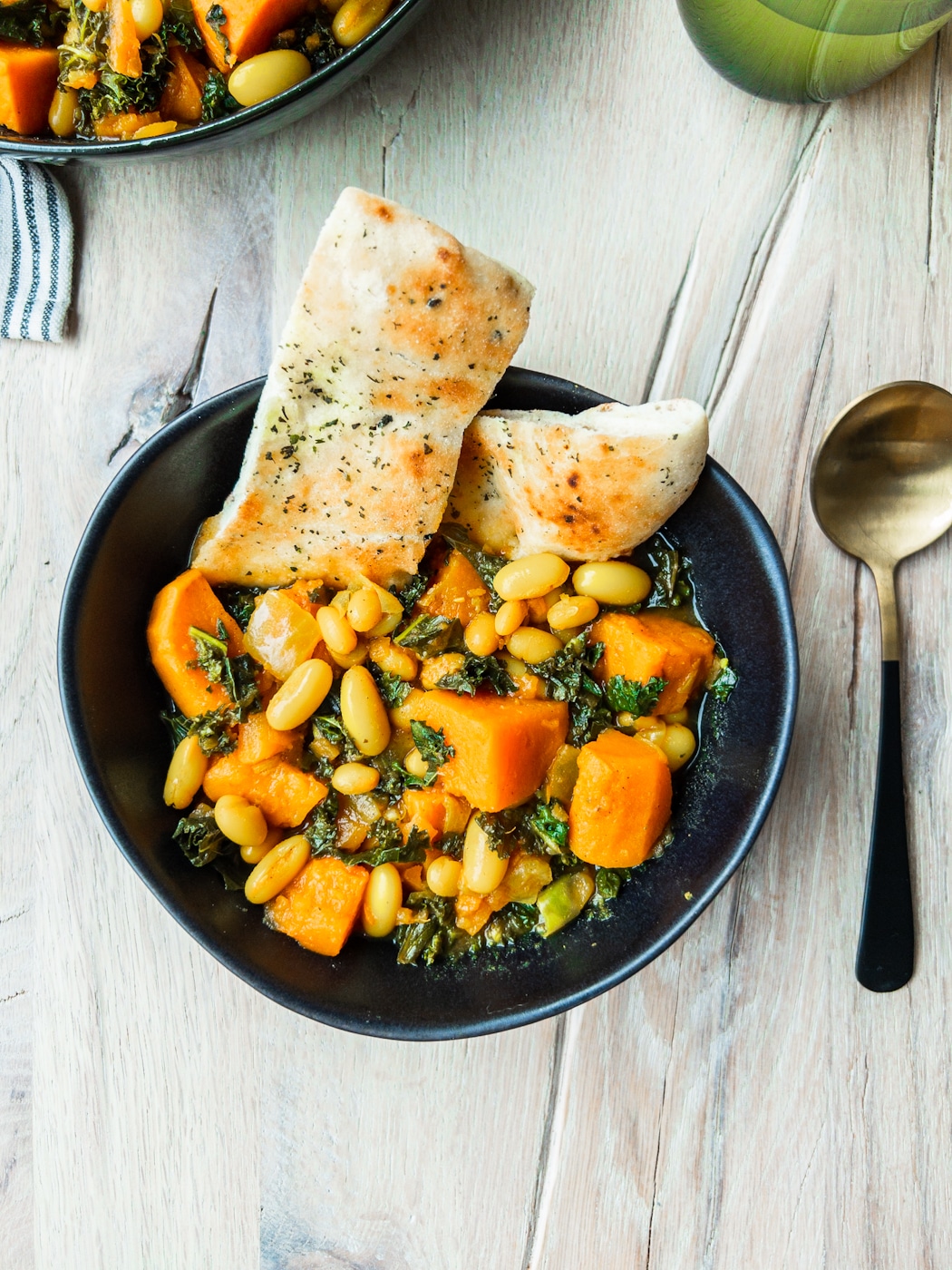 Making My Kale and Bean Stew Baby & Toddler Friendly 
Eating together is beneficial for families of all ages and stages, for a multitude of reasons; nutritional, behavioural, psychological and for healthy family functioning. This section will show you how to tweak this Kale and Bean Stew recipe for sharing with a weaning baby, toddler or a fussy eater, to help make it easier for you to eat together as a family.
How to Serve to Babies & Toddlers 
BABY-LED WEANING 
See above section on serving my Spiced Kale and Bean Stew to fussy eaters, same goes for baby-led weaning. Mash up their sweet potato with the back of a fork. Also smash down the white beans once with the back of a teaspoon. You could use two tins of haricot / navy beans as these are the smallest of the white beans.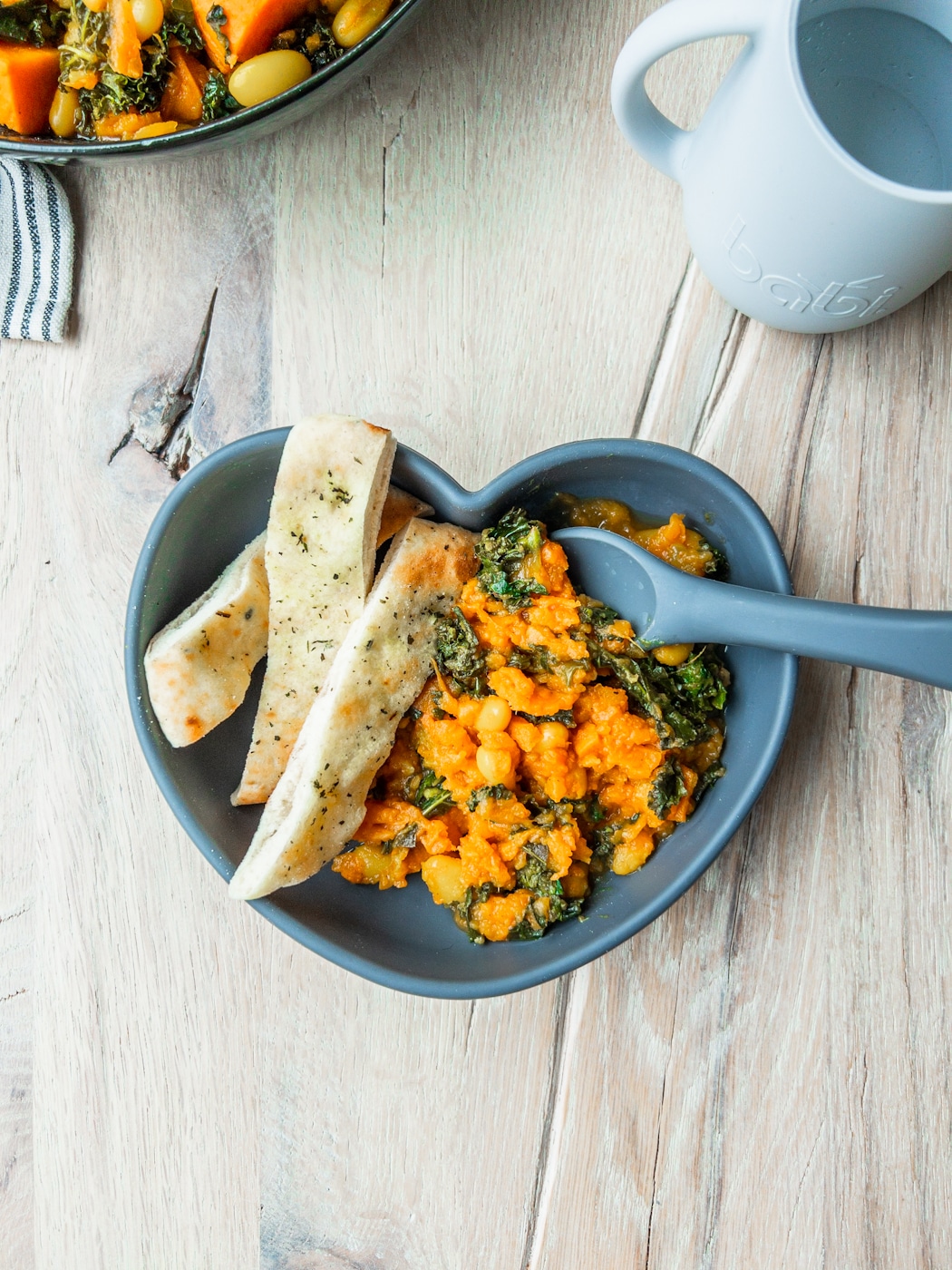 SPOON FEEDING
6 months
Add their Spiced Kale and Bean Stew to your stick blender pot or food chopper (if you have that one that purées) and whizz into a purée. Add a little warm boiled water to loosen as needed.
7-9 months
Add some stew to your food chopper. Using short sharp pulses, to finely chop, checking and adding a little warm low-salt vegetable stock or warm boiled water to loosen as you go.
10-12 months
Add the stew to your food chopper pot. Gradually pulse, just a few times then check the consistency. Once the consistency is right, empty it into their bowl. If it needs loosening, add a little warm low-salt vegetable stock.
12 month + 
Mash up their sweet potato with the back of a fork. Use two tins of haricot / navy beans instead. Finely chop through their kale on a chopping board with a sharp knife and a fork.
I've also added these notes to the bottom of the recipe so you have them to hand when you come to cook. For more info on how I keep my family meals baby & toddler friendly, read here >
You Might Like…
Together to Eat is reader-supported. I may earn a small commission from anything bought through links found here.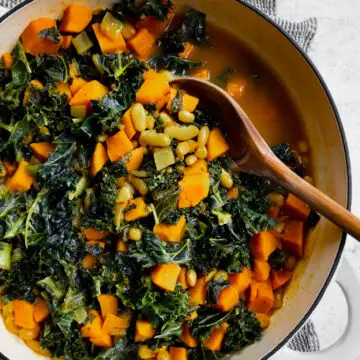 KALE AND BEAN STEW
This vegan stew triumph is the perfect nutritious and budget friendly winter warmer. I'll give you tips on how to serve the kale to little ones and fussy eaters.
Ingredients  
1

tablespoon

olive oil

1

onion

diced

2

garlic cloves

minced

2

teaspoons

ground turmeric

1

teaspoon

cumin

½

teaspoon

cinnamon

Pinch

cayenne

optional

Salt & pepper to taste

1

tablespoon

tomato puree / double concentrate tomato paste (US)

800

ml

vegetable stock

1

bay leaf

700

g

sweet potatoes

approx 4 small, peeled and diced 1 inch max

400

g

tinned cannellini beans

or butterbeans

400

g

tinned haricot beans / navy beans (US)

180

g

kale

stems removed
TO SERVE
Toasted pitta or naan bread
Instructions 
Heat the oil in a large lidded, saucepan over a low heat. Add the onions and fry for 6-8 minutes, stirring often. Then add in the garlic, spices, salt & pepper and stir for 1 minute.

Add in the tomato puree and stock, give it a stir and increase the heat to high. Next, add in the bay leaf, sweet potato and all the beans. Stir then leave to come to the boil. Cover, reduce heat to a simmer and cook for 10 minutes.

Remove the lid, give it a brief stir and then top with the kale, adding it in an even layer. Re-cover and simmer for another 10 minutes.

Finally, remove the lid and gently stir the kale into the stew, recover and cook a further 5 minutes. When serving, remember to remove the bay leaf.
SLOW COOKER INSTRUCTIONS
Do steps 2-4 in your removable slow cooker pot. Put the pot back into your slow cooker base and in even layers add the sweet potato and then the beans. Cover and cook on high for 3 hours, medium for 5 hours or low 7 hours. Then gradually add in the kale, gently stirring it through until it's all added. Recover the slow cooker, turn setting to high and leave for 15 minutes to wilt the kale.
Notes
Make sure you remove any kale stems before cooking.
Leftovers can be stored for 3 days in the fridge (cook day +2) in an air-tight container or food bag. They can also be frozen, defrost for 24hrs in the fridge and heat through until piping hot.
Baby & Toddler
Switch to low-salt stock and omit the salt from the cook.
BABY-LED WEANING
Give their beans a smash down with the back of a fork, and mash their sweet potato chunks. Finely chop through their kale with a sharp knife. You can serve with toasted naan or pitta fingers.

SPOON FEEDING
6 MONTHS put baby's serving into your stick blender pot and puree.
7-9 MONTHS put baby's portion into your mini food chopper and pulse until finely chopped. Serve with lightly toasted pitta cut into finger size strips.
10-12 MONTHS gradually pulse baby's serving in your mini food chopper until it is a lumpy, chopped consistency. Serve with lightly toasted pitta strips.
1 YEAR + It's a good idea to use 2 cans of the haricot beans instead of any cannellini or butterbeans as the haricot beans are very small and not a choking hazard. Otherwise larger beans can be smashed with the back of a fork. You can use the back of the fork to mash the soft sweet potato chunks. Finely chop through their kale with a sharp knife.
Nutrition
Calories:
610
kcal
Carbohydrates:
117
g
Protein:
25
g
Fat:
6
g
Saturated Fat:
1
g
Polyunsaturated Fat:
1
g
Monounsaturated Fat:
3
g
Sodium:
1672
mg
Potassium:
1655
mg
Fiber:
19
g
Sugar:
11
g
Vitamin A:
29776
IU
Vitamin C:
50
mg
Calcium:
354
mg
Iron:
8
mg
Made this recipe?
Leave a rating at the bottom of this page! You could also post a picture on Instagram and tag @togethertoeat to share it with me. Or post to Facebook, Twitter or Pinterest.