This Tuna Pasta Salad without mayo is THE perfect healthy family meal for sunny summer days. It's anything but traditional, there is no mayo in sight, instead I whip up a beautifully fresh basil and parsley dressing. I also add in cannellini beans which are a good source of protein and fibre, making them a great choice for growing kids. The red pepper brings a sweetness and a crunch to the dish and of course the baby spinach is packed full of vitamins and minerals. And if you're worried that your kids won't eat it, don't be! You can find tips for serving to fussy eaters, babies and toddlers below >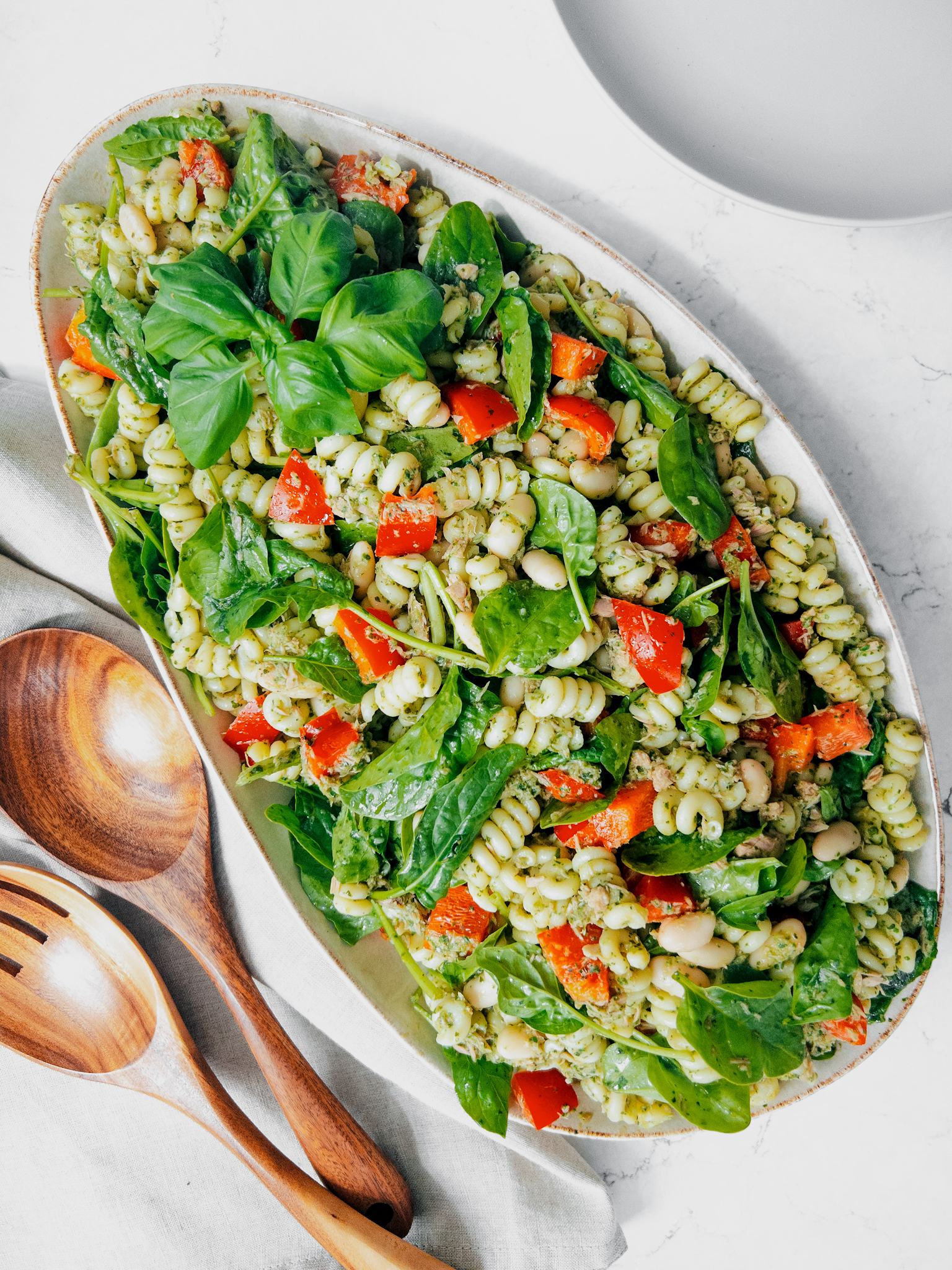 Eat More Sustainably
Use sustainably sourced Tuna, have a look on the tin or at the brand's website to find out if it is. Beans are also a great ingredient to cook with if you want to eat more sustainably. You can cut down on meat and fish in recipes and double the amount of beans. For this meal too you could use just one can of tuna and to compensate, use two cans of cannellini beans instead.
Prep Ahead
This healthy tuna pasta salad without mayo can be prepared ahead of time. You can make the dressing and store it in the fridge. The salad ingredients can be assembled in a large bowl earlier that day or the day before. Just cover with the lid or with clingfilm. You can also dress the salad earlier on in the day and refrigerate, but I do recommend adding the spinach in just before you serve to keep it looking super fresh.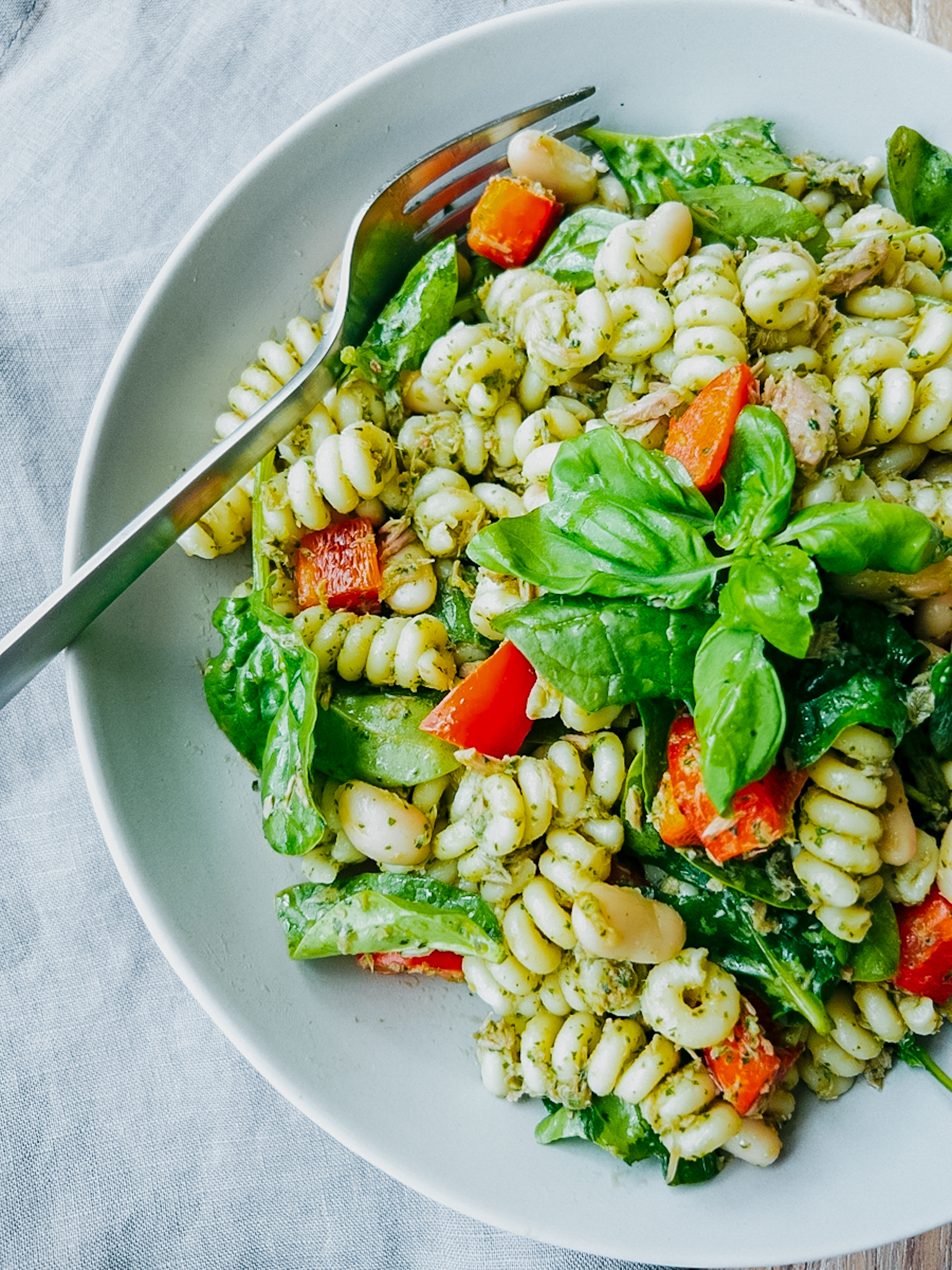 Pro Prep Tips
Rinse the pasta in cold water once you've drained it, as this will help it cool down so much quicker. And don't forget to toss it in a little olive oil, just so it doesn't all stick together as it sits.
Stick blenders are great for making herby salad dressings, especially if you don't have the space for a blender or food processor. If you are going to be doubling up the recipe, use the stick blender in a medium-large bowl instead, as the stick blender pot won't fit it all. Alternatively, you can whizz up a large batch of dressing in the blender or food processor if you have one.
How to Make My Tuna Pasta Salad (without mayo)
Watch me make this healthy tuna pasta salad without mayo step-by-step salad before or as you go.
Kids Cook Too
Younger children can help make this salad which in turn will encourage them to eat it. They can help strip the basil and parsley leaves from their stalks and add them to the blender pot. They'll love whizzing it up with you! They can also help with adding the beans, tuna and the spinach and tossing the salad.
Feed a Crowd with my Tuna Pasta Salad (Without Mayo)
This healthy Tuna Pasta Salad without mayo recipe is easily doubled, and makes a great addition to a summer gathering spread, although you may have to assemble and toss it in two separate large bowls or in turn. If you are serving it as part of a buffet of food then this recipe for 4 servings should be enough as is.
Storing My Tuna Pasta Salad (Without Mayo)
You can store leftovers in an air-tight container in the fridge for up to 2 days. The dressing can be stored in an air-tight jar or bottle in the fridge for up to 3 days. You'll just need to take it out of the fridge about 30 mins before use as it may have solidified a little, but bringing up to room temperature will fix that. Then just give it a really good shake before you dress the salad.
For more on safe food storage and reheating read here >
Diet Details
My Tuna Pasta Salad without mayo is nut-free, egg-free (so long as you go for egg-free pasta) and diary-free. It can be made gluten-free by using gluten-free pasta.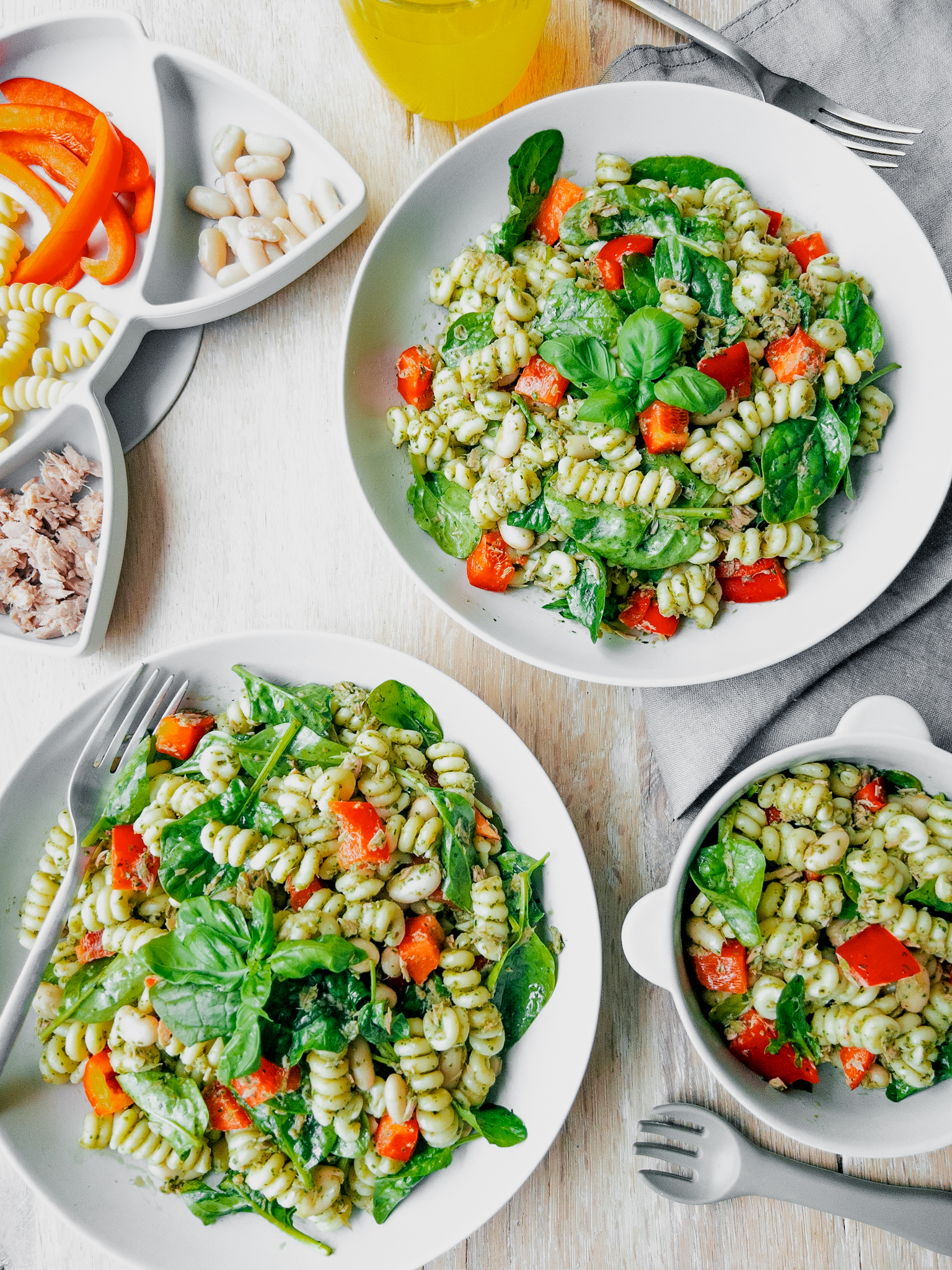 Adapting My Tuna Pasta Salad (without mayo) For Your Family
Eating together is beneficial for families of all ages and stages, for a multitude of reasons; nutritional, behavioural, psychological and for healthy family functioning. This section will show you how to tweak this Tuna Pasta Salad without mayo recipe for sharing with a weaning baby, toddler or a fussy eater, to help make it easier for you to eat together as a family.
Keeping Picky Eaters & Young Children Happy
You might be thinking eeeeek! I fancy this salad but my child will not touch it with a 10 foot pole! But in terms of serving salads to a picky eater, you just need to think outside the box. You can tailor their salad serving especially for them.
Maybe your child hates dressings (like my picky eater son!), but you have the option to serve theirs without dressing. If you do that, it is always good to try and encourage them to still try a little dressing on a mouthful, or give them some in a little bowl to dip in. You could also toss their serving in just a touch of the dressing. 
If your child turns their nose up at the site of spinach, encourage them to try it - but if they won't, let them know they can leave it as long as they eat the red pepper. 
And some children just prefer their food separated out, so if you have one of those, just deconstruct their salad. Give them a pile of each thing, the pasta, beans, red pepper, tuna and spinach. You can also swap something for another salad veg they like instead. Or give them some grated cheese instead of tuna if they'd prefer that. It's totally customisable. Just remember to remove their portion before you compile it for everyone else.
See more from me on fussy eaters here >
Making it Baby & Toddler Friendly
Serve deconstructed, just set aside the ingredients before you assemble the salad. Slice the red pepper (very thinly for under 10 months - it's a choking hazard otherwise), give plain pasta, a pile of flaked tuna and flatten the cannellini beans with the back of a teaspoon. And by all means add some spinach leaves to their plate too - I just forgot here!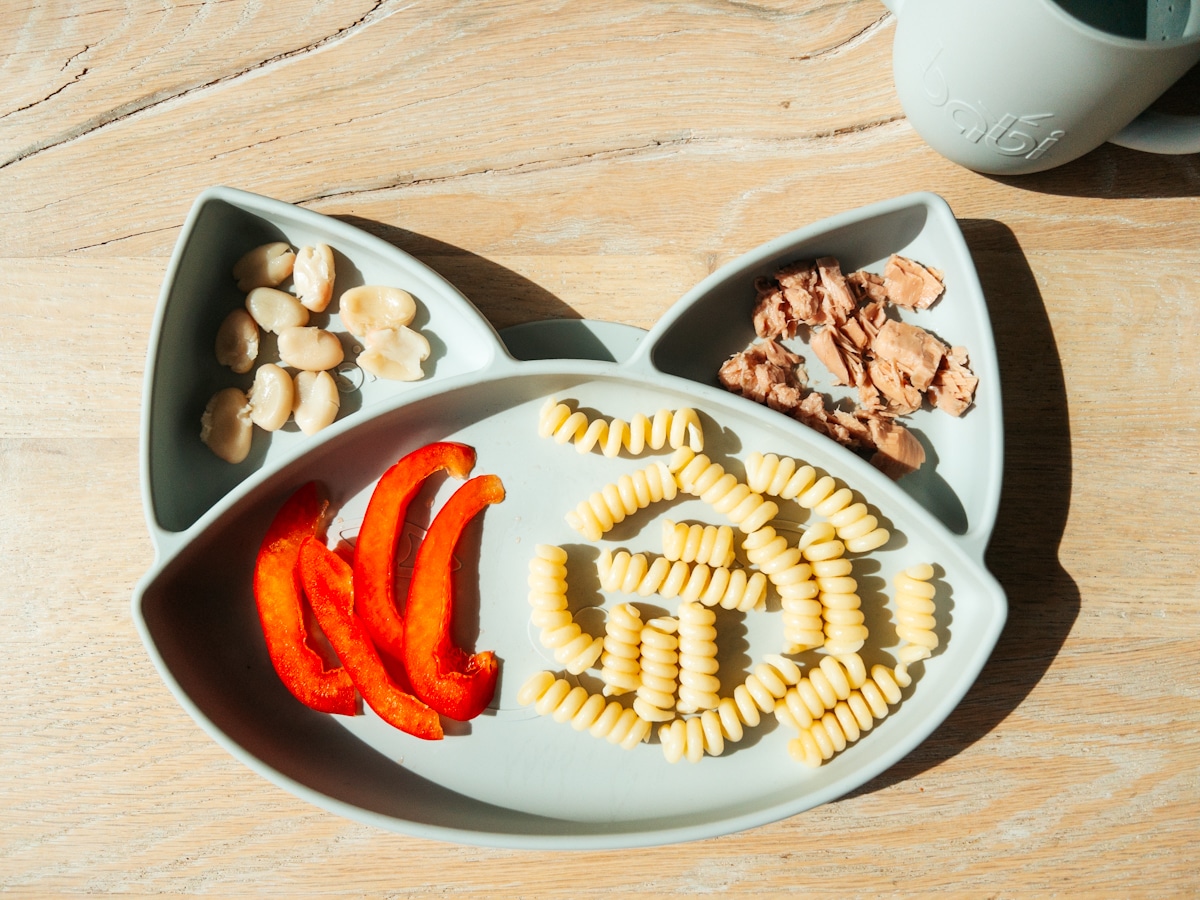 I've also added these notes to the bottom of the recipe so you have them to hand when you come to cook.
For more about how I keep my family meals baby & toddler friendly, read here >
You Might Like…
Together to Eat is reader-supported. I may earn a small commission from anything bought through links found here.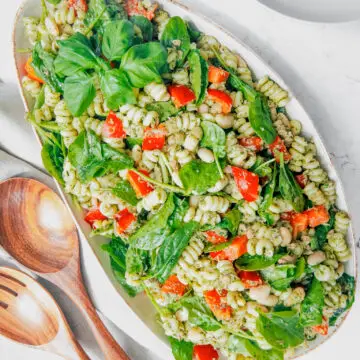 TUNA PASTA SALAD (WITHOUT MAYO)
Tinned tuna, protein-packed cannellini beans, pasta, crisp red pepper and superfood spinach all tossed in a fresh and vibrant basil & parsley dressing.
Ingredients  
2

x 145g

cans tuna

drained

300

g

fusilli pasta

I used Fusilli Corti Col. Buco

1

large red pepper (bell) or 1 ½ small

diced small

400

g

can cannellini beans

drained

2

large handfuls baby spinach
FOR THE DRESSING
30

g

pack basil leaves

30

g

pack parsley leaves

1

small garlic clove

roughly chopped

¼

onion or 1 small shallot

roughly chopped

180

ml

extra virgin olive oil

3

tablespoons

white wine vinegar

¼

teaspoon

salt

Good few grounds black pepper
Instructions 
COOK YOUR PASTA in a large pan of salted boiling water according to packet instructions. Drain and then run under cold water to cool quickly. Then transfer to a bowl and add a little glug of olive oil. Toss well and set aside to cool further (the oil will stop the pasta sticking together). If you cook the pasta earlier in the day or the night before, you can refrigerate until ready to use. Just cover the bowl once cooled or transfer to an airtight storage box or resealable food bag.

MAKING YOUR DRESSING add all the ingredients into your stick blender pot or blender (see note 1) and whizz until the herbs are finely chopped and dressing is smooth. The dressing can be stored for up to 3 days (see note 2).

ASSEMBLE YOUR SALAD in a large mixing bowl by adding the cold pasta, red pepper, cannellini beans and tuna (see notes to adapt for your family). Then add the dressing and toss well. Next, add in one large handful of spinach and toss through briefly. Then add the second handful of spinach and toss through briefly again (see note 3).
Notes
Note 1: You can use a food processor but you probably won't get the dressing as smooth as with a blender.
Note 2: store in an air-tight jar or bottle. Take dressing out of the fridge for 30 mins before use and shake well.
Note 3: If you dress the salad earlier in the day, to keep the spinach fresh don't add it until ready to serve.
ADAPTING FOR YOUR FAMILY
FUSSY EATERS / YOUNG CHILDREN
You can can tailor their salad for them. Remove their portion before you compile it. Serve theirs assembled or deconstructed, dressed with just a little dressing or none.
BABIES
Serve deconstructed, set aside some of the ingredients before you assemble the salad. Slice red pepper (very thinly for under 10 months), give plain pasta, a pile of flaked tuna and flatten the cannellini beans with the back of a teaspoon.
Nutrition
Calories:
802
kcal
Carbohydrates:
75
g
Protein:
31
g
Fat:
43
g
Saturated Fat:
6
g
Polyunsaturated Fat:
5
g
Monounsaturated Fat:
30
g
Trans Fat:
1
g
Cholesterol:
26
mg
Sodium:
551
mg
Potassium:
565
mg
Fiber:
9
g
Sugar:
4
g
Vitamin A:
4110
IU
Vitamin C:
57
mg
Calcium:
141
mg
Iron:
6
mg
Made this recipe?
Leave a rating at the bottom of this page! You could also post a picture on Instagram and tag @togethertoeat to share it with me. Or post to Facebook, Twitter or Pinterest.