These chocolate lime Halloween Jelly Pots are just the right amount of creepy for kids! They'll love the eyeballs and jelly worms coming out of the chocolate soil as well as the jelly lime slime. Not just for little ones, they are they are a must for all jelly or chocolate-lime fans!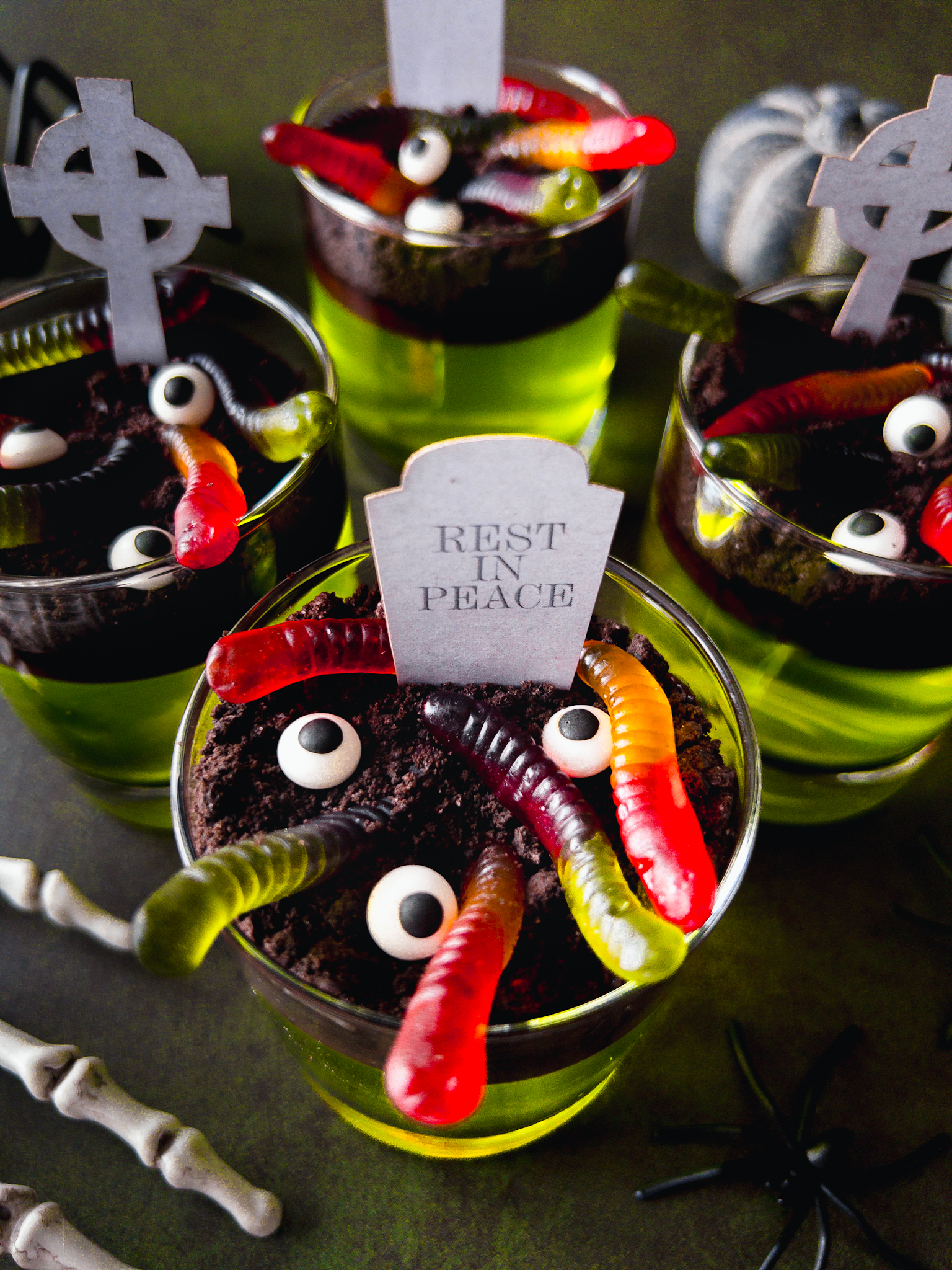 The Stars of my Halloween Jelly Pots
The Lime Slime
You'll want to use a 135g pack of lime jelly to make yourself. If you are in the US go for a 6 oz pack of lime Jell-o mix and follow packet instructions (note it will make more jelly than you need).
The Soil Crumb
So easy to make and you don't need to use a food processor. Just add a pack of Oreo cookies to a resealable food bag and crush them up using a rolling pin or meat mallet.
The Chocolate Sauce
Between the jelly and the Oreo crumb you'll add a layer of shop-bought ooey gooey chocolate sauce.
The Jelly Worms
Any pack of jelly sweet worms or snakes will do. You're most like to find jelly "snakes" but we are going to use them as worms. Add these just to the top of the soil. I have seen other recipes where they put the snakes into the jelly but I don't recommend it, the colouring from the snakes quickly seeps off and stains the surrounding jelly.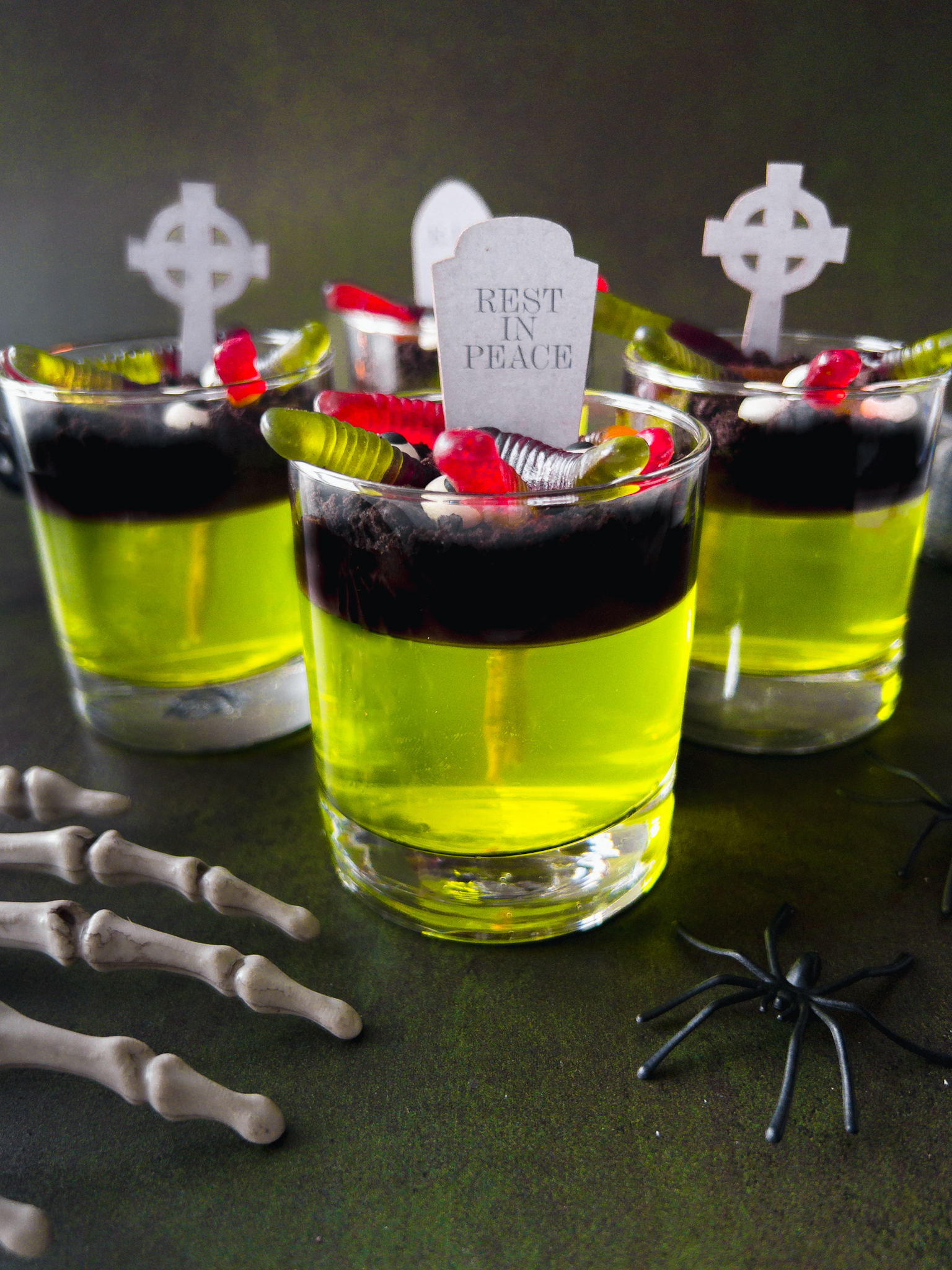 The Eyeballs
Around Halloween time you can find edible eyes in supermarkets as well as on Amazon. You won't need many, just 3-5 for each jelly pot.
The Gravestones
You can buy gravestone cake decorations like the ones I used on Amazon. They are so effective, but if you can't get any, don't worry you can make them without.
Making my Halloween Jelly Pots
Watch me make my Halloween Jelly Pots step-by-step here, before or as you go.
FAQ's For My Halloween Jelly Pots
Can I prepare these Jelly Pots in advance?
The jelly has to be made in advance anyway and you can crush up the Oreo's earlier on in the day too. When it comes to putting the pots together, it's best to do that just before you are ready to serve.
Can I feed more people with this recipe?
Oh definitely! These would be perfect for a Halloween party! You'll just need more of all the ingredients.
Can I give this jelly to my weaning baby?
Unfortunately, these Halloween Jelly Pots contain too much sugar for babies, and the jelly worms and edible eyes are also a choking hazard.
How can younger children help make it?
If you don't want to surprise the kids, this is a great recipe for them to do. You could all assemble your own jelly pots!
Can I Store Halloween Jelly Pots leftovers?
You can store any leftover Halloween Jelly Pots leftovers covered with clingfilm in the fridge until the next day. 
For more on safe food storage and reheating read here >
What diets is this recipe suitable for?
My Halloween Jelly Pots are egg-free.
You Might Like…
Together to Eat is reader-supported. I may earn a small commission from anything bought through links found here.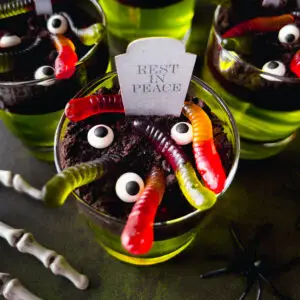 Halloween Jelly Pots
Make everyone squirm with these chocolate and lime Halloween Jelly Pots with jelly worms. They are so easy to make and so effective!
Equipment
Large jug

Spoon

Medium resealable food bag + rolling pin or meat mallet or food processor/blender

Four short tumbler glasses

that hold around 280ml
Ingredients  
135

g

pack of lime jelly

(or Jell-O US)*

1

pack Oreo cookies

Gravestone pack

I used these from Amazon
Instructions 
Add the jelly to a large jug, breaking it up into cubes as you go. Add 285ml / ½ pint of boiling water and stir until fully dissolved.

Top up with cold water to 570ml / 1 pint and give it a good stir.

Pour the mixture evenly into four short glasses or pudding glasses.

Chill in the fridge for at least 4 hours, until fully set.

In the meantime, prep your Oreo's. Separate each Oreo sandwich and scrape out the cream with a knife and discard. Add the biscuits only to a resealable food bag, close and using a meat mallet or rolling pin, crush into crumbs. Alternatively, whizz in a blender.

Once the jelly is set and you are ready to serve, top the jelly with a layer of chocolate sauce, followed by a layer of Oreo crumbs (roughly two spoonfuls).

Then add in your gravestones at the back and add a few worms on top of the Oreo soil crumb, digging the ends of some into the crumb. Dot around a few eyeballs. You can chill in the fridge for a while, but these are best served within the same day.
STORAGE
Any leftover's should be stored in the fridge, covered, and eaten the next day.
Made this recipe?
Leave a rating at the bottom of this page! You could also post a picture on Instagram and tag @togethertoeat to share it with me. Or post to Facebook, Twitter or Pinterest.