It'll soon be Halloween…time to get creative and wow the kids with a spooky snack and this snack board is full of cute Halloween friends that your kids will just love. And if an entire snack board is more than you can handle then no problem, choose your favourite Halloween themed snack from the board and just go with that. I witch you a Happy Halloween!
How to Make My Halloween Snack Board
Watch me make this Halloween Snack Board step-by-step herem before or as you go.
The Snacks
There are six different snacks we are going to make for this board. I recommend making most of the snack elements in advance and then chilling until ready to compile your board. However, I don't recommend making the banana ghosts and the zombie apple mouths until just before you are ready to serve because they will slowly start to go brown.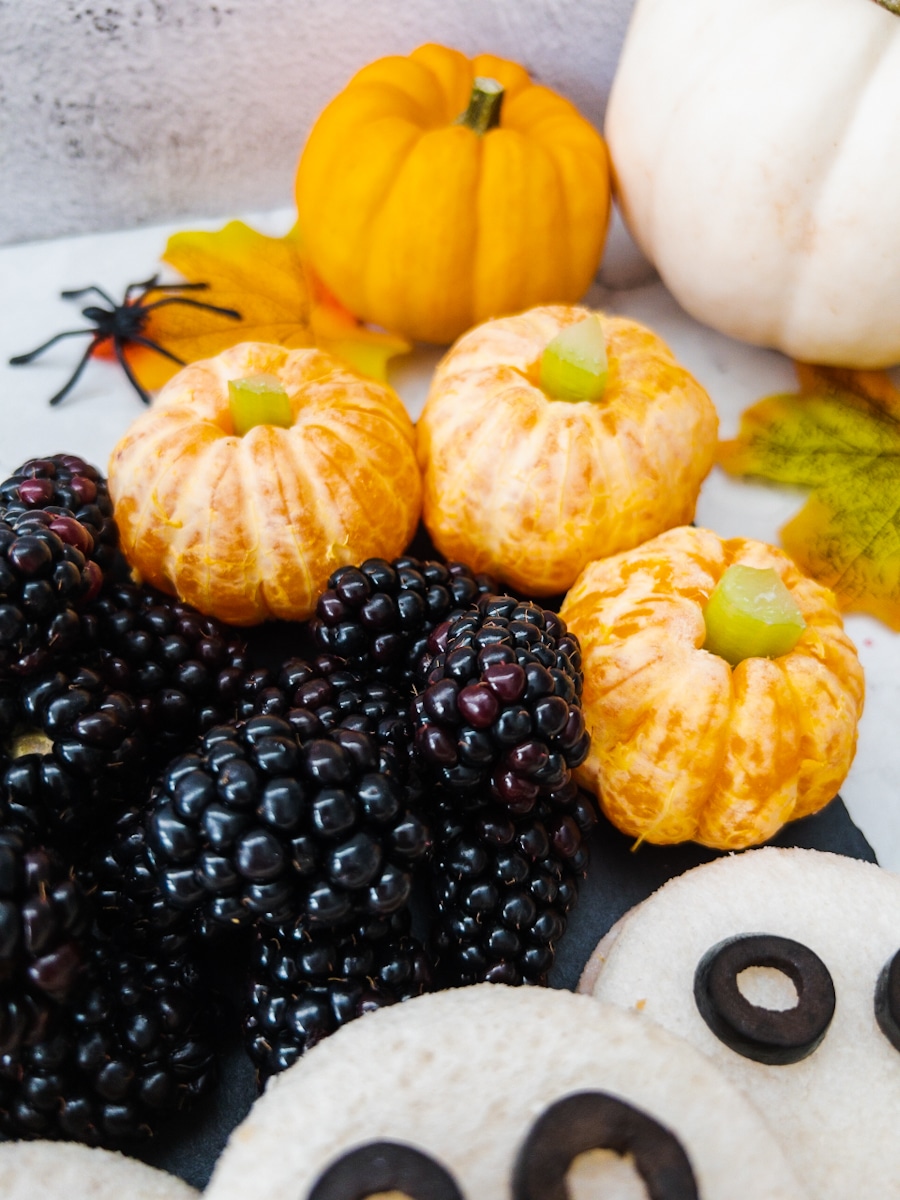 Clementine Pumpkins
Just two ingredients for this one, clementines and celery! I recommend making these first, then wrap in clingfilm (saran wrap) and chill until you are ready to serve.
Mini Sweet Pepper Ghosts
For these super sweet and crunchy ghosts you will need a pack of sweet mini peppers, a little icing sugar and water, plus some sugar eyeballs. We'll need to mix up a little icing to pipe onto the peppers so you'll need a piping bag or tube. This will act like glue to stick the sugar eyes on with. It's also important to make the icing nice and thick or the eyes will slip off if it's runny. Also, we will chill the peppers once we have added the icing, just briefly so the icing starts to set before we add on the eyeballs. 
Another important note, when handling the sugar eyes, make sure your hands are dry and try to not touch the black pupils while you add them to the peppers. You don't want the black dye to smudge or run, it will ruin the look.
Sandwich Ghosts
Keep the filling of these simple like ham or cheese so the sandwiches stay relatively flat and so that the bread sticks to the filling. Then use a ghost cutter to cut them out, pressing down hard and wiggling the cutter around so you get a neat shape.
Then slice up some black olives to add on once you add the sandwiches to the board. If you are using jarred olives you'll need to sit them on some paper towel to dry off. If you use olives not in liquid from a packet, you can skip this step. Once sliced, add the olives to a small bowl, cover and chill. Once you've done your sandwich cutting, put the sandwiches in a resealable food bag or air-tight container and chill under ready to use.
If you don't have a ghost cutter but have another Halloween shape cutter you'd like to use, by all means do that.
Fruit & Marshmallow Skewers
For these you will need skewers, a cantaloupe melon, black grapes, white marshmallows and a chocolate writing pen. Just before you start these you'll probably need to soften the chocolate by putting the tube into hot water for a couple minutes.
When you prepare the melon, you'll need to dice it into roughly 1 inch cubes as best you can. Then you will just alternate the melon, grapes and marshmallows as you thread everything onto the skewers. Then carefully draw faces onto the marshmallows with the chocolate pen. I went for scream-style ghost faces but you can do any face you like. Then the best thing to do is lay them to a baking tray or small chopping board and allow the chocolate to set. At this point, if you aren't ready to compile your board, you can then lie over some clingfilm (saran wrap) and carefully transfer them.
Bananas Ghosts
All you need to make these are bananas and a chocolate writing pen. You want to make these close to serving time so they don't go brown, but allow some time for the chocolate to set - if you do these before the apple mouths then that will be enough time. Again, you'll probably need to stand the chocolate tube in boiling water to soften before you pipe on the faces.
Zombie Apple Mouths
For these zombie mouths you will need 1-2 apples, white mini marshmallows and some thick, smooth peanut butter like Sun-Pat. If you use an oily runnier peanut butter the apple and teeth combo just won't hold and the peanut butter will run down the teeth and ruin the look. And because apple will start to turn to brown once cut, make these apple mouths last.
Other Extras for my Halloween Snack Board
Then we are going to add on some shop-bought snacks:
Orange cheesy crisps, I've gone for cheese balls
A dark berry, I went for blackberries but blueberries would work too
A Halloween-themed chocolate or sweet, I went for sour gummy worms
Kids Cook Too
You can either put this together for the kids as a surprise, or let them help you create it which I'm sure they will have a lot of fun doing.
Sharing the Halloween Board with Babies
If you want your little one to share in the snack board, especially if you are creating it for older siblings, ensure you serve anything you give them cut appropriately for their age. Solid Starts is a great website where you can search for each type of relevant food and see how to serve it for each baby stage and age.
Storing my Halloween Snack Board Leftovers
Of the snacks you've made, really the only leftovers that will be good to keep for a longer period of time are the mini sweet peppers. The fruit and marshmallow skewers will be fine the next day if stored in a resealable food bag or air-tight container in the fridge.
For more on safe food storage and reheating read here >
Diet Details
This Halloween Snack Board is egg-free. You can of course, pick and choose snack elements that suit your preference and diet.

You Might Like…
---
Together to Eat is reader-supported. I may earn a small commission from anything bought through links found here.
Halloween Snack Board
This healthyish snack board is full cute Halloween friends that your kids will just love! And if you can't find the time to pull together the entire board, pick your favourite snack and just make that.
Equipment
A plate

Table knife

Paper towel

Clingfilm + resealable food bags / air-tight food storage containers
Ingredients  
Instructions 
CLEMENTINE PUMPKINS
Slice a stick of celery lengthways into 4. Then cut horizontally into about 1 ½ - 2 inch sticks. Peel the clementines and for each one take a celery stick and push it into the hole in the middle, leaving just a little poking out of the top of the clementine like a pumpkin stalk. Wrap carefully in clingfilm (saran wrap) and chill until ready to compile your board.
MINI SWEET PEPPER GHOSTS
Mix your icing in a small bowl. Once it's smooth and thick, scoop it up on spoon and add carefully to the bottom of a piping bag (near the tip of the bag). Use your hand and squeeze the icing off the spoon and into the bag. Then using scissors, snip just the very tip of the pointed end of the piping bag. You want the hole to be small. Then lay your mini peppers on a plate, flattest side facing up. Add two dots of icing onto each pepper where you want the sugar eyes to go. Then carefully transfer the plate to the fridge and chill for 10 minutes, so the icing starts to set. Then remove carefully and add the sugar eyes onto the icing dots. Make sure your hands are dry and try not to touch the black pupils or they could smudge. These can go back into the fridge until ready to serve.
FRUIT & MARSHMALLOW SKEWERS
Halve the melon and discard the seeds. Cut into 1 inch wide slices. Then cut the peel off. Chop into roughly 1 inch cubes. Then feed onto your skewers a melon cube, followed by a black grape, followed by a marshmallow and so on. When all are done, use your chocolate writing pen to draw faces onto the marshmallows. You will probably need to stand the pen or tube in some boiling hot water for a couple minutes to soften the chocolate prior to this. Allow the chocolate to set and then you can cover with clingfilm (saran wrap) and chill until ready to serve.
SANDWICH GHOSTS
Make simple sandwiches like cheese or ham. Lay your ghost cutter in the middle of the sandwich and press down hard, wiggling the cutter around to achieve a neat cut. Transfer to a resealable food bag or air-tight container and chill to keep fresh. Then slice a few olives, discarding the ends as the holes won't be big enough for the eyes. If they have been in liquid, leave them to dry off on some paper towel, then add to a small bowl and chill until you are ready to build the board, and once you lay the sandwiches in place on the board you can add the olive eyes.
BANANA GHOSTS
Make these second to last, just before you are ready to compile the board as peeled bananas will start to turn brown. Peel your bananas and cut both ends into about 2 ½ - 3 inch long pieces. Then using your chocolate writing pen (once chocolate is soft), draw on a ghost/scream face. Allow to set while you make your zombie mouths.
ZOMBIE APPLE MOUTHS
Make these just before you are ready to compile the board as cut apple will slowly turn brown. Cut the apple into roughly 1 cm slices. Then spread the slices on one side with peanut butter. For each piece, wipe the apple peel and the peanut butter edge with some paper towel to clean it up. Then place the slice down peanut butter side up. Add on 5-6 mini marshmallows arranged like teeth. Then gently place on top another apple slice, peanut butter side down and on top of the marshmallows, pressing it down a little to secure it. You are now ready to start putting together your board.
COMPILE THE BOARD
Watch my video below or use the first picture in the blog post to guide you on the best way to arrange the snacks on a rectangular board. Add plastic spiders last if using.
Notes
STORAGE
They mini sweet peppers leftovers can be stored for about a week in the fridge. The fruit and marshmallow skewers will be fine the next day if stored in a resealable food bag or air-tight container in the fridge.
Made this recipe?
Leave a rating at the bottom of this page! You could also post a picture on Instagram and tag @togethertoeat to share it with me. Or post to Facebook, Twitter or Pinterest.