When it's mid-week and you're craving a healthier burger-fix, these Easy Salmon Burgers are THE ONE! All the satisfaction of a burger with barely any of the fat. It's light, it's fresh, it's super easy to make and quick to cook. Plus, the kids will LOVE it!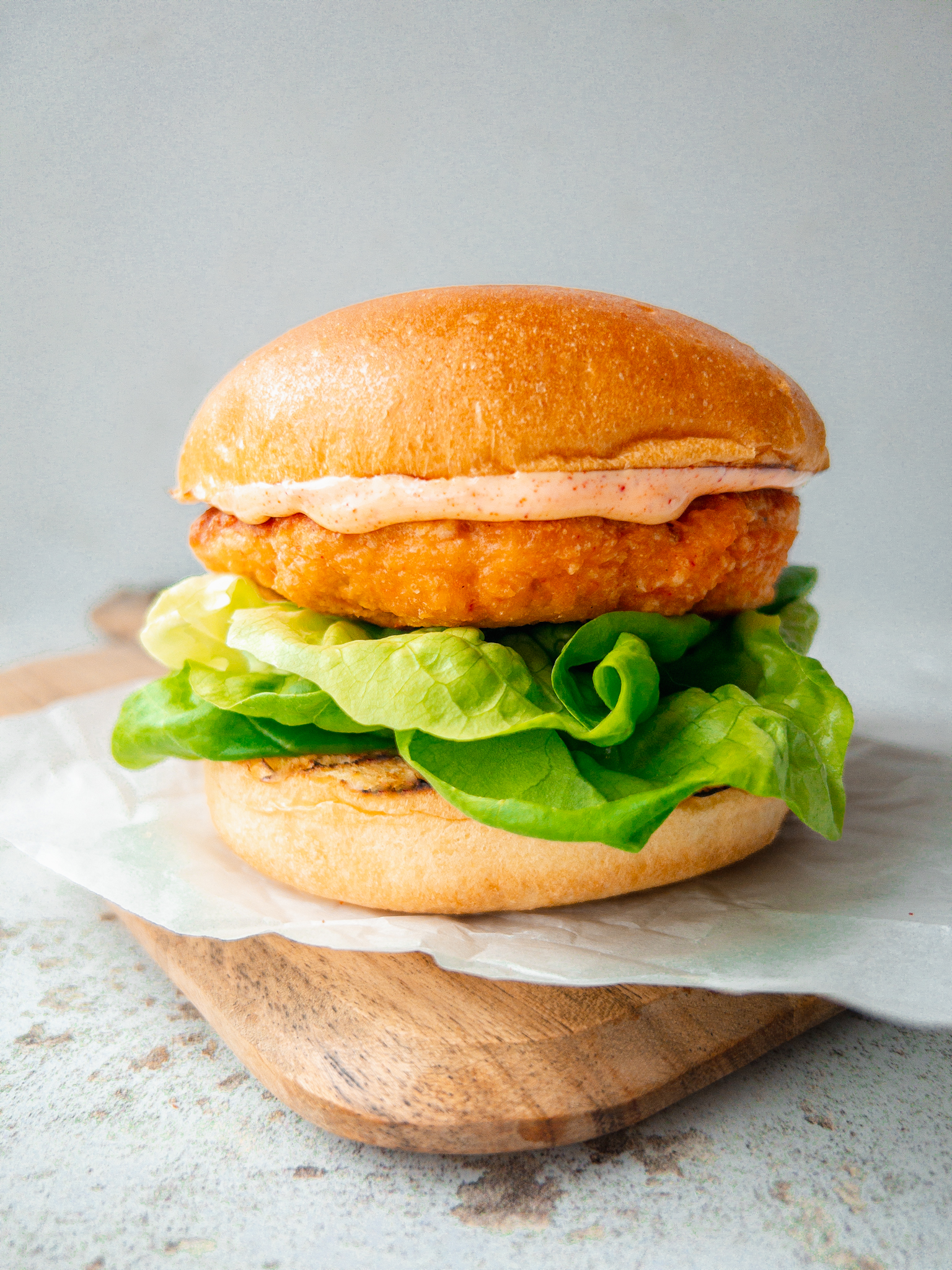 And let's not forget that salmon is actually brain food. I've kept these salmon burgers stupid simple so they can be whipped up quick sharp on a weeknight.
We're going to whip up quick lemon-paprika mayo that compliments the salmon so effortlessly, and doubles as a dip for your potato wedges or chips.
Wondering how to adapt this recipe for your family? See here >
The Stars of my Easy Salmon Burgers
The Salmon
If you can't get skinless salmon fillets, it doesn't matter, just carefully remove the skin yourself with a sharp knife. You can watch my video above to see how if you've not done it before. For this recipe, you can either use 4 salmon fillets or a half side of salmon. They should be around the same weight.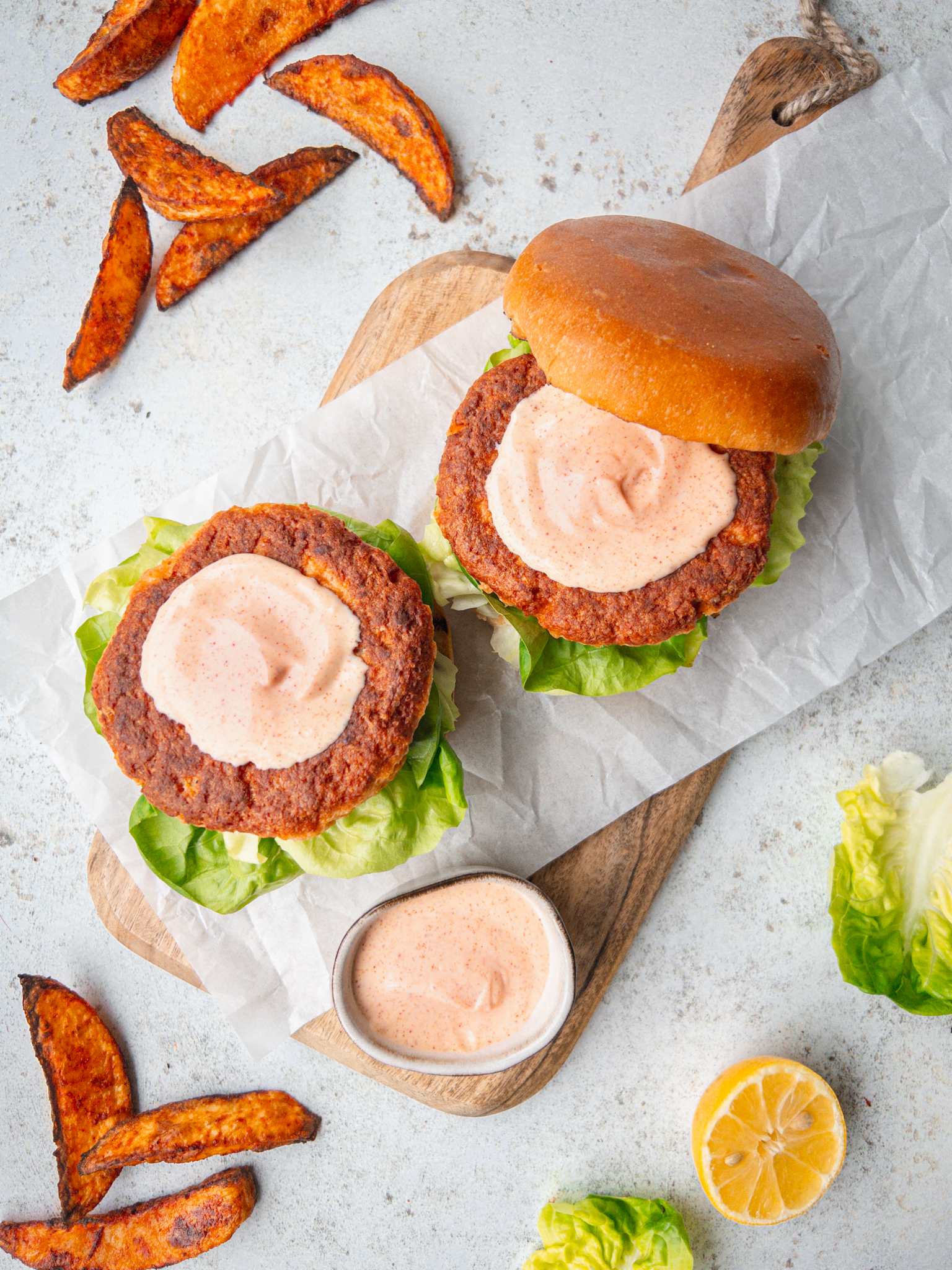 The Lemon-Paprika Mayo
So simple and quick to make, all you need is a fresh lemon or bottled lemon juice, some mayonnaise, smoked paprika and salt & pepper.
The Panko Breadcrumbs
When you blitz the salmon in your food processor, it's going to turn mousse-like in texture. In order to be able to shape it into patties, you need to add something in to give it some bulk. I love to use panko breadcrumbs for this as it's quicker than making your own breadcrumbs, plus I don't know about you - but I always have a pack in my pantry! If you don't, you can use up the rest of the panko with my Sticky Panko Salmon - grab the recipe here.
How to Make My Easy Salmon Burgers
First you'll whizz up the salmon, along with an egg, a little paprika and some seasoning in your food processor. Then you'll mix in some crunchy panko breadcrumbs with your hands and shape the mixture into patties. To cook, you'll fry them in just a tablespoon of oil for only 8 minutes. Yes, I said ONLY 8 MINUTES. While those cook, you'll quickly make the lemon mayo, toast your burger buns and wash some lettuce leaves. Oooh and that lemon mayo makes an excellent dip for your chips or wedges too.
Watch me make these Easy Salmon Burgers step-by-step before or as you cook.
Kids Cook Too
Kids will love to mix the panko breadcrumbs into the salmon with their hands and help to shape the patties. Just make sure they wash their hands very well before and after.
My Easy Salmon Burgers Pair Perfectly With…
My Crispy Potato Wedges, get recipe here>
Chips
Side salad
Feed a Crowd 
This recipe is easy to double, just fry the patties in batches or in two large frying pans/skillets.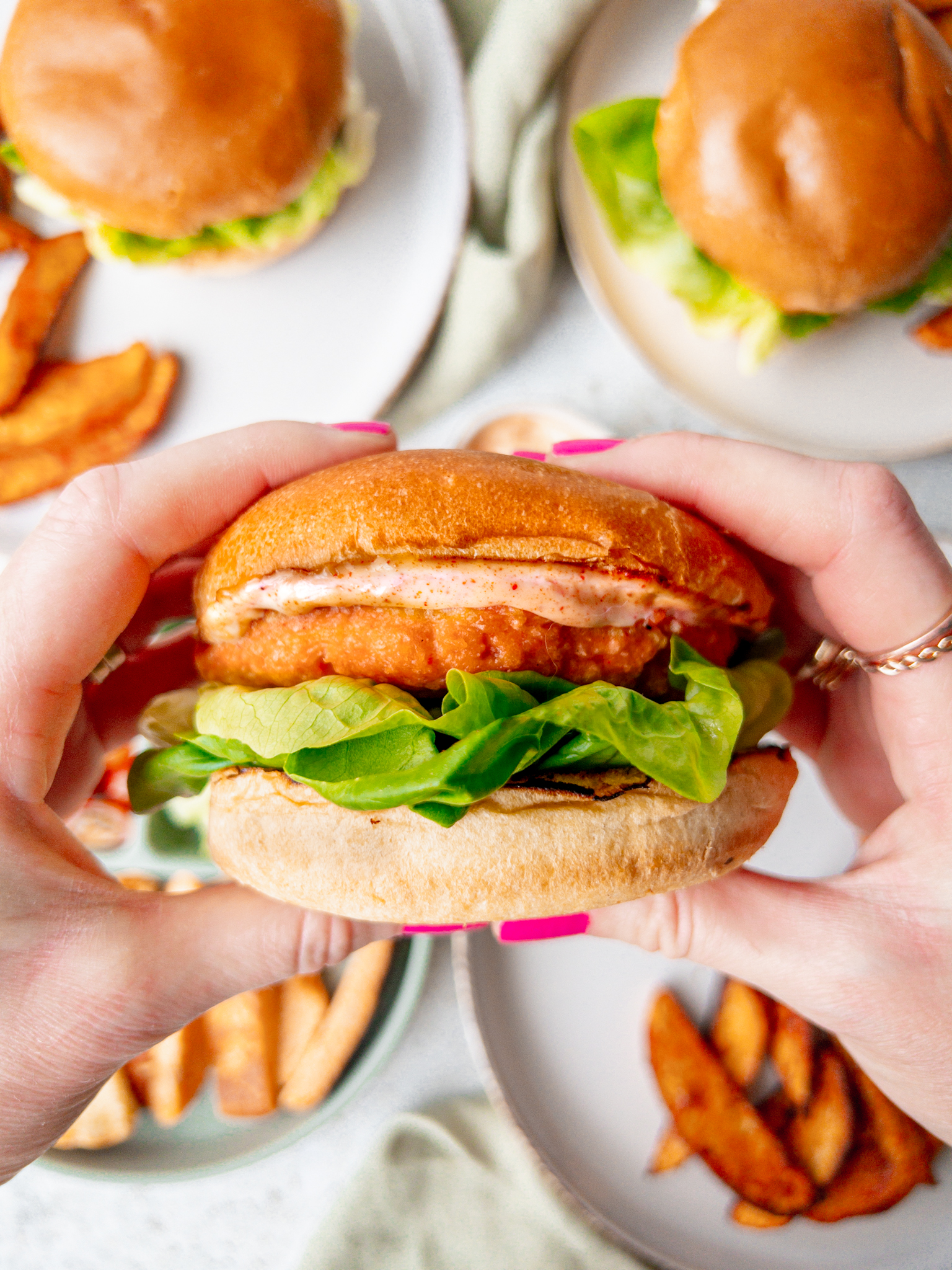 Storing My Easy Salmon Burgers
These patties can be made up and then frozen immediately. Use a little baking paper in between each one to separate them and stop them sticking together. Then defrost for 24 hours in the fridge before frying.
For more on safe food storage and reheating read here >
Diet Details
My Easy Salmon Burgers are nut-free. They can be made gluten-free by using gluten-free panko and gluten-free burger buns.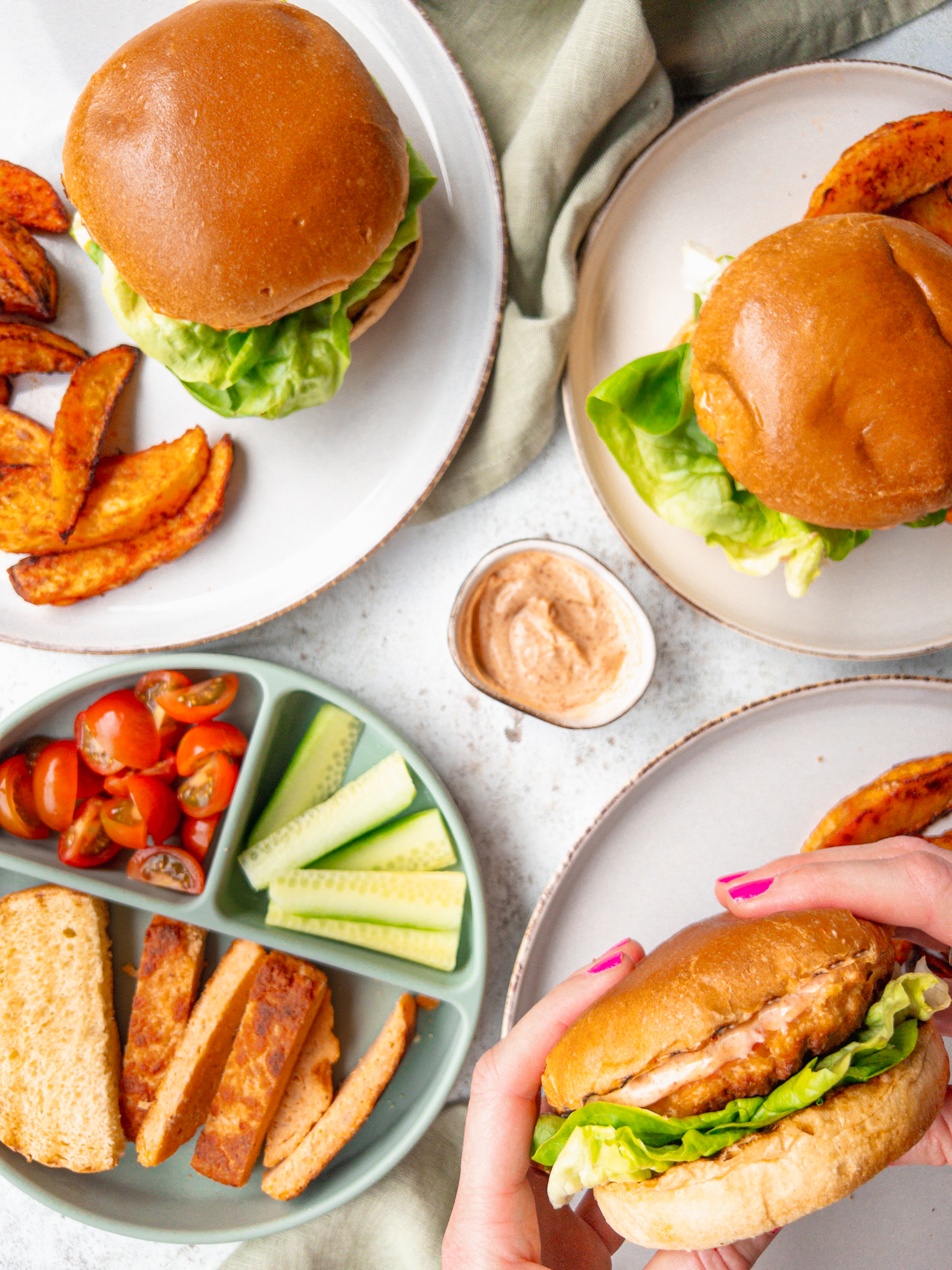 Adapting My Easy Salmon Burgers for Your Family
Eating together is beneficial for families of all ages and stages, for a multitude of reasons; nutritional, behavioural, psychological and for healthy family functioning. This section will show you how to tweak these Easy Salmon Burgers for sharing with a weaning baby, toddler or a fussy eater, to help make it easier for you to eat together as a family.
Keeping Picky Eaters Happy
Well, it's a burger, so it should go down well! You can leave the lettuce off theirs and give them some salad veggies that they like (or tolerate!) alongside. Also give them the option to leave off the lemon mayo - and swap it for ketchup if they like it and you allow it.
See more from me on fussy eaters here >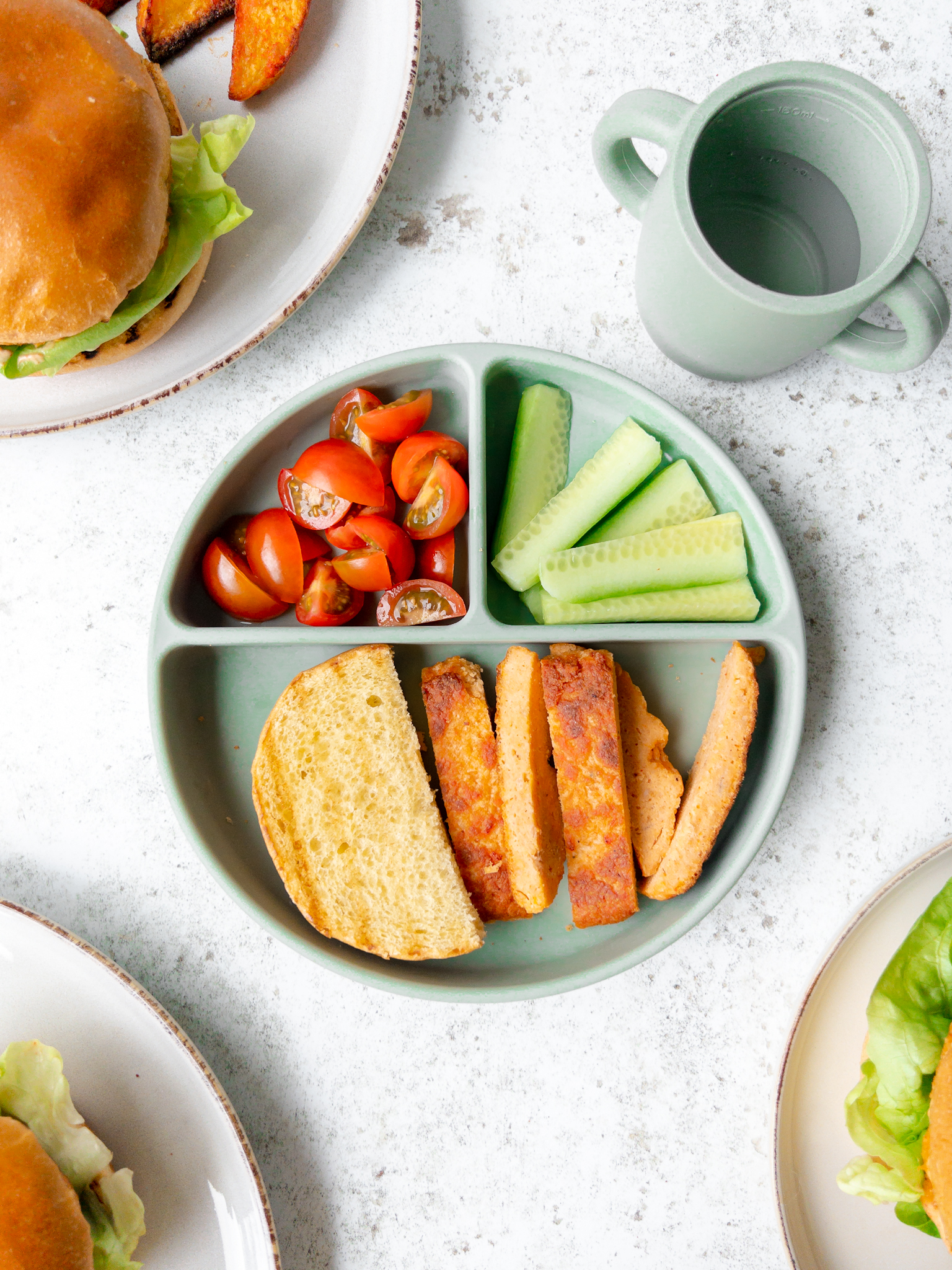 Making Them Baby & Toddler Friendly
Don't worry! I've made sure even babies can enjoy these burgers too. Salmon is always a nutritious option for kids as it's packed full of omega-3 fatty acids. These are important for children's brain development as well as their overall health. 
I recommend a slight tweak to this recipe if you are serving to a baby or toddler. First, we want to eliminate the salt from their salmon patty. To do that, when you whizz the salmon in your food processor, hold back on the salt. Then, remove a large spoonful of the salmon (which will now be mousse-like in texture) and add it to a bowl along with some of the breadcrumbs (if you've removed about ¼ of the salmon for their patty, then add in about ¼ of the breadcrumbs) and mix together. Then form into a patty. After that, you can add the salt (a little less) into the food processor and whizz it into the salmon. Then you can carry on with the other 3 burgers as normal. You might want to fry little one's patty in a separate small frying pan if you are worried you'll get them mixed up.
How to Serve to Babies & Toddlers
The best thing to do with burgers for little ones is to serve them deconstructed. Slice their salmon patty in half horizontally and then cut the two patty halves into finger-size strips. You can serve half a bun whole or in finger strips too, alongside sticks of their favourite veggies. 
For more on how I keep my family meals baby & toddler friendly, read here >
You Might Like…
Together to Eat is reader-supported. I may earn a small commission from anything bought through links found here.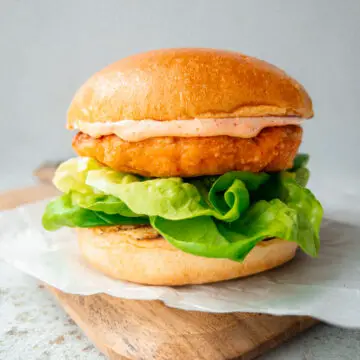 EASY SALMON BURGERS
Who said burgers have to be unhealthy?! These Salmon Burgers are fresh and light, with a lemon-paprika mayo to top them off perfectly. PLUS, they are so easy to make and can be on the table within 25 minutes.
Ingredients  
4

salmon fillets OR half a salmon side

skinless and boneless

1

teaspoon

sweet smoked paprika

1

large egg

¼ - ½

teaspoon

salt*

Generous amount of black pepper

60

g

panko breadcrumbs

1

tablespoon

olive oil
FOR THE LEMON-PAPRIKA MAYO
115

g

mayonnaise

1

tablespoon

lemon juice

1

teaspoon

smoked paprika

Salt & white pepper to taste
TO SERVE
4

brioche burger buns

Lettuce leaves

Oven chips or wedges if you like
Instructions 
Roughly chop the salmon fillets and add to your food processor. Add in the egg, paprika, salt & pepper. Whizz on high until salmon mousse-like in texture.

Tip the salmon into to a mixing bowl, scraping down the food processor bowl with a spatula. Add in the breadcrumbs and mix in well with your hands. Then to make each patty, take a quarter of the salmon mixture and roll into a rough ball in your hands and then flatten it between your palms, into roughly ½ inch thick patties (if eating with little ones you can flatten theirs a little more). Repeat for the next 3 patties.

Heat the oil in a frying pan/skillet over a medium heat. Then carefully swirl the oil around the pan and add in the salmon patties. Fry for 4 minutes each side, until deep golden brown and crispy.

In the meantime, combine the lemon-paprika mayo ingredients in a small bowl and stir well.

Slice the burger buns in half and lightly toast in a hot griddle pan briefly, or in the toaster.

To assemble, top the bottom burger buns with a salmon patty and then some lettuce. Spread a generous amount of the lemon mayonnaise on the inside of the top bun. Any remaining mayo can be served as a dip for wedges or chips.
Notes
*use ¼ teaspoon salt if eating with younger children. See below notes if eating with baby or toddler.
If you are using a cast-iron skillet, cook over a medium-low heat.
If you can't get skinless salmon fillets, just remove the skin yourself with a sharp knife.
Baby & Toddler
When you whizz the salmon, hold back the salt. Carefully remove around ¼ of the salmon mixture (or less) for baby's patty (and mix with around ¼ of the breadcrumbs). Add your salt to the food processor and whizz again well to combine it for the rest of the patties. You can fry their patty in a separate small pan if you like.
Serve their burger deconstructed. Slice their salmon patty in half horizontally and then cut the two patty halves into finger-size strips. You can serve half a bun whole or in finger strips too, alongside sticks of their favourite veggies. 
Nutrition
Calories:
882
kcal
Carbohydrates:
46
g
Protein:
46
g
Fat:
57
g
Saturated Fat:
17
g
Polyunsaturated Fat:
18
g
Monounsaturated Fat:
11
g
Trans Fat:
1
g
Cholesterol:
290
mg
Sodium:
870
mg
Potassium:
894
mg
Fiber:
1
g
Sugar:
1
g
Vitamin A:
1339
IU
Vitamin C:
2
mg
Calcium:
96
mg
Iron:
3
mg
Made this recipe?
Leave a rating at the bottom of this page! You could also post a picture on Instagram and tag @togethertoeat to share it with me. Or post to Facebook, Twitter or Pinterest.