My Lemon Pea Risotto is creamy and bright with the perfect balance of zingy lemon and fresh parsley. This is my go-to summer risotto recipe because it's SO good. And, it's not one of those stand and stir your life away kind of risottos, it's a bung it in the oven, or the instant pot and let it cook itself kind of risottos. And I don't know what it is about this one, but I find cooking it so calming and eating it so comforting. If you like to unwind while you make dinner, this is the perfect weeknight meal to help you do that. 
The lemon and parsley in this risotto, although both subtle, really sing summer. And I have to put my cards on the table and say it IS a little on the indulgent side. We will be adding cream and a fair amount of parmesan. But this dish cannot be made any other way or you'd just be sacrificing the silky creaminess that makes this risotto the bowl of lemony love that it is. 
I add no wine to this risotto so young children and even weaning babies can enjoy it too, with a couple tweaks. See how to adapt this recipe for your family here.
How to Cook My Lemon Pea Risotto
Watch me make this Zesty Pea Risotto step-by-step here, before or as you cook.
The Stars of my Lemon Pea Risotto
The Risotto Rice
For this recipe I have used arborio risotto, as it's the most widely available type of risotto rice, but you can also use carnaroli risotto if you can find it. Arborio rice can go mushy when overcooked, whereas carnaroli will keep its shape and you'll get an even creamier risotto with it.
The Lemon
When you come to zest your lemon, I have a handy trick for you! Most lemons you find in the supermarket will be coated in wax to preserve the peel and keep them looking fresh. It's best to de-wax any citrus fruit before you zest them, and there is an easy way to do it. Just add the lemons to a sieve or colander and pour boiling water over them for a few seconds. Then immediately scrub with paper towel or a clean dishcloth until they look dry. You'll notice their peel now looks a little duller.
The Peas
I have used Petit Pois peas as I just prefer them in risotto. Also, Petit Pois are a better size for weaning babies and toddlers. You can of course sub for regular garden peas (see Baby & Toddler section below if you are eating with a little one).
The Stock
If you aren't vegetarian you can choose whether to use chicken stock or vegetable. As we aren't vegetarian, I like to use chicken stock as I think it adds a richer flavour.
The Vinegar
I've used cider vinegar in this risotto instead of any other type because it is fruity, tart and sweet all at the same time and it's less acidic than other vinegars. If you want to use white wine vinegar instead, use just 1 teaspoon and add a pinch of white sugar.
Eat More Sustainably
This meat-free risotto definitely won't leave you feeling like you're missing meat, which makes it a great recipe to add to your dinner rotation for even non-vegetarians.
Kids Cook Too
Younger children can get involved by helping measure out ingredients and adding them to the pan (carefully!). You can add a little uncooked risotto rice to an empty bottle or container, making a shaker, to keep babies and toddlers entertained while you cook.
Feed a Crowd
This recipe can be doubled, so long as your casserole dish / dutch-oven or Instant Pot can accomodate it.
Storing My Lemon Pea Risotto
Because of the rice, cool leftovers down quickly and refrigerate or freeze as soon as they are cool enough. You can store leftovers in an air-tight container in the fridge for up 24 hours. You can also freeze them, just defrost for 24 hours in the fridge and make sure you reheat until the risotto is piping hot. Before microwaving, add in a little stock, water or milk so it doesn't dry out, and be sure to stir halfway through.
For more on safe food storage and reheating read here >
Diet Details
My Lemon Pea Risotto is vegetarian, gluten, egg and nut free.
Adapting My Lemon Pea Risotto For Your Family
Eating together is beneficial for families of all ages and stages, for a multitude of reasons; nutritional, behavioural, psychological and for healthy family functioning. This section will show you how to tweak this Lemon Pea Risotto recipe for sharing with a weaning baby, toddler or a fussy eater, to help make it easier for you to eat together as a family.
Keeping Picky Eaters Happy
If your fussy eater has never had risotto before, or last time they did they didn't like it, you might be apprehensive about trying this recipe out. What I would recommend with any new risotto or pasta dishes you are worried about, is to try serving garlic bread or crusty bread also as a side. Often, picky eaters will eat more of a meal they aren't sure about or don't like if they have another option they do like alongside it. It can also give you some leverage, you can restrict the amount of bread they have, and only allow them to have more if they eat more of their meal first.
See more from me on fussy eaters here >
Making my Lemon Pea Risotto Baby & Toddler Friendly 
Just a few tweaks here so little one can share my Lemon Pea Risotto with you. Use low-salt stock and hold back on adding the salt to the cook. Then at the end, you can remove little one's serving or servings (if freezing leftovers) and add salt to the pot after and stir in well. Alternatively, add salt to your plate. We are using Petit Pois peas which are very small and won't be a choking hazard. If you can't buy Petit Pois peas where you are and have to use regular peas, then for younger babies you can smash the peas in their serving down with the back of a fork to flatten.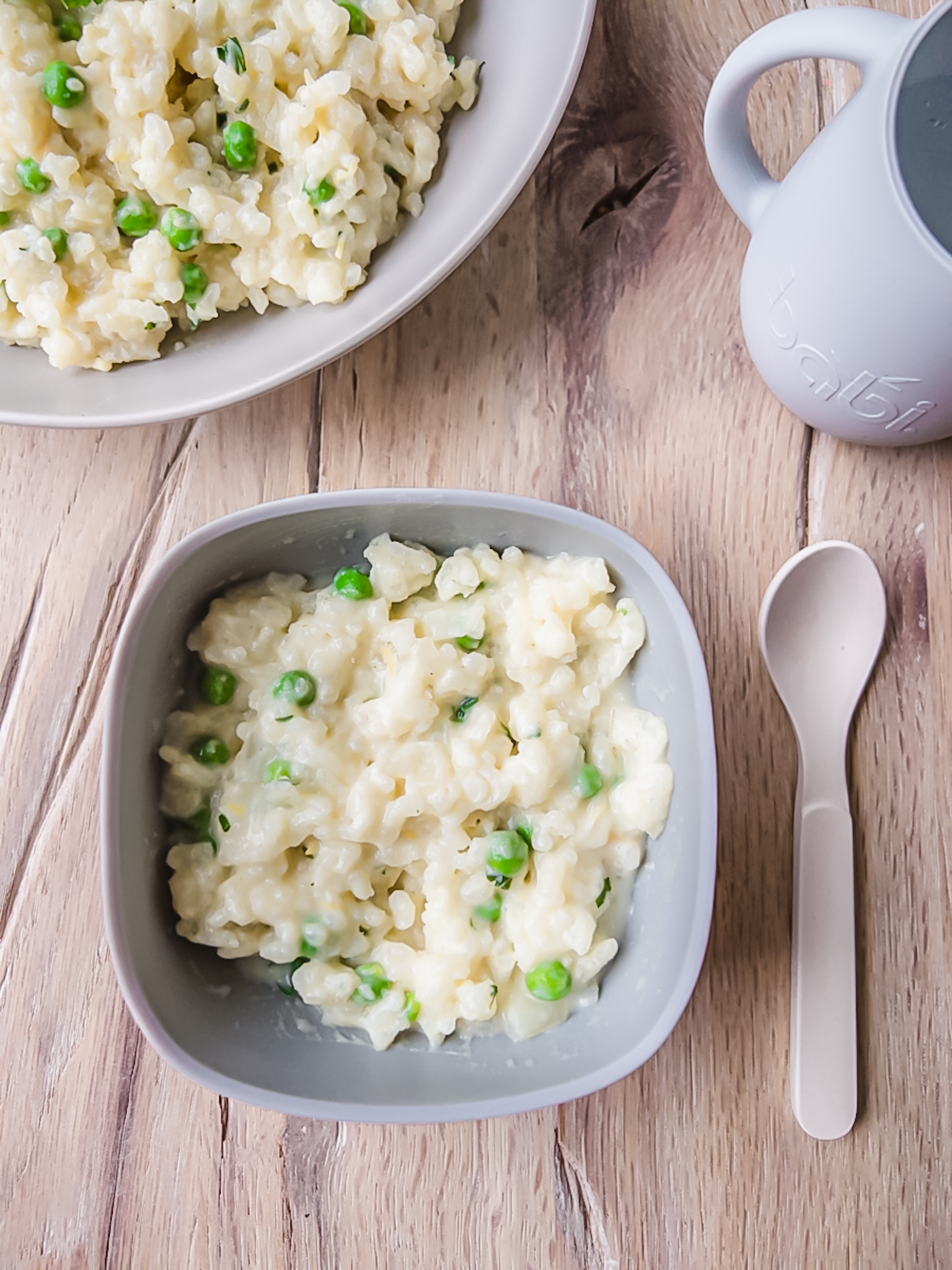 How to Serve my Lemon Pea Risotto to Babies & Toddlers 
BABY-LED WEANING 
Serve as is. Baby will be able to grab handfuls of this sticky rice no problem.
SPOON-FEEDING
6 months 
You can whizz this into a purée, using a stick blender pot or food chopper (if you have that one that purées). Add warm boiled water to loosen as it will be quite thick and sticky.
7 months +
Serve the risotto as is, adding more low-salt stock to loosen more for younger babies. 
I've also added these notes to the bottom of the recipe so you have them to hand when you come to cook.
For more info on how I keep my family meals baby & toddler friendly, read here >
You Might Like…
Together to Eat is reader-supported. I may earn a small commission from anything bought through links found here.
LEMON PEA RISOTTO
Creamy and bright with the perfect balance of zingy lemon and fresh parsley. This Lemon Pea Risotto can be oven-baked or cooked in the Instant Pot.
Equipment
Grater & chopping board

Garlic press
Ingredients  
1

tablespoon

olive oil

15

g

salted butter

1

onion

finely diced

3

cloves

garlic

minced

350

g

Arborio risotto rice

rinsed

1

ltr

hot vegetable or chicken stock

see note 1 if using Instant Pot

1

lemon

zested

½

tablespoon

apple cider vinegar

see note 2

Salt & pepper to taste

100

ml

double cream

(heavy whipping cream US)

150

g

frozen petit pois peas

or regular garden peas

2

tablespoons

fresh parsley

chopped

60

g

parmesan cheese
Instructions 
Preheat the oven to 180ºc/160ºc fan/350ºf/gas 4. Heat the oil and butter in a casserole pot or dutch oven, over a low heat. Add the onions and fry for 6 minutes. Add the garlic and fry for 1 more minute. Increase the heat to medium and add in the risotto rice. Fry for 2 minutes, stirring.

Then add in the stock, lemon zest, vinegar, salt & pepper and stir well. Turn off the heat and add in the cream. Stir through well. Cover and transfer to the oven for 12 minutes.

Then add in the peas and parsley and stir through well. Return to the oven, covered, for 5 minutes. When done, stir through the parmesan.
INSTANT POT INSTRUCTIONS
Pre-heat the inner pot, select Saute - normal and add the oil and butter. When starting to bubble, add the onion and fry for 3 minutes. Then add garlic and fry for a further minute. Add in the risotto rice and fry for 2 minutes, stirring.

Add in the stock, lemon zest, vinegar and seasoning and stir well, deglazing the bottom of the pan as you go (scraping off stuck on food with a wooden spoon). Add in the cream and stir through well. Put the lid on, close and turn the steam release handle to Sealing. Pressure cook on high for 6 minutes.

Once done, release the pressure quick venting. Then add in the peas and parsley and stir in well. Select Saute - normal and leave to bubble for 3-4 minutes. Turn the Instant Pot off and stir in the parmesan.
Notes
Note 1: use a little less stock as less liquid cooks off when using the Instant Pot. Reduce it to 800ml / 3 ⅓ cups.
Note 2: if you sub for white wine vinegar, use just 1 teaspoon and add a pinch of white sugar.
Note 3: you can use regular garden peas if you like.
BABY & TODDLER
Use low-salt stock and don't add salt into the cook.
BLW
Serve theirs as is. If using regular peas instead of Petit Pois, flatten them down with the back of a fork for younger babies.
SPOON-FEEDING
6 MONTHS you can whizz into a purée adding warm boiled water to loosen.
7 MONTHS + serve as is, adding low salt stock to loosen for younger babies.
Nutrition
Calories:
570
kcal
Carbohydrates:
82
g
Protein:
15
g
Fat:
20
g
Saturated Fat:
11
g
Polyunsaturated Fat:
1
g
Monounsaturated Fat:
7
g
Trans Fat:
1
g
Cholesterol:
47
mg
Sodium:
278
mg
Potassium:
296
mg
Fiber:
6
g
Sugar:
5
g
Vitamin A:
1046
IU
Vitamin C:
35
mg
Calcium:
227
mg
Iron:
5
mg
Made this recipe?
Leave a rating at the bottom of this page! You could also post a picture on Instagram and tag @togethertoeat to share it with me. Or post to Facebook, Twitter or Pinterest.