I LOVE muffins. For breakfast. It's the only time of day I would eat a muffin. But I can't eat regular crammed-full of sugar muffins for breakfast, no no no! I need a less sweet, healthier version that also tastes great. This is the first of several breakfast muffins I will share with you, and they will all have at least half the sugar you are used to seeing in muffin recipes.
PLUS these banana muffins are made with wholewheat (wholemeal) flour which gives them a deeper flavour and makes them more nutritious. So all-in-all these banana chocolate chip breakfast muffins are a healthier breakfast choice if you are a muffin fan.
Oh and did I mention that these have banana in? Who doesn't love a banana bread variation? And then there's just the right amount of those little drops of melty, silky chocolate running throughout the soft and fluffy inside. Ummmmmm.
And as with all my breakfast muffins, I love to break them in half and slather on unsalted butter which melts in and makes them even more delish. Don't knock it till you try it!
How to Bake My Banana Chocolate Chip Breakfast Muffins
Watch me make these Banana Chocolate Chip Breakfast Muffins step-by-step before or as you bake.
Tips for Making my Banana Chocolate Chip Breakfast Muffins
Ingredients
When it comes to the bananas, be sure to use ripe ones. Anything from having brown spots on the peel to being completely brown all over will do here. 
For US visitors, my ingredients list shows cup measurements and ounce measurements (click on US Customary top right of ingredients list).  I would always recommend if you have them to use scales and weigh the ingredients out for any baking recipes. Measuring in cups is often not accurate enough when it comes to baking and you will always be more likely to get the same results I do if you the weigh the ingredients.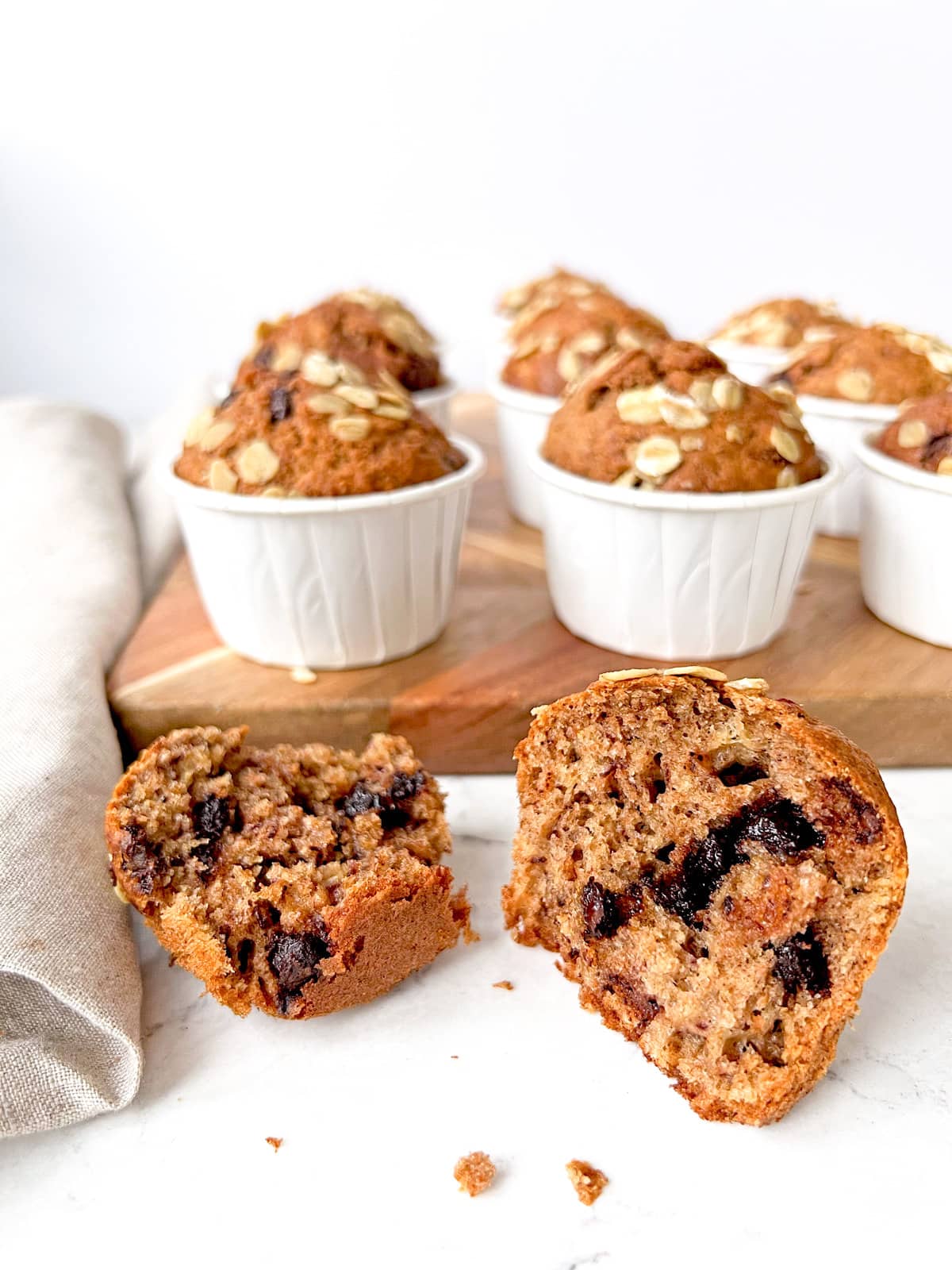 Prep Ahead
I love to wake up on Sunday mornings and make a fresh batch of breakfast muffins for my family to enjoy (I'm not the only one am I?!). To speed the process up a little in the morning, I measure out the flour, salt, baking powder, bicarb/baking soda and cinnamon the night before into an lidded prep bowl. I also measure out the butter and sugar into the saucepan and leave it with the lid on overnight so I'm ready to go when I get up.
Bake Them
Even the most novice of bakers will be able to make these banana muffins, you are just mixing everything by hand in a saucepan - easy! The only tip I really need to give is about the casing. I find most muffins stick far too easily to a regular cupcake or muffin case. So I either grease a silicone muffin tray with spray oil (a couple sprays each cup) or use cupcake/muffin baking cups. Silicone muffin trays are great because you can easily pop the muffins out once they have cooled a little.
You can use a 6-cup jumbo muffin tray instead of the 12 if you prefer a large muffin, you'll just need to bake them longer, for 40-45 minutes and check the skewer or toothpick comes out clean. Then, just leave them to cool off a little, 10 minutes should do it.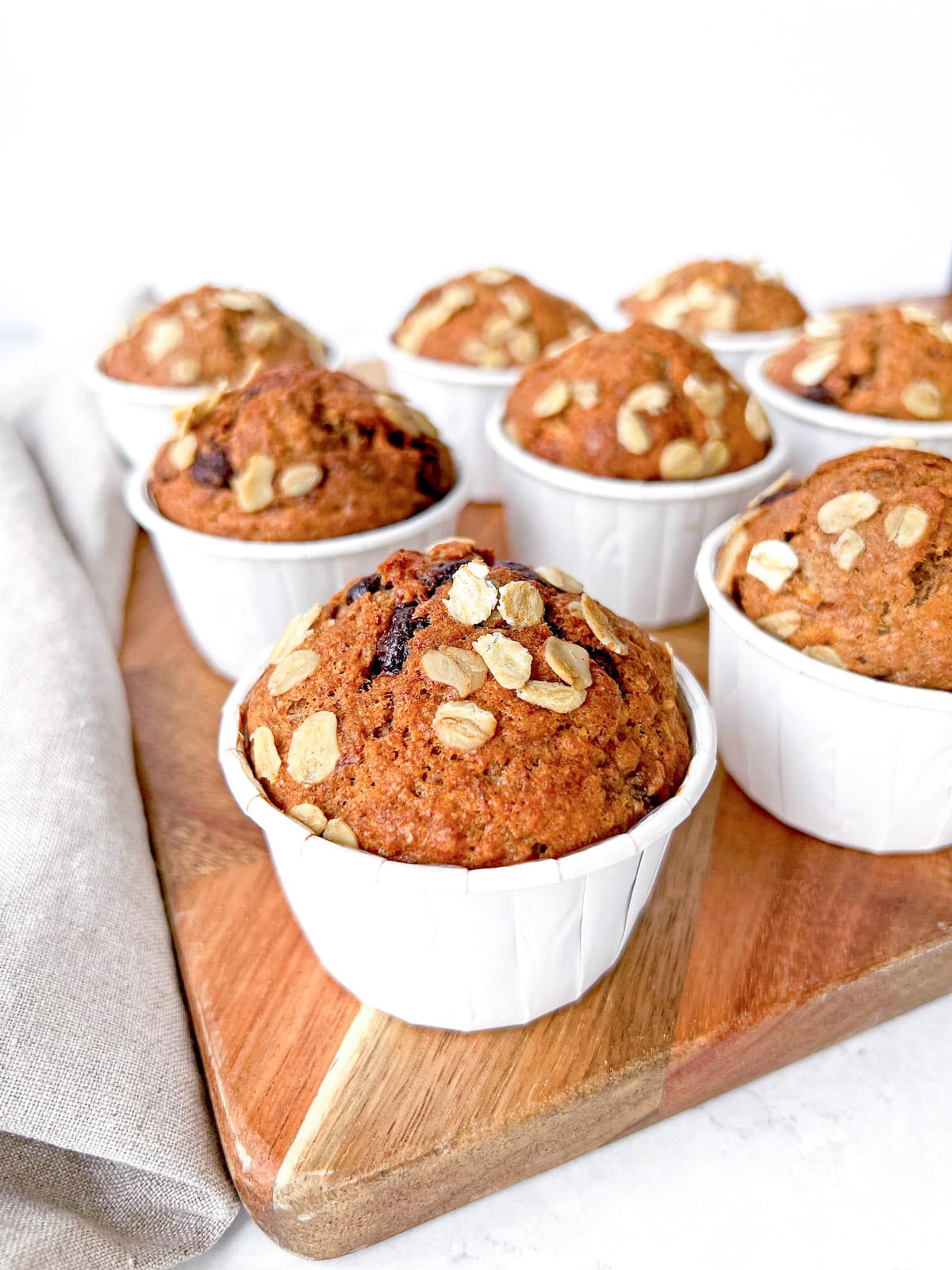 Storing My Banana Chocolate Chip Breakfast Muffins
You can keep these banana muffins for 3 days at room temperature in an air-tight container. Just pop them in a preheated oven at the same temperature as when you bake them, for 6-7 minutes and it'll be like they are freshly baked again. You can also freeze them, just defrost in the microwave for 1 min 30 secs - 2 minutes just before they go in the oven or defrost them at room temperature in a sealed food bag or air-tight container.
For more on safe food storage and reheating read here >

Diet Details
My Banana Chocolate Chip Breakfast Muffins are vegetarian and nut-free, so long as the chocolate chips were made in a dedicated nut-free factory.
You Might Like…
Together to Eat is reader-supported. I may earn a small commission from anything bought through links found here.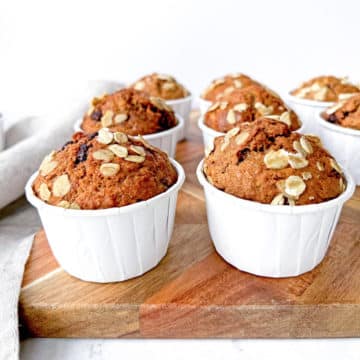 Banana Chocolate Chip Breakfast Muffins
These low sugar, wholemeal banana muffins with melting, silky chocolate chunks running through their soft and fluffy inside, are perfect with a slathering of unsalted butter for a much deserved weekend breakfast treat.
Ingredients  
100

g

unsalted butter

55

g

granulated sugar

OR 2 tablespoons honey

2

large, ripe bananas

mashed well

2

eggs

lightly beaten

100

ml

milk

(I use semi skimmed)

260

g

plain wholemeal / wholewheat flour

1

teaspoon

baking powder

½

teaspoon

bicarbonate of soda / baking soda

¼

teaspoon

salt

½

teaspoon

cinnamon

60

g

dark chocolate chips

jumbo / thick rolled oats

for sprinkling, optional
Instructions 
Preheat the oven to 170ºc/150ºc fan/325ºf/gas 3. Spray your silicone muffin tray a couple times each cup or line it with muffin cups. Next, melt the butter and sugar in a medium saucepan over a medium heat.

Remove it from the heat and stir in the mashed banana. Then add the milk and then the eggs and stir until well combined. 

Add in the flour, salt, baking powder, bicarb/baking soda and cinnamon and stir until no white flecks remain. Lastly, stir in the chocolate chunks/chips.

Spoon the batter into the muffin tin cups or cases, filling them almost to the top - about ¾ full. Sprinkle with oats if you like. 

Transfer to the oven and bake for 30-35 minutes or until golden and the skewer comes out clean. If using a jumbo 6-cup muffin tray bake for 40-45 minutes. Allow to cool for 10 minutes in the tray and then carefully remove and serve. 
Notes
The muffins tend to stick a little to regular cases, cupcake/muffin cups are better to use here (link in blog post above to buy). 
PREPARING AHEAD
The dry ingredients can be prepped the night before and stored in an air-tight container or lidded bowl. The butter and sugar can be prepped and left in the saucepan with lid on.
STORAGE
The muffins can be kept for 3 days at room temperature in an air-tight container. They can also be frozen, just defrost them in the microwave for around 1 min 30 secs or defrost them at room temperature in a sealed food bag or air-tight container. Bake again for 6-7 minutes at the same temperature.
Nutrition
Calories:
212
kcal
Carbohydrates:
28
g
Protein:
5
g
Fat:
10
g
Saturated Fat:
6
g
Polyunsaturated Fat:
1
g
Monounsaturated Fat:
2
g
Trans Fat:
1
g
Cholesterol:
46
mg
Sodium:
152
mg
Potassium:
204
mg
Fiber:
3
g
Sugar:
9
g
Vitamin A:
277
IU
Vitamin C:
2
mg
Calcium:
60
mg
Iron:
1
mg
Made this recipe?
Leave a rating at the bottom of this page! You could also post a picture on Instagram and tag @togethertoeat to share it with me. Or post to Facebook, Twitter or Pinterest.