If you are looking for that perfect Christmas morning breakfast recipe, one that you can make in advance with little effort to serve up when everyone is begging to start opening their gifts - then these Cranberry Orange Breakfast Muffins are the ones for you. We are going to use three ingredients in these that really sing Christmas, Whitworths juicy dried cranberries, orange zest and a light touch of cinnamon. 
And these muffins have less than half the amount of sugar that you find in regular muffins, which pushes them towards the savoury side and you'll find the amount is just right for breakfast. And for the perfect bite, serve warm and slather with unsalted butter - trust me, you won't be sorry.
This recipe is actually based on a breakfast muffin I grew up with. We lived in Canada when I was two years old, for just six months, but my Mother found a recipe for Orange & Raisin muffins while we were there that she's has been making ever since. As I've always loved these muffins I have evolved them into several different forms, one of which being this delicious Christmas version.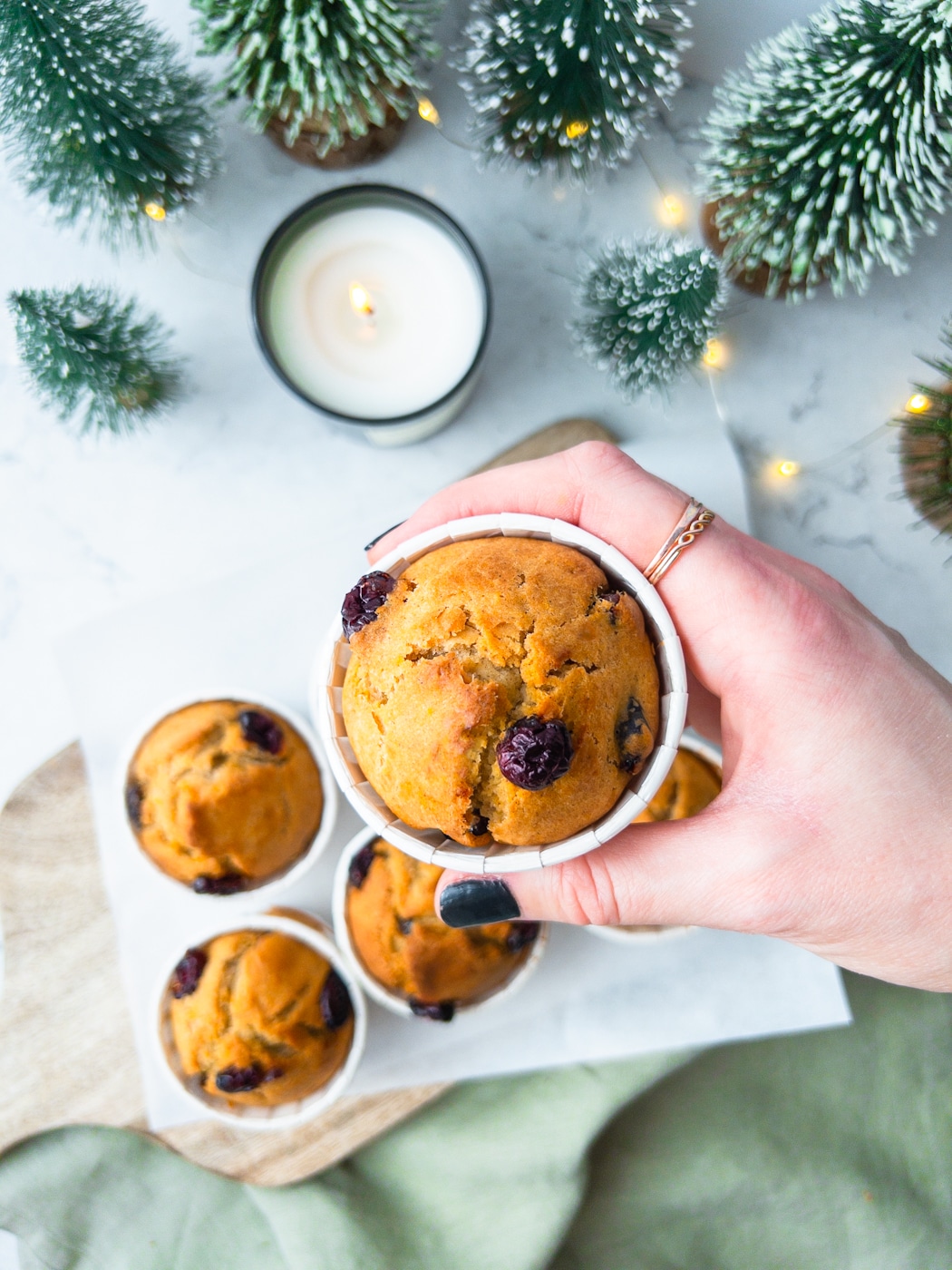 Oh and lets talk about when you bake these Cranberry Orange Breakfast Muffins, the aroma that's going to fill the house will give you all the Christmas feels. Head to my Prep Ahead section below for my tips on baking these in advance to Christmas morning.
Making my Cranberry Orange Breakfast Muffins
Watch me make these muffins step-by-step here, before or as you cook.
The Stars of my Cranberry Orange Breakfast Muffins
Whitworths Whole Cranberries
For these muffins you really HAVE to use Whitworths Whole Cranberries. They are full of flavour and almost burst in your mouth with juice, they really are unbeatable in bakes. I have tried supermarket own brand dried cranberries and they just fail to lock in the juice quite like the Whitworths ones do.
The Oranges
Just a quick tip here, if you are zesting any citrus fruit that is waxed, or you aren't sure is waxed or not, pop them in a sieve or colander, place over the sink and pour boiling water from the kettle over them. This will melt the wax, allowing you to wipe it off with a tea towel or paper towel.
Preparing or Making the Muffins in Advance
You have a few different options for saving time in the morning, which I will run through with you now.
Prep Ahead
You can weigh out all your dry ingredients the day before and leave covered until the morning at room temp. This can also be done with your dried cranberries, leaving them in a separate small bowl, covered. You can also measure the milk and oil into a large jug and add in the egg, cover with clingfilm (saran wrap) and refrigerate until the next morning. Your oranges can be zested and chilled in a covered mini bowl. Then come the morning, you just have to mix it all together, add to your muffin tray and bake.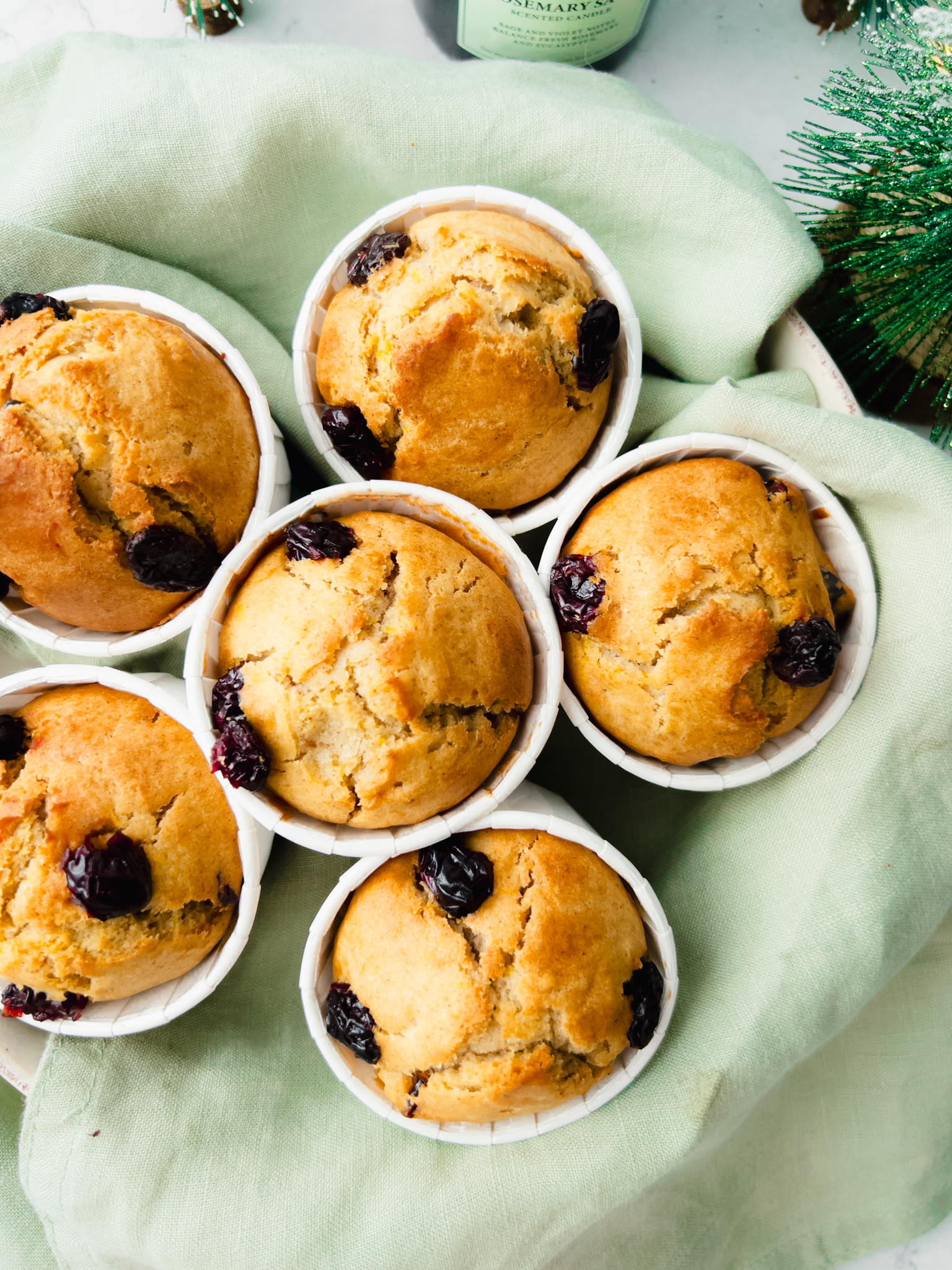 Bake my Cranberry Orange Breakfast Muffins Ahead 
The other option you have is it just go right ahead and bake them ahead of time. You can jump to my section on how to store and reheat these Cranberry Orange Breakfast Muffins here.
Cranberry Orange Breakfast Muffins Baking Tips
US Visitors
If you are in the US, I will say what I always do for bakes and that is that I recommend you weigh out your ingredients instead of using cups. This will ensure an end result the closest to mine.
The Baking Cases
These breakfast muffins do have a tendency to stick to paper cases, so I recommend doing using baking cups as the muffins won't stick to these like they do to cases. Alternatively, use a silicone muffin tray, giving each cup a couple sprays of oil which will allow you to easily pop out the cooked muffins. If you like large muffins you can use a jumbo muffin / cupcake tray - just remember they will take longer to cook, I've included timings in the recipe.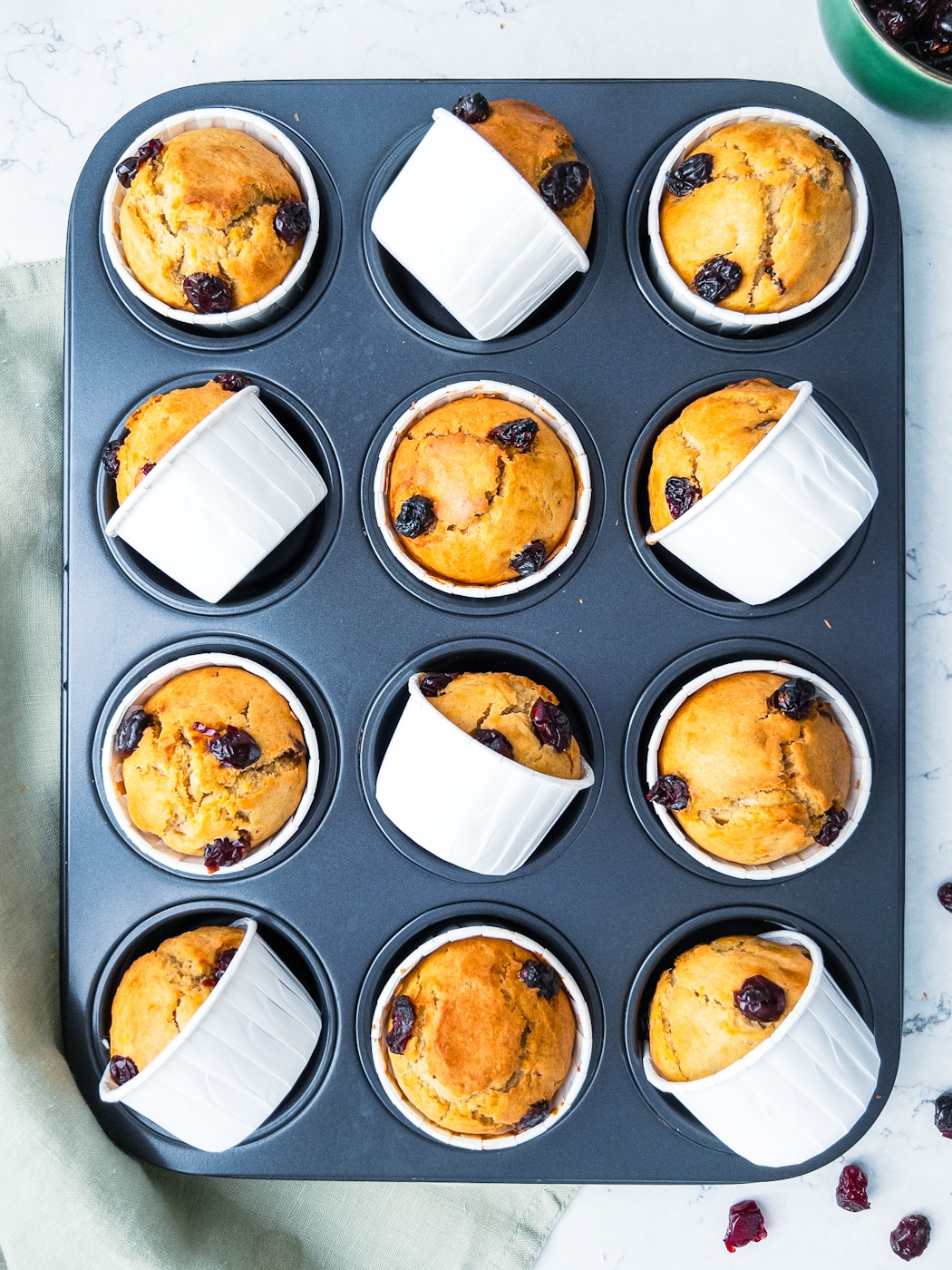 Finishing the Muffins with Cranberries
When you add a few cranberries to the top of the muffins, make sure you add them all in the middle. I dotted them around the top when I baked them for this blog and you'll notice that there are none in the middle, they are all toward the edges. Rookie mistake! This was actually the first time I added some to the top, I don't usually. You also want to push them into the batter about half way, or once baked they'll just fall off.
Kids Bake Too
Younger children can help make these breakfast muffins with you and they will love it! Just avoid letting them zest the oranges as they could grate their fingers at the same time. 
Feed a Crowd
You'll get 12 small Cranberry Orange Breakfast Muffins with this recipe, but the batter can be easily doubled. If you are having guests, you might prefer to make 12 jumbo muffins instead of 24 smaller. 
Storing My Cranberry Orange Breakfast Muffins
You can store these breakfast muffins in an airtight container or food bag for up to 7 days. Just add a piece of paper towel underneath and on top to help them retain their moisture. You can also freeze them on the day you bake them. Defrost them overnight at room temperature or in the microwave when you are ready to eat. These muffins are at their absolute best eaten warm. To reheat, just pop them onto a baking tray and into the oven at 180ºc/160ºc fan/350ºf/gas 4 for 6 mins.
For more on safe food storage and reheating read here >
Diet Details
My Cranberry Orange Breakfast Muffins are nut-free.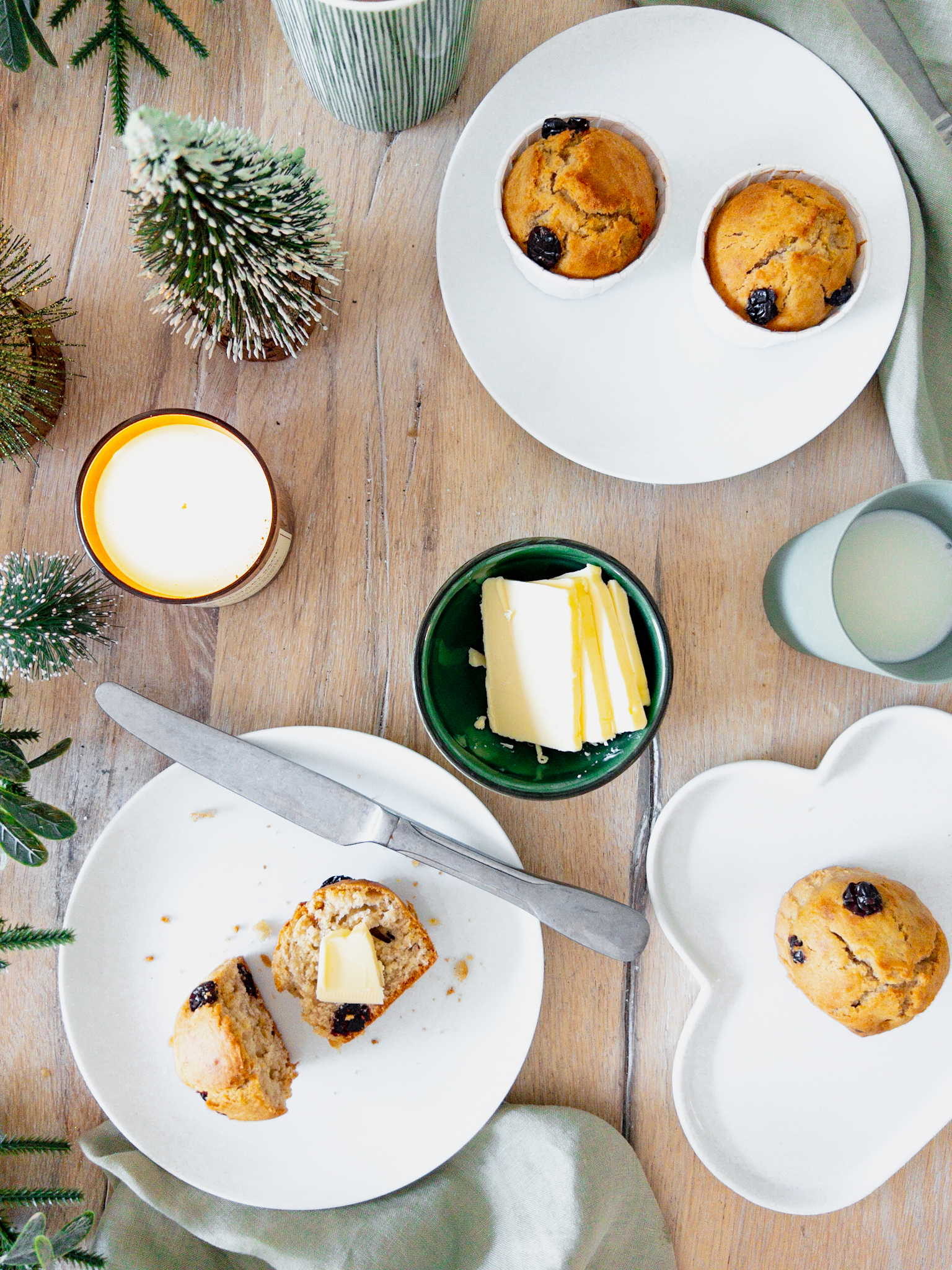 Making My Cranberry Orange Breakfast Muffins Baby & Toddler Friendly
Eating together is beneficial for families of all ages and stages, for a multitude of reasons; nutritional, behavioural, psychological and for healthy family functioning. This section will show you how to tweak this Cranberry Orange Breakfast Muffins recipe for sharing with a weaning baby, toddler or a fussy eater, to help make it easier for you to eat together as a family.
To make these breakfast muffins suitable for weaning, all you need to do is omit the salt. If you are worried about the sugar, you can substitute it for a tablespoon or two of honey. You can serve the muffin whole, and then for toddlers and young children, slice in half. You can spread on a little unsalted butter if you like.
For more info on how I keep my family meals baby & toddler friendly, read here >
You Might Like…
Together to Eat is reader-supported. I may earn a small commission from anything bought through links found here.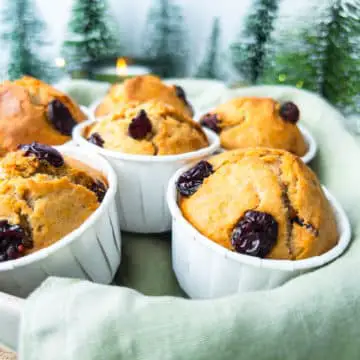 CRANBERRY ORANGE BREAKFAST MUFFINS
These zesty orange muffins, studded with juicy cranberries and touched with cinnamon make the perfect Christmas morning breakfast.
Ingredients  
340

g

plain / all-purpose flour

55

g

granulated sugar

3

teaspoons

baking powder

1

teaspoon

ground cinnamon

¼

teaspoon

salt

see note 3

250

ml

milk

6

tablespoons

/ 90ml vegetable oil

1

large egg

90

g

Whitworths Whole Cranberries (dried),

more for decorating

2

large oranges

zested
TO SERVE
Soft butter

I recommend unsalted
Instructions 
Preheat the oven to 180ºc/160ºc fan/350ºf/gas 4. Spray your silicone cupcake / muffin tray with a couple sprays of oil in each cup or add in baking cups (see note 1).

Add the flour, sugar, baking powder, cinnamon and salt to a large bowl.

Add the milk, egg and oil to a large measuring jug and stir well with a mini wire hand whisk or fork.

Make a well in the centre of the dry ingredients and pour in the wet from the jug while stirring quickly with a fork until no flecks of flour remain.

Add in the cranberries and orange zest and using a large metal spoon or a sturdy spatula, fold through until just combined.

Spoon your batter into the tray. The cups or cases should be around ¾ full. Dot 3 dried cranberries on the top, in a cluster in the middle of each one.

Transfer to the middle of the oven and bake for 35 minutes or until they have golden tops and the skewer or toothpick comes out clean from the centre of the muffins. If you are using a jumbo 6-cup muffin tray then you'll need to bake the muffins for 45-50 minutes. Cool for 10 minutes when done, then transfer to a wire rack. See note 2 for storage.
Notes
Note 1: if you don't have a silicone muffin tray, note that the muffins can stick to cases, peel off slowly or use baking cups (see link to buy in blog post above). 
Note 2: Store in an airtight container or food bag for up to 7 days, place paper towel under and over them to retain moisture. You can also freeze them on the day you bake them. Just defrost overnight at room temperature or in the microwave. To reheat these muffins, pop them in the oven at 180ºc/160ºc fan/350ºf/gas 4 for 6 mins.
Baby & Toddler
If you are sharing with a little one you can omit the salt. For weaning babies, serve a whole muffin. For toddlers and young children you can slice in half and spread with a little unsalted butter.
Nutrition
Calories:
229
kcal
Carbohydrates:
36
g
Protein:
4
g
Fat:
8
g
Saturated Fat:
2
g
Polyunsaturated Fat:
4
g
Monounsaturated Fat:
2
g
Trans Fat:
0.05
g
Cholesterol:
3
mg
Sodium:
166
mg
Potassium:
107
mg
Fiber:
2
g
Sugar:
13
g
Vitamin A:
85
IU
Vitamin C:
12
mg
Calcium:
102
mg
Iron:
1
mg
Made this recipe?
Leave a rating at the bottom of this page! You could also post a picture on Instagram and tag @togethertoeat to share it with me. Or post to Facebook, Twitter or Pinterest.