Fresh, vibrant and full of promise to make your next salad a triumph, my Basil & Parsley Dressing really is the ONE. Perfect on pasta salad as well as quinoa and potato salads, it's super versatile. Homemade dressings really are the best dressings!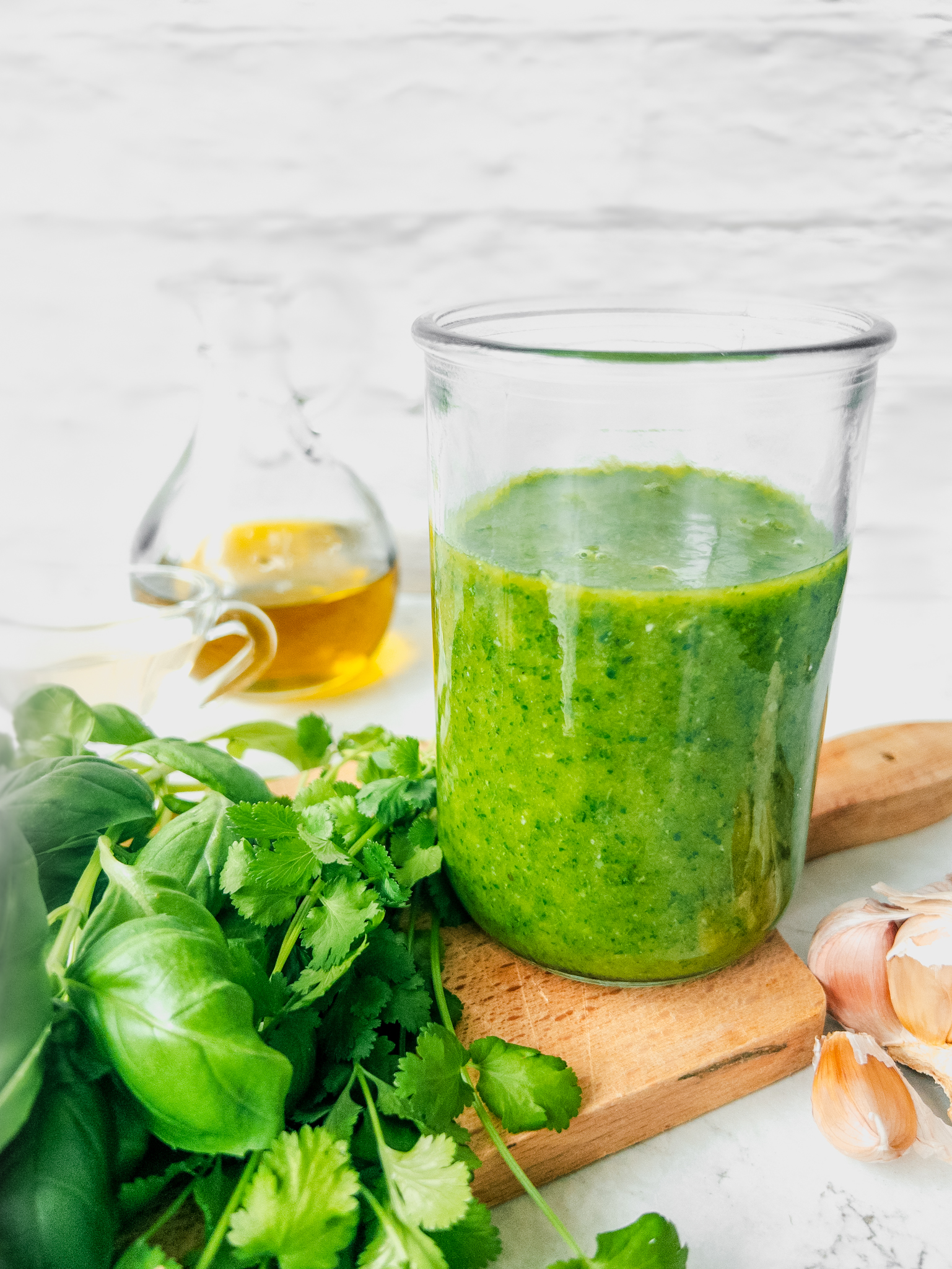 How to Make My Basil and Parsley Dressing
Watch me make this Basil and Parsley Dressing step-by-step before or as you go.
Prep Ahead
The dressing can be made in advance, you can make it earlier in the day or the day before and store it in the blender pot (covered) in the fridge. If storing for longer, transfer to an air-tight bottle or jar.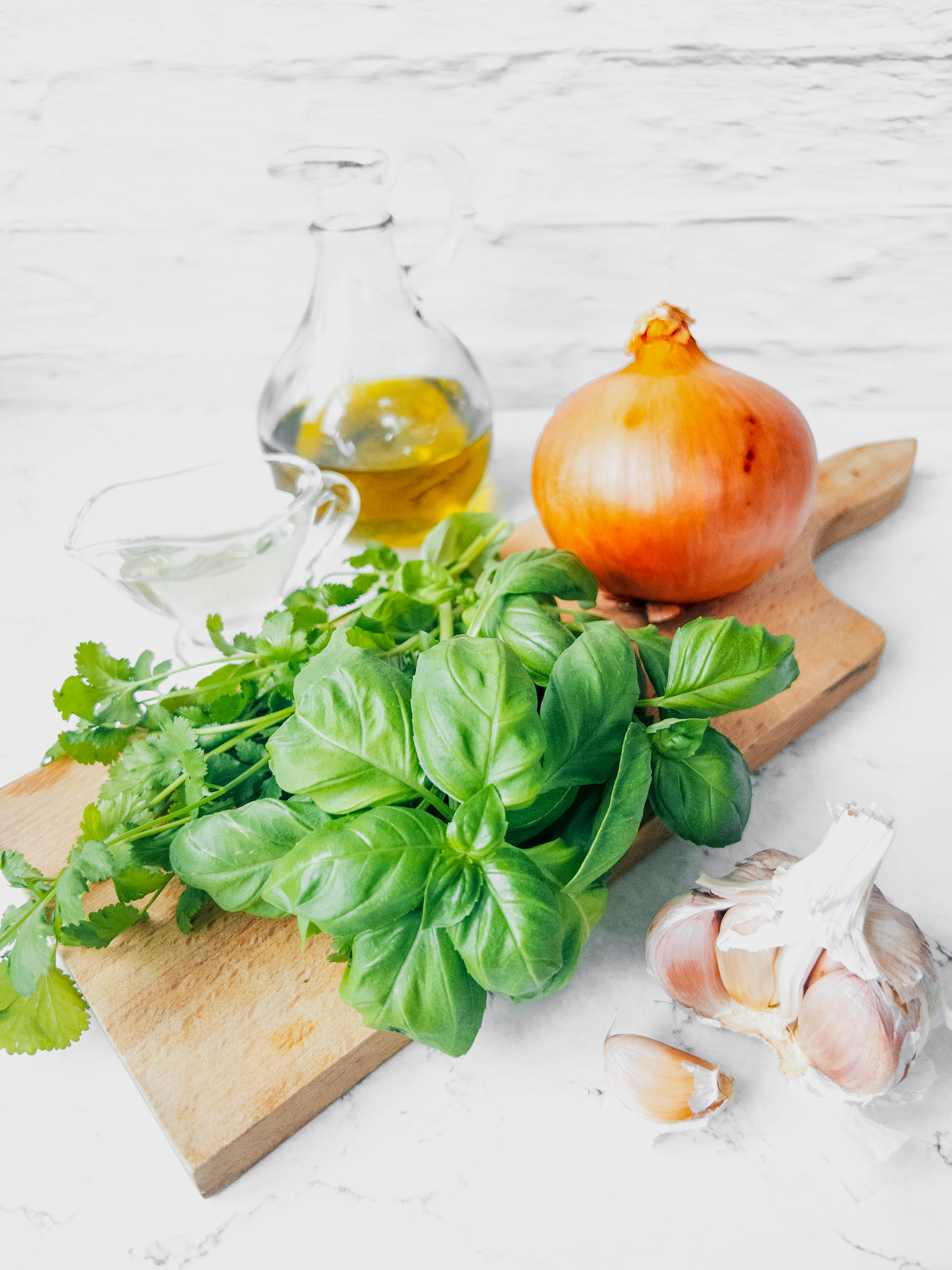 Pro Prep Tip
A stick blender is the ideal tool for making a herby salad dressing, especially if you don't have the kitchen space for a blender or food processor. If you are doubling the recipe though, use the stick blender in a medium-large bowl instead of the stick blender pot it comes with, as it won't all fit. Alternatively, use a blender or food processor for a larger batch.
Kids Cook Too
The kids can help strip the basil and parsley leaves from their stalks and add them to the blender pot. They can also help measure out the oil and vinegar and add those in too. And they'll love to whizz it all up!
My Basil and Parsley Dressing Pairs Perfectly With…
My Tuna & White Bean Pasta Salad, get the recipe >
Pasta salads
Potato salad
Quinoa salads
Couscous salads
Feed a Crowd
This recipe is easily doubled, have a look at my Pro Prep Tips if you want to do this.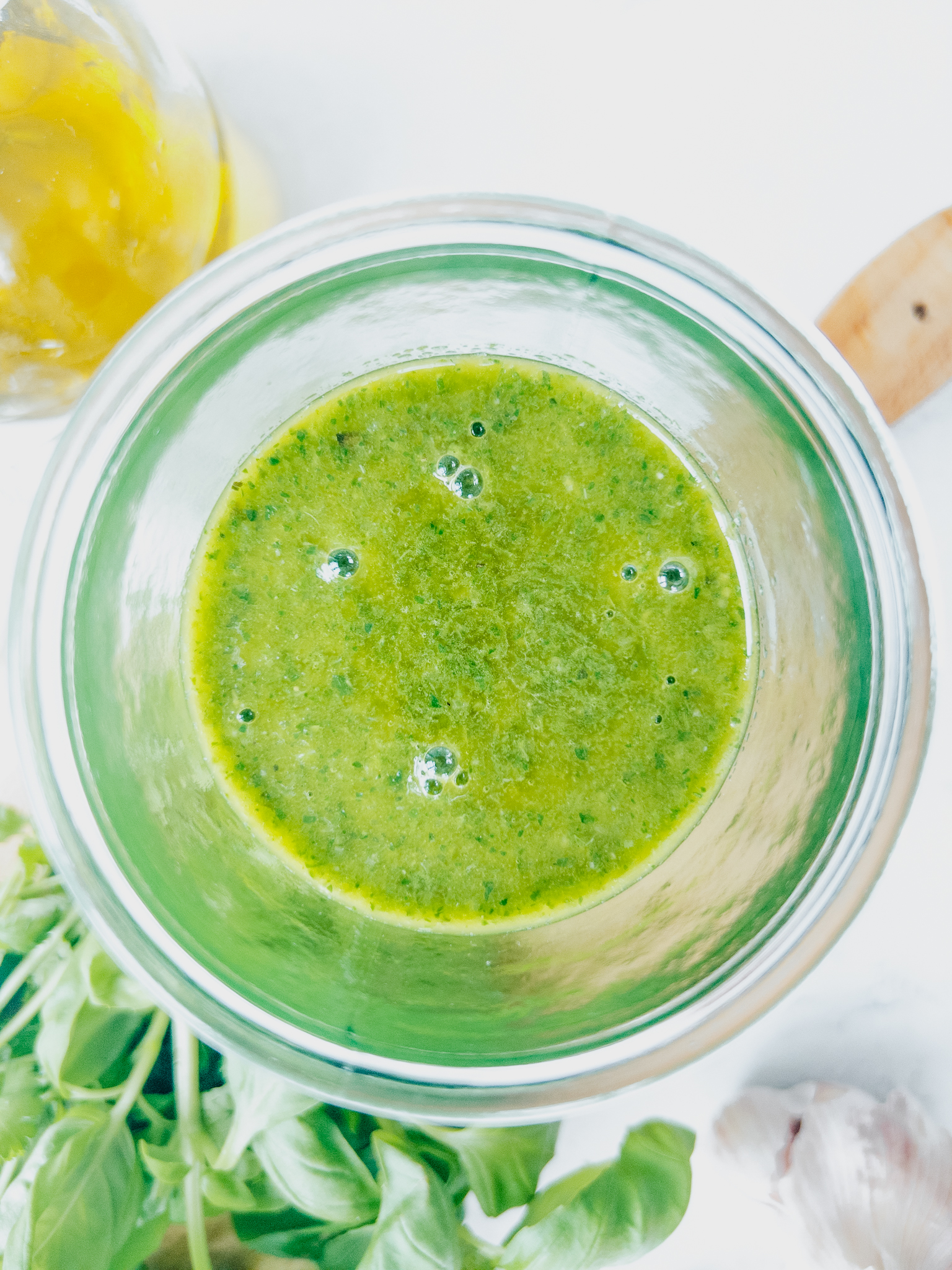 Storing My Basil and Parsley Dressing
The dressing can be stored in an air tight jar or bottle in the fridge for up to 3 days, just take it out of the fridge for 30 mins before use as the oil may solidify a little, once it comes up to room temp it will liquify again. And you'll need to shake the bottle or jar well right before you dress your salad.
For more on safe food storage and reheating read here >
Diet Details
My dressing is vegan, dairy-free, gluten-free, nut-free and egg-free.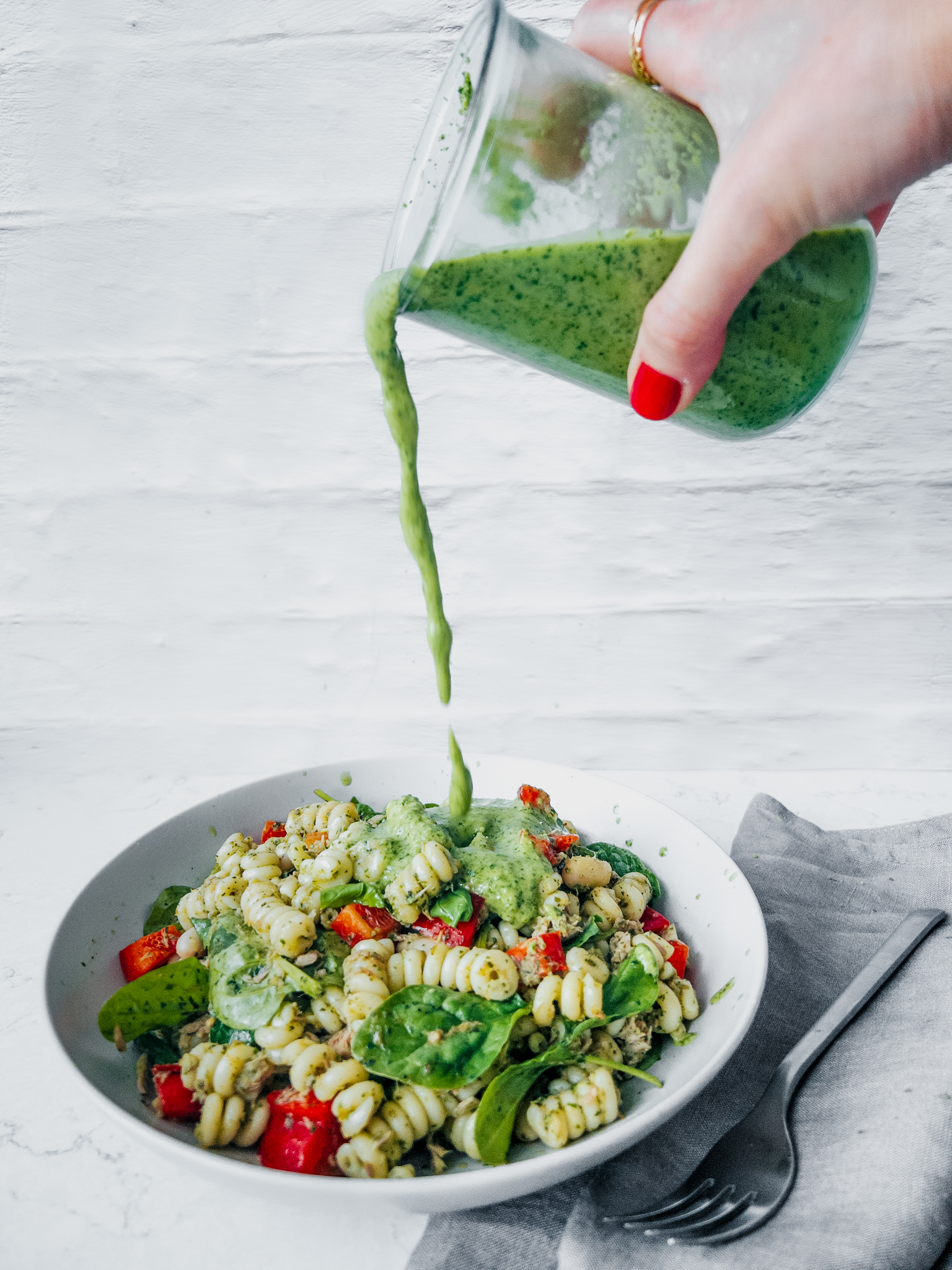 Adapting My Basil & Parsley Dressing For Your Family
Eating together is beneficial for families of all ages and stages, for a multitude of reasons; nutritional, behavioural, psychological and for healthy family functioning. This section will show you how to serve salad with this Basil and Parsley Dressing to a weaning baby, toddler or a fussy eater, to help make it easier for you to eat together as a family.
Serving to a Fussy Eater
Often picky eaters don't like salad dressings so you can leave it off their salad. Also often fussy eaters prefer salad separated out into piles of the different elements (deconstructed). Do encourage them to try a mouthful with dressing on however. It may just be that it takes 10+ tastes before they decide they like it.
See more from me on picky eaters here >
Serving to a Baby
Serve their salad undressed and serve it deconstructed.
Serving to a Toddler
You can either leave their salad un-dressed and deconstructed, or toss just a little dressing through their salad. You can also serve it both ways to them so see what they think. It seems unlikely that toddlers would like salad with dressing on but you just never know - my daughter has loved dressed salad since she was a toddler.
See more on how I keep my family meals baby & toddler friendly here >
I've also added these notes to the bottom of the recipe so you have them to hand when you come to cook.
You Might Like…
Together to Eat is reader-supported. I may earn a small commission from anything bought through links found here.
Basil & Parsley Dressing
This Basil & Parsley Dressing is fresh, vibrant and well balanced. The perfect match for any salad.
Ingredients  
30

g

pack basil leaves

30

g

pack parsley leaves

1

small garlic clove

roughly chopped

¼

onion or 1 small shallot

roughly chopped

180

ml

extra virgin olive oil

3

tablespoons

white wine vinegar

¼

teaspoon

salt

Good few grounds black pepper
Instructions 
Add all the ingredients into your stick blender pot or blender and whizz until the herbs are finely chopped and dressing is smooth. The dressing can be stored in the fridge for up to 3 days in an air-tight bottle or jar, just take it out of the fridge for 30 mins before use and shake well.
Notes
You can use a food processor but you probably won't get the dressing as smooth as with a blender.
ADAPTING FOR YOUR FAMILY
TODDLERS / FUSSY EATERS
Serve their salad either undressed or with a little dressing. You can serve their salad assembled or deconstructed.
BABIES
Serve their salad deconstructed and undressed.
Nutrition
Calories:
374
kcal
Carbohydrates:
2
g
Protein:
1
g
Fat:
41
g
Saturated Fat:
6
g
Polyunsaturated Fat:
4
g
Monounsaturated Fat:
30
g
Sodium:
154
mg
Potassium:
82
mg
Fiber:
1
g
Sugar:
1
g
Vitamin A:
1028
IU
Vitamin C:
12
mg
Calcium:
28
mg
Iron:
1
mg
Made this recipe?
Leave a rating at the bottom of this page! You could also post a picture on Instagram and tag @togethertoeat to share it with me. Or post to Facebook, Twitter or Pinterest.