These Fluffy Lemon Skyr Pancakes are light and zesty, with an ever so slightly chewy texture. The lemon - yogurt pairing is one of perfection. When you're feeling a little bored of regular pancakes, these pancakes are a breath of fresh air. And the Skyr yogurt makes them a healthier pancake option. They are also baby friendly so you can share them with even the littlest family members. To serve, you can keep them simple with just a knob of butter or drizzle them with maple syrup too. Or for the healthiest of breakfasts, eat with fresh blueberries and a dollop of Skyr yogurt. Not heard of Skyr before? Carry on reading and I'll enlighten you…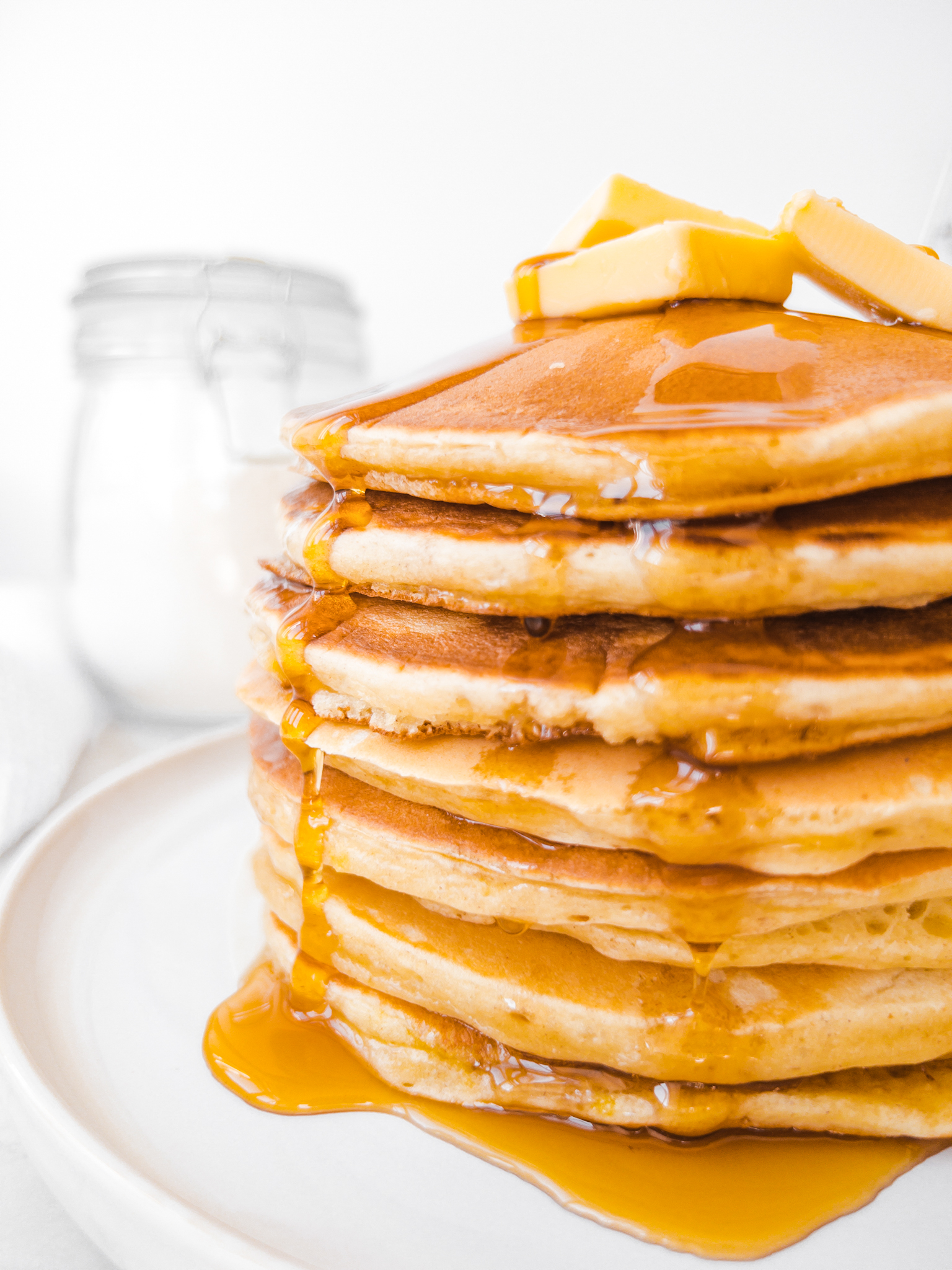 What is Skyr?
Skyr (Skee-er) is an Icelandic, 0% fat strained yogurt like no other. Think Greek yogurt but thicker and creamier. This is due to the Icelandic cultures used and because the process of making it results in it being much more concentrated and uses a lot more milk than natural or Greek yogurt (nearly four cups milk to one cup yogurt). Icelanders would say true Skyr is actually categorised as a soft cheese. All it's ingredients are natural, plus it's low in sugar and high in protein, calcium and vitamins. 
How to Make my Fluffy Lemon Skyr Pancakes
Watch me make these Fluffy Lemon Skyr Pancakes step-by-step here, before or as you cook.
Prep Ahead
You can actually make this Fluffy Lemon Skyr Pancake batter the day before, just refrigerate in an airtight bottle or lidded bowl/container. Then just stir or shake it well before use. Otherwise, the night before you can prep all your dry ingredients into one bowl and the wet into another. You can zest your lemons and store in a mini prep bowl, covered, in the fridge along with the bowl of wet ingredients.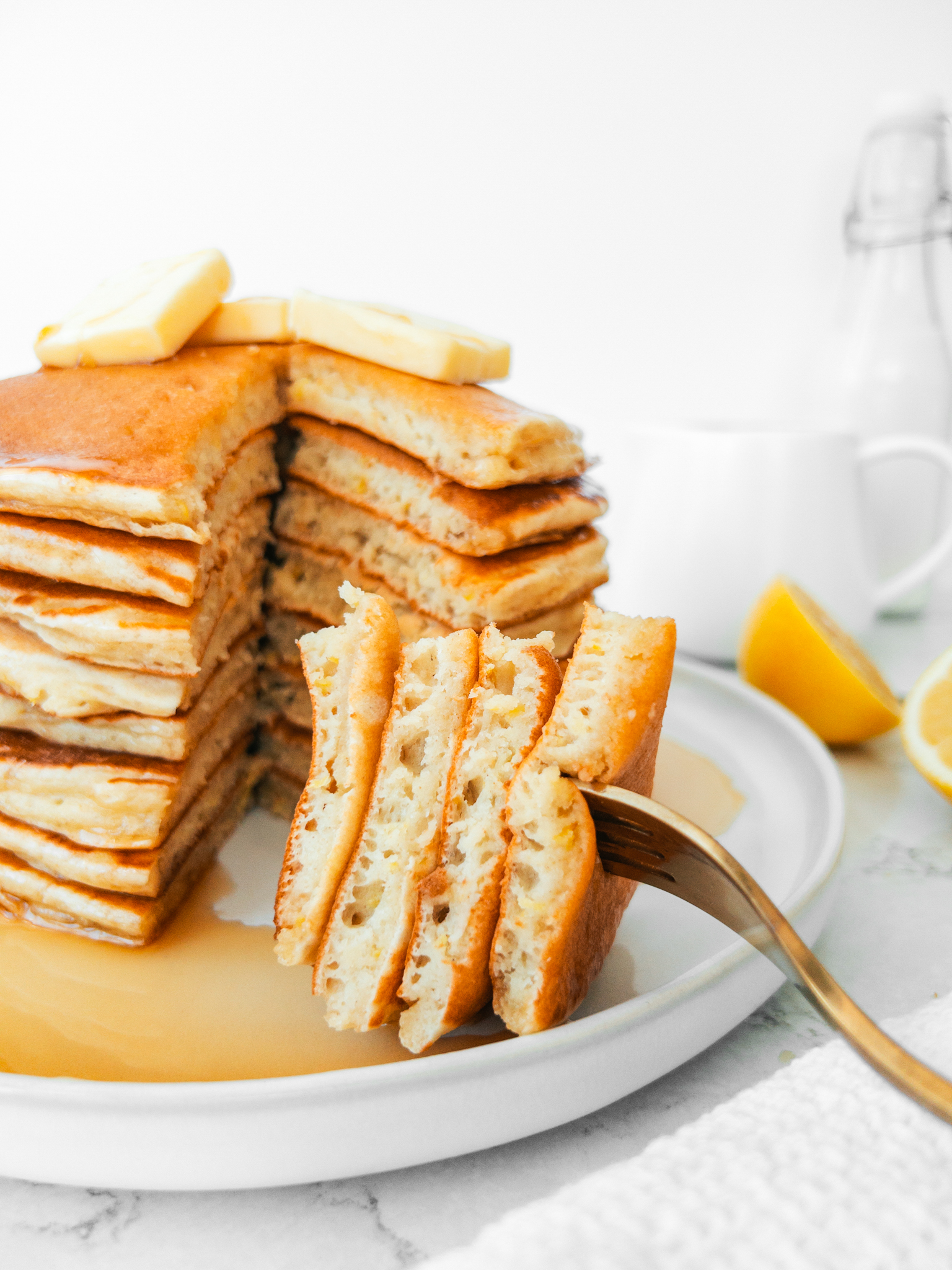 Pro Cook Tips
Once I've made my pancake batter, I like to transfer it to a batter dispenser bottle which I use to add the batter to the pan. I find using a bottle keeps the pancakes a rounder shape, plus it's an easy, non-messy way to add the batter to the pan. The batter is naturally lovely and thick so there is no need to wait for it to thicken.
When you are ready to cook, you want to make sure you get that pan really hot before you add the batter, this will help you to get a great first pancake. I heat my pan over a high heat for about two minutes before turning the heat to medium-low and adding the batter. Then add the batter. Once you see several bubbles form, you want to check if it's lovely and deep golden underneath. Usually it takes between 45 seconds and 1 min 15 seconds. Just be careful of waiting until there are lots of bubbles, if you do, the pancake will probably be overcooked. When deep golden flip and cook the other side for 45 seconds and peek underneath. If it's deep golden then it's done, if not, continue to cook for probably another 15-30 seconds.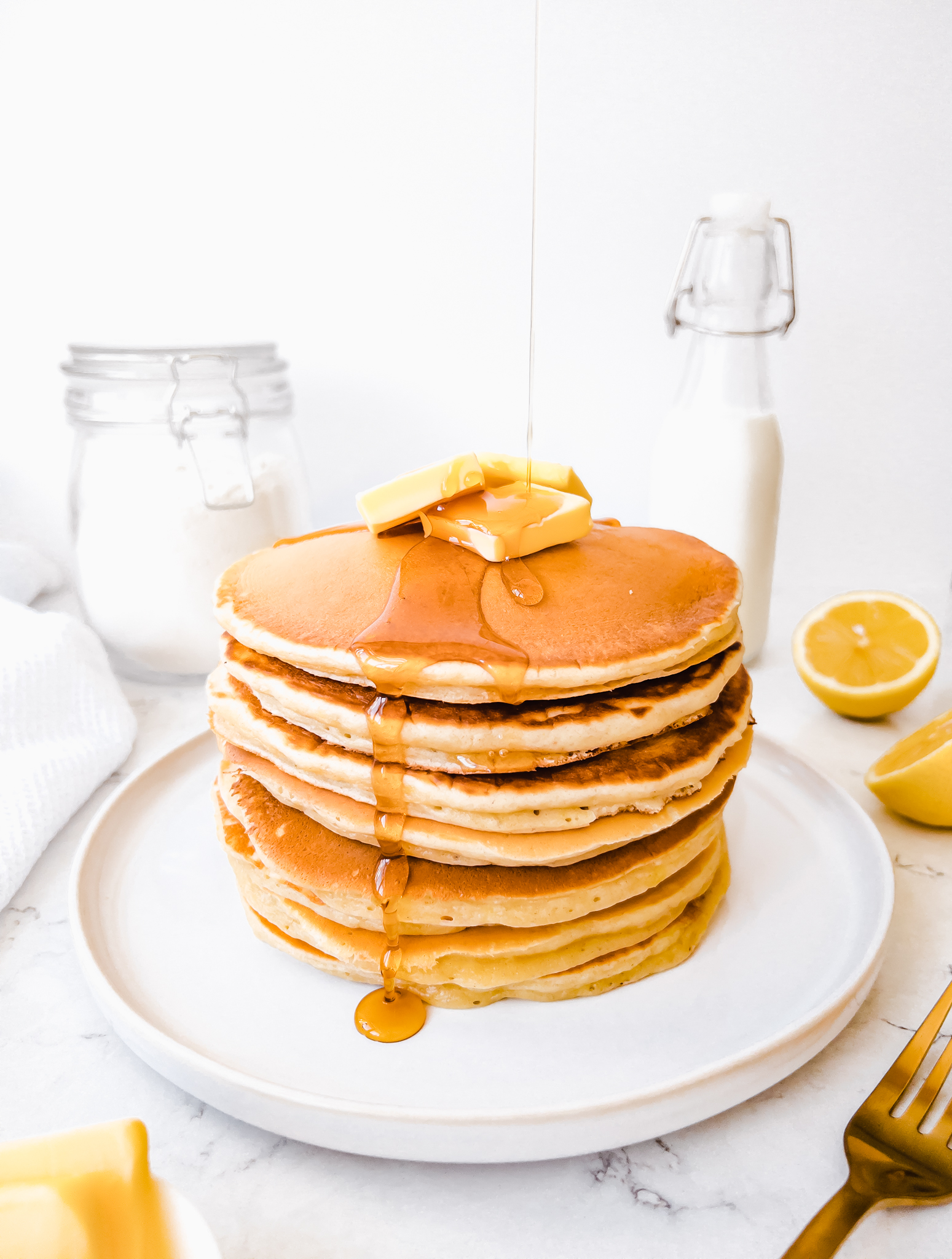 Kids Cook Too
Younger children can help you make this Fluffy Lemon Skyr Pancake batter from the start. It's a good recipe for older kids to make by themselves.
 My Fluffy Lemon Skyr Pancakes Pair Perfectly With…
Butter
Maple syrup
Fresh blueberries
A dollop of Skyr yogurt
Feed a Crowd
This Fluffy Lemon Skyr Pancakes recipe can be easily doubled if you have guests staying with you - what a treat they are in for!
Storing My Fluffy Lemon Skyr Pancakes
Pancakes should really be enjoyed straight away, but any leftover batter can be stored in an air-tight container or bottle in the fridge for up to 3 days. Just shake or stir well before use. You might even want to double the recipe so you can make these pancakes for breakfast more than once. 
For more on safe food storage and reheating read here >
Diet Details
My Fluffy Lemon Skyr Pancakes are vegetarian and nut-free.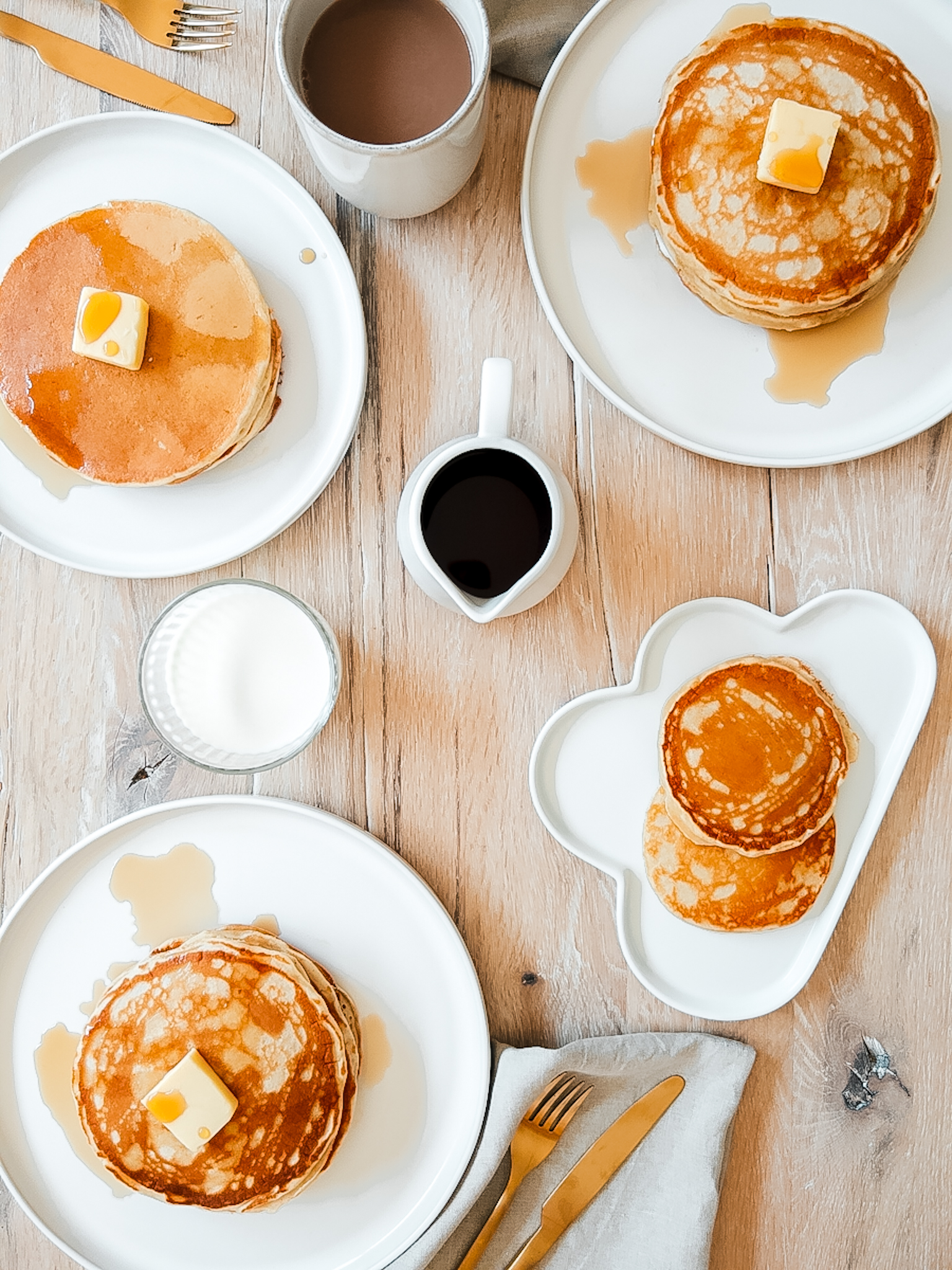 How to Serve My Fluffy Lemon Skyr Pancakes to Babies & Toddlers 
Eating together is beneficial for families of all ages and stages, for a multitude of reasons; nutritional, behavioural, psychological and for healthy family functioning. This section will show you how to tweak these Fluffy Lemon Skyr Pancakes for sharing with a weaning baby a toddler, to help make it easier for you to eat together as a family.
These Fluffy Lemon Skyr Pancakes are already baby friendly. All I'd recommend is that you make smaller pancakes for them to grip with two hands. If they don't seem happy with that, cut them into strips for them to palm. You can serve alongside some fresh fruit, like blueberries (squashed) and even a dollop of leftover Skyr yogurt to dip the pancake in.
For more info on how I keep my family meals baby & toddler friendly, read here >
You Might Like…
Together to Eat is reader-supported. I may earn a small commission from anything bought through links found here.
FLUFFY LEMON SKYR PANCAKES
Light and zesty with an ever so slightly chewy texture, these Fluffy Lemon Skyr Pancakes are a delicious, healthier pancake option. And the lemon - yogurt pairing is one of perfection.
Equipment
Grater

Small chopping board

Large metal spoon

Frying pan

Turner
Ingredients  
150

ml

milk

2

eggs

200

g

plain flour / all-purpose

30

g

caster sugar

or white sugar

1

teaspoon

baking powder

½

teaspoon

bicarbonate soda

baking soda

2

lemons

zested see note 1
Instructions 
Add the Skyr yogurt, milk and eggs to a mixing bowl and beat until well combined with an electric hand whisk.

Add in the flour, sugar, baking powder and bicarbonate of soda (baking soda) and whisk again until you have a smooth batter.

Then add in the lemon zest and fold it through with a large spoon.

Heat a non-stick frying pan over a large size ring on a high heat for around 1 minute. Then turn the heat down to medium-low. Grease the pan with a little butter or oil. Add your pancake batter to the the pan using a batter bottle or serving spoon, I do one spoonful for smaller pancakes and two for large. Cook the first side until it has several bubbles and is golden brown underneath and then flip. Cook until the underneath is golden brown. I cook mine for anywhere between 45 secs - 1 min 15 seconds per side. Best served straight from the pan, but to keep the pancakes warm while you cook them all, transfer them to a plate in the oven at 50ºc (note that this may reduce thickness and fluffiness of pancakes).
Notes
Note 1: buy unwaxed lemons, or remove the wax by putting them in a sieve or colander and pouring boiling hot kettle water over them. Then immediately rub the melted wax off with a paper towel.
Baby & Toddler
Best thing to do is make baby a couple of mini pancakes. If they can't hold them with two hands, you can just cut them in half for them to grip with one fist. You can serve with fresh fruit like squashed blueberries.
Nutrition
Calories:
305
kcal
Carbohydrates:
54
g
Protein:
14
g
Fat:
4
g
Saturated Fat:
2
g
Polyunsaturated Fat:
1
g
Monounsaturated Fat:
1
g
Trans Fat:
0.01
g
Cholesterol:
88
mg
Sodium:
308
mg
Potassium:
270
mg
Fiber:
3
g
Sugar:
12
g
Vitamin A:
196
IU
Vitamin C:
29
mg
Calcium:
183
mg
Iron:
3
mg
Made this recipe?
Leave a rating at the bottom of this page! You could also post a picture on Instagram and tag @togethertoeat to share it with me. Or post to Facebook, Twitter or Pinterest.