No roast beef would be complete without its humble side kick, the Yorkshire pudding. It's simple yet mighty. This recipe will give you a lovely soft batter bottom, and a super puffed-up crispy top. And yes, you can buy them pre-made but for the sake of 5 minutes of prep work, isn't it worth the satisfaction of knowing you made them by hand and to perfection? Plus ready-made ones will never be QUITE as good as homemade. C'mon ditch the shop bought ones and give these fool-proof Yorkshire puddings a go!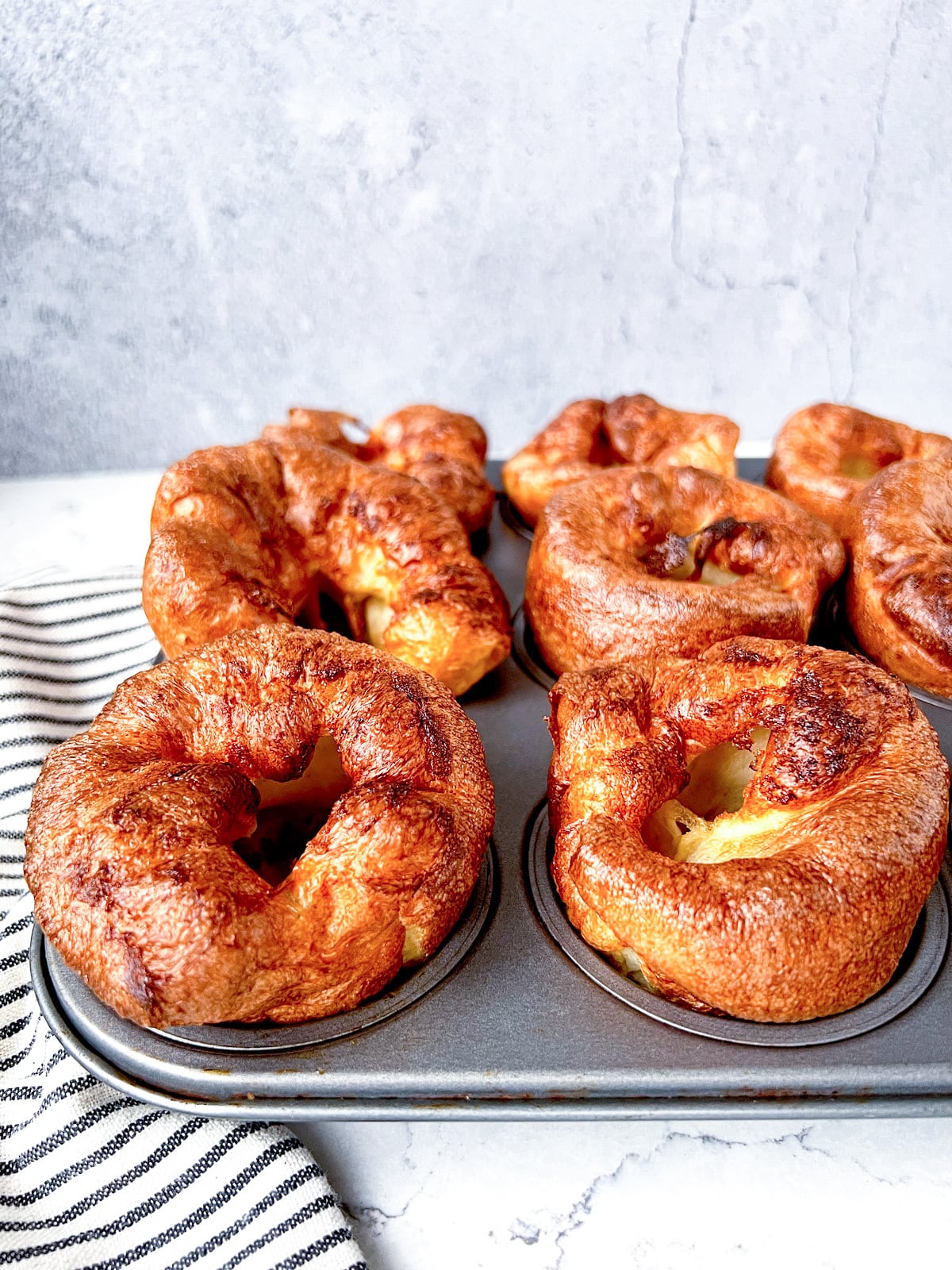 How to Bake My Fool-Proof Yorkshire Puddings
This Yorkshire pudding recipe is pretty hard to mess up, even when you skip a step like not resting the batter or not heating the muffin tin in the oven first. I will say though, the longer you rest the batter, the bigger the puff will be. The same is true about heating the muffin tin first. You can skip those steps BUT you won't get as good a rise as if you did them.
Watch me make these Fool-Proof Yorkshire Puddings step-by-step before or as you cook.
Prep Ahead
Take the pressure off a bit and make the batter the day before, cover and refrigerate. Then just remove from the fridge about 1 hour before cook time. Also, you'll want to give the batter a really good stir before you pour it into the tin.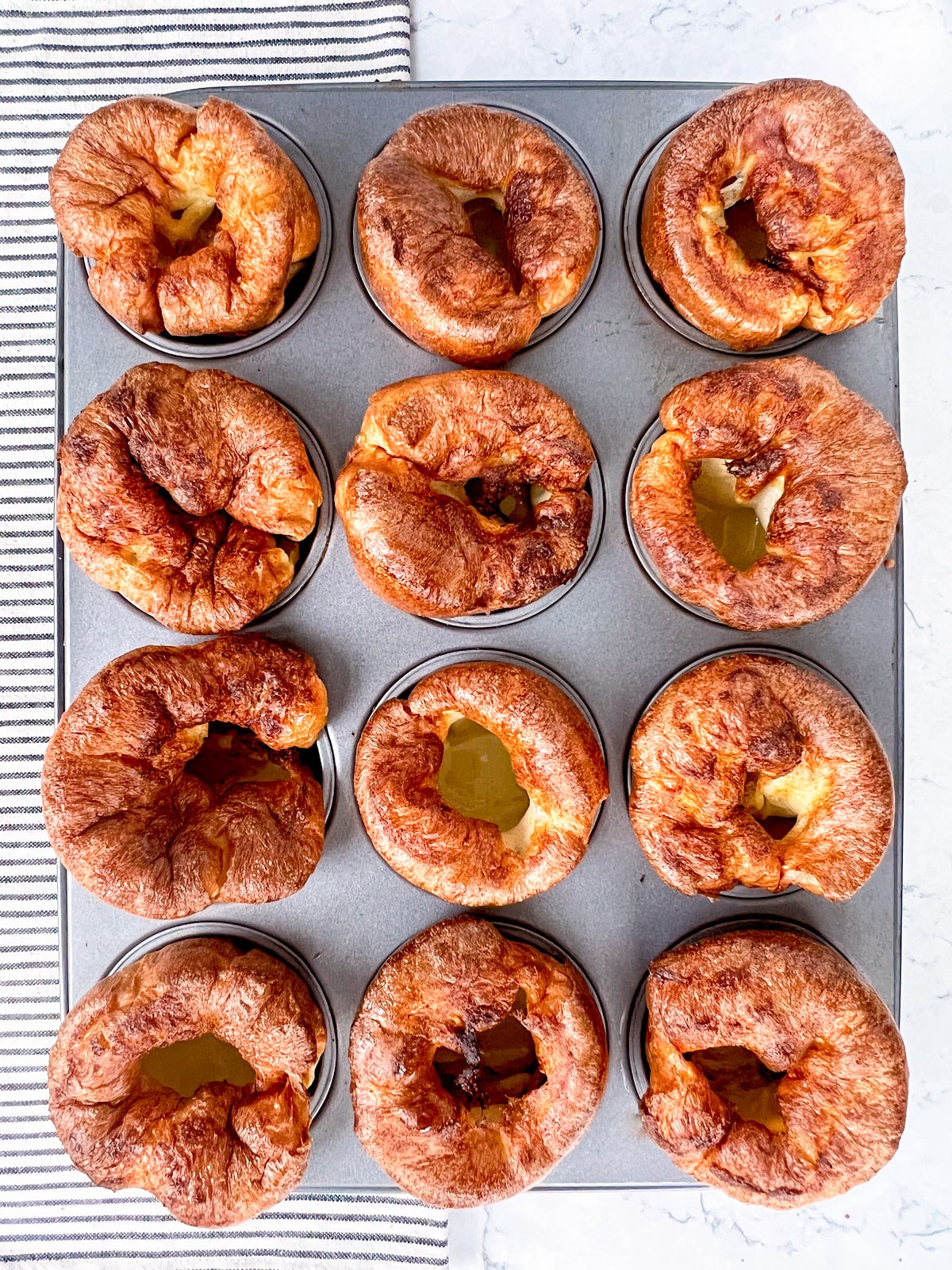 Kids Cook Too
This is a great easy one for the kids to get involved with, let them help you make the batter.
My Fool-Proof Yorkshire Puddings Pair Perfectly With…
Storing My Fool-Proof Yorkshire Puddings
If you have any left over, you can pop them in a food bag once cool and freeze. Then, just reheat them for a few minutes in the oven on a baking tray/sheet at 180ºc/160ºfan/350ºf/gas 4.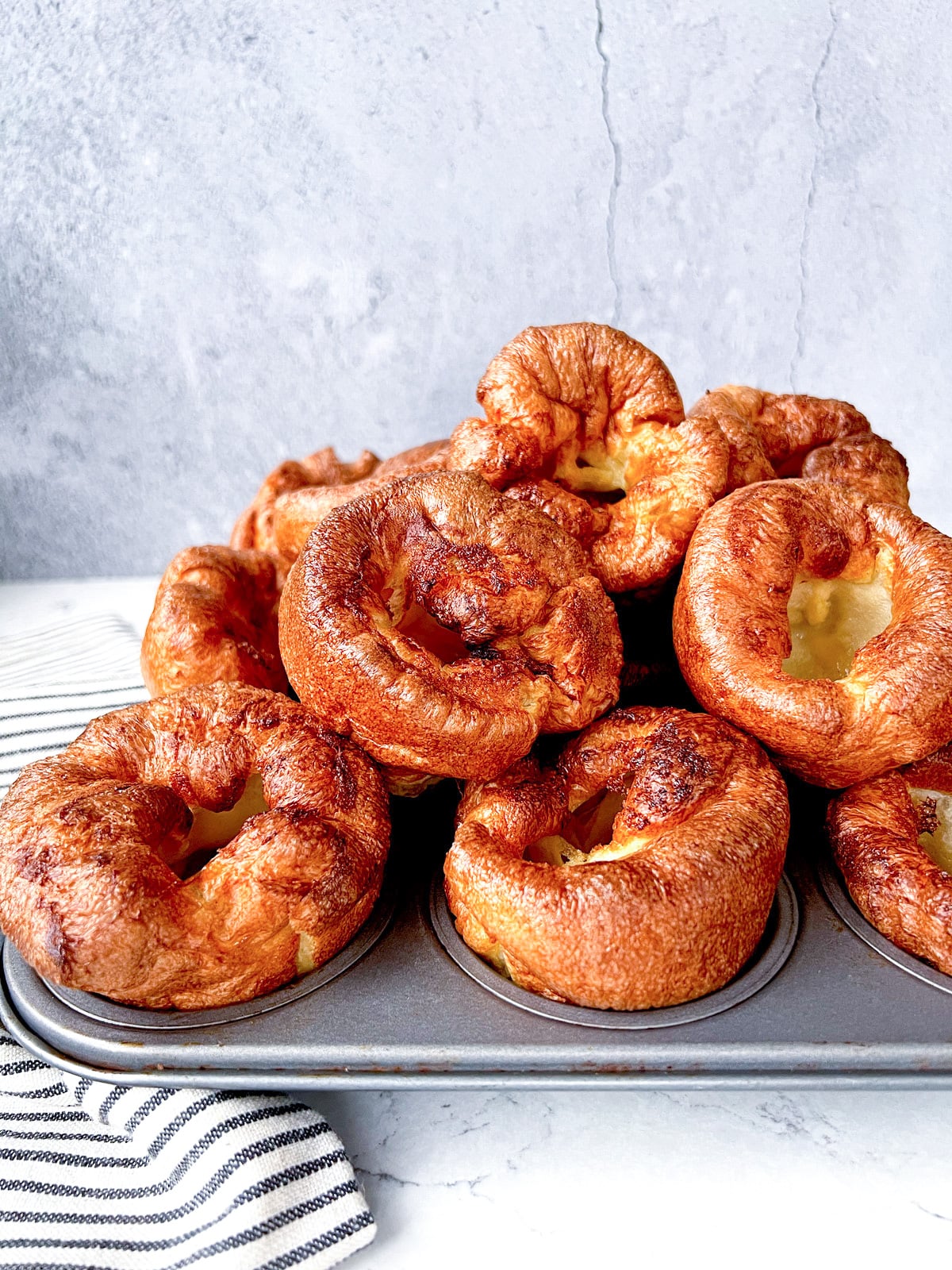 Diet Details
These Yorkshire Puddings are nut-free and vegetarian.
Making My Fool-Proof Yorkshire Puddings Baby & Toddler Friendly
Eating together is beneficial for families of all ages and stages, for a multitude of reasons; nutritional, behavioural, psychological and for healthy family functioning. This section will show you how to tweak my Fool-Proof Yorkshire Puddings recipe for sharing with a weaning baby, toddler or a fussy eater, to help make it easier for you to eat together as a family.
Yorkshire puddings are loved all-around but you might be worried about the salt in these. If you are serving to a baby, I'd recommend adding just a pinch of salt instead of the ¼ teaspoon.
See more on how I keep my family meals baby & toddler friendly here >
You Might Like…
Together to Eat is reader-supported. I may earn a small commission from anything bought through links found here.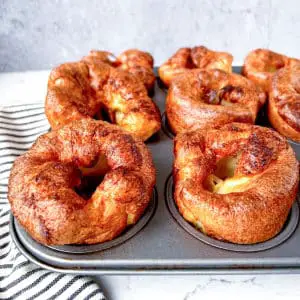 FOOL-PROOF YORKSHIRE PUDDINGS
These easy, three egg Yorkshire puddings are soft at the bottom and crispy with a great puff at the top. Just five minutes of prep work for the perfect partner to your roast beef dinner.
Equipment
Scales

measuring jug / measuring cups + measuring spoons
Ingredients  
3

large eggs

90

g

plain flour

150

ml

whole milk

3

tablespoons

water

¼

teaspoon

salt

4

tablespoons

vegetable or sunflower oil
Instructions 
Put the flour, then the eggs, milk, water and salt into a large mixing bowl and whisk on a medium speed for 1 minute. Cover with a lid or clingfilm and leave for at least 30 minutes, or if you can do it earlier in the day or even the night before even better.

About 20 minutes before you are ready to cook, preheat the oven to 220ºc/200ºc fan/425ºf/gas 7. Put 1 teaspoon of oil into each cup of a 12-cup muffin tray. Transfer to the oven and let the tray heat up for 5 minutes. If using a silicone tray put it on a baking sheet/tray first.

Then remove the tray and immediately and carefully pour the batter in, roughly half filling each cup. Bake for 15 minutes, until the Yorkshires are deep golden brown and puffed up. If you are using a jumbo 6-cup tray then these will take longer to cook, around 20-25 minutes.
Notes
If you make the batter the night before or much earlier in the day, refrigerate but take out of the fridge around an hour before use.

If you are pressed for time or want to make these last minute, you can skip the resting of the batter but bear in mind the Yorkshire's won't rise as quite as well.
BABY & TODDLER SERVINGS
Add in less salt (just a pinch) if you want to share these with your little one, especially if they are under 1 year old.
Nutrition
Calories:
183
kcal
Carbohydrates:
13
g
Protein:
5
g
Fat:
12
g
Saturated Fat:
3
g
Polyunsaturated Fat:
6
g
Monounsaturated Fat:
3
g
Trans Fat:
1
g
Cholesterol:
84
mg
Sodium:
141
mg
Potassium:
79
mg
Fiber:
1
g
Sugar:
1
g
Vitamin A:
159
IU
Calcium:
43
mg
Iron:
1
mg
Made this recipe?
Leave a rating at the bottom of this page! You could also post a picture on Instagram and tag @togethertoeat to share it with me. Or post to Facebook, Twitter or Pinterest.