As the host of Christmas dinner, you want to create special side dishes to star alongside your turkey, with zero effort on the day. This Cranberry Sausage Stuffing is going to shine in it's support role, with no work from you on the day itself. You can make it in advance, weeks earlier even if you freeze it, or it can be made a day or two before Christmas and stored in the fridge.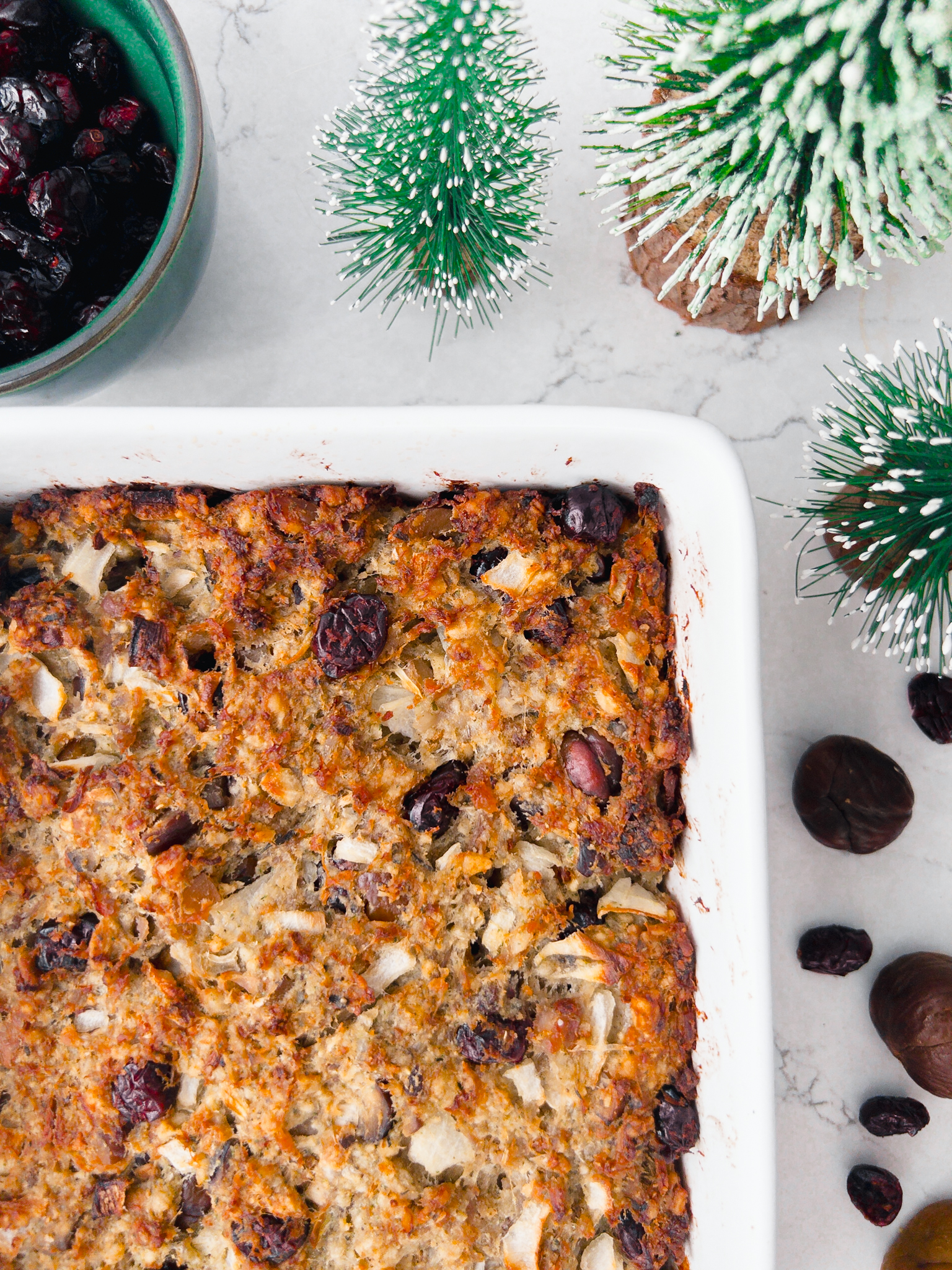 I created this Cranberry Sausage Stuffing from a Christmas recipe that has been in my family for generations. I grew up eating this stuffing each Christmas, it was originally my Grandpop's recipe that my Father took over making. When the recipe was passed to me, I wanted to give it my own festive touch. I just love cranberries, they always make me think of Christmas, as do chestnuts and they happen to make great stuffing buddies!
Making My Cranberry Sausage Stuffing
You can pull this stuffing mix together in just 10 minutes and then it's going to take care of itself in the oven. Jump down to the recipe to read how to make my Cranberry Sausage Stuffing, or watch my step-by-step video before or as you cook here.
Ingredients Notes
The Sausage
You can use any sausage meat here, you can even use the same weight in sausages - just snip open the skin and pull out the meat inside. If you do use sausages, go for higher pork to lower fat content ones.
The Stuffing Mix
The stuffing mix is going to bulk out the sausage stuffing and give it that lovely sage flavour. I use Paxo Stuffing Mix but you can use any make of sage and onion stuffing mix you like, even a gluten-free one.
The Cranberries
I love cranberries in stuffing because they pair perfectly with roast turkey or chicken. When you are choosing your dried cranberries, I thoroughly recommend using Whitworths Whole Cranberries if you are in the UK. I have tried cooking and baking with supermarket own brand dried cranberries and they are just not plump and juicy like Whitworths, plus you don't get the same burst of flavour. And with the leftover cranberries, you can make my Cranberry & Orange Breakfast Muffins for breakfast Christmas Day! You can make them in advance also, and just reheat on the morning for 6 minutes in the oven. Grab the recipe here >
The Chestnuts 
You want to use ready to eat chestnuts, so you can just chop them up and throw them in!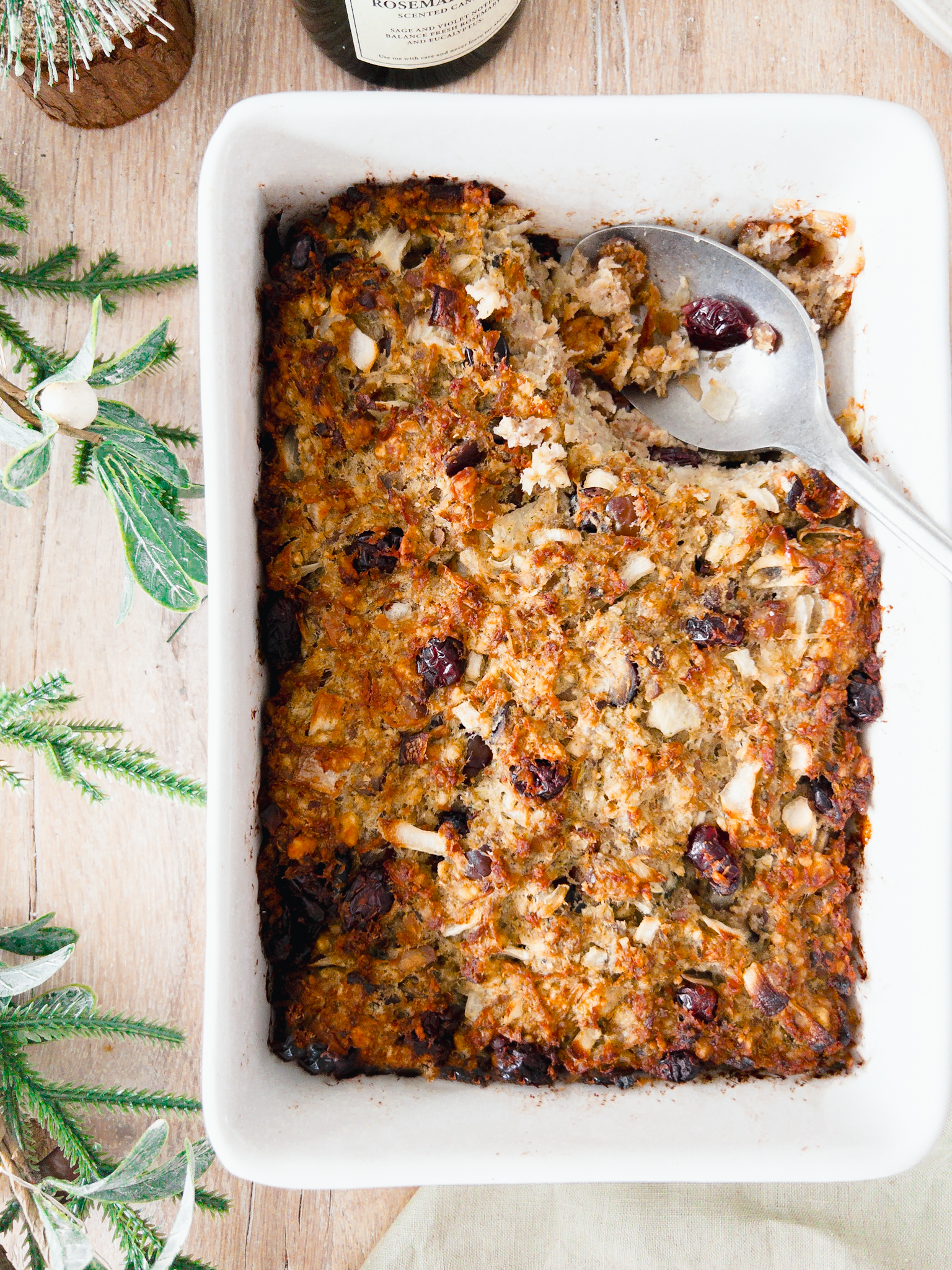 Making my Cranberry Sausage Stuffing in Advance
Making it 1-2 Days Ahead
No one wants to be messing around making side dishes on Christmas Day instead of spending time with their family, so you want to make them all ahead of the day. To make this 1-2 days in advance, follow all the recipe steps, but instead of baking the stuffing mix, cover the oven dish in clingfilm and refrigerate. About half an hour before you are ready to put the stuffing in the oven, remove it from the fridge to come up closer to room temp.
Making it Weeks Ahead
If you want to prepare the stuffing further in advance to that, weeks even, no problem - this Cranberry Sausage Stuffing is freezer-friendly. The best way to do it is to add the uncooked stuffing mix to an air-tight food container or a resealable food bag and freeze. Then 24 hours before you are ready to cook it, remove it from the freezer and allow it to defrost in the fridge. Again, bring out of the fridge roughly half an hour before cook time.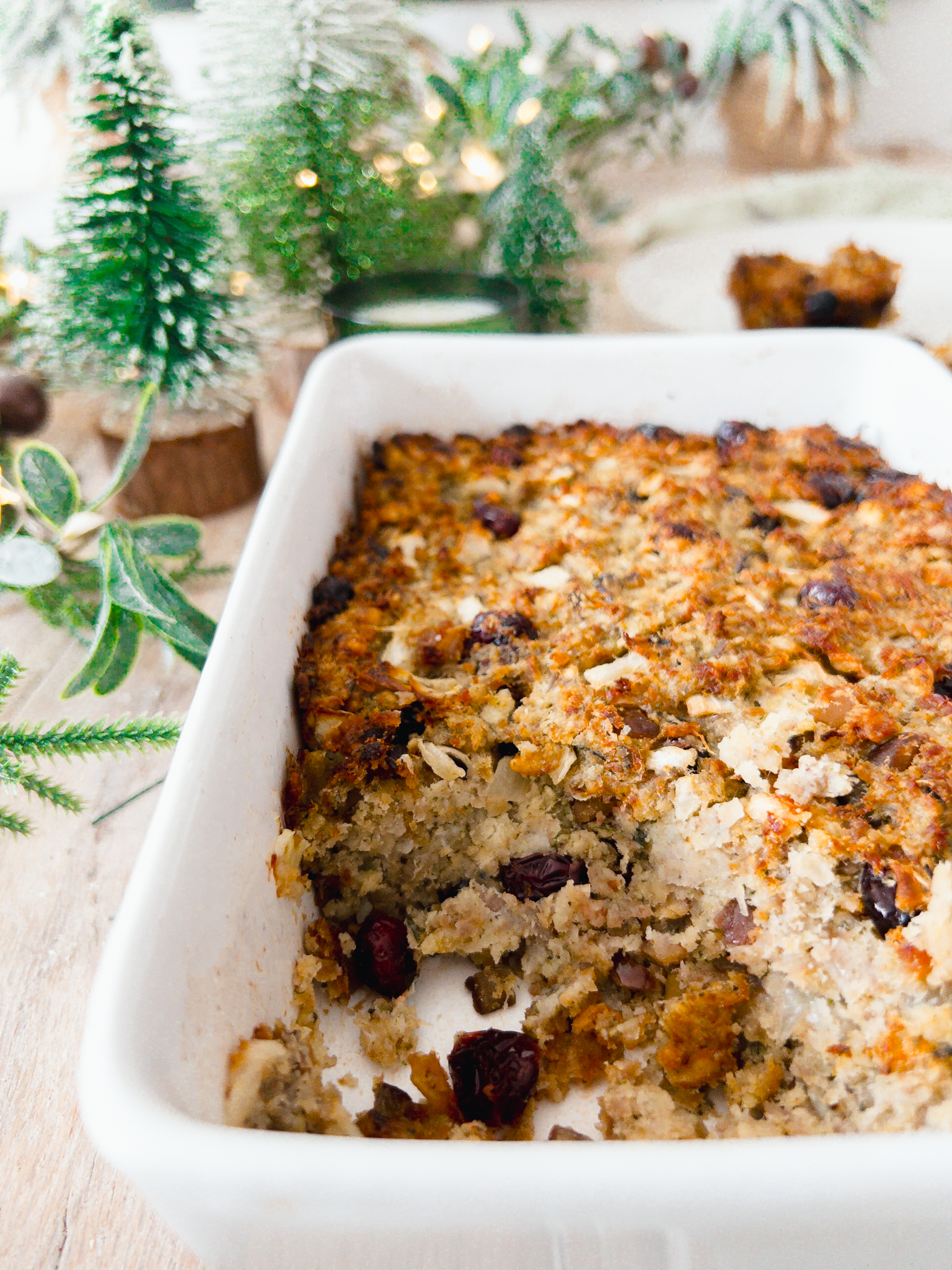 Kids Cook Too
Get younger children involved by having them help to mix the stuffing with their hands. Just make sure that they wash their hands well before and after. 
My Cranberry Sausage Stuffing Pairs Perfectly With…
Feed a Crowd
If you need more than 8 servings of my Cranberry Sausage Stuffing, you can of course double this recipe. Add the stuffing mixture to a large oven dish, approximately a 14 inch one.
Storing My Cranberry Sausage Stuffing 
You can store leftovers in an air-tight container or resealable food bag in the fridge for up to 4 days (3 + cook day). It can be eaten hot or cold - I love it cold in a turkey sandwich. You can also freeze the leftovers for up to 3 months, just defrost for 24 hours in the fridge and reheat until steaming hot all the way through.
For more on safe food storage and reheating read here >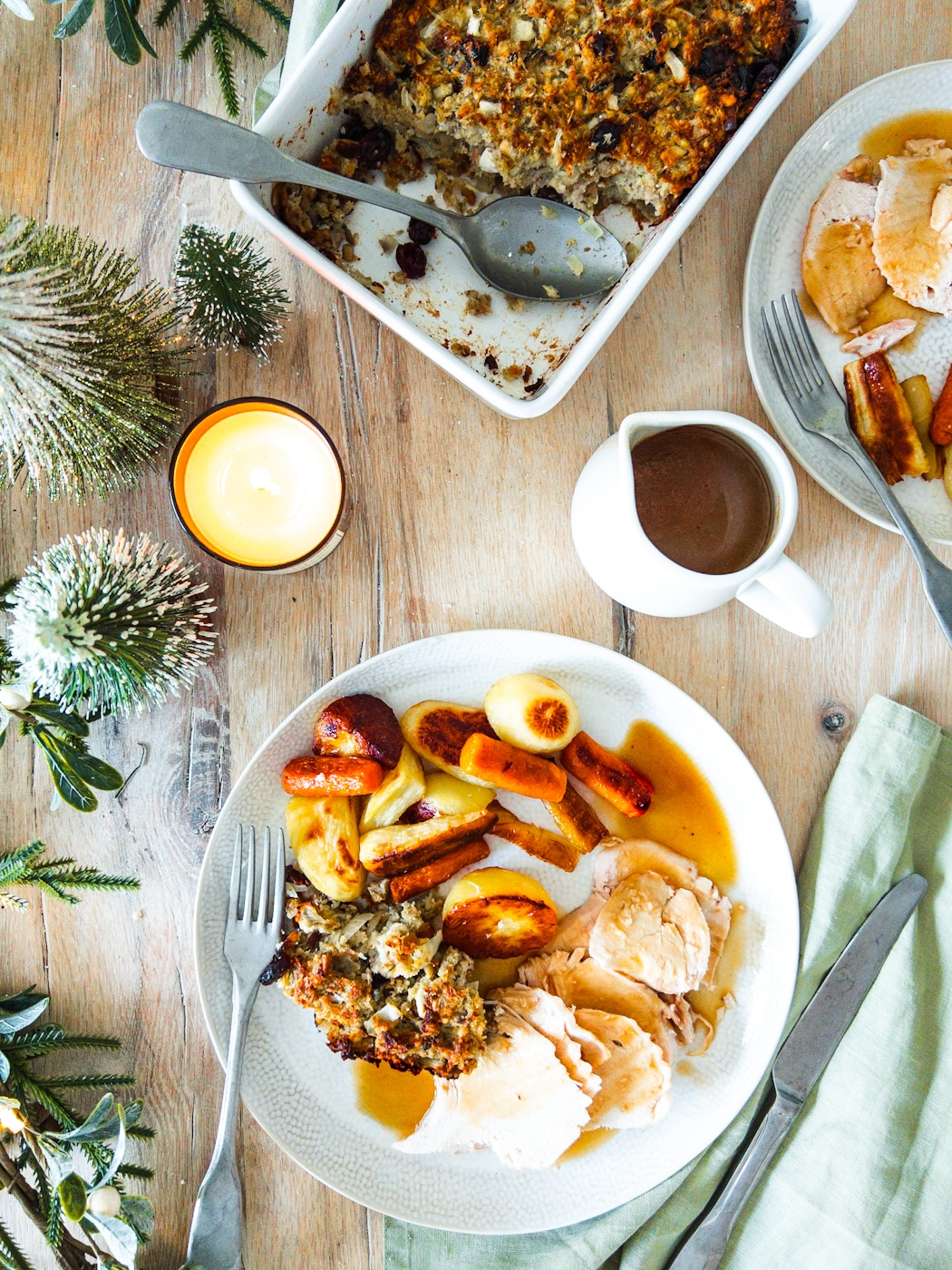 Diet Details
My Cranberry Sausage Stuffing is dairy-free. You can make it gluten free by using Paxo's Sage & Onion Gluten-Free Stuffing.
Serving Cranberry Sausage Stuffing to Young Children
Eating together is beneficial for families of all ages and stages, for a multitude of reasons; nutritional, behavioural, psychological and for healthy family functioning. This section will show you how to tweak this Cranberry Stuffing recipe for sharing with a weaning baby, toddler or a fussy eater, to help make it easier for you to eat together as a family.
Stuffing is one of those optional side dishes for children, and as there is sausage in this stuffing, it's best to leave it off the plate of under 1's. For more info on how I keep my family meals baby & toddler friendly, read here > 
If you have a fussy eater at home, let them decide whether to try it or not. See more from me on picky eaters here >
You Might Like…
Together to Eat is reader-supported. I may earn a small commission from anything bought through links found here.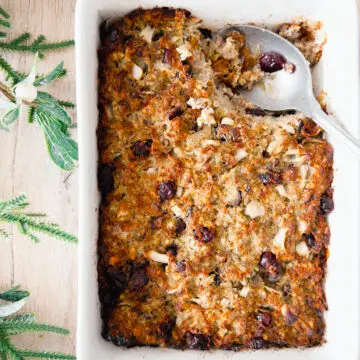 CRANBERRY SAUSAGE STUFFING
This make-ahead, sage and sausage meat stuffing, studded with juicy cranberries and buttery sweet chestnuts is the perfect roast turkey or chicken side-kick.
Equipment
Small bowl + fork

Medium oven-proof dish (approx 8 x 5 inches)
Instructions 
Preheat the oven to 200ºc / 180ºc / 400ºf / gas 6. Lightly grease your medium oven proof dish (approx 8 5 inches) with your oil using a silicone brush.

Add the stuffing mix to a large mixing bowl and pour over the water. Add the sausage meat, breaking it up with your hands as you go. Add in all the other ingredients and mix together with your hands until thoroughly combined. Transfer to a greased, medium oven proof dish (approx 8 x 5 inches) and level out.

Transfer to the oven and bake for 50 minutes.
Notes
Preparing in Advance
If making 1-2 days ahead, make the mix and add it to oven proof dish, level out and cover with clingfilm and refrigerate. Remove from fridge 30 mins before cooking.
If making weeks in advance, make the mix and add to an air-tight food container or resealable food bag and freeze. Defrost for 24 hours in the fridge, then when ready to cook, remove from fridge 30 mins before and transfer to oven-proof dish.
Leftovers
You can keep cooked leftovers in an air-tight food container or resealable food bag in the fridge for 4 days (3 + cook day). Can be eaten hot or cold.
Nutrition
Calories:
2247
kcal
Carbohydrates:
250
g
Protein:
75
g
Fat:
105
g
Saturated Fat:
33
g
Polyunsaturated Fat:
17
g
Monounsaturated Fat:
46
g
Trans Fat:
1
g
Cholesterol:
254
mg
Sodium:
4633
mg
Potassium:
1972
mg
Fiber:
12
g
Sugar:
77
g
Vitamin A:
296
IU
Vitamin C:
51
mg
Calcium:
254
mg
Iron:
12
mg
Made this recipe?
Leave a rating at the bottom of this page! You could also post a picture on Instagram and tag @togethertoeat to share it with me. Or post to Facebook, Twitter or Pinterest.