Whenever I'm out and about in the summer, I am always on the hunt for the nearest Starbucks for a coffee frappuccino. If the kids are with me I treat them to a chocolate one. So, last summer I decided to play around with making homemade frappuccinos at home. I wanted them to taste as close to the Starbucks versions as possible, and after some recipe testing, I've managed to create three delicious copycat frappuccino recipes; Coffee, Mocha and Chocolate. The Chocolate Frappuccino is of course great for non-coffee drinkers and kids.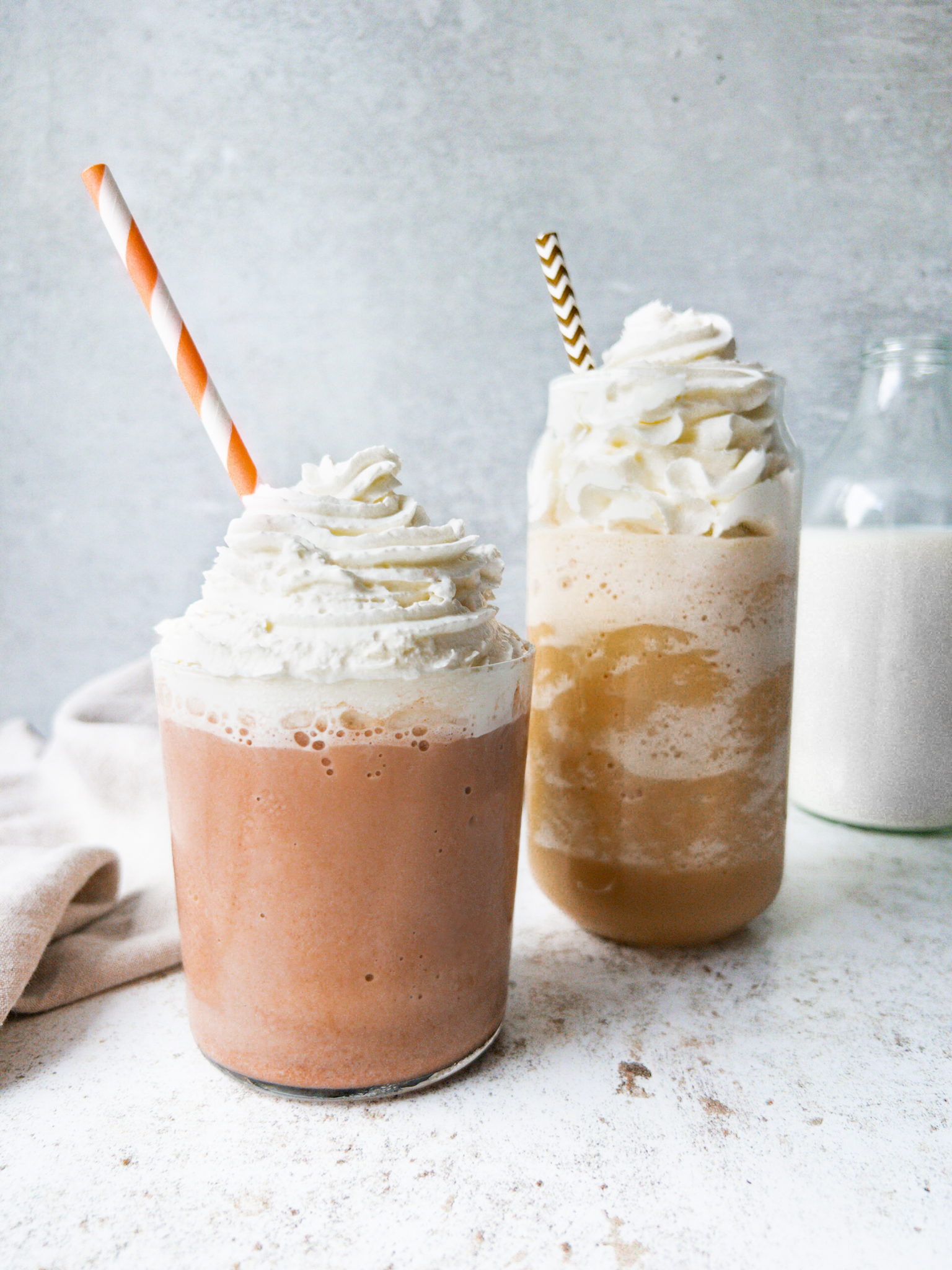 Honestly, with these recipes, it's so easy to make homemade frappuccinos! So much so that every morning I'm home and it's hot out, I'm making a frappuccino. And the kids absolutely love it when I surprise them with a chocolate one. We love to finish ours off with spray cream, I always use the Light (less fat) version. You can drizzle over a chocolate sauce for the Mocha and Chocolate Frappuccinos for an extra special treat.
What Coffee to Use
For the Coffee and Mocha Frappuccinos you'll want to use a medium roast coffee. I always use Starbucks Blonde Roast. I use Nespresso capsules but you can also buy it as Dulce Gusto capsules and as coffee beans from Amazon or your local supermarket. If you have a coffee machine, you'll need to use the espresso function. Otherwise measure out 60ml of strong black instant or filter coffee. Leave it to cool down if you have the time before making your frappuccino.
What Equipment you'll Need to Make Homemade Frappuccinos
To make homemade frappuccinos, you'll need a good blender with very sharp blades to whizz the ice up properly. Even better if you have one with an ice crushing function like this Ninja 2-in-1 Blender. I invested in one during the spring and as a frappuccino and slushy loving family it was the best decision ever! I used to make frappuccino's in a regular blender and they were lovely, but the ice crush function means the ice gets broken down into the finest crush that matches that of Starbucks or any other coffee shop.
It's also great for making fruit soft serve (use only frozen fruit and a little milk if needed to loosen) and fruit slushies (use roughly half frozen fruit and half fresh fruit). I use the smaller smoothie cup to make one frappuccino for me or 2 smaller ones for the kids to share. To make 2 or more larger frappuccinos, you'd want to use the big blender jug.
In terms of measuring out the liquids, when working with small quantities like for these frappuccino's, a measuring beaker is the best way to do that.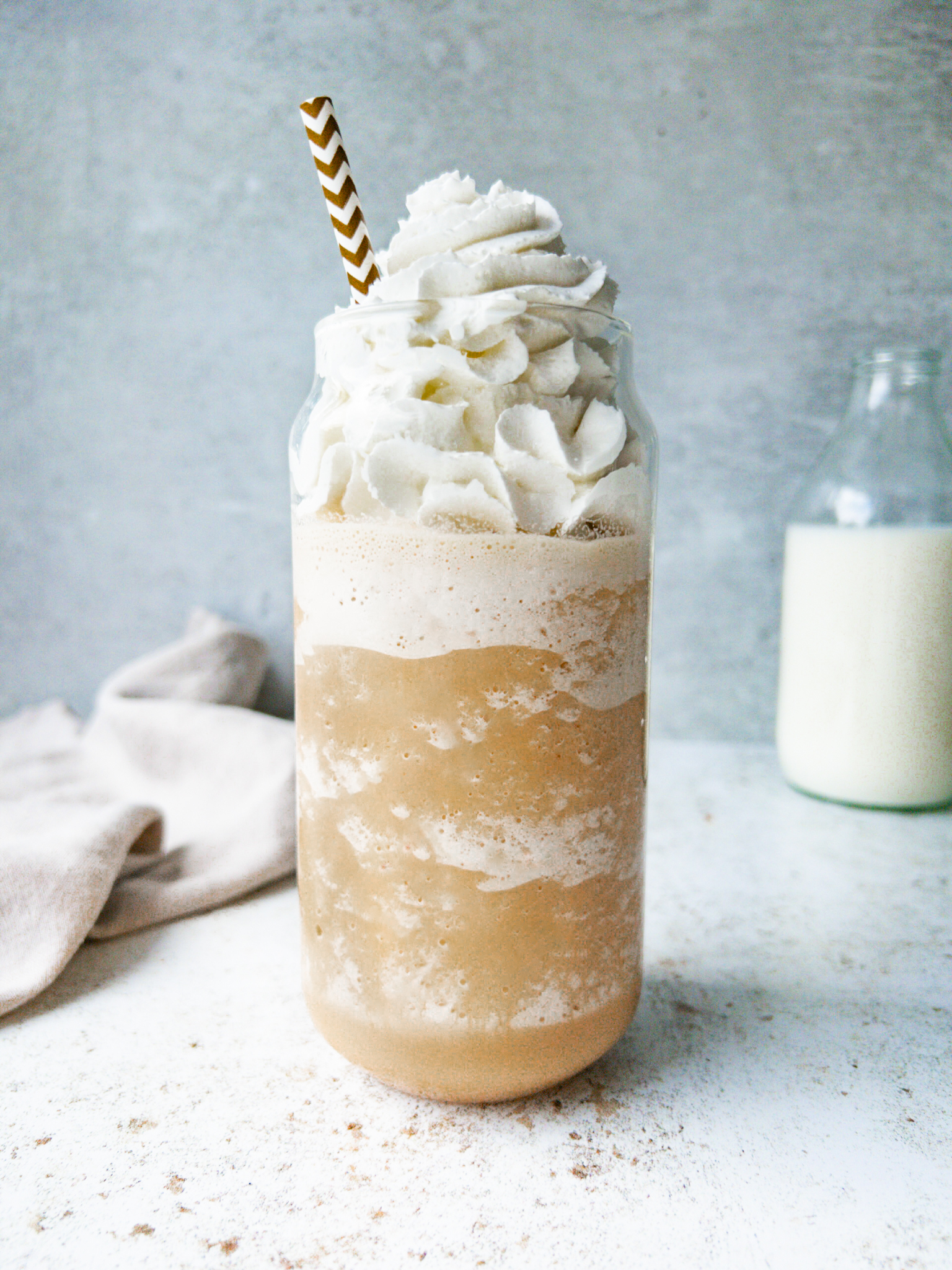 How to Sweeten your Homemade Frappuccinos
Again, for the Coffee and Mocha Frappuccinos I always use a cane sugar syrup (it's flavourless) to sweeten them (moderately). You can of course just use granulated or demerara sugar, you'll just need to add this to the coffee while it's still hot and stir until dissolved. I prefer to use a flavourless syrup even for the Coffee Frappuccino, but you can use a flavoured syrup for that if you prefer.
The Coffee Frappuccino
This one is plain coffee, no bells and whistles but it's so good, it's my go-to flavour and great for the mornings. You'll measure out your ice into the blender, add your sweetened coffee or coffee, syrup, milk and weigh in your ice. Then just blend for about one minute until smooth and thick. 
The Mocha Frappuccino
This is a little richer, I love to have this one in the afternoon. You'll need to mix a little of the coffee into the cocoa powder to make a paste before mixing it with the rest of the coffee. If you are using sugar to sweeten the frappuccino, add that to the coffee first and stir until dissolved. Then add the cocoa-coffee mix to your blender pot or syrup if you haven't already sweetened your coffee, followed your milk and weigh in your ice. Finally you'll blend for up to a minute, until smooth.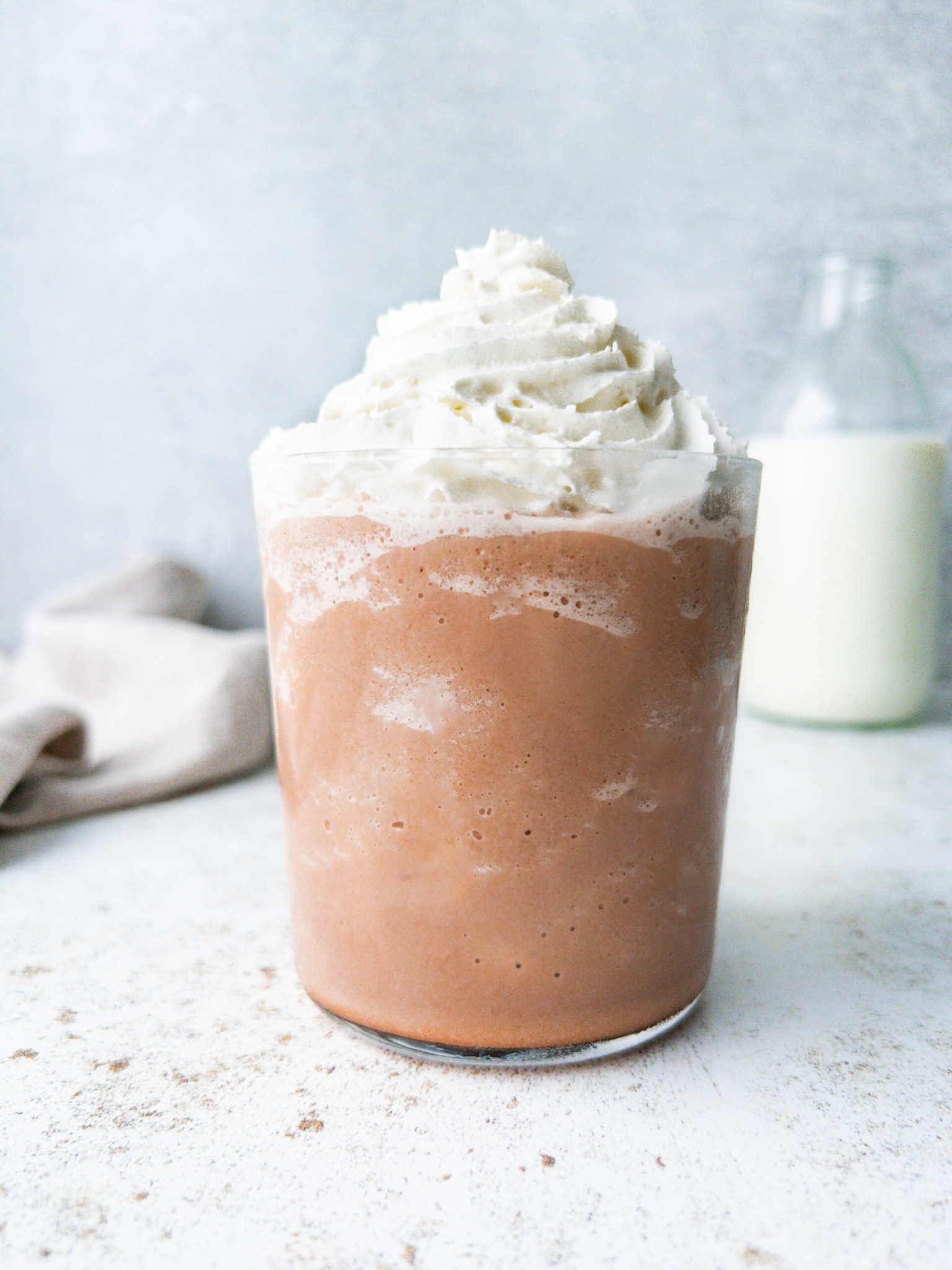 The Chocolate Frappuccino
This is the most simple one to make, plus it's kid friendly and great for non-coffee drinkers. You will need a tub of Nesquik powder. Then you'll mix a of couple tablespoons of that with a little of the milk into a paste, then add it to the rest of the milk. Next you'll add it to the blender along with your ice and blend it up - simple!
To Finish
We love to add spray cream to the top of our homemade frappuccinos. I only buy light spray cream which has 30% less fat. The Mocha and Chocolate Frappuccinos are great with chocolate sauce drizzled over the cream for an extra special treat. 
Making my Homemade Frappuccinos
Watch me make my Homemade Coffee Frappuccino step-by-step here, before or as you go.
Kids Cook Too
Have your kids help make their Chocolate Frappuccino. Just make sure they don't stick their hands down inside the blender, those blades are super sharp!
Diet Details
You can make all my Frappuccino's diary-free by swapping the whole milk for your preferred alternative milk.
If you liked these Homemade Frappuccinos you might like…
Together to Eat is reader-supported. I may earn a small commission from anything bought through links found here.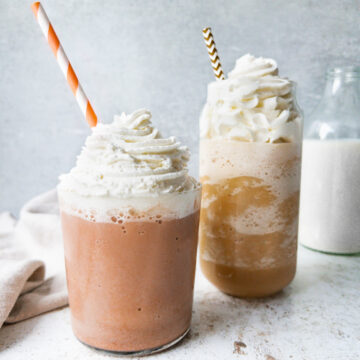 Homemade Frappuccinos
Let me show you how to easily make three delicious coffee shop quality homemade frappuccinos; Coffee, Mocha and Chocolate.
Ingredients  
COFFEE FRAPPUCCINO
60

ml

espresso

or strong black coffee, cooled

1 ½

tablespoons

cane sugar syrup OR granulated sugar to taste

80

ml

whole milk

200

g

ice
MOCHA FRAPPUCCINO
60

ml

espresso

1 ½

tablespoons

sugar syrup or OR granulated sugar to taste

1

tablespoon

cocoa powder

115

ml

whole milk

200

g

ice
CHOCOLATE FRAPPUCCINO
2

tablespoons

chocolate Nesquik

180

ml

whole milk

200

g

cups ice
Instructions 
COFFEE FRAPPUCCINO
If you are able to, make the coffee in advance so it has time to cool off. If you want to make it taste as close to a Starbucks frappuccino as possible, use Starbucks capsules/pods (I use the Blonde roast capsules). If you have a coffee machine that makes espresso, use two espresso shots (should be 30ml each). Alternatively, make up 60ml of any strong coffee. If you are adding sugar instead of syrup, add it in when hot and stir well.

Add your ice to the blender pot followed by the milk, coffee and syrup (if using). Blend on the highest setting (or the ice crush setting) for about 1 minute or until smooth.
MOCHA FRAPPUCCINO
Follow the above instructions for Coffee Frappuccino, but mix the cocoa powder with a little of the coffee to make a paste. Then you can mix in the rest of the coffee. If using granulated sugar, dissolve that in the hot coffee first.
CHOCOLATE FRAPPUCCINO
Add just a little of the milk to the Nesquik and stir into a smooth paste. Then stir it into the rest of the milk. Add the ice to your blender pot and pour in the chocolate milk. Blend on the highest setting (or the ice crush setting) for about 1 minute or until smooth. This recipe makes one large frappuccino, which can by split into two smaller ones for younger kids to share.
TO FINISH
Pour or spoon out the frappuccino carefully into your glass or reusable cold cup. Serve immediately, as is or topped with spray cream. For Mocha and Chocolate Frappuccino's, drizzle over chocolate sauce if you like.
Made this recipe?
Leave a rating at the bottom of this page! You could also post a picture on Instagram and tag @togethertoeat to share it with me. Or post to Facebook, Twitter or Pinterest.