This is our favourite strawberry ice cream, and our favourite chocolate ice cream! The two flavours collide and combine to make the ultimate ice cream flavour for strawberry ice cream lovers AND chocolate ice cream lovers, and of course Oreo lovers. And it's really easy to make - no ice cream machine required. All we are going to do is roast the strawberries then cool, and blend along with some condensed milk. We'll smash up the Oreo cookies and whisk the whipping cream. Then it's just a case of combining it all together and then freezing it, no ice cream maker required. This Ice Cream, really is a dream!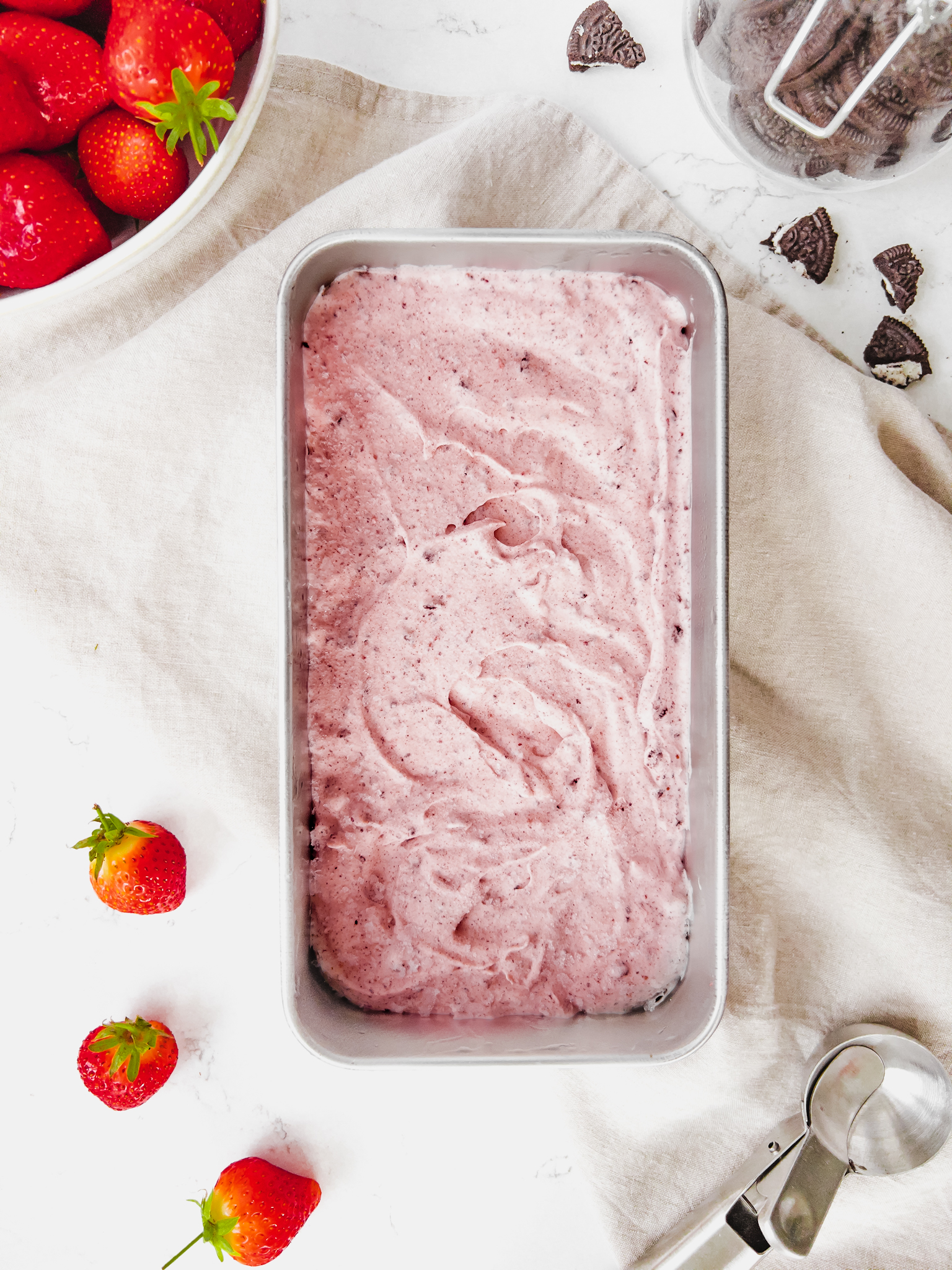 How to Make My Strawberry Oreo Ice Cream
Watch me make this recipe step-by-step here, before or as you go.
Prep Ahead
The strawberries need time to cool after being roasted, so it's a good idea to roast them earlier in the day or even the day before. Once cool, just transfer them to your stick blender pot or mini food chopper (if it purées), cover and refrigerate until you are ready to make your ice cream.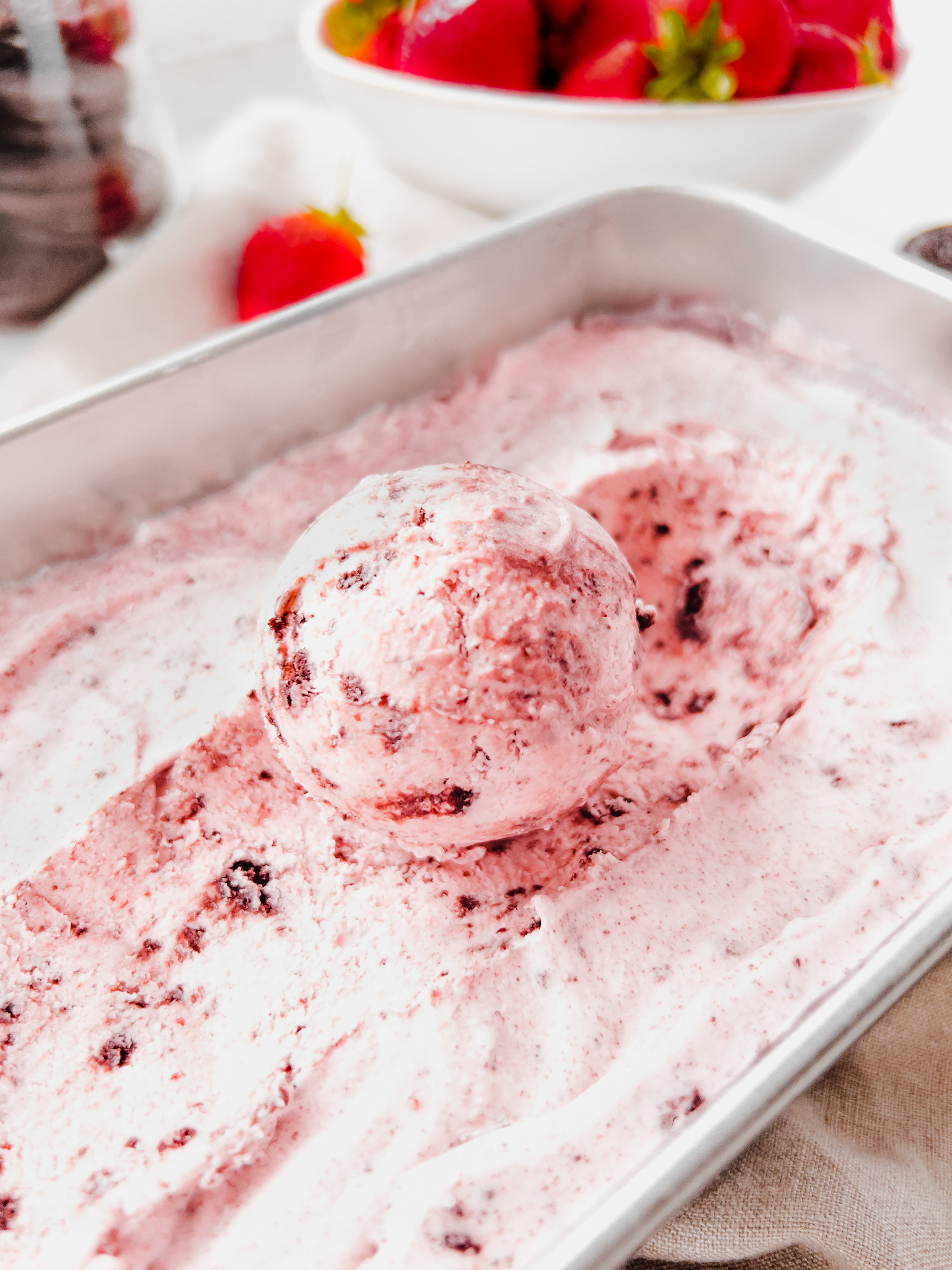 Get the Kids Making my Strawberry Oreo Ice Cream
Younger children can get involved by helping to smash up the Oreo's, blending the strawberries and condensed milk, whisking the cream and adding the ice cream mixture to your container for freezing.
Feed a Crowd
You can easily double this recipe if you would like the ice cream to stretch further, or to feed more people if you are having a gathering. It makes a fabulous, light dessert for guests. Just adorn with Oreo's, whole or crumbled.
Storing My Strawberry Oreo Ice Cream
Once you've made the ice cream, transfer it to the freezer for at least 7 hours. You can freeze it in a metal loaf tin (cover with clingfilm or foil securely) or a freezer-proof air-tight container for up to 2 months. Take it out the freezer and put in the fridge for 1 hour before you are ready to eat it so it's soft enough to scoop (will take less time if you've had some already and the tub isn't full). If you defrost at room temperature, that too will be quicker, 10-30 minutes depending on how much is in the tub.
For more on safe food storage and reheating read here >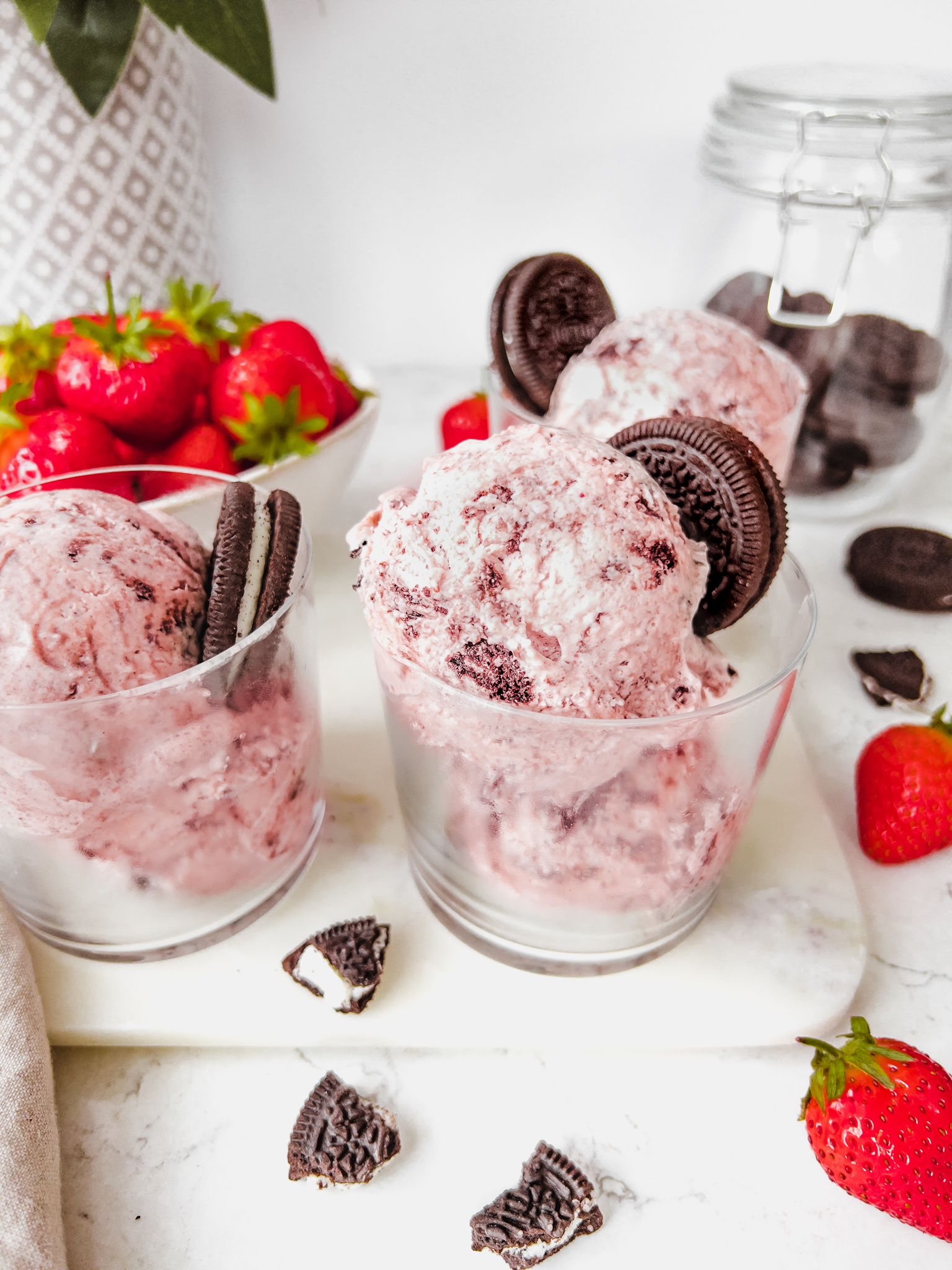 Diet Details
My Strawberry Oreo Ice Cream is egg and nut-free and it's vegetarian. 
You Might Like…
Together to Eat is reader-supported. I may earn a small commission from anything bought through links found here.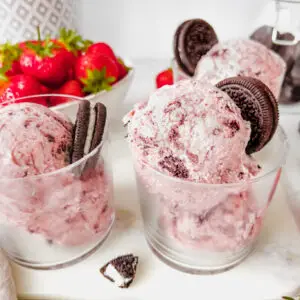 Strawberry Oreo No-Churn Ice Cream
Strawberry ice cream lovers and chocolate ice cream lovers unite! Roasted strawberries and Oreo cookies collide with perfect balance in this no-churn ice cream.
Instructions 
Preheat the oven to 200ºc/180ºc fan/400ºf/gas. Line a large baking tray with baking paper. Hull the strawberries and then cut large ones in quarters and smaller ones in half. Lay in an even layer on the baking tray, sprinkle over the sugar and toss well. Transfer to the oven and roast for 15 minutes, or until their juices have started to come out. Remove and allow to cool completely (see notes).

Add the Oreo's to a re-sealable food bag and close. Use a rolling pin or mallet to smash up the cookies until all in small pieces, but being careful not to over smash or your ice cream will look more chocolate than strawberry.

Carefully add the strawberries and their juices to the blender/food chopper, scraping down the juices from the baking paper using a spatula. Then add the condensed milk and blend until smooth.

In a large mixing bowl, using an electric whisk on a medium-high setting, beat the cream into stiff peaks. Then add the strawberry mixture and fold it into the cream with a large metal spoon carefully. Once it's just combined, add in the Oreo crumbs. Fold in until just mixed in.

Spoon into a loaf tin or other suitable container for freezing and cover. Freeze for 7 hours minimum - and at that point it will be soft scoop. From the next day you will need to leave it in the fridge 1 hour before serving for soft scoop. Once you have less than a whole tub of the ice cream, it will defrost quicker. It will take 10-30 minutes to defrost at room temperature, depending on how much there is left.
Notes
If you roast the strawberries much ahead of time, cool and then transfer to your blender pot and refrigerate until ready to make.
Nutrition
Calories:
297
kcal
Carbohydrates:
30
g
Protein:
4
g
Fat:
19
g
Saturated Fat:
11
g
Polyunsaturated Fat:
1
g
Monounsaturated Fat:
5
g
Trans Fat:
0.01
g
Cholesterol:
51
mg
Sodium:
101
mg
Potassium:
240
mg
Fiber:
1
g
Sugar:
24
g
Vitamin A:
628
IU
Vitamin C:
30
mg
Calcium:
107
mg
Iron:
2
mg
Made this recipe?
Leave a rating at the bottom of this page! You could also post a picture on Instagram and tag @togethertoeat to share it with me. Or post to Facebook, Twitter or Pinterest.