This Raspberry Ice Cream Bombe is so many things. It's the perfect finale to a big meal; a delicious, light, refreshing bite. It's quick and easy to make, with no cooking involved. You can make it weeks in advance, so it's ideal for a special occasion like Christmas, especially when you are hosting on a budget. Made with just FOUR ingredients, this simple yet luxurious dessert is only going to cost you £2.84* and will feed eight people.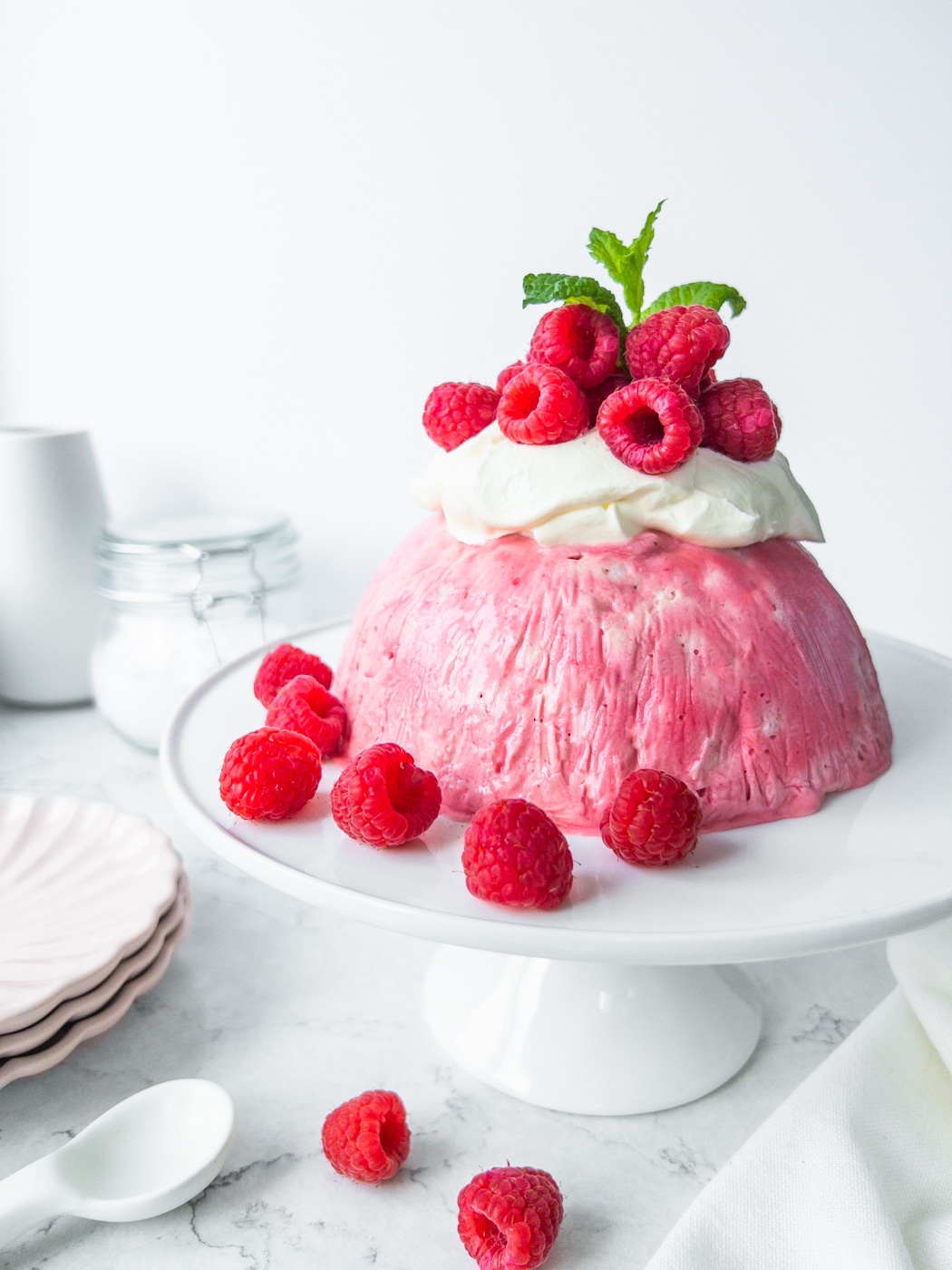 That makes it much cheaper than buying a classic Christmas Pudding or any ready-made dessert to serve eight. If you are hosting more guests, the recipe can be doubled with ease to stretch to 16 servings.
*when ingredients are bought from Aldi.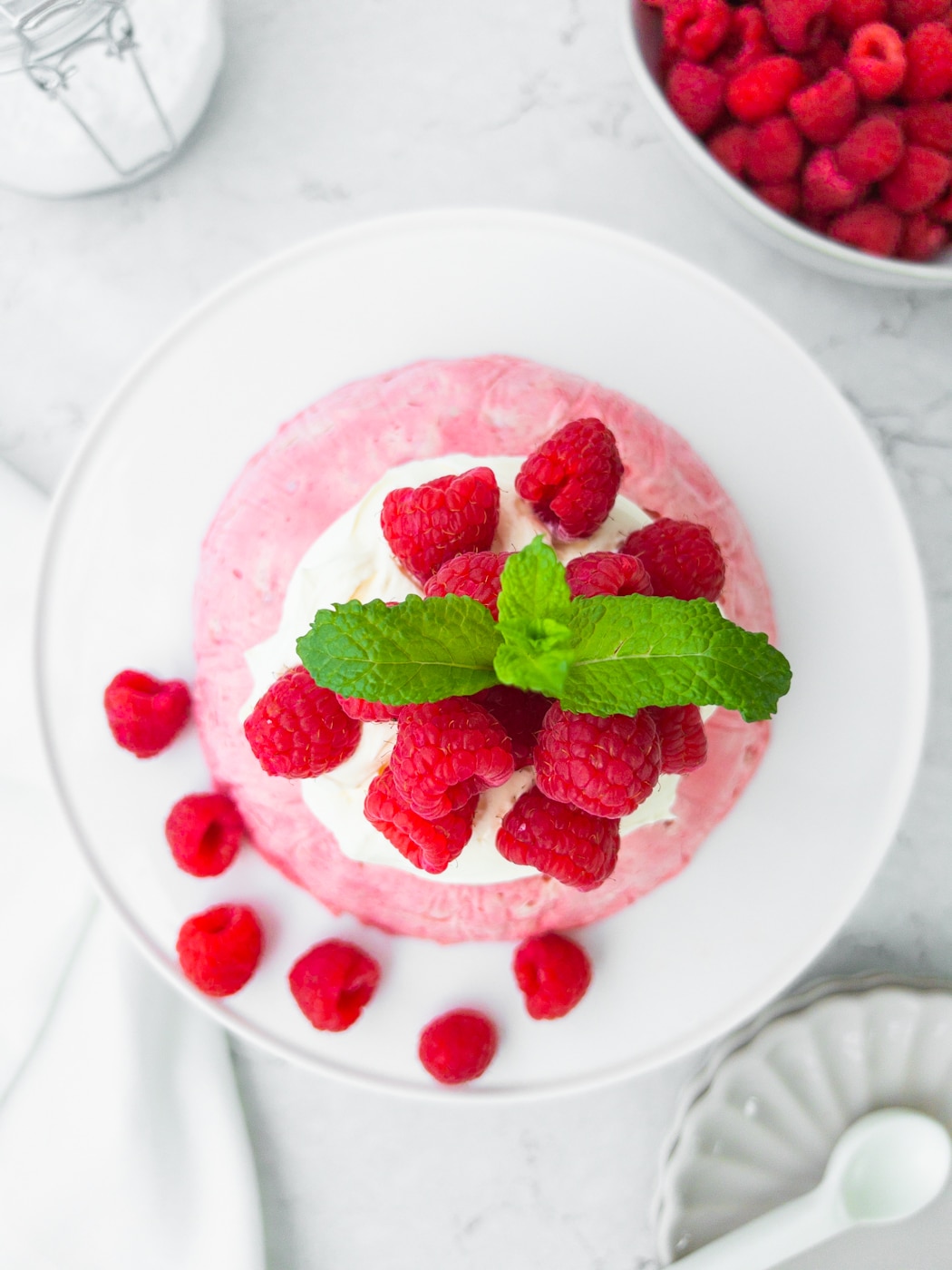 I actually can't take credit for this Raspberry Ice Cream Bombe recipe, it's one my Mother-in-Law has been making at Christmas for over 20 years, ever since she was given the recipe from a friend. My Mother-in-Law being Norwegian means she celebrates Christmas Eve instead of Christmas Day, hosting the whole family, and each year she rolls out this dessert and everyone goes nuts for it. I think most of us can say that it's one of our favourite things about Christmas Eve.
Dressing it up
It's beautiful in it's simplicity but if you want to go all out and turn this Raspberry Ice Cream Bombe into a show stopper, you can adorn it with a dollop of créme fraîche, some fresh raspberries and a small sprig of mint. The tartness of the raspberries keeps the balance of this Bombe just right, and stopping it being sickly sweet. More over, when you serve it with créme fraîche, its tangy, slightly sour notes cut through the sweetness even more, which is perfect for anyone with not much of a sweet tooth. To decorate with créme fraîche and fresh raspberries will cost you an additional £2.44*.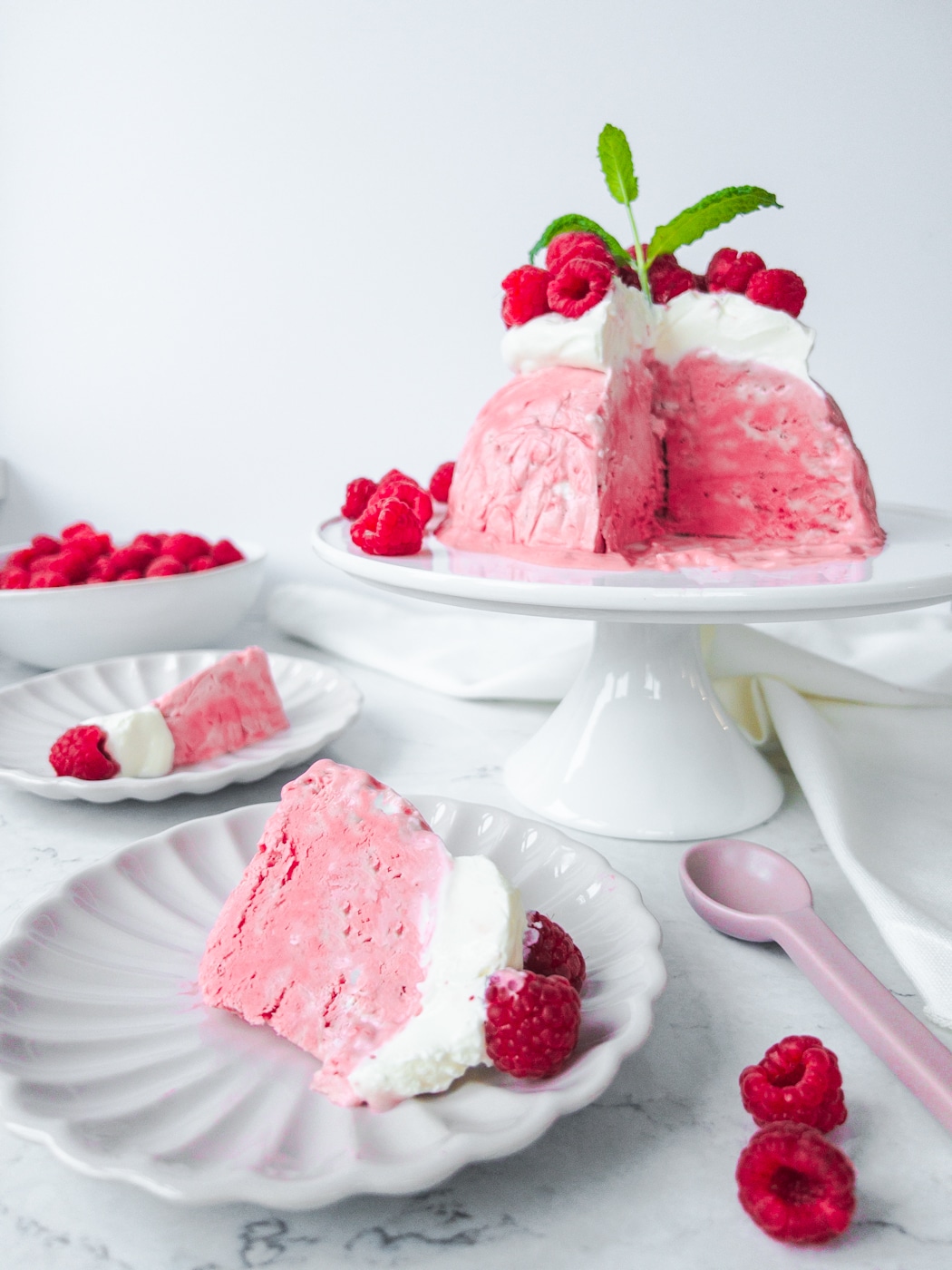 Need More Raspberry Ice Cream Bombe? 
This Bombe will feed eight people, but you can easily double everything to feed up to 16 people. If you do this, you will need a 2ltr bowl instead of 1ltr and enough space in your freezer for it. Alternatively, double up and freeze in two separate 1ltr bowls.
Not Just for Christmas
This Bombe is not just for Christmas, I love to make it in the summer too - it's the perfect dessert to serve on a hot day. It's also great to have in the freezer and pull out when any unexpected or short-notice guests come over.
Making My Raspberry Ice Cream Bombe
Watch me make my Raspberry Ice Cream Bombestep-by-step here, before or as you cook.
The Four Ingredients
Yes just FOUR ingredients. And they are:
Meringue Nests 
You'll need a pack of 8 meringue nests. If you can't get those, you can substitute for a pack of meringue shells (or meringue cookies if you are in the US). Go for a pack around 104g - 115g / 3.67oz - 4oz in weight.
Frozen Raspberries
Not only will frozen raspberries help you keep the cost down as they are around half the price of fresh, they'll add a richer pink tone and deeper flavour to this Raspberry Ice Cream Bombe. For this recipe we are going to use less than half a bag of frozen raspberries so you'll get another pudding out of one bag and then some!
Icing Sugar 
We're only going to use a little icing sugar / powdered sugar (US), just three tablespoons to balance the sharpness of the frozen raspberries. 
Cream
You can use either whipping or double cream, heavy cream if you are in the US. This is going to be whipped into stiff peaks before adding everything else.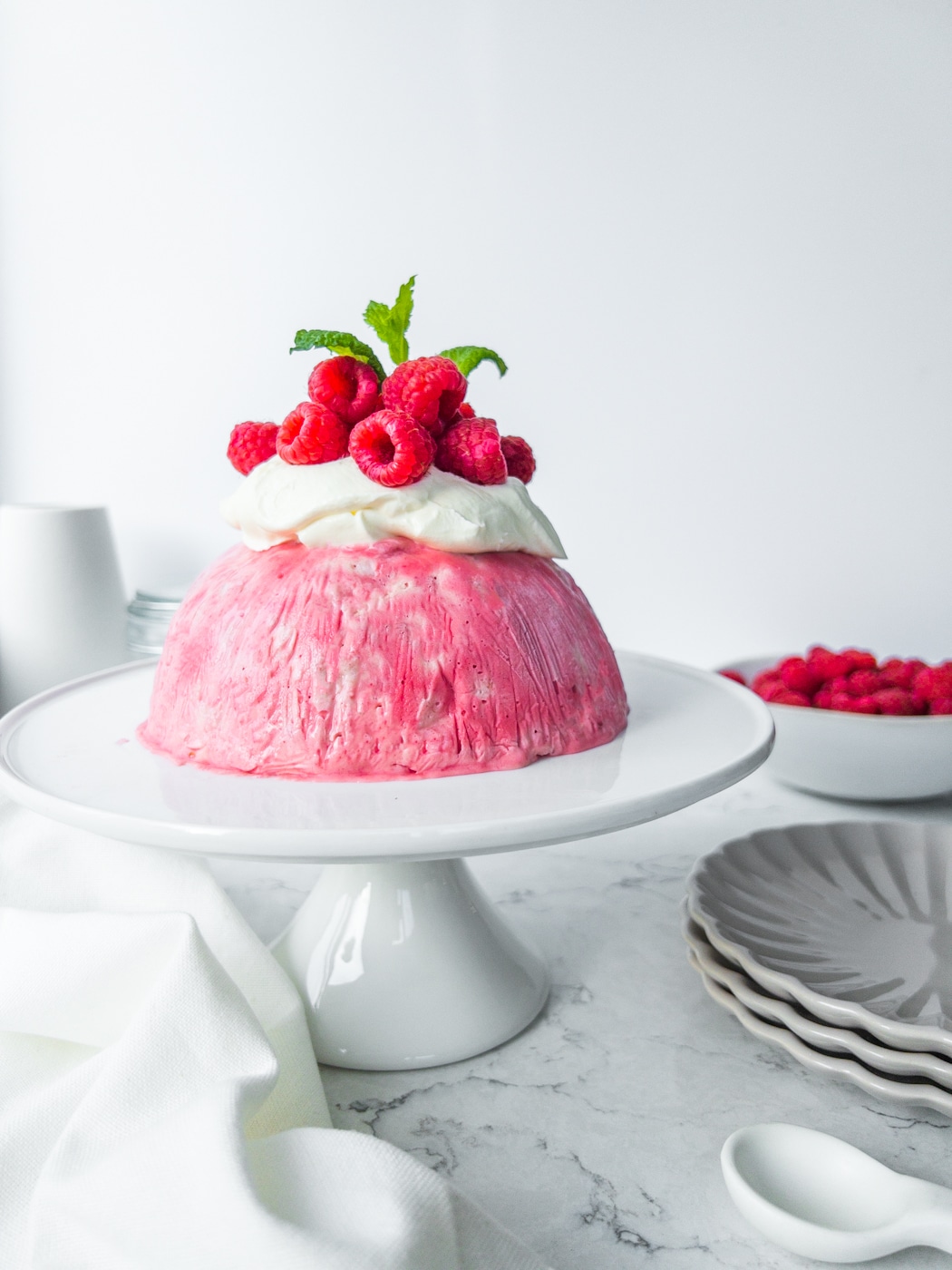 Prep my Raspberry Ice Cream Bombe Like a Pro
Defrost Your Raspberries
It only takes 15 minutes to pull this dessert together, but you'll need to defrost your raspberries in advance of this. Measure them into a dish the night before, cover with clingfilm and refrigerate. Alternatively, defrost in a dish on the kitchen counter until thawed, this should only take a couple of hours.  
The Equipment
You will need some type of blender to make this as we need to blitz the raspberries once defrosted, along with the icing sugar. A stick blender or Nutribullet will be perfect. You'll also need an electric hand whisk to whip the cream into stiff peaks.
Straining the Mixture
After you've blended the raspberries, you'll need to strain the mixture through a sieve. You won't want hard raspberry seeds running through your smooth, luxurious Ice Cream Bombe! Scrape down the purée from the blender into a sieve over the bowl of whipped cream. Then use a sturdy spatula or the back of a metal serving spoon to push the purée through the sieve. When you are done, scrape down the underside of the sieve - don't waste any of that raspberry goodness!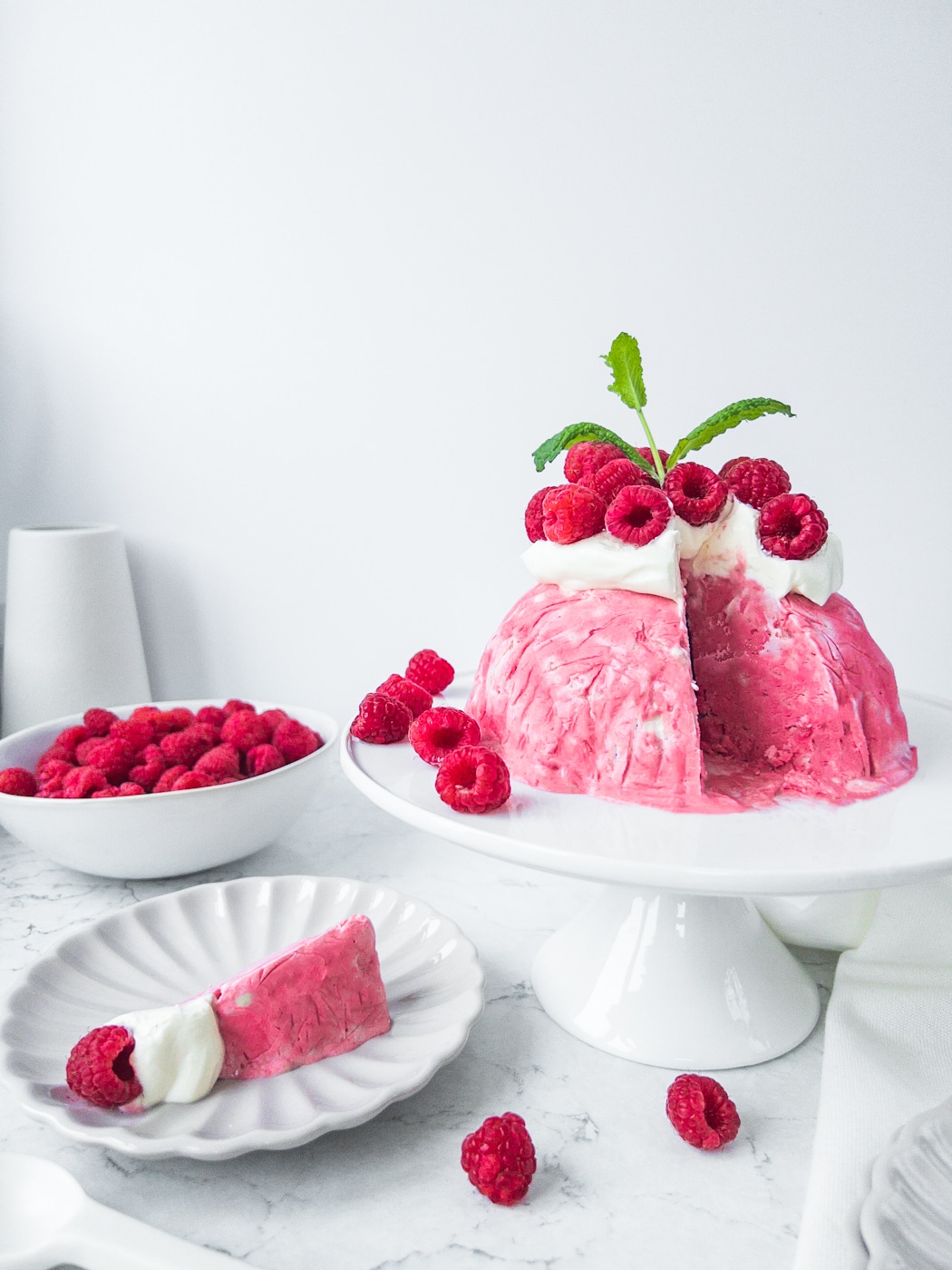 Freezing the Raspberry Ice Cream Bombe
Before you even start making the Raspberry Ice Cream Bombe, you'll want to prep the bowl you are going to freeze it in. You'll need a 1ltr bowl, 2ltr if doubling the recipe to feed up to 16. Then line the inside of the bowl with a large piece of foil, using your hands to shape it to the bowl and then top with a layer of clingfilm (saran wrap) before adding the mixture, so the Bombe doesn't stick to the bowl as it freezes. You'll also be able to lift it out with ease by holding the edges of the foil or clingfilm.
If you are doubling the recipe, you'll need to line the bowl with two pieces of clingfilm that criss-cross over each other to cover the entire inside. Once you've added the Bombe mixture to the bowl, level it out with a spatula or back of a serving spoon. You can also give the bowl a gentle shake back and forth to help the mixture settle evenly.
Then cover the bowl tightly with a layer of clingfilm and over that, a tight layer of foil as well. If you only cover it with clingfilm, it can easily tear leaving a hole. Be careful to keep the bowl level when you transfer it to the freezer. It's a good idea to clear a space for the bowl before hand. Once in the freezer, you'll need to leave it for a minimum of 8 hours to set, ideally overnight. 
For more on safe food storage read here >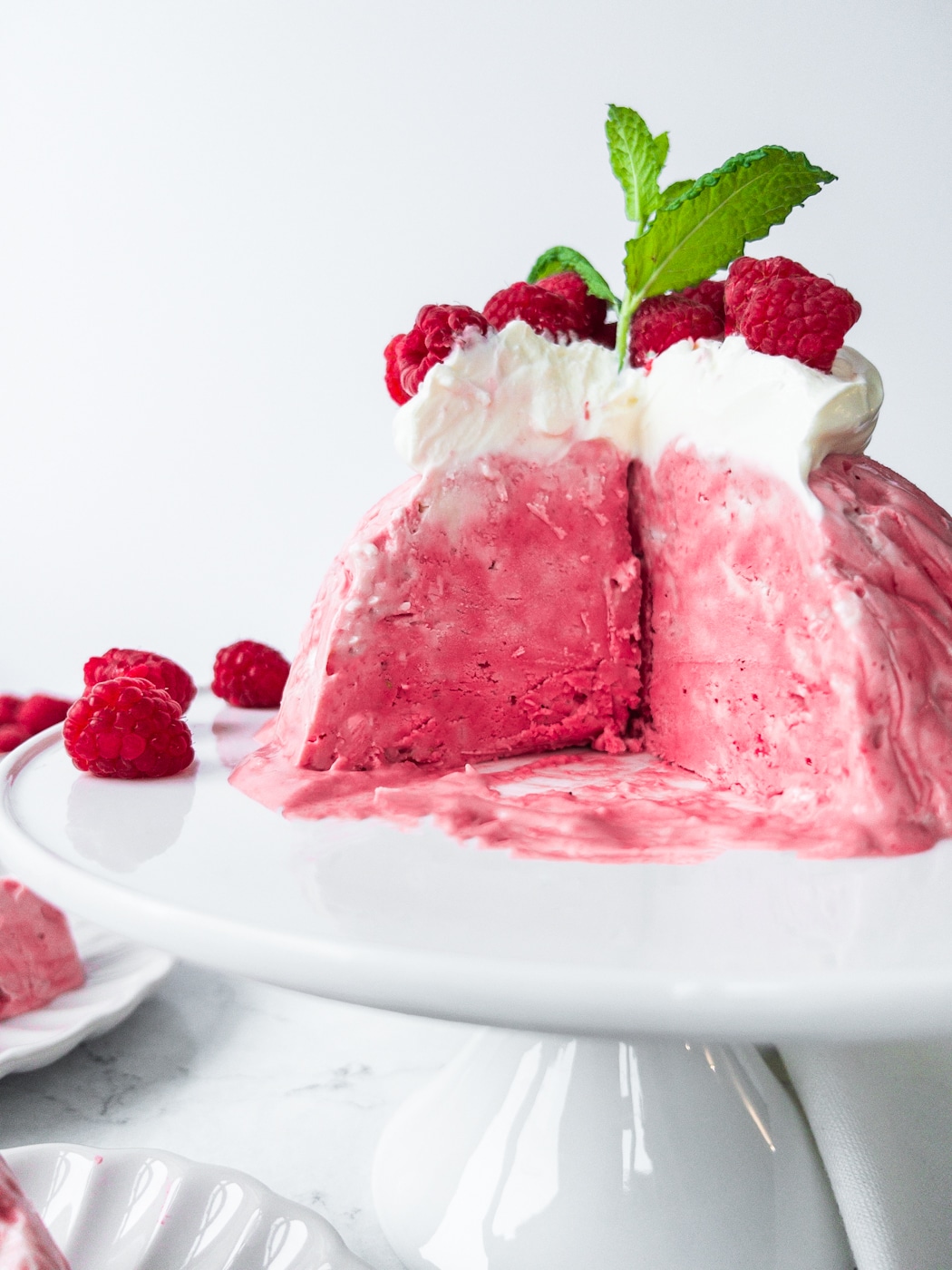 Make In Advance
This Bombe is the perfect dessert to make ahead of an occasion when you won't have time to make one on the day itself. This is one of the many reasons why it's ideal for Christmas. You don't even have to find the time to do it in the days leading up to it, you can do it weeks before. If covered properly, the Bombe will survive well in the freezer for up to three months. After that, it is safe to eat but it could develop freezer burn and the flavour and texture could alter slightly.
Serving the Raspberry Ice Cream Bombe
When you take the Ice Cream Bombe out of the freezer, transfer it to a plate or cake stand and leave it soften slightly for 20-30 minutes before serving. Remove the top layer of foil and clingfilm (saran wrap), then carefully pull out the Bombe by grabbing opposite sides of the clingfilm that's lining the bowl. Place the Bombe, clingfilm and all, on a clean counter top. Then carefully place the plate or cake stand, upside down on top of the flat edge of the Bombe and flip the pudding and plate the right way up. Carefully remove the clingfilm and make sure the Bombe is central to the plate.
To serve, use a sharp knife and cut it as you would cake. If there are any leftovers, you can freeze them on a plate, covered tightly with clingfilm and then foil or pop into a resealable food storage bag.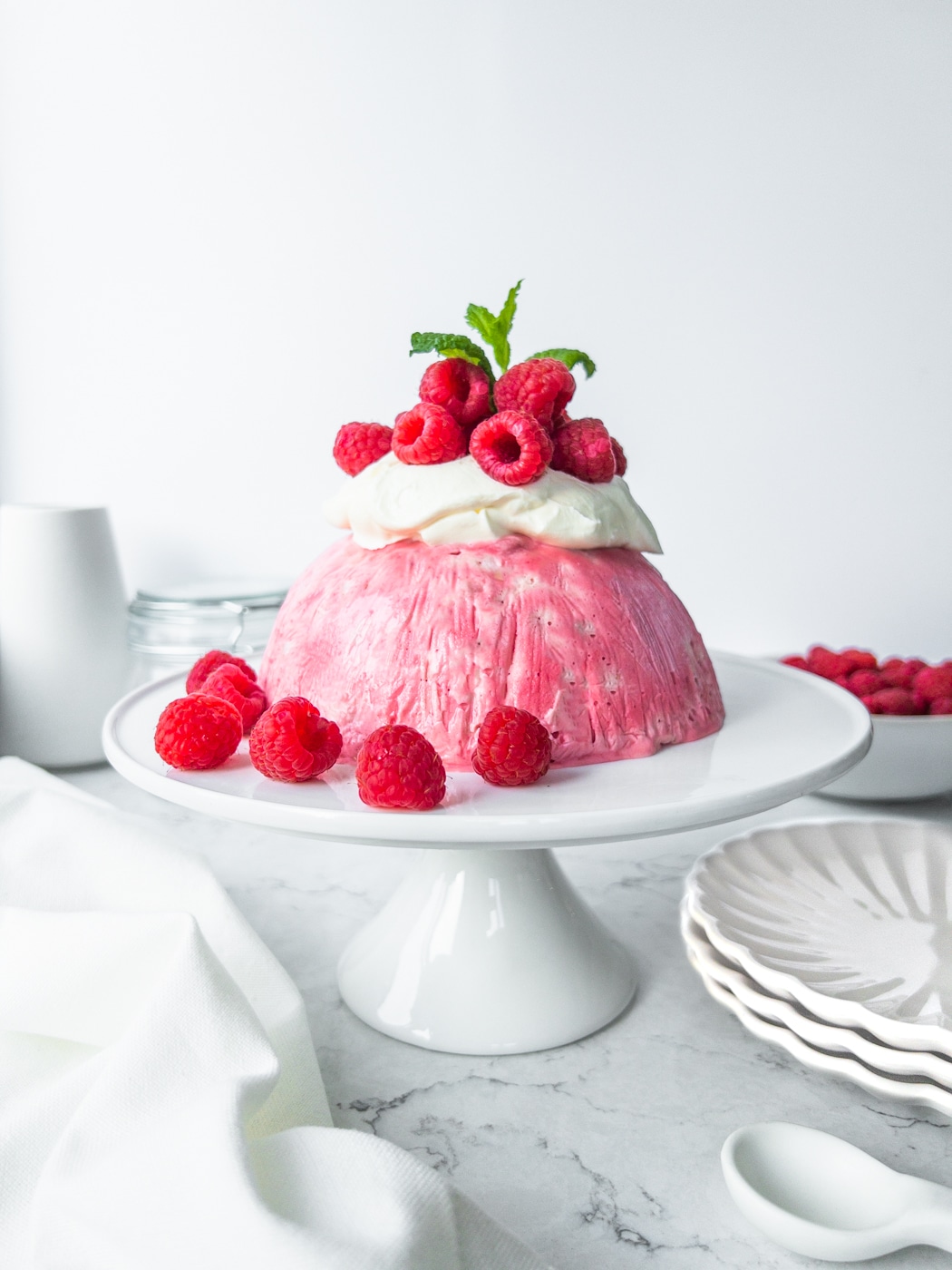 Kids Cook Too
Have the kids help make the Bombe! Little ones will enjoy breaking up the meringue, helping to beat the cream and fold the mixture together.
Diet Details
My Raspberry Ice Cream Bombe is nut-free and can be eaten by vegetarians. 
Sharing my Raspberry Ice Cream Bombe with Baby
If you'd like your little one to join in and enjoy the dessert too, add some to their bowl and break it up with a spoon. Leave it to soften completely before serving. 
You Might Like…
Together to Eat is reader-supported. I may earn a small commission from anything bought through links found here.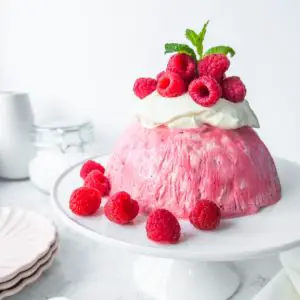 RASPBERRY ICE CREAM BOMBE
A light, refreshing and delicious bite to end a meal on, this make-ahead Raspberry Ice Cream Bombe serves eight, can be whipped up in just 15 minutes and is super budget friendly.
Ingredients  
TO SERVE / DECORATE, OPTIONAL
Créme fraîche

Fresh raspberries

Sprig of fresh mint
Instructions 
Add the defrosted raspberries and icing sugar to your stick blender pot or blender. Whizz until smooth.

In a large mixing bowl, beat the cream using an electric whisk on a high setting until you have soft peaks.

Sit a sieve over the cream bowl and scrape down the raspberry mixture from inside the blender pot into it. Use the back of a spoon or sturdy spatula to press down on the sieve and pass through all the raspberry puree, leaving behind the seeds. Scrape down the outside of the sieve once done and discard the seeds on the inside.

Add the meringue nests, breaking them into small pieces as you go with your hands. Fold in with a spatula or large metal spoon until well combined.

Line a 1ltr (medium) deep glass bowl or freezer proof bowl with a layer of foil, shaping it round the inside of the bowl with your hands, then add a layer of clingfilm (saran wrap) over that. See note 2 if doubling recipe. Then and add in the Bombe mixture. Give the bowl a gentle shake side to side also to help the mixture settle. Cover tightly with clingfilm and again with foil and then transfer to the freezer, keeping the dish level. Leave overnight or for 8 hours minimum. Remove from the freezer about 20-30 minutes before serving and lift the Bombe out by the clingfilm lining. Place on the counter. Put your plate or cake stand upside down on the flat edge of the Bombe and carefully turn the Bombe and the plate/cake stand up the right way. Once slightly softened, use a knife to cut it like a cake.
TO SERVE, OPTIONAL
Serve the Bombe as it is or you could serve some créme fraîche in a bowl alongside it. Alternatively, you can dress the Bombe with a generous spoonful of créme fraîche on the top, some fresh raspberries and a small sprig of mint. You can also scatter some fresh raspberries around the plate or cake stand.
Notes
Note 1: defrost raspberries at room temperature for 1-2 hours
Note 2: if doubling the recipe to serve up to 16 people, use a 2 ltr bowl, you may need to line it one way with clingfilm and then again with another piece, crossing over in the other direction.
STORAGE
You can keep the Raspberry Ice Cream Bombe for up to 3 months in the freezer. Freeze leftovers on a plate wrapped tightly in clingfilm and then foil, or in a food storage bag.
*the stated cost applies when items are bought from Aldi in the UK, but are subject to change.
Made this recipe?
Leave a rating at the bottom of this page! You could also post a picture on Instagram and tag @togethertoeat to share it with me. Or post to Facebook, Twitter or Pinterest.