These Soft Gingerbread Cookies are hands down my favourite thing to bake and eat throughout the festive season. They are just the doughiest cookie you'll ever make. And they are super addictive, to the point where I will tell the kids they are all gone (when they aren't), just so I can keep them for myself (shhhhh!).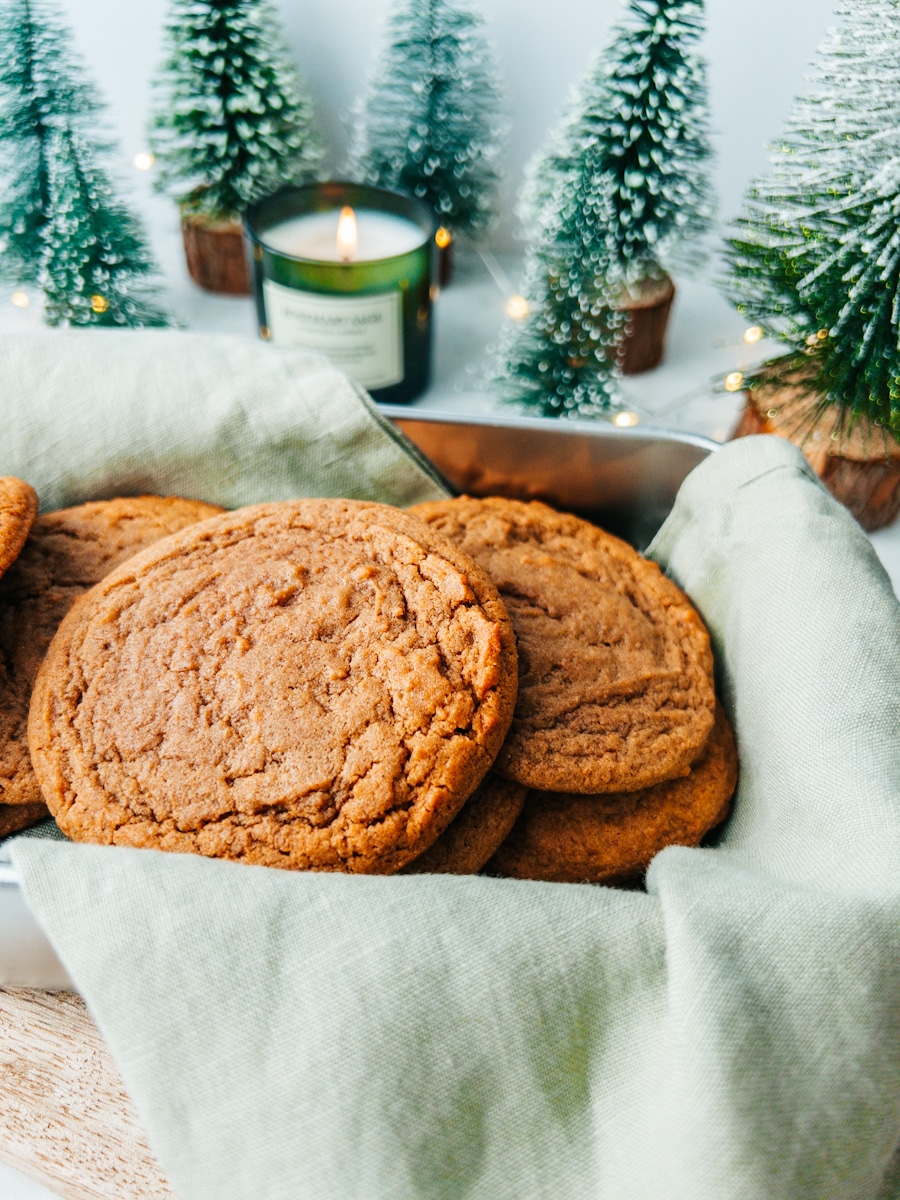 I've spiced them just at the right level for little kids to enjoy too BUT if you like your gingerbread really strong I've also included a higher amount of ground ginger you can go to - but personally, even for me, they are spiced to perfection just as they are. And another thing you are going to love about this recipe?! You can make them in 20 minutes! 
Unlike regular gingerbread cookies, we aren't going to chill or roll the dough out and cut it into shapes, which is fun of course when you have the time, but sometimes you just want a quick easy Christmas bake and this is it for sure! You'll get ALL the gingerbread goodness without all the hard work.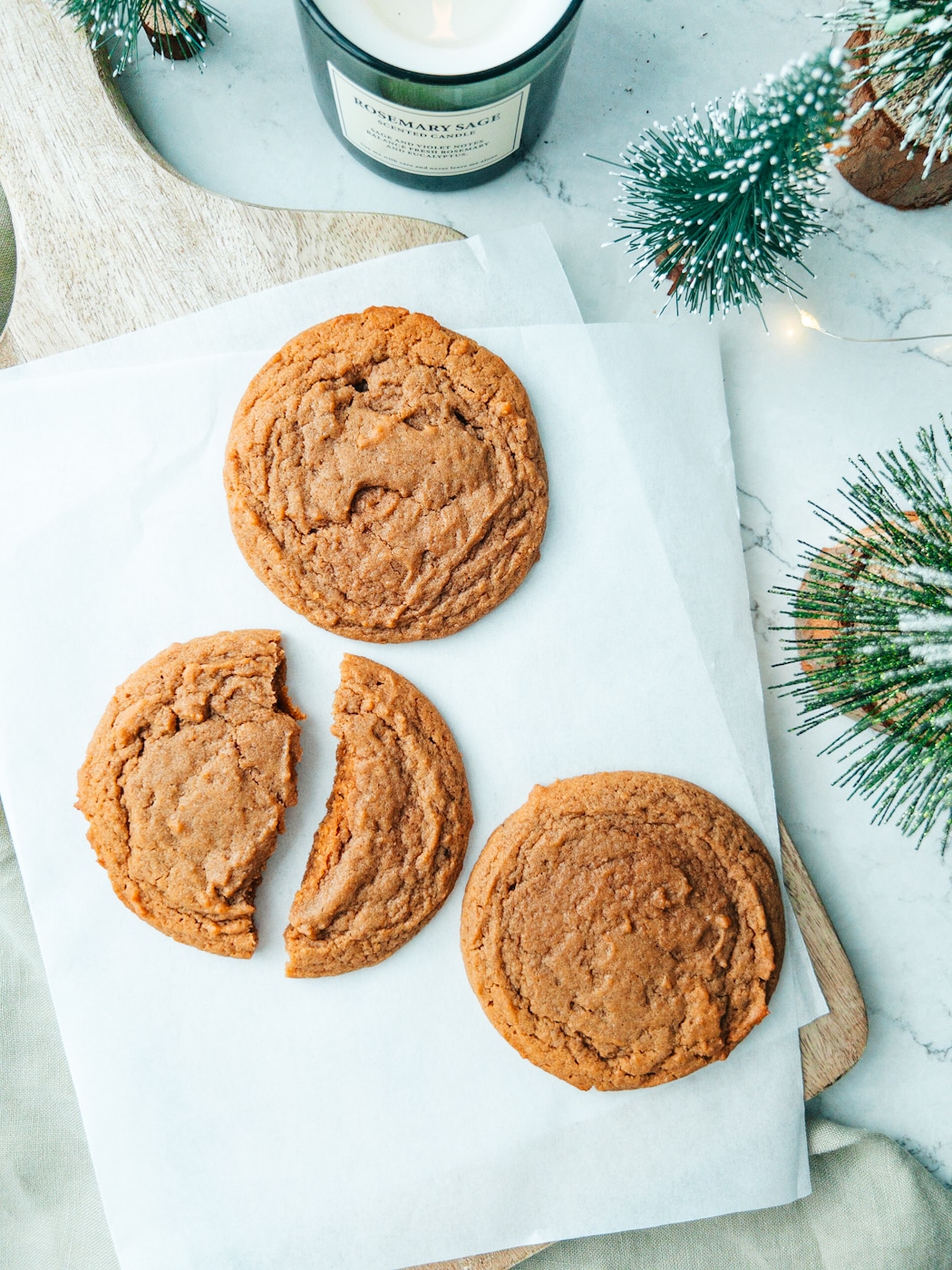 So, if you love gingerbread you MUST try these out. Just the nostalgic smell of Christmas that fills the house as they bake will put you in the festive mood. So put on some Christmas music, call the kids in to help and get your festive bake on!
How to Bake My Soft Gingerbread Cookies
Watch me make these Soft Gingerbread Cookies step-by-step here, before or as you cook.
The Spice
I've spiced these gingerbread cookies to be suitable for the whole family to enjoy. Sometimes ginger can be overpowering but not here! If you would like them to have an extra strong ginger flavour however, you can add in an extra ½ teaspoon of ground ginger. I've also said in the recipe that adding a pinch of all spice is optional, so you can add it if you have it but there's no need to go out and buy it for this recipe alone, they are delicious without it too.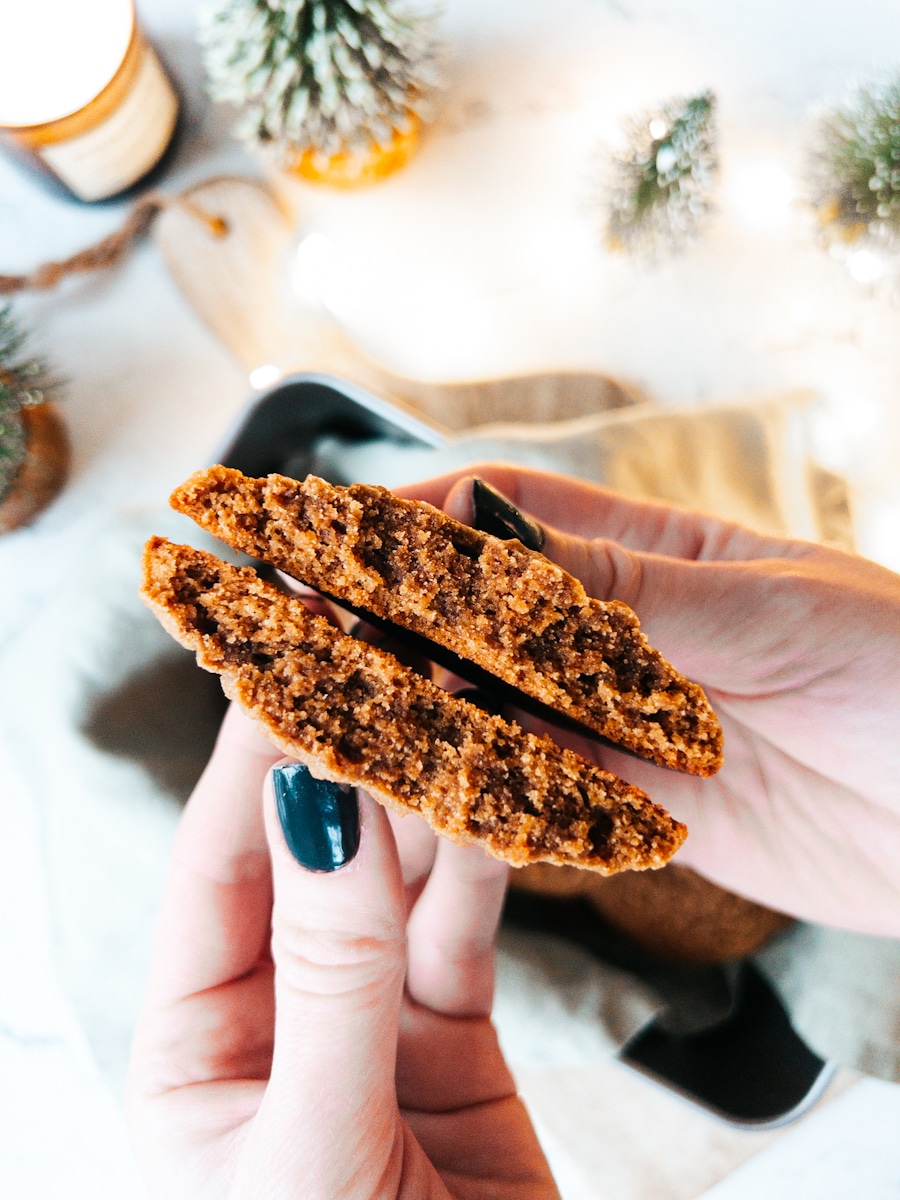 Baking Tips
If you are in the US, I have given cup measurements, but I'd always say for accuracy when baking, weigh out your ingredients instead. And you want these Soft Gingerbread Cookies to turn out just perfect!
I like to use a small ice cream scoop to form the cookies ready for baking, which makes 11 large cookies. You can just roll the dough into balls roughly walnut size (about 1 ½ inch in diameter) instead. Keep them well spaced out on the lined baking trays as they will flatten and spread.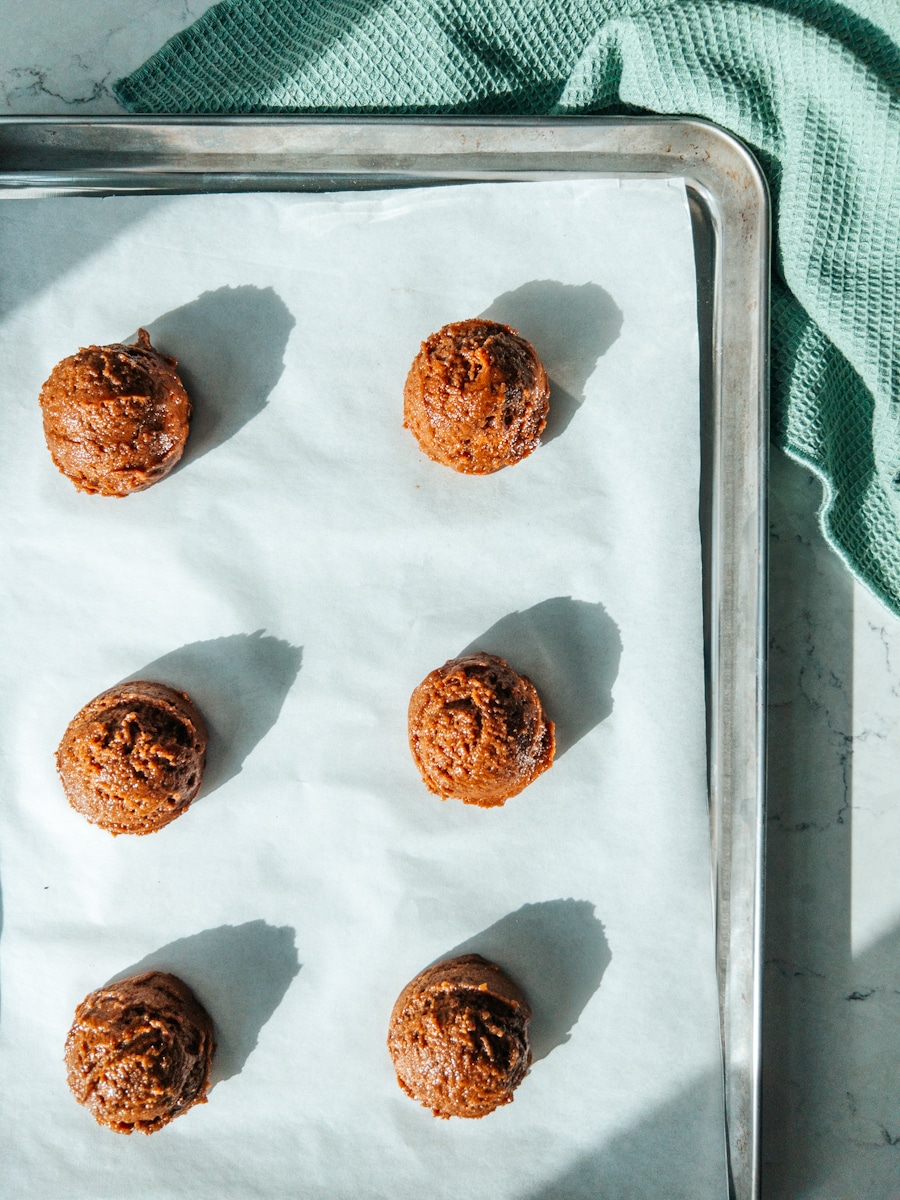 The bake on these cookies is super quick - just 8 minutes! This ensures the perfect level of doughiness. When you put them in the oven, put the ones at the top of the oven in last and when they are done, take these out first as they will have cooked the most. And don't be tempted to open the oven during cooking - put them in and leave them alone.
No Chill Cookie Dough
So if you've made cookies before, you will have probably chilled the dough. But we aren't going to do that with this recipe because chilling dough results in a chewy texture, but what we want with these is a soft doughy texture.
Can I Prepare these Soft Gingerbread Cookies in Advance?
If you make this gingerbread dough ahead of time and chill it, the end result will be less doughy and more chewy so I don't recommend it for this particular soft gingerbread cookie recipe.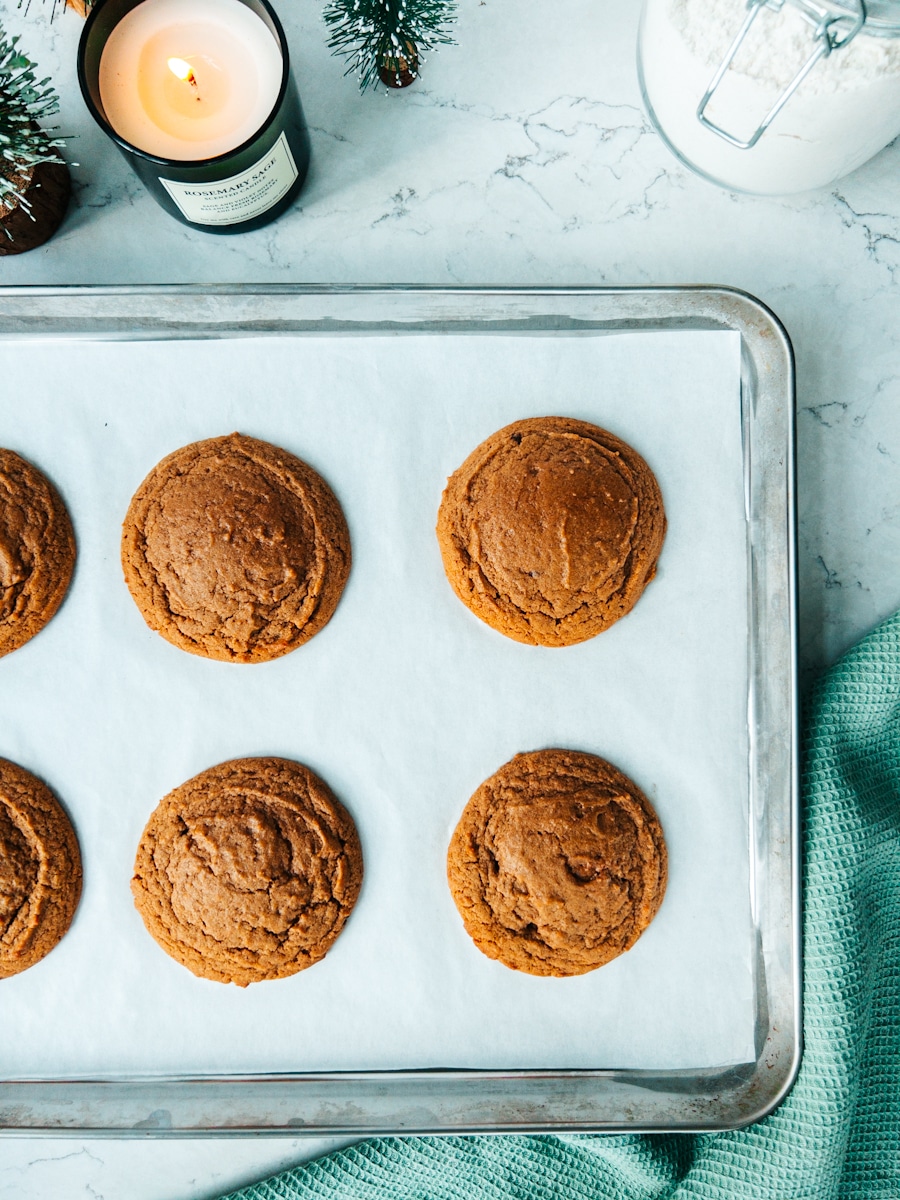 Kids Cook Too
These cookies are great bake for children to help with all aspects of. Let them roll the dough into balls instead of using a scoop - it will be much more fun for them!
Feed a Crowd with these Soft Gingerbread Cookies
These make around 11 large Soft Gingerbread Cookies, if you are after more then you'll need to bake them in batches, which, as they only bake for 8 minutes is no big deal - and your guests will love them!
Give the Gift of Gingerbread
These gingerbread cookies will make a great Christmas gift for teachers or friends and family you visit through the festive season. You could pop them into cellophane treat bags and tie with ribbon.
Storing My Soft Gingerbread Cookies
These cookies will last happily in an air-tight biscuit tin or container at room temperature for 7 days. They are also suitable for freezing, although I have not tested this so I'm unsure how the texture will be once defrosted.
For more on safe food storage and reheating read here >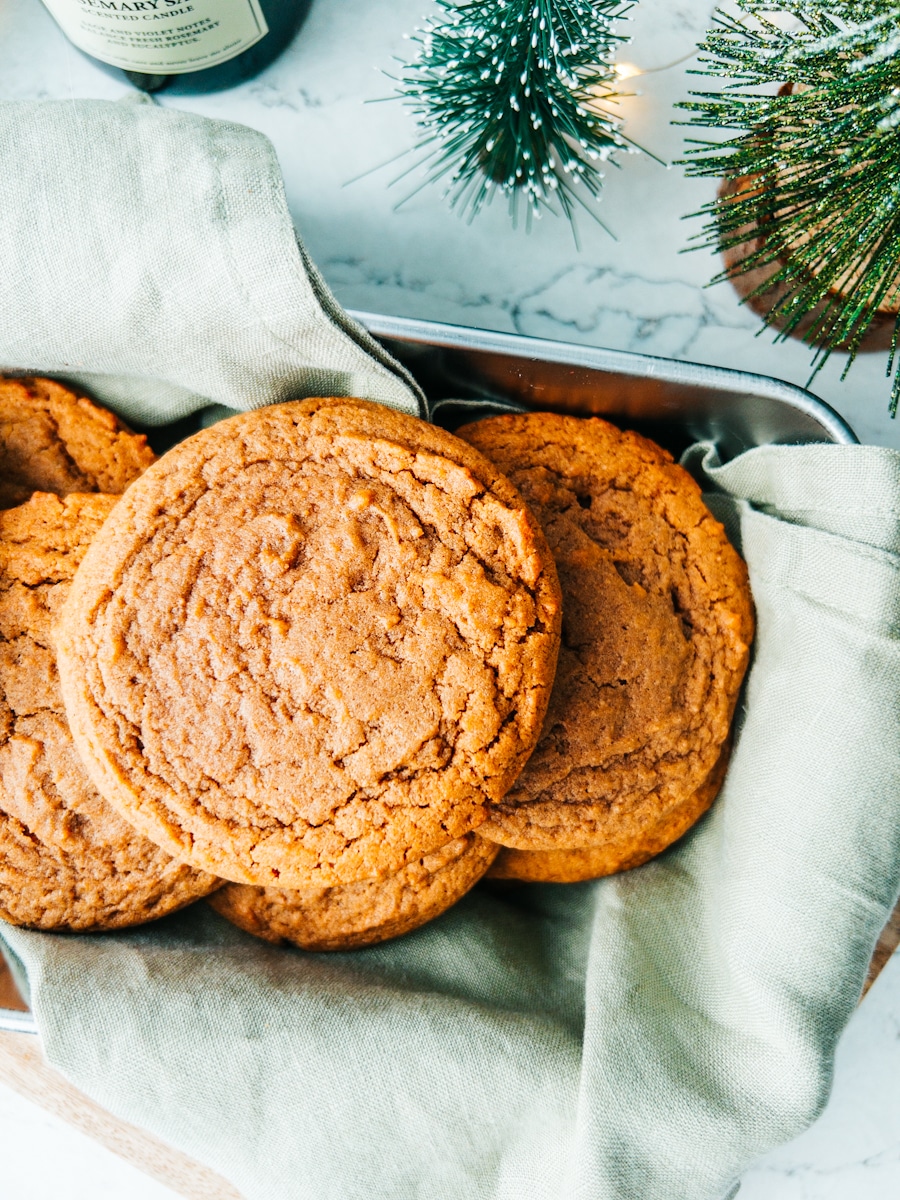 Diet Details
My Soft Gingerbread Cookies are nut-free.
You Might Like…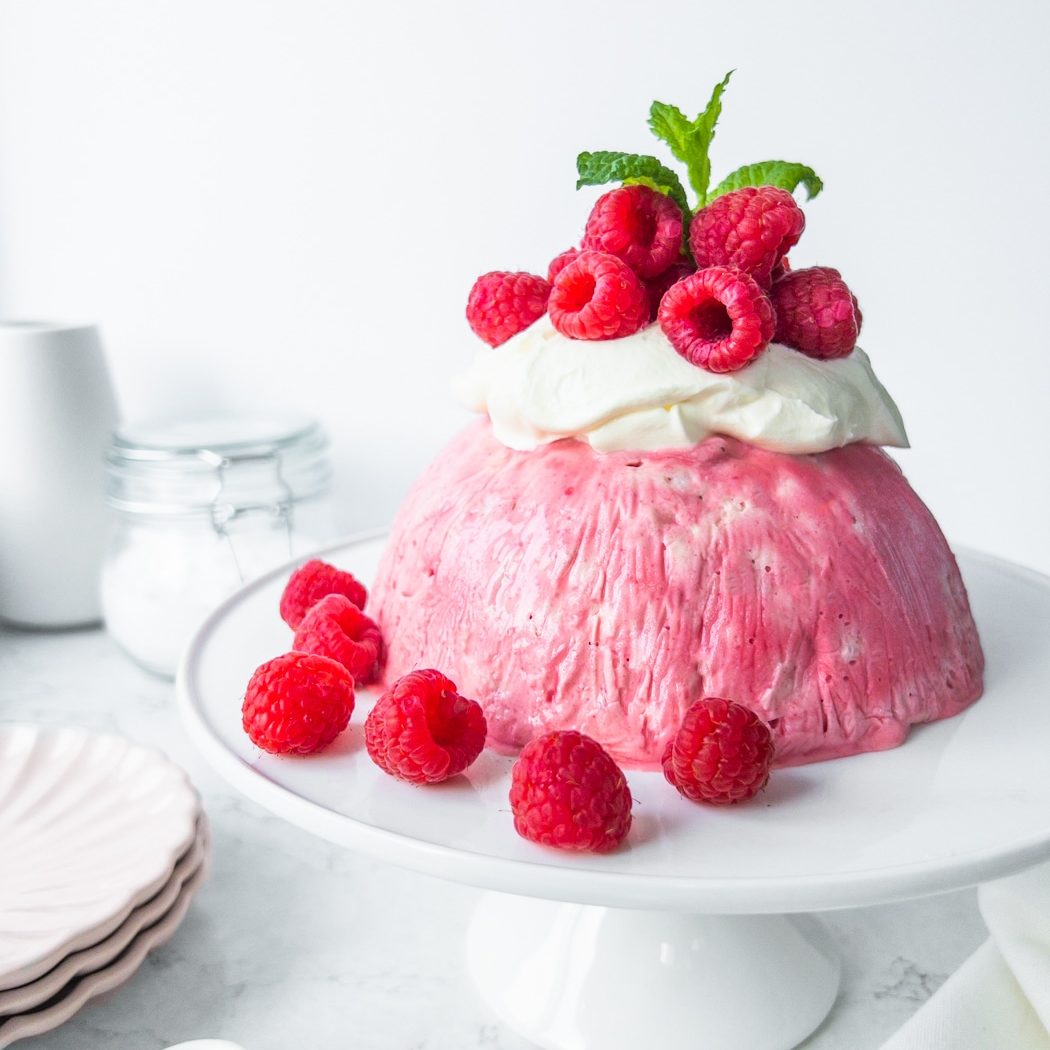 Together to Eat is reader-supported. I may earn a small commission from anything bought through links found here.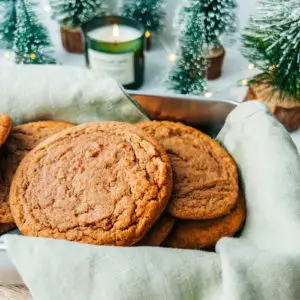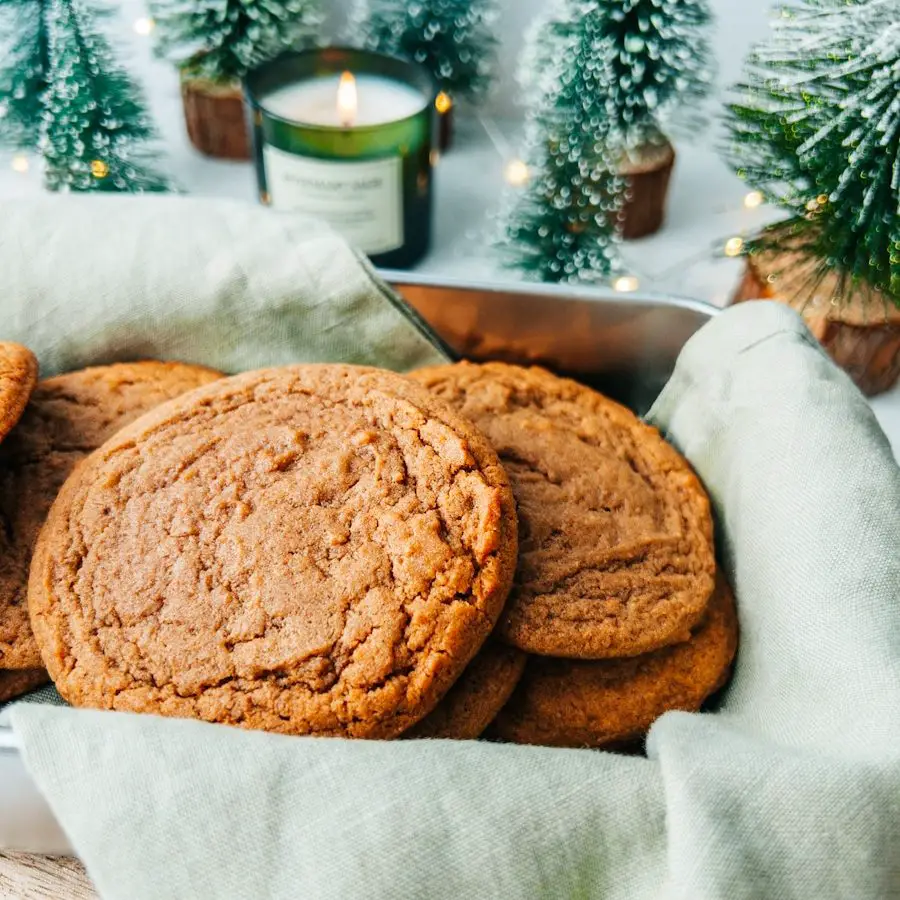 SOFT GINGERBREAD COOKIES
These perfectly spiced Soft Gingerbread Cookies are the doughiest, most addictive ones you'll ever make. Time to get your festive bake on!
Ingredients  
125

g

unsalted butter

softened

160

g

dark brown sugar

1

egg

1

teaspoon

vanilla essence

225

g

self-raising flour

1 ½

teaspoons

ground ginger

see note 2

1 ½

teaspoon

ground cinnamon

Pinch

of all spice

optional

⅛

teaspoon

or large pinch salt
Instructions 
Preheat the oven to 180ºc/160ºc fan/350ºf/gas 4. Line 2-3 baking trays/sheets with baking paper.

Beat the butter and sugar together with an electric whisk on medium until creamy, then add in the egg and vanilla and beat again.

Add in the flour, spices and salt and beat on the lowest speed, until a dough has formed.

Use a small ice cream scoop or roll the dough into walnut-size balls and add to your baking trays/sheets, with a good amount of space around each one to allow them to flatten and spread. I like to do two rows of 3 cookies per tray.

Transfer to the oven and bake for 8 minutes. When done, leave to cool for 10 minutes to set, then transfer to a wire rack to cool further or serve immediately to enjoy warm. They will keep in an air tight tin or container for up to a week.
Notes
NOTE 1: If you are in the US, I have given cup measurements, but I'd always say for accuracy when baking, weigh out your ingredients instead. NOTE 2: You can increase the ground ginger to 2 teaspoons if you want them extra punchy.
Nutrition
Calories:
213
kcal
Carbohydrates:
30
g
Protein:
3
g
Fat:
10
g
Saturated Fat:
6
g
Polyunsaturated Fat:
0.5
g
Monounsaturated Fat:
2
g
Trans Fat:
0.4
g
Cholesterol:
24
mg
Sodium:
33
mg
Potassium:
48
mg
Fiber:
1
g
Sugar:
14
g
Vitamin A:
285
IU
Vitamin C:
0.01
mg
Calcium:
21
mg
Iron:
0.4
mg
Made this recipe?
Leave a rating at the bottom of this page! You could also post a picture on Instagram and tag @togethertoeat to share it with me. Or post to Facebook, Twitter or Pinterest.