If you are a chocolate-covered cereal treat loving family you will love this festive Elf Munch! Using the cinnamon cereal gives it that Christmas flavour and dusting it with icing/powdered sugar gives off snowy winter vibes. You can actually leave it like that and keep it simple OR you can go all out with the Christmas decor and add on mini white marshmallows and red and green M&M's - especially if your Elf on the Shelf will be getting involved!
Once made, like with most other chocolate coated cereal treats, this needs to be stored in the fridge. And trust me, you'll find yourself sneaking handfuls of this Elf Munch all through the day!
If you want to use this as an Elf on the Shelf activity, keep reading here - if not jump straight to my Making Elf Munch section.
Elf on the Shelf
This Elf Munch is a perfect activity for your cheeky Elf on the Shelf to get involved with. Your elf can bring back the ingredients AND recipe to leave out for the kids to find the next morning.
Printable Elf Munch Recipe
I've turned the recipe into a free downloadable elf-style recipe that you can print off and leave out next to your elf with the Elf Munch Ingredients (see in picture below). There's also a message from your elf at the top of the recipe and a p.s. at the bottom, asking for them to leave him out a little that night. Just hit the button to download the printable recipe from your elf!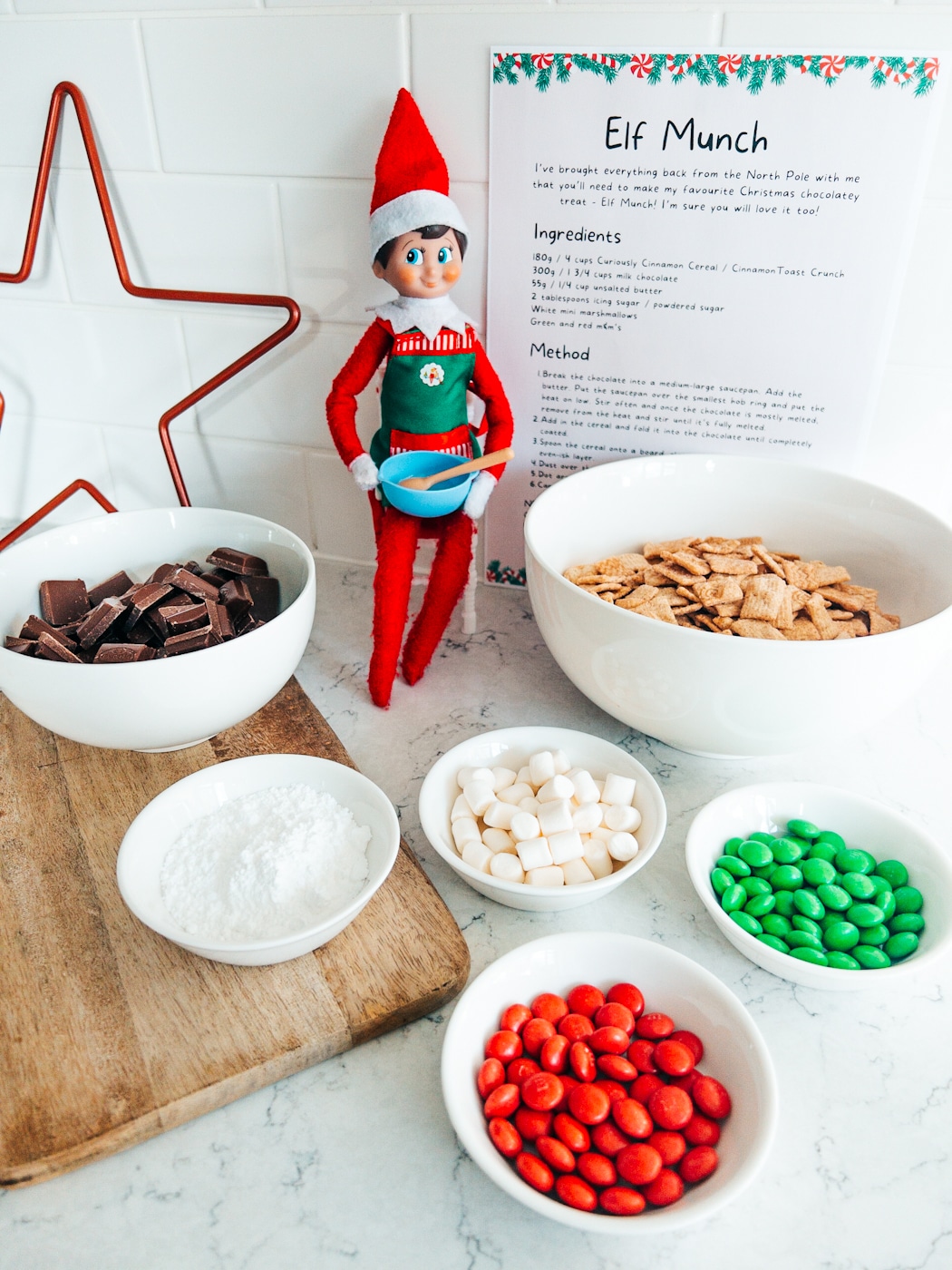 Setting Your Elf on the Shelf - Elf Munch Scene
You can either set the scene up similar to how I have done, with all ingredients measured out in bowls or just leave the ingredients packets out instead. If you measure them out the night before, cover each bowl with clingfilm and be sure to set an alarm so you have time to come down and uncover everything before the kids get up.
Making My Elf Munch
Watch me make this Elf Munch here, before or as you cook.
Ingredients Notes
The Cereal
There are many different recipes out there with many different cereals, from rice crispy bars, to cornflake cakes to muddy buddies. I wanted these to have a festive flavour so I went for Curiously Cinnamon cereal (if you are in the US use Cinnamon Toast Crunch - it's very similar).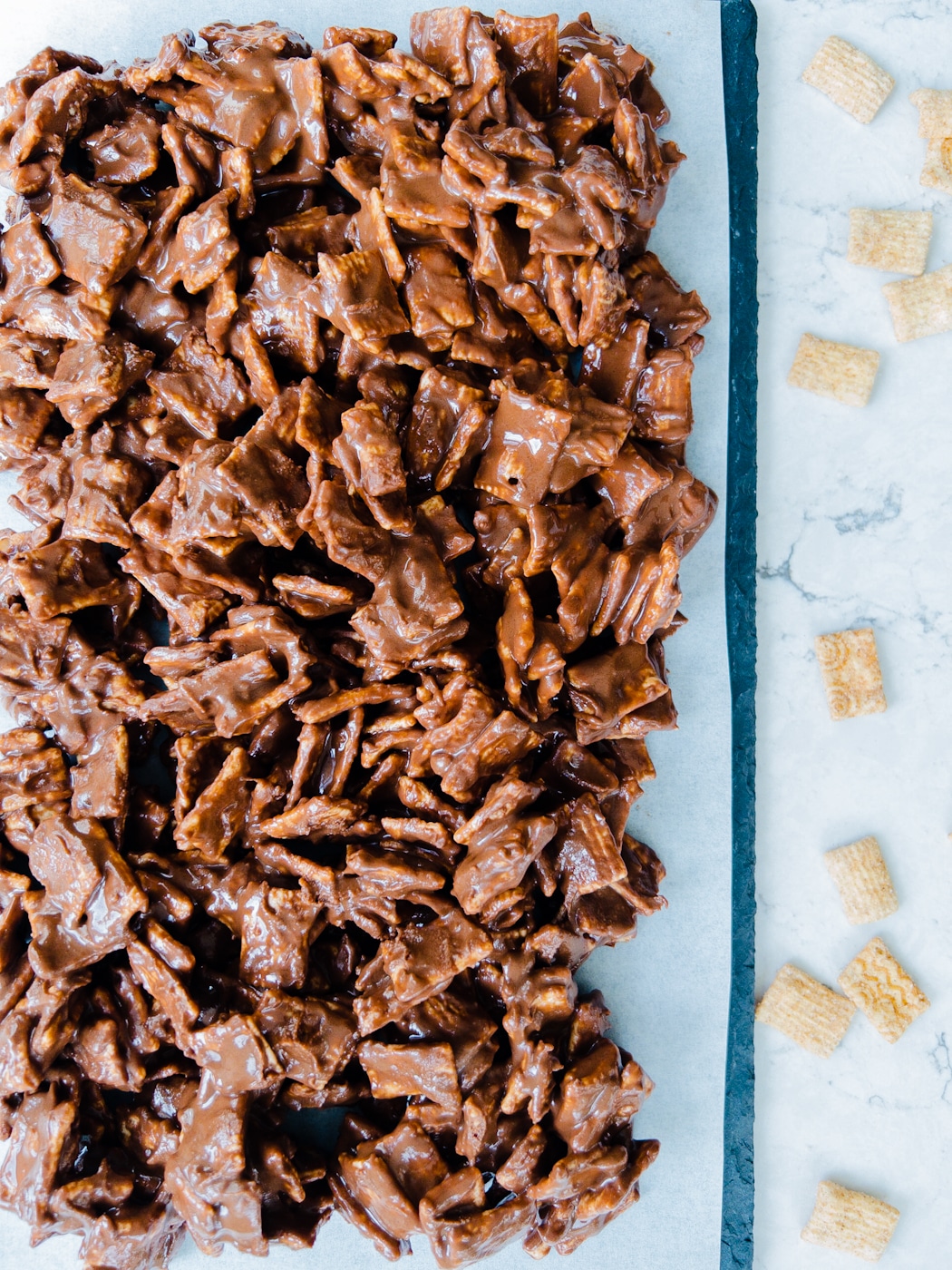 The Chocolate
You can use your favourite milk chocolate or a cooking chocolate with this recipe. I always use Dr Oetker milk chocolate (35% cocoa solids). 
To Decorate the Elf Munch
If you are in the US you should be able to get M&M holiday mix which is already just red and green M&M's.
You'll need one large pack of chocolate M&M's so you can pick out the red and green ones. If you want to leave all the ingredients out in bowls for the kids to see in the morning, like in the picture above, you might want to go for two packets of M&M's so there is a good amount of the red and green for two seperate bowls. Alternatively, stick with one packet and mix together the red and green M&M's in one mini bowl. 
And if you can get a pack of white only mini marshmallows do that, otherwise a pack of pink and white is fine, just pick out the white ones.
Prep Ahead
All ingredients can be measured out, covered and left at room temp until ready to use.
Elf Munch Baking Tips
When you melt the chocolate and butter together, just be sure to put it over your smallest hob ring and have the pan over the lowest heat. Also make sure to remove the pan from the heat once the chocolate and butter is mostly but not completely melted, then continue to stir until melted once it is off the heat. Otherwise the chocolate could seize up, which will result in the sugar in the chocolate separating from the fat.
You could melt them in the microwave, but you'd need to microwave them in short bursts, stirring in between. To start with 30 second increments, then the more the chocolate and butter melt, in 20 second increments. Again, remove before completely melted and stir until fully melted.
Always decorate this Elf Munch on the same day it's to start being enjoyed as, in the fridge the moisture starts to take away the M&M's sheen, even by the next day. Especially if you are serving to guests, make it the same day.
Kids Bake Too
Whether your Elf on the Shelf leaves this Elf Munch mix for the kids to do or not, this is a great recipe for the kids to get involved with. Just be careful they don't burn themselves on the hot pan while the chocolate and butter is melting.  
Feed a Crowd
This recipe makes a generous amount of Elf Munch, I would say it could serve up 8 adults. If its largely going to be eaten by children then it will stretch further. It is easily scaled up to make a larger amount. If you are making for guests, definitely do so the same day as by the next day the M&M's will start to lose their sheen in the fridge overnight.
Storing My Elf Munch
Once made, you need to carefully transfer the Elf Munch to the fridge to set, which will take a minimum of 30 minutes. Once set, you can cover it with clingfilm (saran wrap) or transfer to a large food container or resealable bag. It can be enjoyed fresh from the fridge for up to a week.
For more on safe food storage and reheating read here >
Diet Details
My Elf Munch is egg-free and vegetarian. 
You Might Like…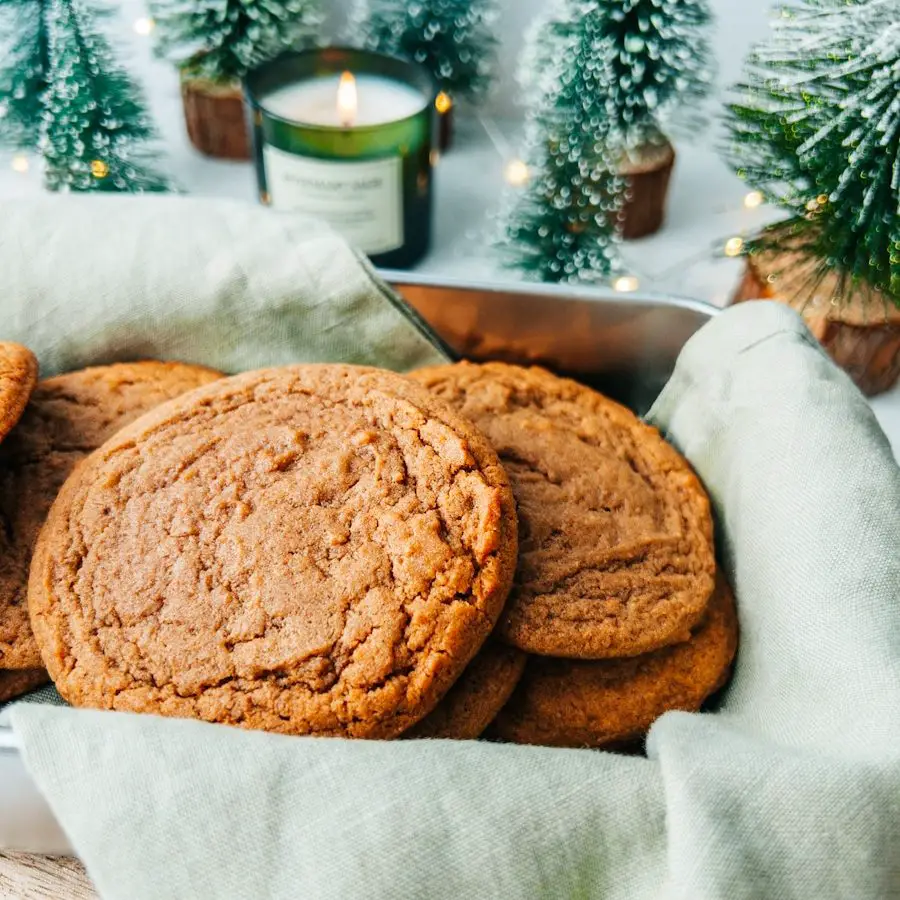 Together to Eat is reader-supported. I may earn a small commission from anything bought through links found here.
ELF MUNCH
This cinnamon cereal and chocolate Elf Munch is completely addictive and simple to make. Plus, it can double as an Elf on the Shelf activity!
Equipment
Measuring scales / cups

Slate

or chopping board + baking paper
Ingredients  
180

g

Curiously Cinnamon Cereal

/ Cinnamon Toast Crunch

300

g

milk chocolate

I use Dr Oetkers

55

g

unsalted butter

1 ½

tablespoons

icing sugar / powdered sugar

Red & green M&M's

buy a large pack (see note 1), if in US buy M&M Holiday Mix
Instructions 
Break the chocolate into a medium-large saucepan. Add the butter. Put the saucepan over the smallest hob ring and put the heat on low. Stir often and once the chocolate is mostly melted, remove from the heat and stir until it's fully melted.

Add in the cereal and fold it into the chocolate until completely coated.

Spoon the cereal onto a board, platter or baking tray in an even-ish layer. Leave to cool off a little for 10 minutes.

Dust over the icing sugar using a mini sieve.

Dot around your M&M's and marshmallows.

Carefully transfer to the fridge to set for at least 30 minutes. See note 2 for storage.
Notes
Note 1: If you are leaving the ingredients out in bowls from your elf, you might want to buy 2 packs of M&M's if you want them to go in separate bowls. Otherwise one pack and mix them together in a mini bowl will be fine.
Note 2: Once set, cover with clingfilm (saran wrap) or transfer to resealable food bag or storage container. Then store in the fridge for up to one week. Bear in mind if refrigerated for long once decorated the M&M's will loose their sheen and go cloudy.
Nutrition
Calories:
247
kcal
Carbohydrates:
25
g
Protein:
2
g
Fat:
18
g
Saturated Fat:
11
g
Polyunsaturated Fat:
1
g
Monounsaturated Fat:
6
g
Trans Fat:
0.2
g
Cholesterol:
15
mg
Sodium:
7
mg
Potassium:
110
mg
Fiber:
2
g
Sugar:
21
g
Vitamin A:
172
IU
Calcium:
11
mg
Iron:
1
mg
Made this recipe?
Leave a rating at the bottom of this page! You could also post a picture on Instagram and tag @togethertoeat to share it with me. Or post to Facebook, Twitter or Pinterest.