This Christmas Rocky Road is a must-make festive mash up using shop bought mince pies instead of digestive biscuits and raisins.  It's an easy, no-bake treat to rustle up, taking just 15 minutes to make. It will also make a great foodie Christmas gift to give friends and family this year.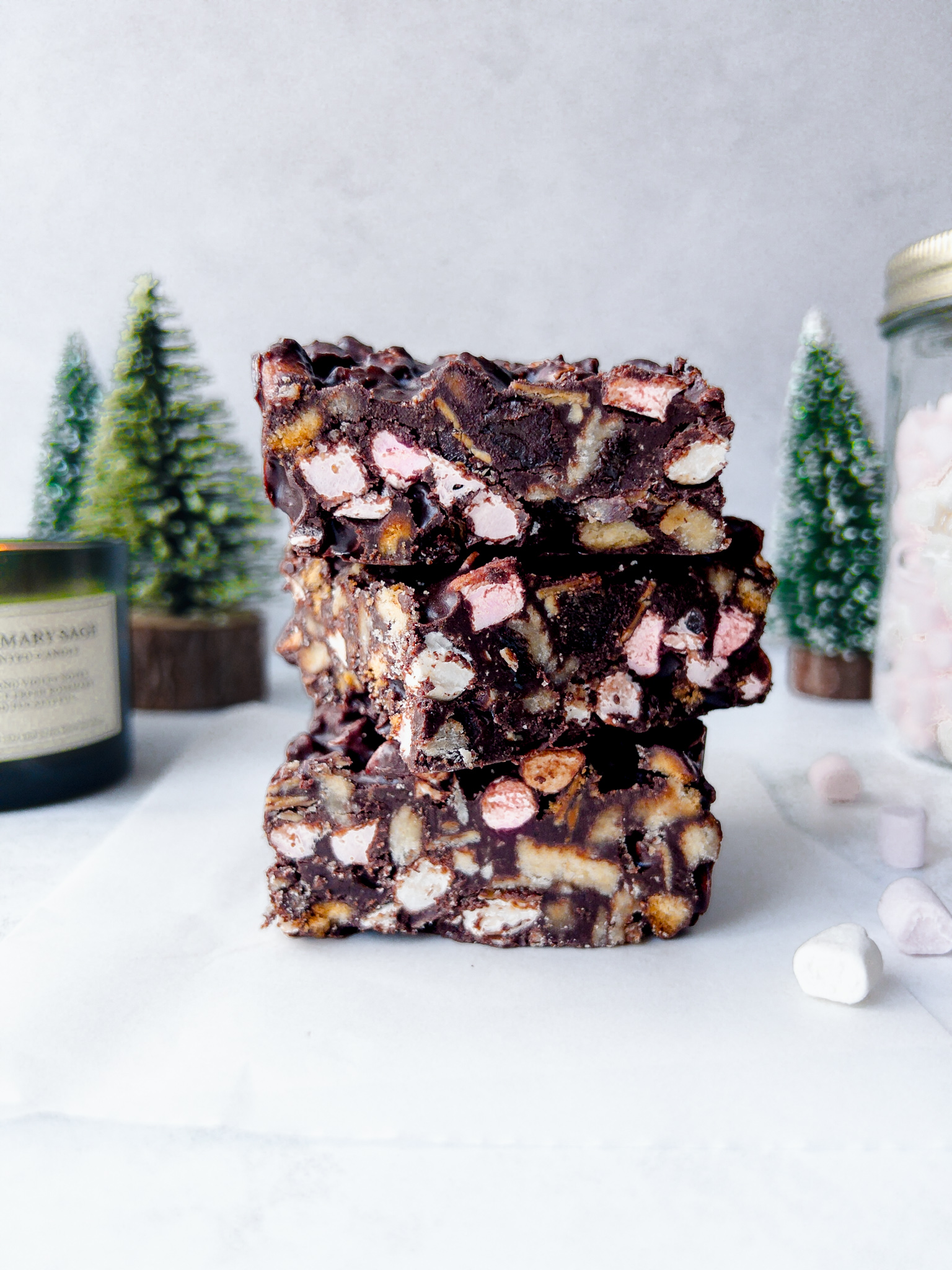 And if you are anything like me and end up with loads of mince pies leftover after Christmas, this is the best way to use them up!
The Stars of my Christmas Rocky Road
The Mince Pies
You can use any type of shortcrust pastry mince pies you like for this, anything goes! You will need 9-10 mince pies - around 500g / 1.1lbs in weight.
The Chocolate
To balance the sweetness of the mince pies and the marshmallows you'll want the darkest of chocolate, go for a 70-74% cacao bar. You'll need 300g / 10.58oz in weight.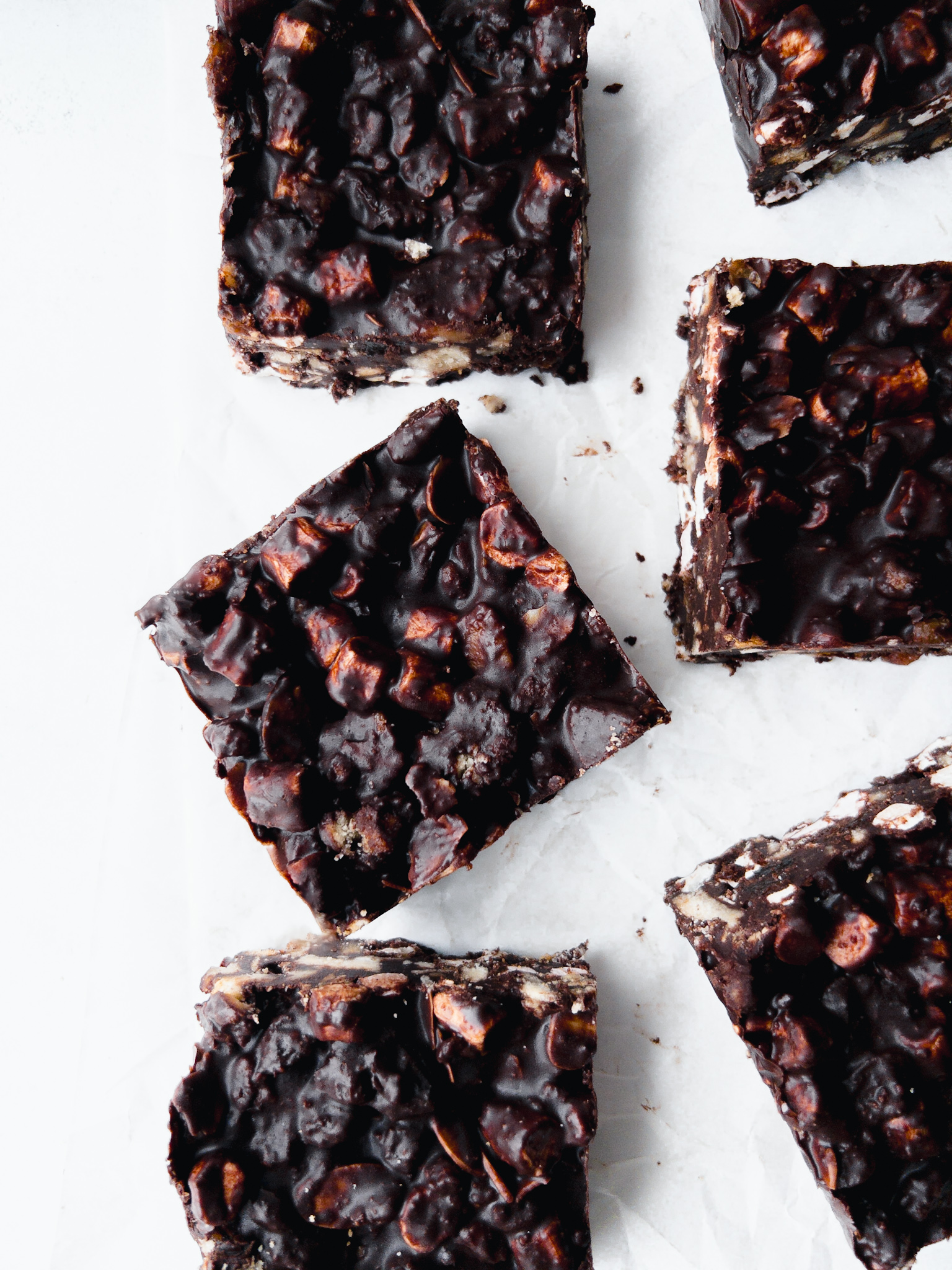 The Toasted Almond Flakes
These will give the rocky road a nutty, crunchy edge. If you can't buy toasted almond flakes, non-toasted will do. You can dry fry them in a frying pan, stirring occasionally until golden.
The Marshmallows
Using mini marshmallows is the best option here, but if you have regular marshmallows you can of course chop them up into small pieces and use those.
The Candied Citrus Peel
This is a delicious, yet optional extra. I've made it optional as some people aren't fans of orange chocolate. Personally, I think it gives this Rocky Road even more of a Christmas vibe and we love it in there. If you would like the orange edge, you'll need a pot of mixed peel or orange candied peel.
Making my Christmas Rocky Road
Watch me make my Christmas Rocky Road step-by-step here, before or as you go.
Gifting my Christmas Rocky Road 
My Christmas Rocky Road makes a great homemade foodie gift for friends, teachers and family! You will need some clear cellophane food bags and some ribbon in order to do this. You'll want to cut the rocky road into 9 squares as equal as possible.  Then stack 3 on top of each other in each cellophane bag. Add them to the bags straight out of the fridge and as you put them in you may find some chocolate gets on the inside of the bag. When that happens, just use clean, damp kitchen towel to clean it off.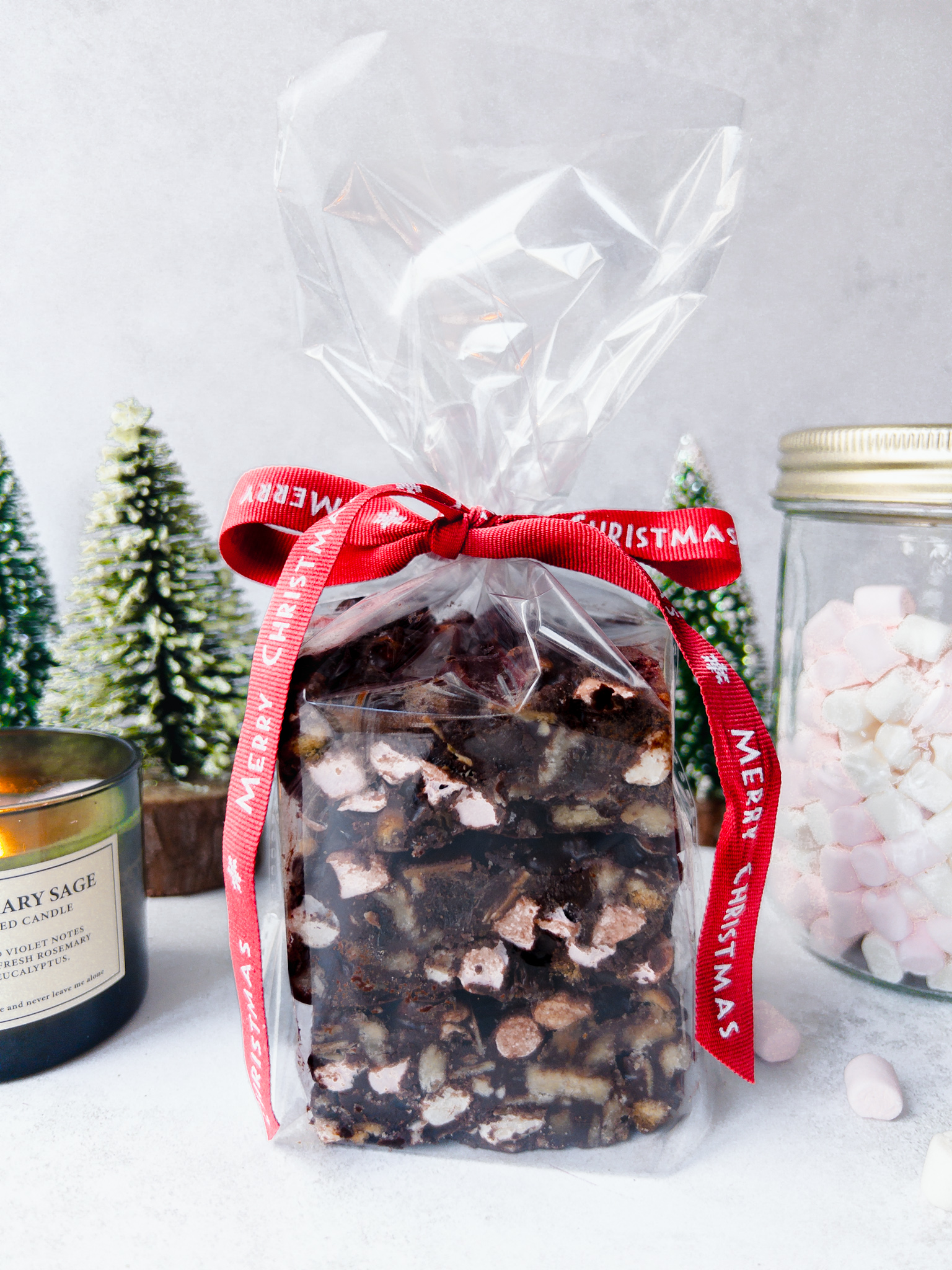 Once the three squares are in, finish off with a good quality Christmas ribbon, tied into a bow. You can also add on gift tags too if you like, and write on how to store.
If you have a lot of people to make gifts for, double the recipe and use two tins to make the Rocky Road.
FAQ's For My Christmas Rocky Road
Can I use puff pastry mince pies?
I wouldn't recommend it as puff pastry is much less sturdy than shortcrust and it will just flake up in your rocky road and be hard to find.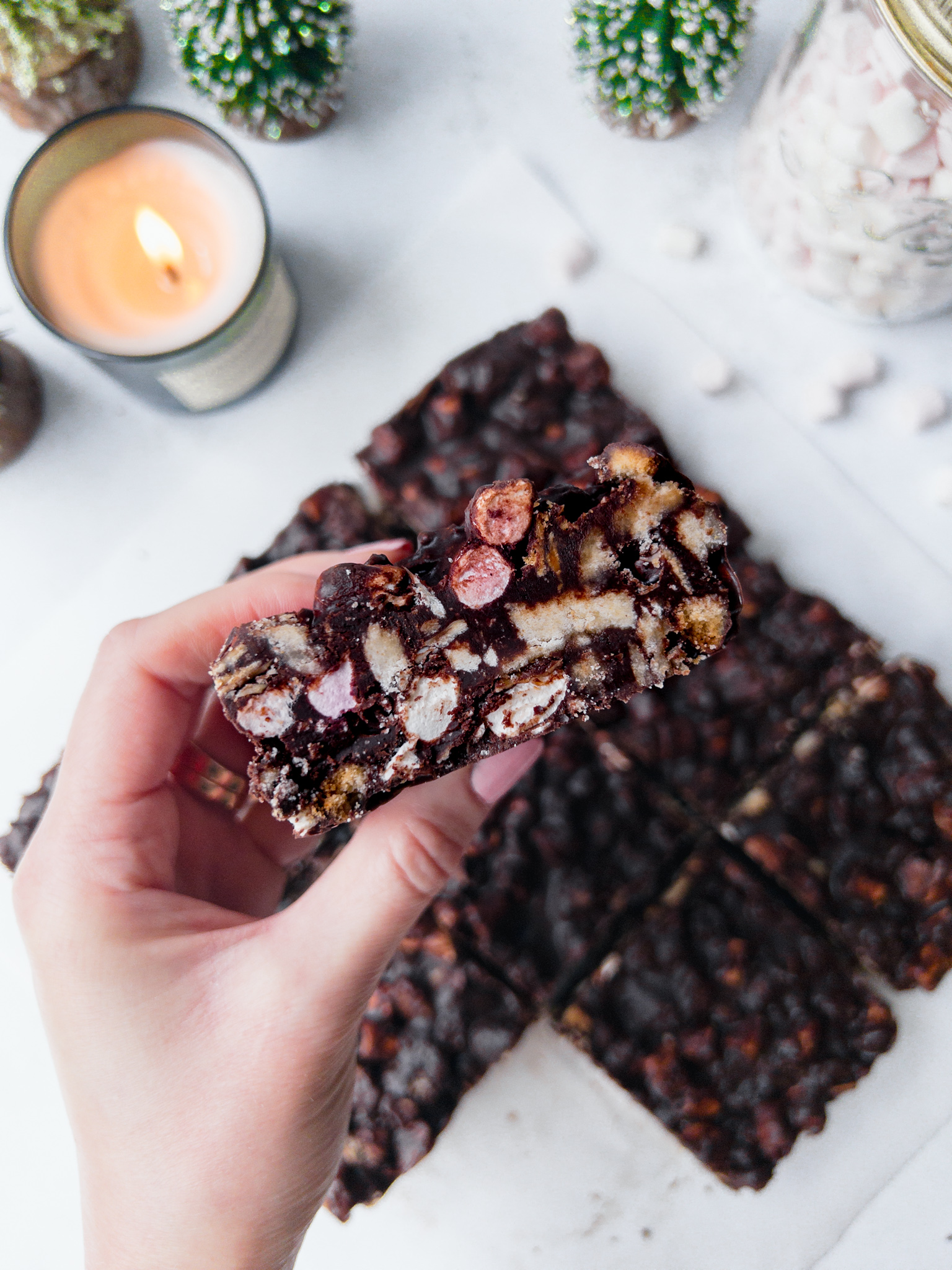 Can I use Mince Pies past their use by date? 
No I wouldn't recommend it. You'll want to eat the rocky road by the use by date on your mince pie packet.
How can younger children help make it?
They can help with all of it! Just make sure that when stirring the mixture in the saucepan, you remove it from the heat for them and be careful that they don't touch the pan.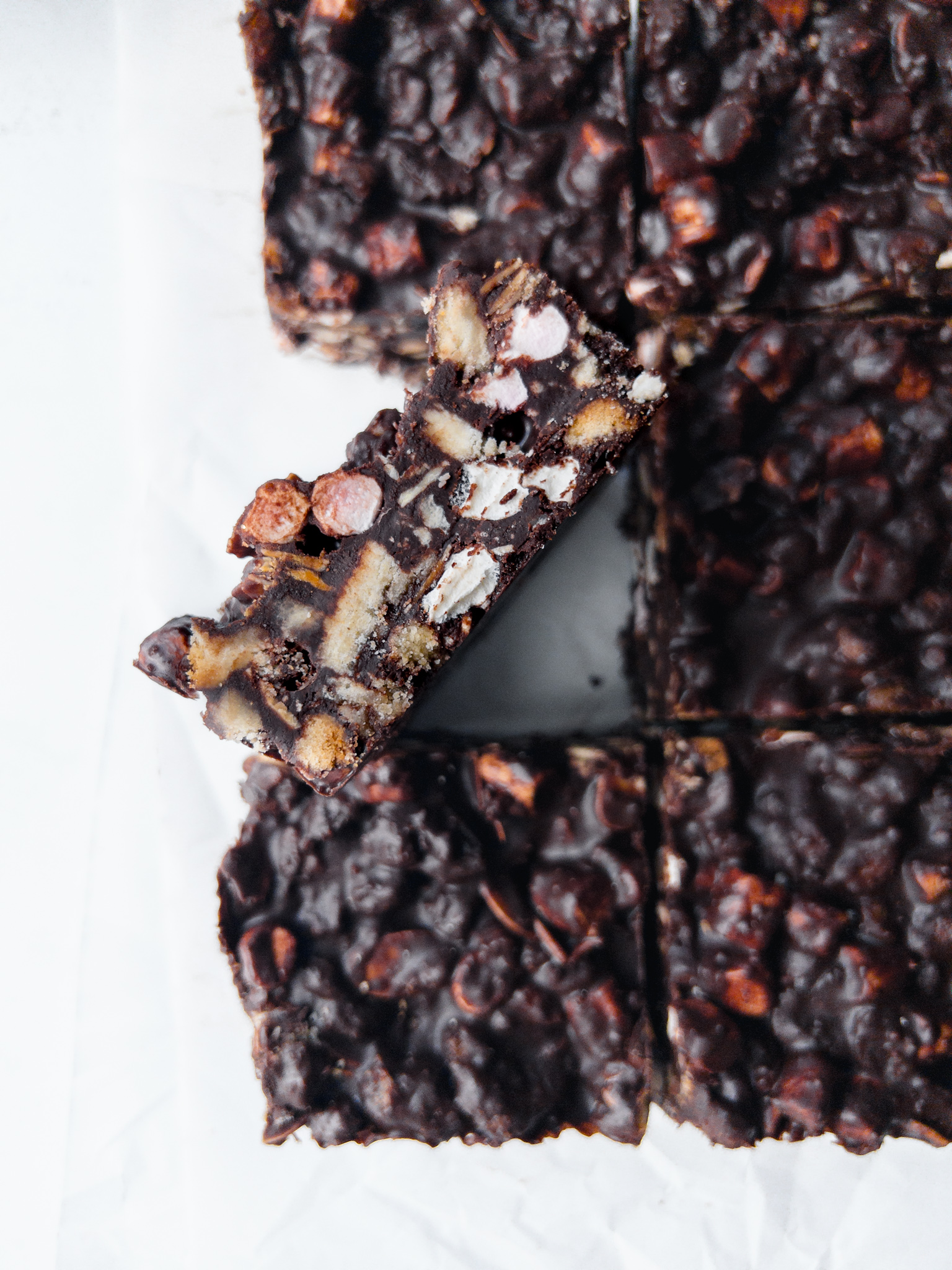 Can I Store Christmas Rocky Road leftovers?
You can store any Christmas Rocky Road leftovers in an air-tight container or resealable food bag in the fridge for up to 3-4 weeks (although I'm sure it will all be eaten well before then!). You can also freeze them, just defrost for 24 hours in the fridge before serving.
For more on safe food storage and reheating read here >
What diets is this recipe suitable for?
My Christmas Rocky Road contains nuts, gluten, egg (in the mince pie pastry) and diary.
You Might Like…
Together to Eat is reader-supported. I may earn a small commission from anything bought through links found here.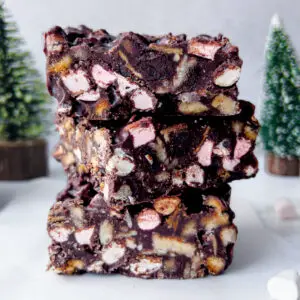 CHRISTMAS ROCKY ROAD
Using mince pies instead of digestive biscuits and raisins, this festive twist and the classic no-bake Rocky Road is one not to be missed this Christmas!
Equipment
9 x 9 inch / 23 x 23 cm cake tin

+ clingfilm / saran wrap

Chopping board

+ chef's knife
Instructions 
Break up the chocolate and add to a medium saucepan along with the butter and golden syrup. Melt over a low heat. Once everything has mostly melted, stir until the mixture is consistently smooth. Then take the pan off the heat.

Add the mince pies into the chocolate pan, breaking them up with your hands. Use a spoon to break the pastry down into smaller pieces, then stir in briefly.

Next, add the marshmallows and candid orange peel if using, and stir until everything is completely coated in the chocolate.

Line a square cake tin (ideally 23cm x 23cm) with clingfilm/wrap or foil and pour the mixture in. Level out as best you can and spoon in any leftover melted chocolate in the pan. Cover with clingfilm/wrap and refrigerate until set (2 hours 30 mins minimum).
Notes
I get toasted almond flakes from Tesco, but if you are only able to get almond flakes that aren't toasted, just toast them in a small frying pan over a low heat until just turning golden.
STORAGE
You can store any Mince Pie Rocky Road leftovers in an air-tight container or resealable food bag in the fridge for up to 2-3 weeks. You can also freeze them, just defrost for 24 hours in the fridge before serving.
Made this recipe?
Leave a rating at the bottom of this page! You could also post a picture on Instagram and tag @togethertoeat to share it with me. Or post to Facebook, Twitter or Pinterest.