These Strawberry Crumble Buns are crisp on the outside and pillowy on the inside. The baked strawberries are soft and juicy, with the crumble topping adding just a sprinkling of indulgence. I like to think of these buns as a summertime alternative to cinnamon buns. And, they have the added bonus of being a healthier snack option if you have young kids, as they are low in sugar with less than half the sugar content of most cinnamon buns. And because they aren't too sweet, WE can totally justify having them with our morning cup of coffee!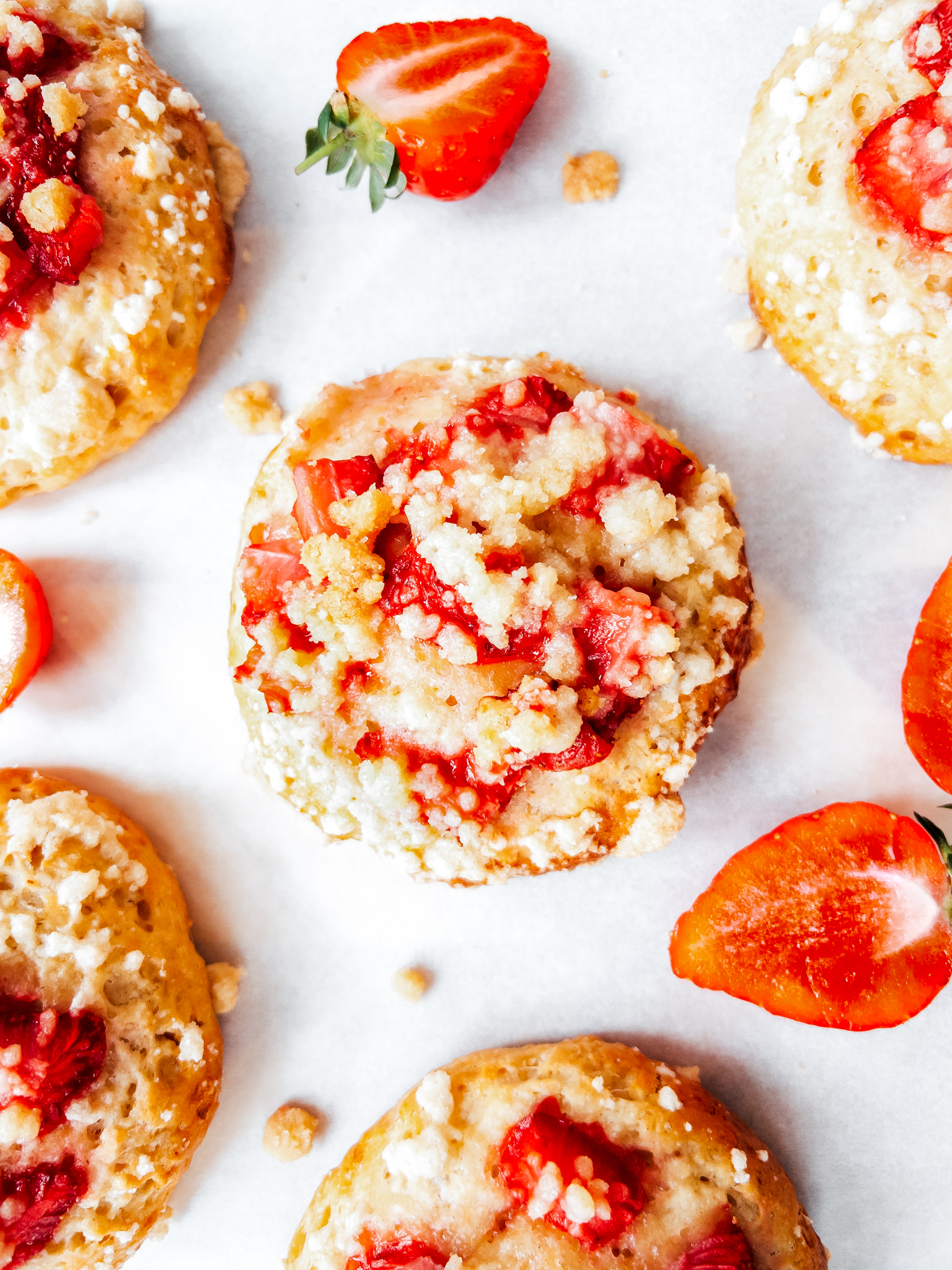 I actually got this bun recipe from a Polish friend of mine, after she brought these to a playdate one day. I fell in love with them and just had to ask her if I could share the recipe. In Polish they are called Drożdżowka and can be commonly found in bakeries throughout Poland in many variations. They could be topped with seasonal fruit, marmalade, custard (or both) and even sweet cheese.
How to Bake My Strawberry Crumble Buns
Watch me make these Strawberry Crumble Buns step-by-step here, before or as you cook.
Ingredients Notes
The original recipe my friend uses is based on using fresh yeast and vanilla sugar - both impossible to find in UK supermarkets, so to keep this recipe as accessible as possible I have used dried fast-action yeast (instant yeast in the US) and vanilla extract instead. If you are able to get your hands on some fresh yeast and vanilla sugar, see my Authentic Polish Drożdżowka recipe tweaks below.
US Visitors
If you are in the US, as with baking recipes in general, it's just more accurate to weigh out your dry ingredients instead of using measuring cups. This will ensure you end up with a result as close to mine as possible.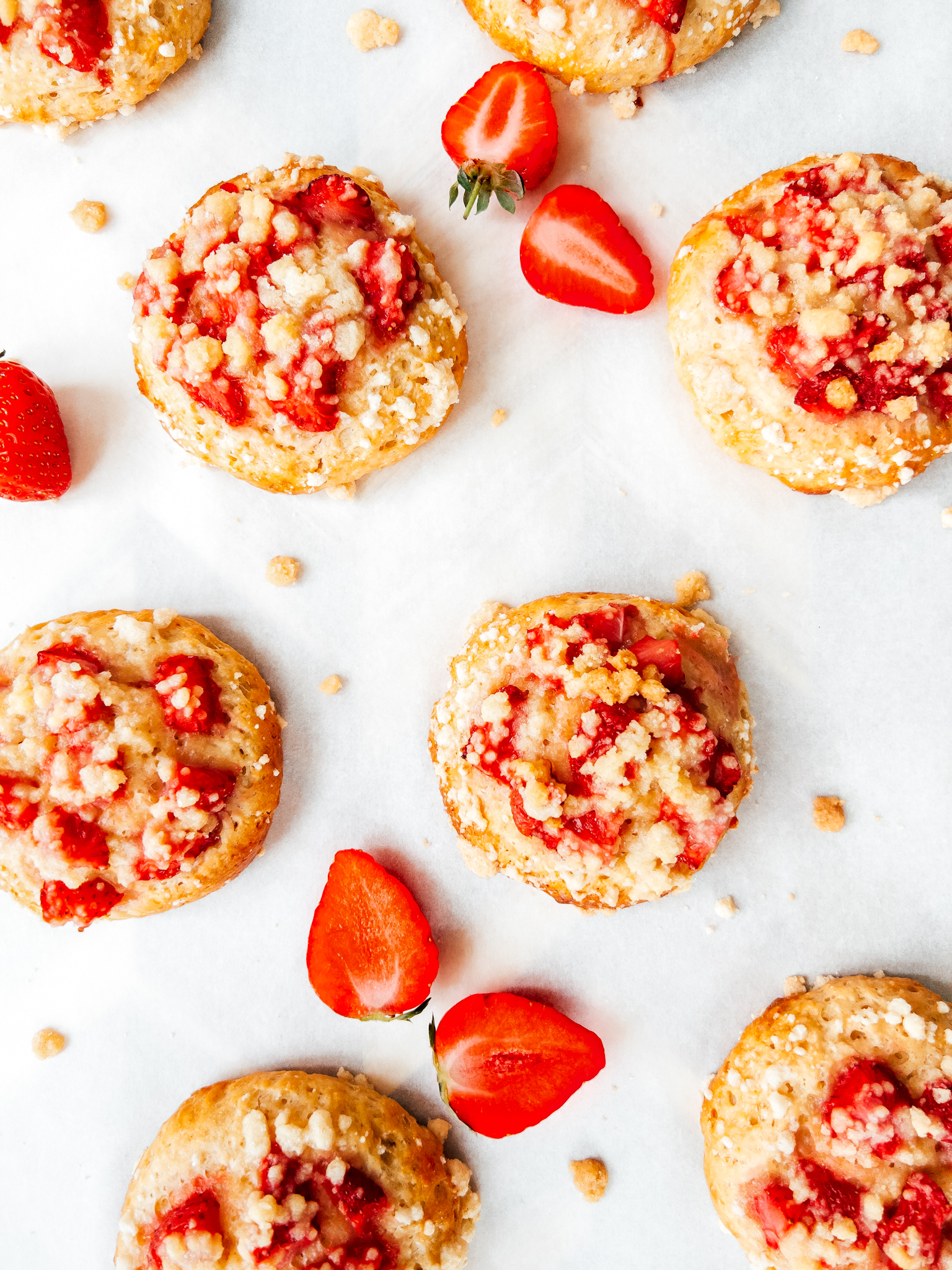 The Authentic Polish Drożdżowka Recipe
As I mentioned above, I have tweaked the original polish recipe to be more accessible in the UK. But if you have fresh yeast and vanilla sugar and you'd like to keep the recipe authentic, then here are the recipe tweaks you'll need.
Ingredient Tweaks
Use softened butter for the dough
Swap the dried fast action / instant yeast for 30g / 1.06 oz of fresh yeast
Sub the vanilla extract for 1 tablespoon of vanilla sugar
Strawberry Crumble Buns Instruction Tweaks
For these steps only, ignore the main recipe instructions and follow these instead. For steps not listed here, go by the main recipe steps.
Step 2 
Add the milk, sugar and fresh yeast to a small pan and over a low heat, bring up to 37ºc / 98.6ºf. Stir for 3 minutes.
Step 3
Add the flour, sugar, butter, vanilla sugar and salt to a large bowl. Pour in the mixture from the pan and knead into a firm dough. Leave in a ball shape in the bowl, cover with a tea towel and put in a warm place for 1 hour.
Step 4
Divide the mixture into 12 pieces and roll into balls. Then transfer to baking trays and cover with clingfilm. Leave to rise for another 30 minutes.
Continue with the main recipe below.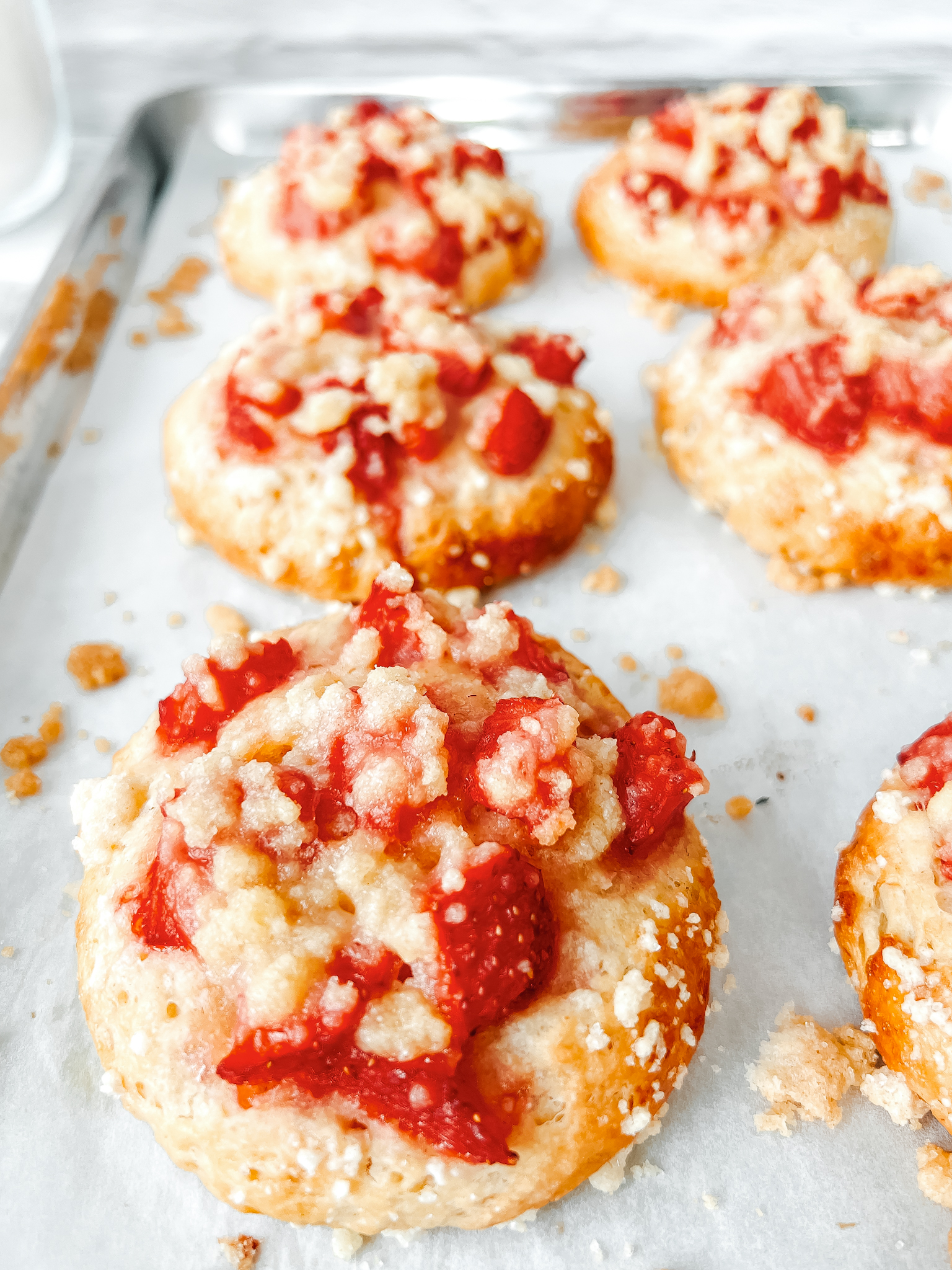 Kids Bake Too
Younger children will love to help you make these Strawberry Crumble Buns. Let them get stuck in, helping to work the dough, roll it into balls, and to add the strawberries and crumble topping.
Feed a Crowd
These are great if you are having people over as the recipe makes 12 really good size buns. I would recommend making them on the same day however, as these really are at their best when they are fresh.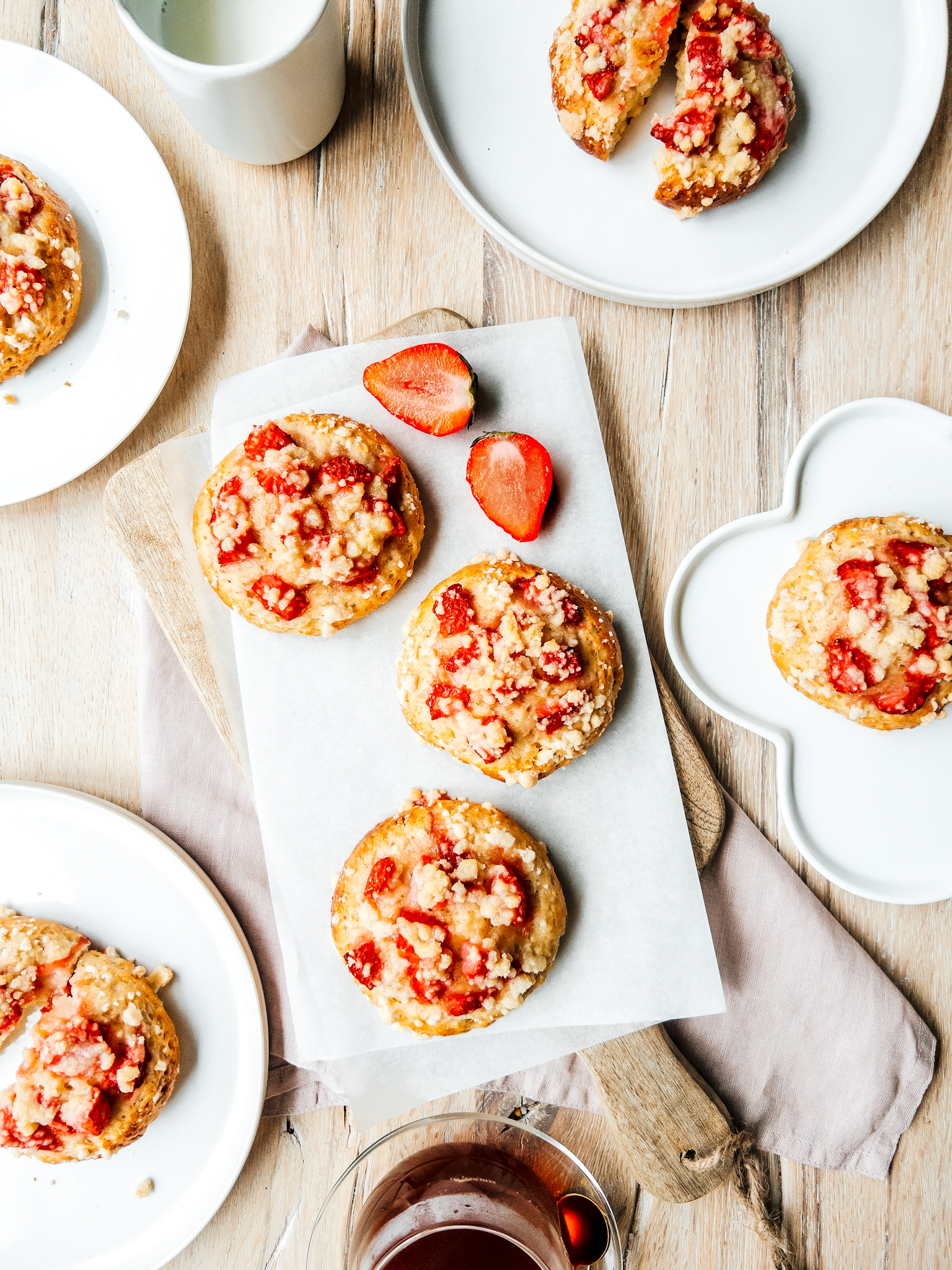 Storing My Strawberry Crumble Buns
You can store any leftover buns in an air-tight container for up to 2-3 days. Bear in mind these buns look and taste the best freshly eaten, but if you have leftovers you can freshen them up in the oven for 5 minutes on 180ºc /160ºc fan / 350ºf / gas 4. You can also freeze them the same day once cold, just defrost at room temperature when ready to eat.
For more on safe food storage and reheating read here >
Diet Details
My Strawberry Crumble Buns are nut-free and vegetarian.
You Might Like…
Together to Eat is reader-supported. I may earn a small commission from anything bought through links found here.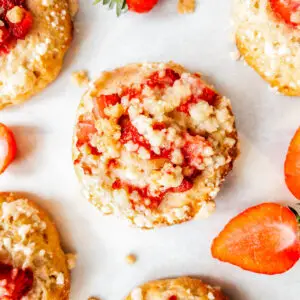 STRAWBERRY CRUMBLE BUNS
Crisp on the outside and pillowy on the inside, these Polish Strawberry Crumble buns are the perfect summer bake. And, they are low in sugar making them a good snack choice for little ones or coffee time treat for us.
Equipment
Small plate + egg cup / mini bowl

to separate egg yolks + fork

Small saucepan

Large spoon

Tea towel

Clingfilm

Cup

Wire racks
Ingredients  
350

g

strawberries

chopped
FOR THE DOUGH
2

large eggs

80

g

unsalted butter

250

ml

semi skimmed milk

520

g

plain flour

7

g

dried fast-action yeast

110

g

white granulated sugar

A pinch of salt

½

teaspoon

vanilla extract
FOR THE CRUMBLE TOPPING
50

g

plain flour

50

g

granulated white sugar

40

g

cold unsalted butter

diced
Instructions 
Carefully separate the egg whites from the yolks. You can do this using a plate and an egg cup or a mini bowl. Cover the yolk with the egg cup/bowl carefully, press down and tip the plate so the white runs into a bowl. Then tip the yolks into a separate bowl. Stir the yolks lightly with a fork. Cover and refrigerate the egg whites for later.

Melt the butter in a small saucepan over a low heat. Add in the milk and heat through for 30 seconds. It should now be hand temperature.

Into a large mixing bowl add the flour, sugar and salt. Make a well in the centre and add the yeast, followed by the warm milk & butter mix, the beaten egg yolks and the vanilla extract. Stir until well combined with a large spoon. Then work it with your hands briefly until no flecks of flour remain and leave in a ball shape in the bowl (the dough will be very sticky). Cover with a clean kitchen towel and leave to rise (in a warm place) for one hour.

Then, line two baking trays with baking paper. Divide the dough into 12 even pieces and roll each into a ball on a floured work surface with your palm. Lay 6 on each baking tray. Cover with clingfilm and leave to rise for a further 1 hour.

In the meantime, Add the crumble ingredients to a small bowl. Use your fingers to rub the flour, sugar and butter together until a crumble / breadcrumb texture forms. Chill until ready to use. Chop your strawberries.

Once the buns have finished rising, preheat the oven to 190ºc / 170ºc fan / 375ºf / gas 5. Then lightly flour the tops and use a cup to press down on the middle of each bun to create a dip for the topping. Add on a heap of strawberries. Then, using a silicone brush, brush the visible dough with the egg whites. Then sprinkle the crumble mix over the top of the buns.

Transfer to the oven and bake for 16-17 minutes, until the buns are golden brown. Leave to cool for round 10 minutes on the baking trays then transfer to wire racks or eat! Best enjoyed the same day, but can be kept for 3 days in an air-tight container at room temperature, and then freshened up in the oven for 5-6 minutes at 180ºc /160ºc fan / 350ºf / gas 4.
Notes
US Visitors - to guarantee a result closest to mine, weigh out your ingredients.
Nutrition
Calories:
329
kcal
Carbohydrates:
53
g
Protein:
7
g
Fat:
10
g
Saturated Fat:
6
g
Polyunsaturated Fat:
1
g
Monounsaturated Fat:
3
g
Trans Fat:
1
g
Cholesterol:
50
mg
Sodium:
23
mg
Potassium:
143
mg
Fiber:
2
g
Sugar:
16
g
Vitamin A:
314
IU
Vitamin C:
17
mg
Calcium:
44
mg
Iron:
2
mg
Made this recipe?
Leave a rating at the bottom of this page! You could also post a picture on Instagram and tag @togethertoeat to share it with me. Or post to Facebook, Twitter or Pinterest.