Instead of making breakfast AND a smoothie in the morning, why not combine the two with this quick and delicious Oat Smoothie Bowl?! Aside from the oats, it's packed with fruit; strawberries, raspberries and banana and just a little honey to sweeten it.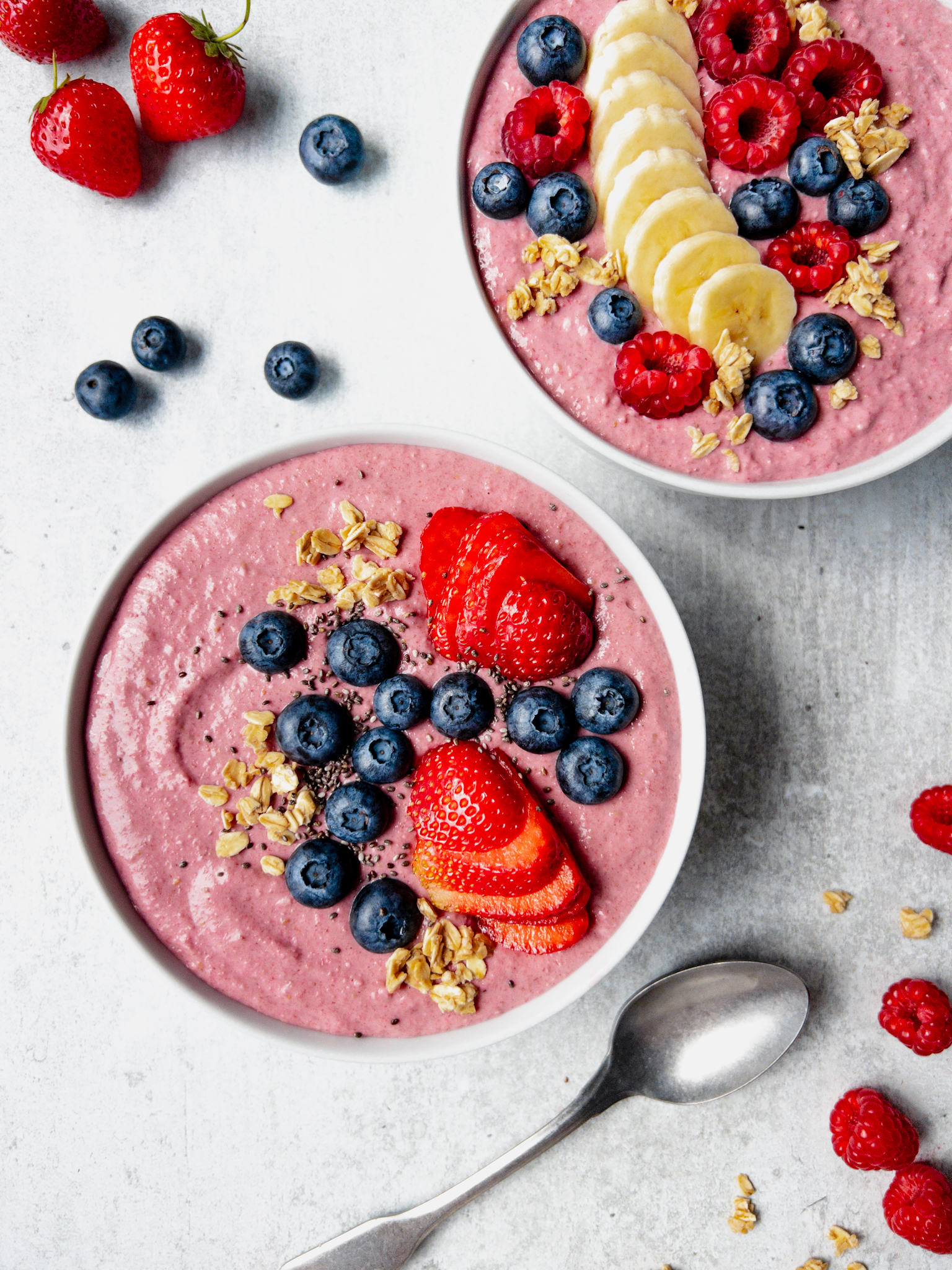 You can adorn each serving with healthy toppings or you can keep it simple and serve without any. You can also whip this up in the morning and enjoy immediately, or make it the day before as you would overnight oats.
As oats release energy slowly, my Oat Smoothie Bowl is the perfect breakfast to keep you and your family fuelled up until lunchtime. If you have a toddler, weaning baby or fussy eater and are wondering how to adapt this recipe for your family, see here >
You'll love this recipe because it:
Takes just 5 minutes to prep
Will save you time by combining your breakfast + your smoothie in one
Gives you one of your 5-a-day, contains fibre, is cholesterol reducing and is slow energy releasing
Is gluten, diary, egg and nut-free so it's great for families with different diet needs. It's also suitable for vegetarians and vegan if you use agave instead of honey.
Can be served with or without customisable toppings
Oat Smoothie Bowl Topping Ideas
There are so many different toppers you could use for this Oat Smoothie Bowl, the whole family can pic 'n mix:
Sliced banana
Sliced strawberries
Raspberries
Blueberries
Blackberries
Granola
Chai seeds
Sunflower seeds
Dried berries
Desiccated coconut
Cocoa nibs
Chopped nuts
Dollop of peanut butter or chocolate sauce
You can of course simply serve it as is, without toppers.
Making my Oat Smoothie Bowl
Watch me make my Oat Smoothie Bowl step-by-step here, before or as you go.
FAQ'S FOR MAKING MY OAT SMOOTHIE BOWL
What Oats should I use for this Smoothie Bowl?
I would always recommend rolled oats for smoothie bowls and overnight oats. Rolled oats absorb liquid quicker than regular porridge oats and personally, I prefer the texture. Rolled oats have been steamed and rolled into flat flakes using machinery, whereas regular porridge oats have been crushed or ground and have not been steamed prior to packaging.
Is it ok to use different fruit?
Yes! Stick to the same quantities but any berries would work well, blueberries or blackberries are great choices to substitute the raspberries or strawberries with. I would recommend you still use the bananas however. If you swap them for a juicy fruit your oats will be too runny and also you'll need to add in more honey or agave.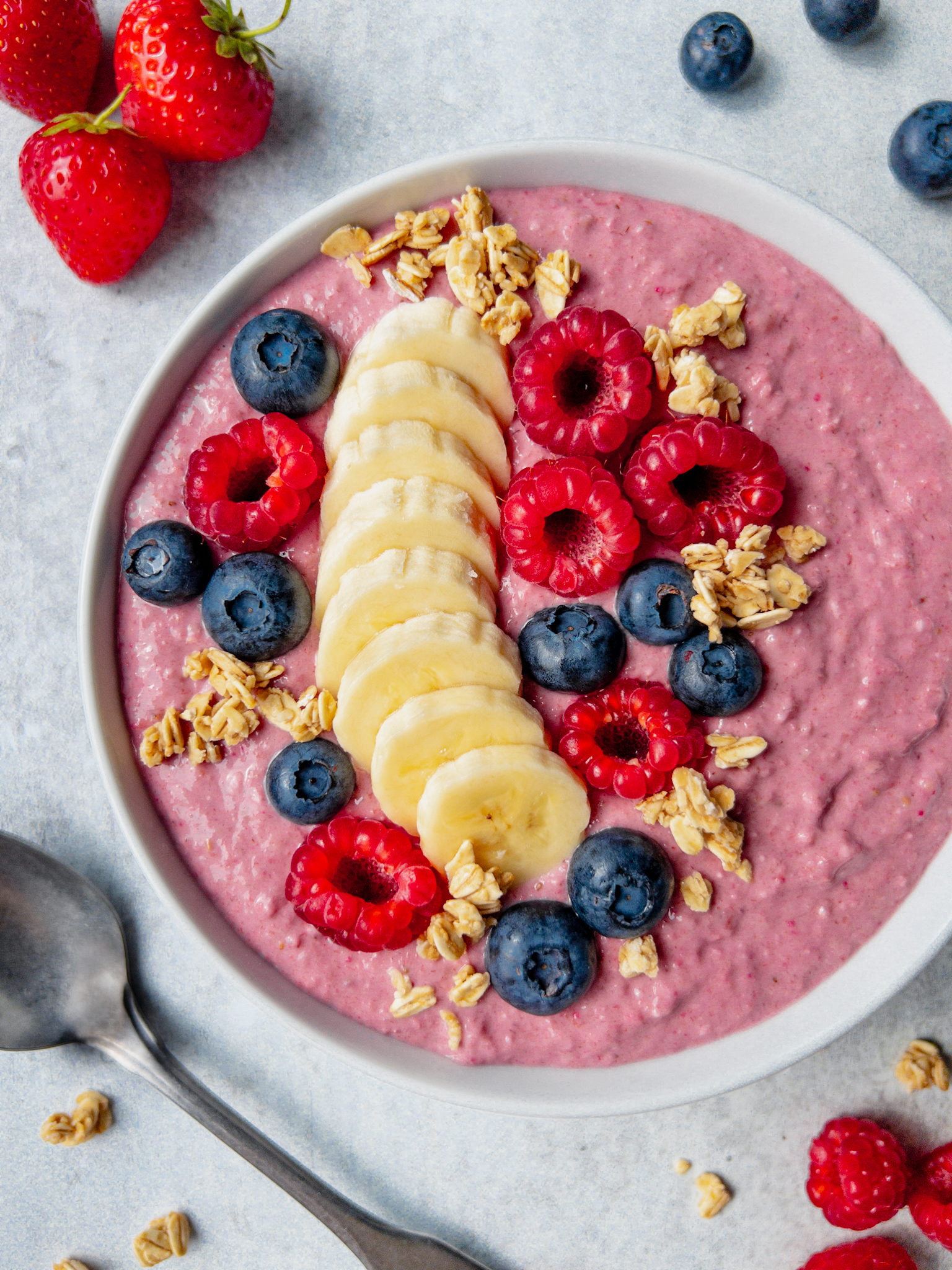 Can I make this as Overnight Oats?
Because the oats are getting finely ground in the blender, there is no need to make these the night before for softening purposes, but that doesn't mean you can't. I've actually made them both ways, the night before and in the morning and haven't been able to tell the difference between the two. If you do make them the night before, store in the fridge in an air-tight container.
Can you recommend a good blender?
You can use your usual jug blender or food processor if you have one. I thoroughly recommend the blender I use, this Ninja 2-in-1.
Can I add Protein Powder to the Oat Smoothie Bowl?
Yes you can, so long as you aren't sharing them with young children, unless you've been advised by a doctor or paediatrician to do so. Children are rarely deficient in protein and so don't need protein powder in their diet. To add some protein to your child's Oat Smoothie Bowl I would recommend adding chai seeds or a dollop of smooth peanut butter instead.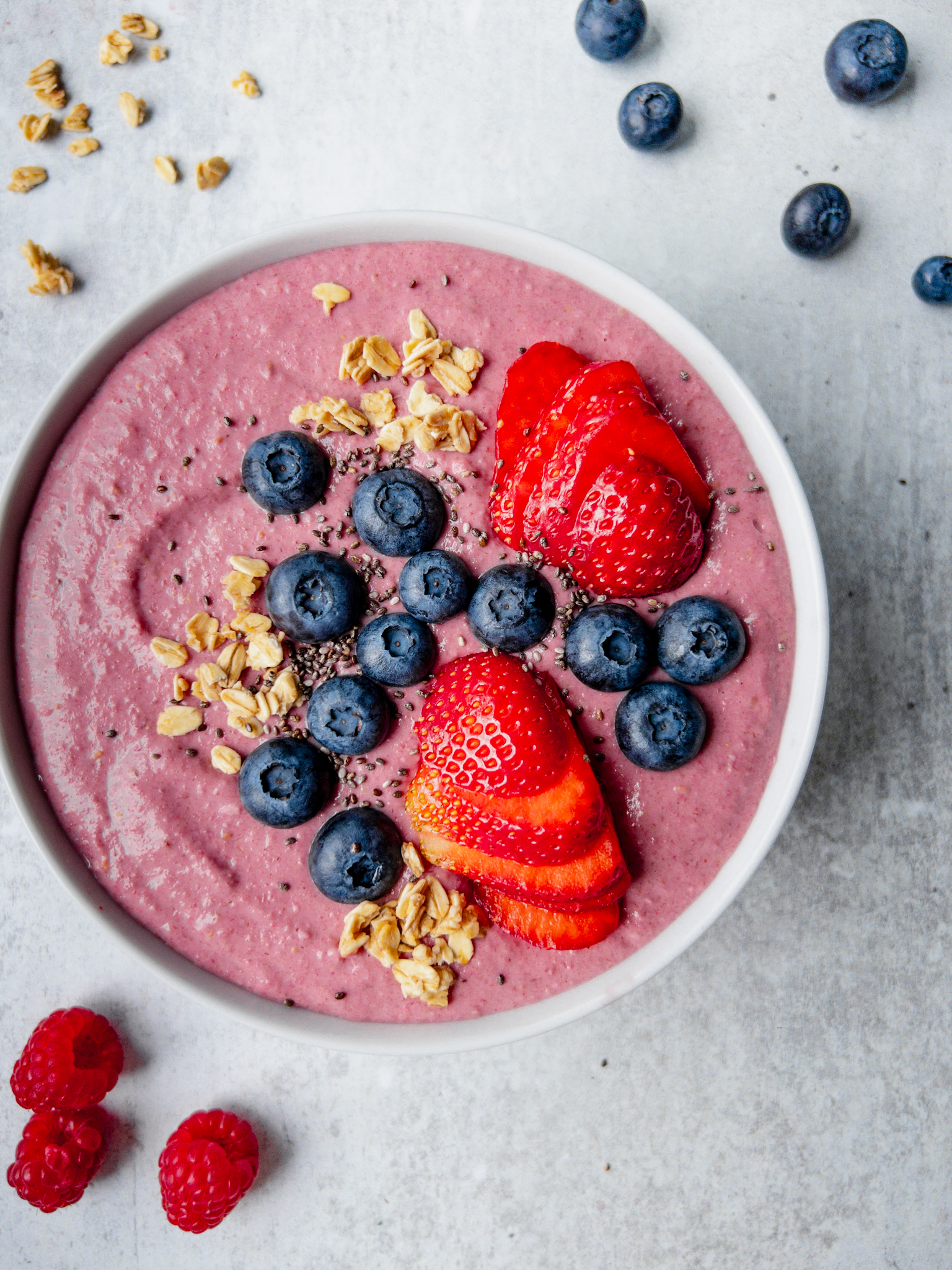 Can I feed more people with this recipe?
The recipe amount makes 4 standard porridge-size servings. If you need more than that to serve your family or guests, the recipe can be easily scaled up.
How can younger children help make it?
Younger children will enjoy being involved by adding the ingredients to the blender and helping to whizz it up.
Can I store Oat Smoothie Bowl leftovers?
You can store any Oat Smoothie Bowl leftovers in an air-tight container in the fridge for up to 2 days (make day + 1). 
For more on safe food storage and reheating read here >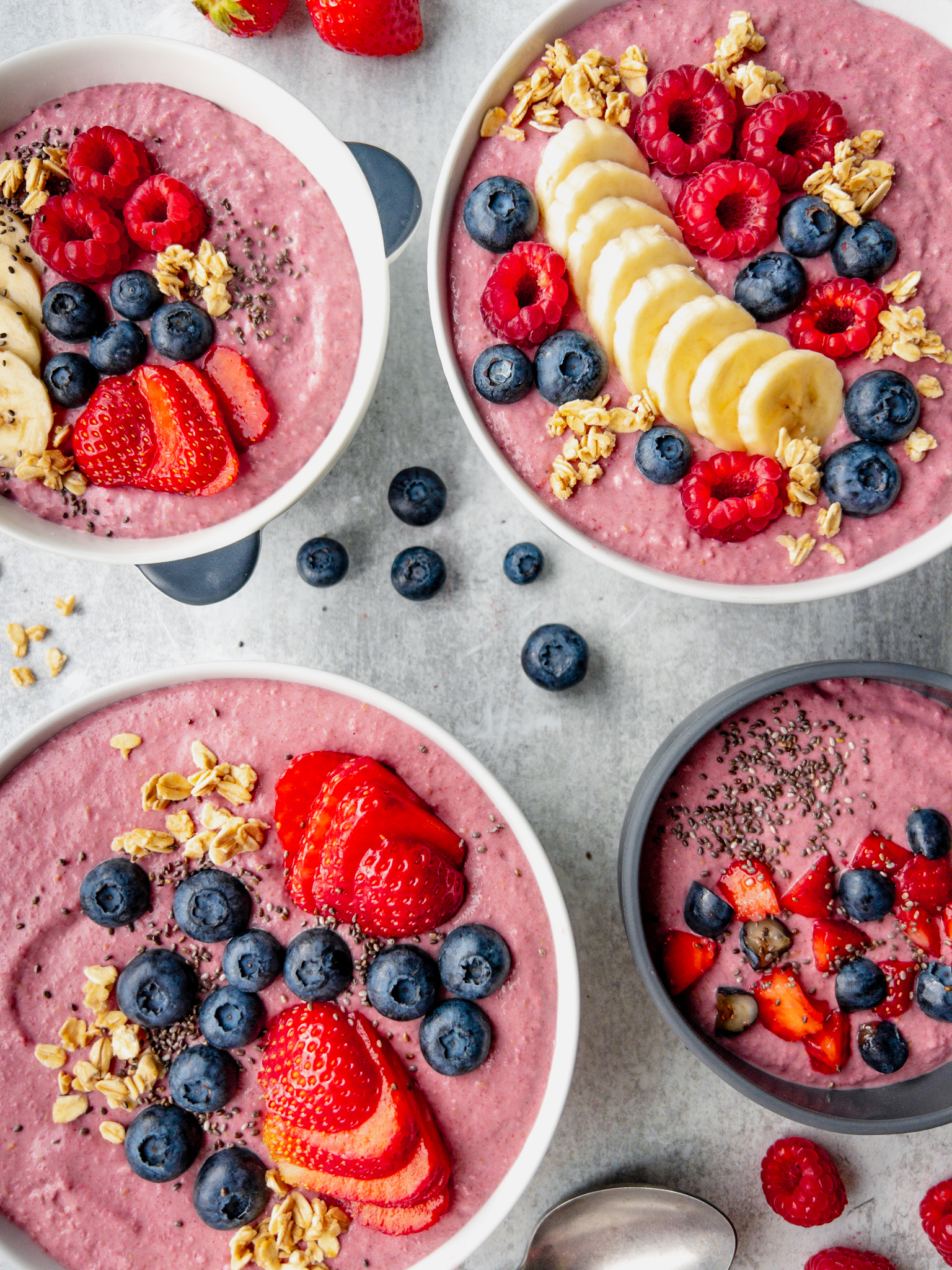 Adapting My Oat Smoothie Bowl For Your Family
Eating together is beneficial for families of all ages and stages, for a multitude of reasons; nutritional, behavioural, psychological and for healthy family functioning. This section will show you how to tweak this Oat Smoothie Bowl recipe for sharing with a weaning baby, toddler or a fussy eater, which will help make it easier to eat together as a family.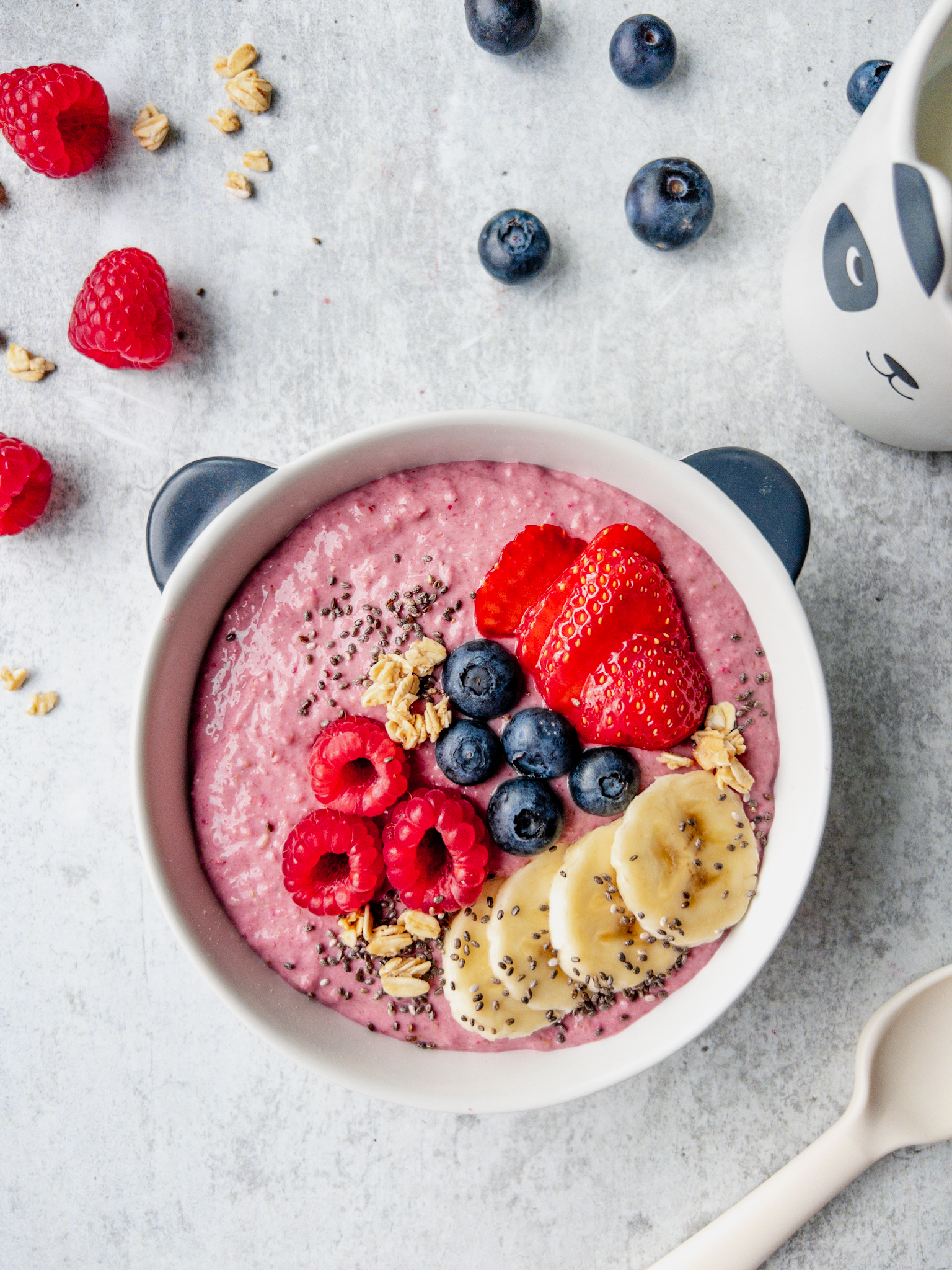 Keeping Picky Eaters Happy
Top fussy eaters servings with their favourites from the topping list above. If they can't tolerate cold oats, you can microwave their serving and turn it into a fruity porridge instead!
See more from me on fussy eaters here >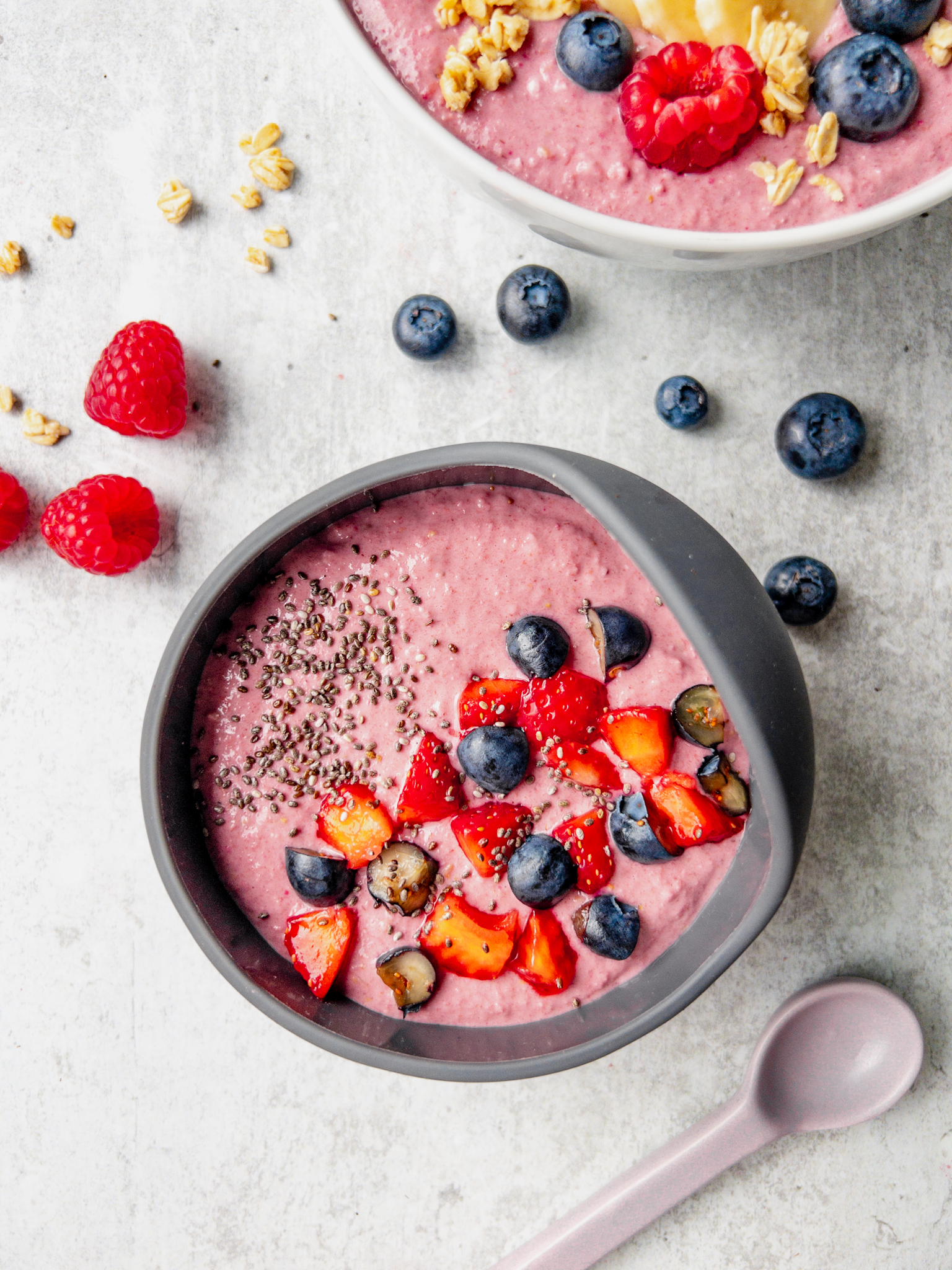 Making My Oat Smoothie Bowl Suitable for Baby Weaning  
If sharing with a baby under 12 months use agave nectar instead of honey. If you add toppings to their serving, ensure they are cut into pea-size pieces.
I've also added these notes to the bottom of the recipe so you have them to hand when you come to cook. For more info on how I keep my family meals suitable for baby weaning, read here >
You Might Like…
Together to Eat is reader-supported. I may earn a small commission from anything bought through links found here.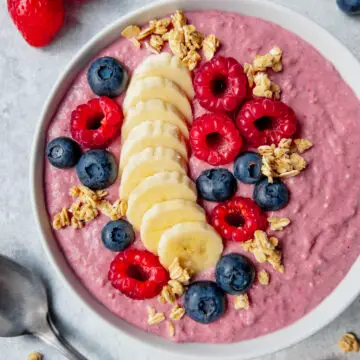 OAT SMOOTHIE BOWL
This delicious berry and banana Oat Smoothie Bowl, takes just five minutes to make and will fuel your family until lunch. It's also vegan and gluten-free.
Ingredients  
200

g

rolled oats

400

g

strawberries

stalk removed and cut in half

150

g

raspberries

2

bananas

2

tablespoons

honey

or agave nectar
OPTIONAL TOPPING IDEAS
Fresh fruit;

strawberries, raspberries, blueberries, blackberries, banana

Granola

Chai seeds

Sunflower seeds

Dried berries

Desiccated coconut
Instructions 
Add the oats to your blender or food processor, followed by the strawberries, raspberries and honey. Blend well. Then add in the banana, breaking up it into chunks as you go . Blend again until smooth. You can serve immediately or chill overnight. Serve as is or with toppings of your choice, arranged across the bowl.
Baby & Toddler
If sharing with a baby under 12 months use agave nectar instead of honey. If you add toppings to their serving, ensure they are cut into pea-size pieces.
STORAGE
You can store any Oat Smoothie Bowl leftovers in an air-tight container in the fridge for up to 2 days (make day + 1). 
Nutrition
Calories:
326
kcal
Carbohydrates:
68
g
Protein:
8
g
Fat:
4
g
Saturated Fat:
1
g
Polyunsaturated Fat:
1
g
Monounsaturated Fat:
1
g
Sodium:
5
mg
Potassium:
607
mg
Fiber:
11
g
Sugar:
23
g
Vitamin A:
62
IU
Vitamin C:
74
mg
Calcium:
55
mg
Iron:
3
mg
Made this recipe?
Leave a rating at the bottom of this page! You could also post a picture on Instagram and tag @togethertoeat to share it with me. Or post to Facebook, Twitter or Pinterest.